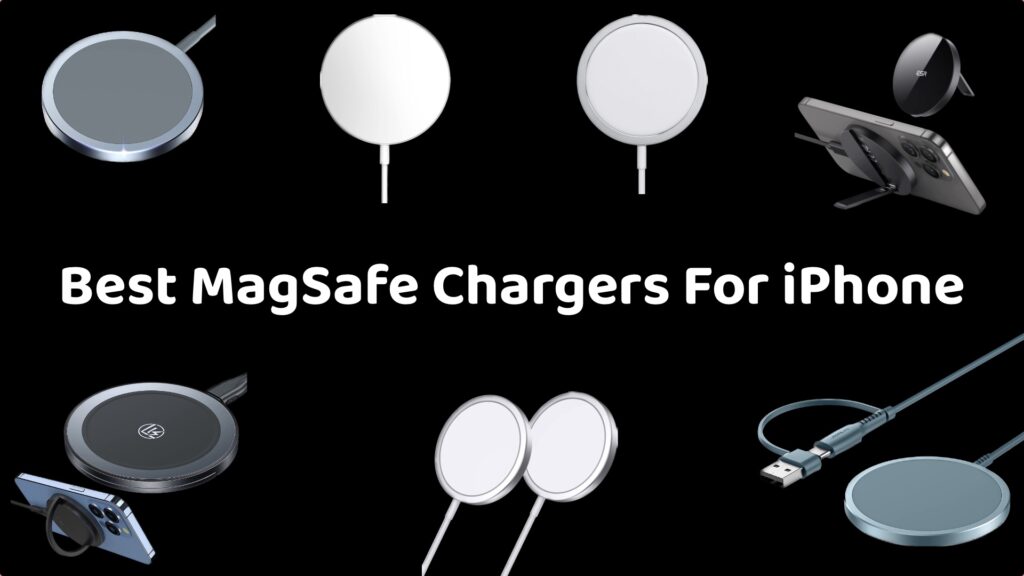 In this article, we have listed down the best MagSafe Chargers for iPhone 14. These MagSafe chargers are also compatible with iPhone 13 and iPhone 12 devices, which also feature MagSafe support.
Nowadays, technology is changing everything, including the way we charge our phones. The MagSafe feature is one of Apple's most groundbreaking features with the iPhone 13 and iPhone 14 line up and has revolutionized wireless charging.
Newer iPhones come with built-in magnets, making them compatible with a wide range of accessories, including super-convenient chargers. When using MagSafe-compatible chargers, you won't need to be mindful of how you place your iPhone, as they seamlessly snap onto the compatible iPhone.
Almost two years after MagSafe debuted, there are countless chargers available at different price points and forms. So, let us help you pick the one that will suit all your needs and preferences.
Here's the list of the very best MagSafe chargers worth buying.
Best MagSafe Chargers For iPhone
Here are the best MagSafe chargers that every iPhone user should consider buying. This includes Apple's MagSafe Charger and many third-party MagSafe charger alternatives.
1. Apple MagSafe Charger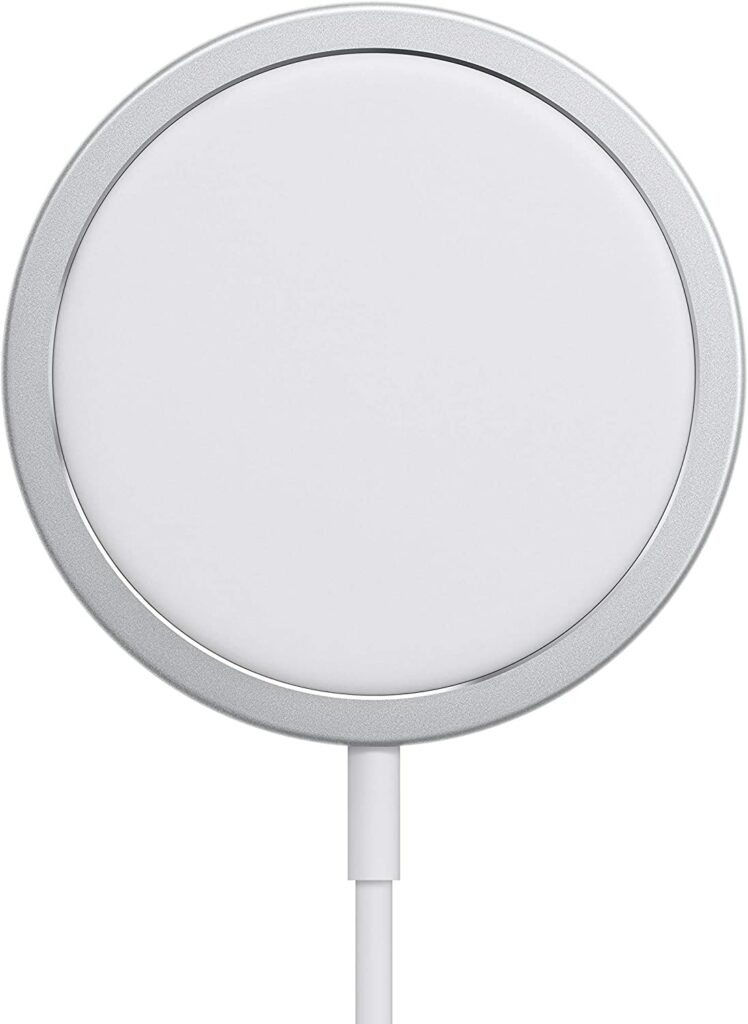 Wireless charging is a breeze with this MagSafe charger. You can charge your iPhone 13, iPhone 13 Pro, iPhone 12, and iPhone 12 Pro wirelessly with perfectly aligned magnets.
Since the MagSafe Charger is Qi-certified, you can wirelessly charge your iPhone 8 and later, as well as AirPods with a wireless charging case, as you would with any Qi charger.
However, note that iPhone 13, iPhone 13 Pro, iPhone 12 and iPhone 12 Pro models are the only ones capable of magnetic alignment.
In addition, there is an integrated USB-C cable (1 meter) with this wireless charger.
Buy Apple MagSafe Charger for $35 here
2. ESR HaloLock Kickstand Wireless Charger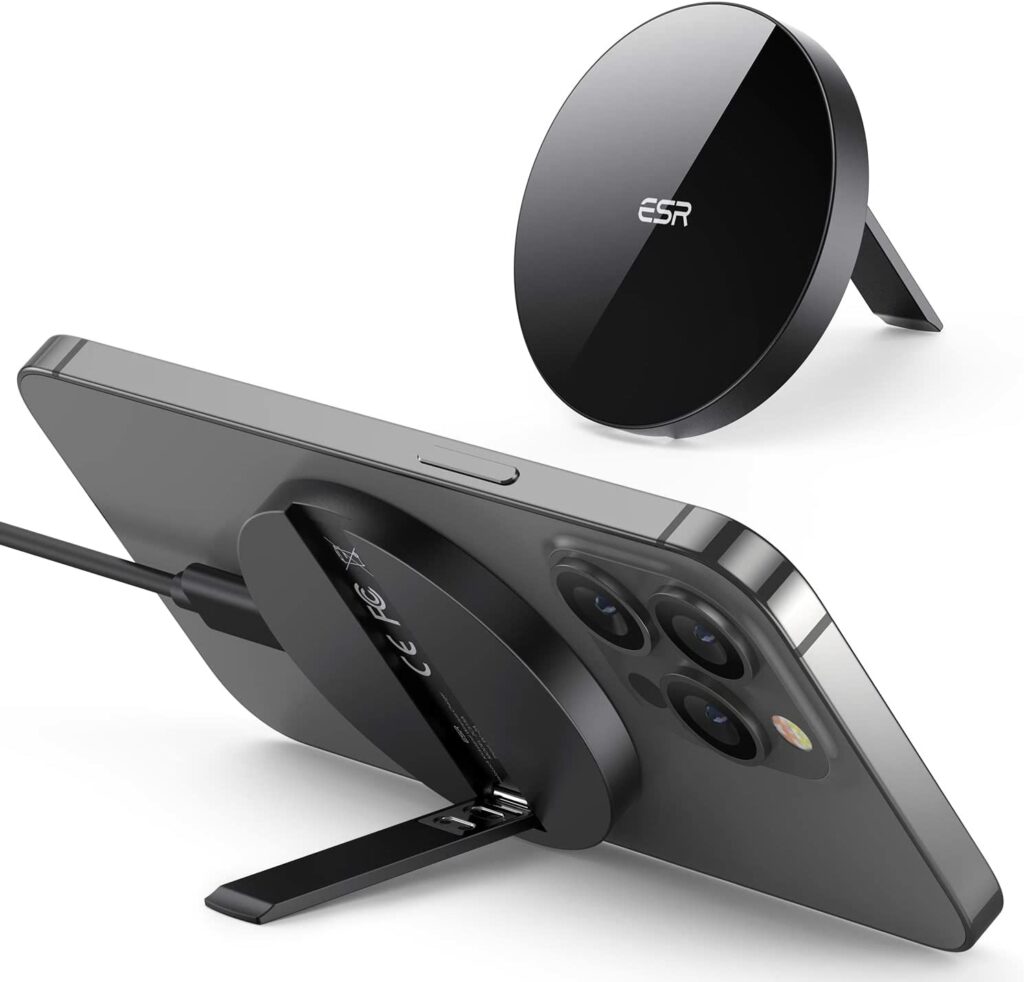 ESR HaloLock Kickstand Wireless Charger allows you faster and easier charging with heat management that lets you charge your iPhone 13 and 14 from 0 to 100% in 2.5 hours
With the On-Demand Kickstand, you can enjoy FaceTime with your loved ones while charging. The kickstand is there when you need it, but folds away when you don't.
It comes with a removable 5 ft (1.5 m) USB-C cable, allowing you to move around while charging or ditch it in favor of a holder that you can take anywhere.
Furthermore, the aluminum body offers durability and a premium feel with a sleek and stylish appearance.
Buy ESR HaloLock Kickstand Wireless Charger for $24.99 here
3. YLLZICompatible with MagSafe Charger for iPhone 14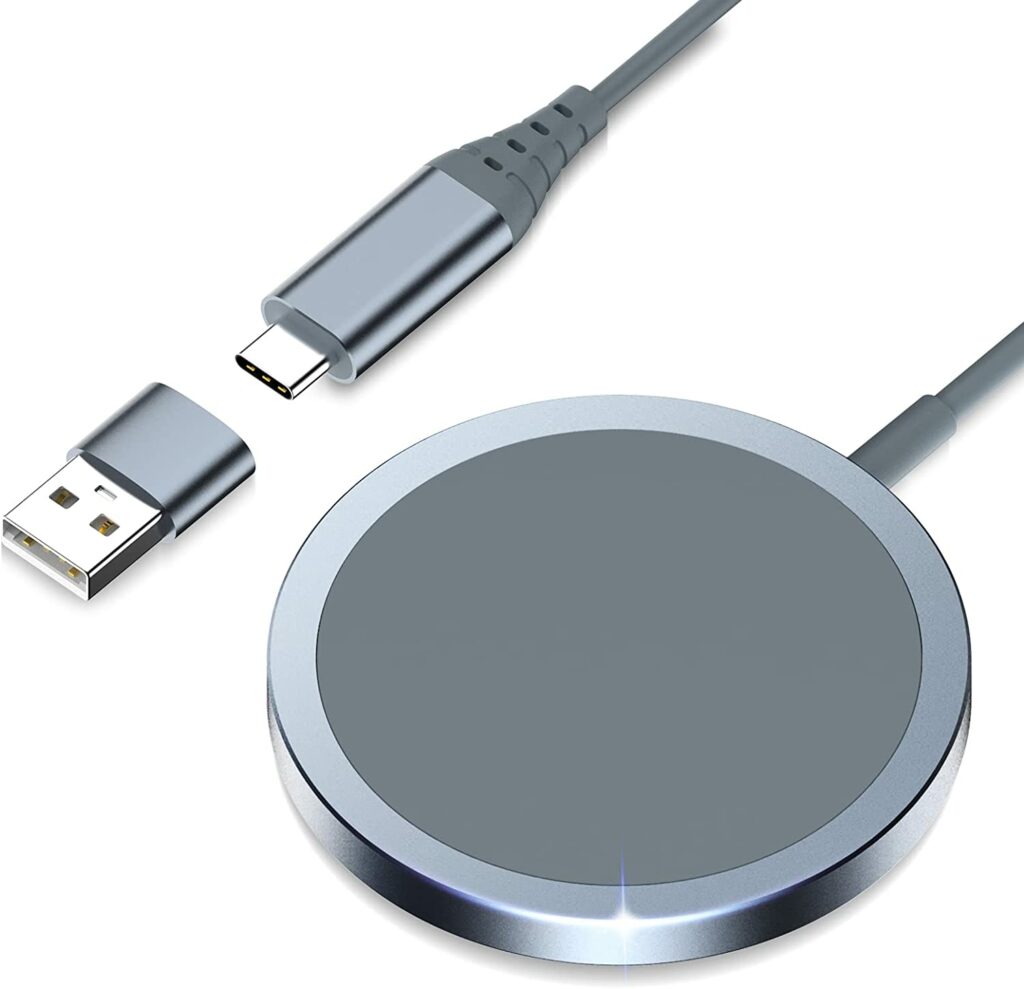 Thanks to the magnetic charging feature, you can align the MagSafe charger perfectly with your phone and it will stay firmly attached. When your iPhone is charging, you can use it for any number of things, including answering emails, text messages, making calls, playing games, watching videos, listening to music, or gaming.
This iPhone magnetic charger comes with an integrated 3.94ft/1.2m USB-C cable and a USB-C female to USB male adapter, making it flexible to use the iPhone while lying on the bed/sofa and reviving your old USB-A charger without spending more money.
In addition to providing over-voltage, over-temperature, over-current, and short-circuit protection, this MagSafe charger for iPhone 13 also provide other safety features. You will have a better and safer charging experience with this charging pad because it protects your device's battery from overcharge damage.
Buy YLLZI Compatible with MagSafe Charger for iPhone 14 for $17.99 here
4. xiwxi Upgraded 15W Fast Magnetic Wireless Charger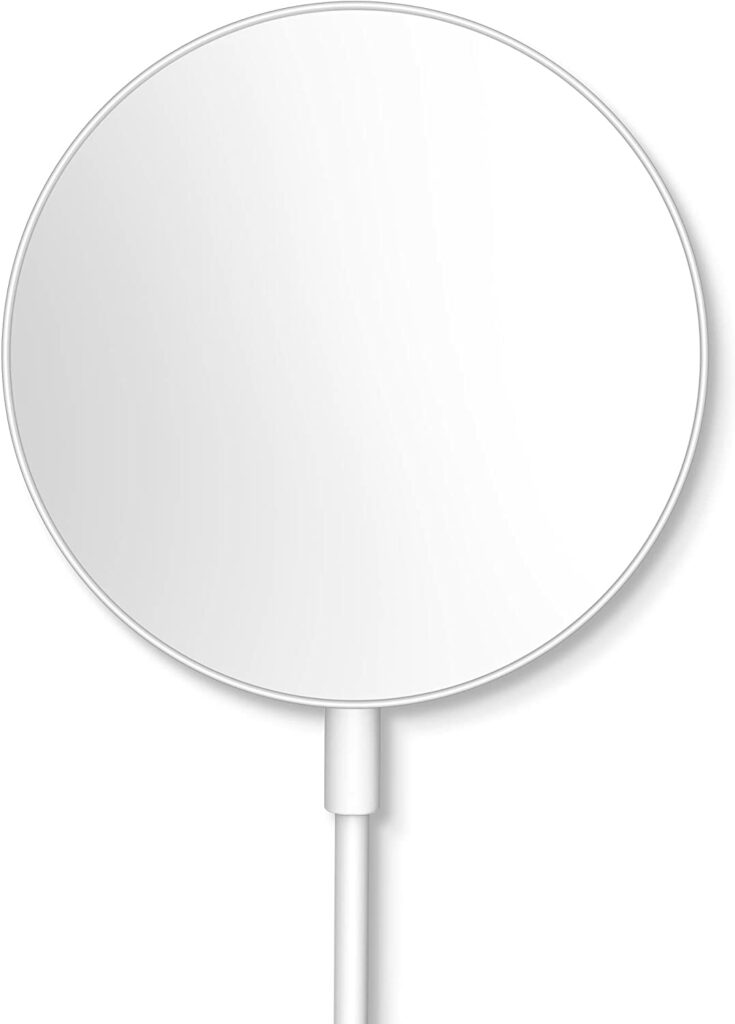 A magnetic wireless charger is equipped with professional charging technology to protect your device against overcharging, overcurrent, overvoltage, overheating, and short circuits. Allows you to charge your phone faster and more safely. However, when charging, you will have to make sure there are no metal materials on the back of your case).
Because it's lightweight, you can put it in your pocket, shoulder bag, handbag, or travel bag and it takes up little space. You can use it whenever and wherever you need it.
In addition to being durable, this minimalist mag charger boasts a sleek and elegant aluminum alloy case. It is compatible with magnetic cases up to 5mm thick, as well as AirPods 3/2/Pro with official charging cases.
Buy xiwxi Upgraded 15W Fast Magnetic Wireless Charger for $13.99 here
5. JSAUX Magnetic Wireless Charger Compatible with MagSafe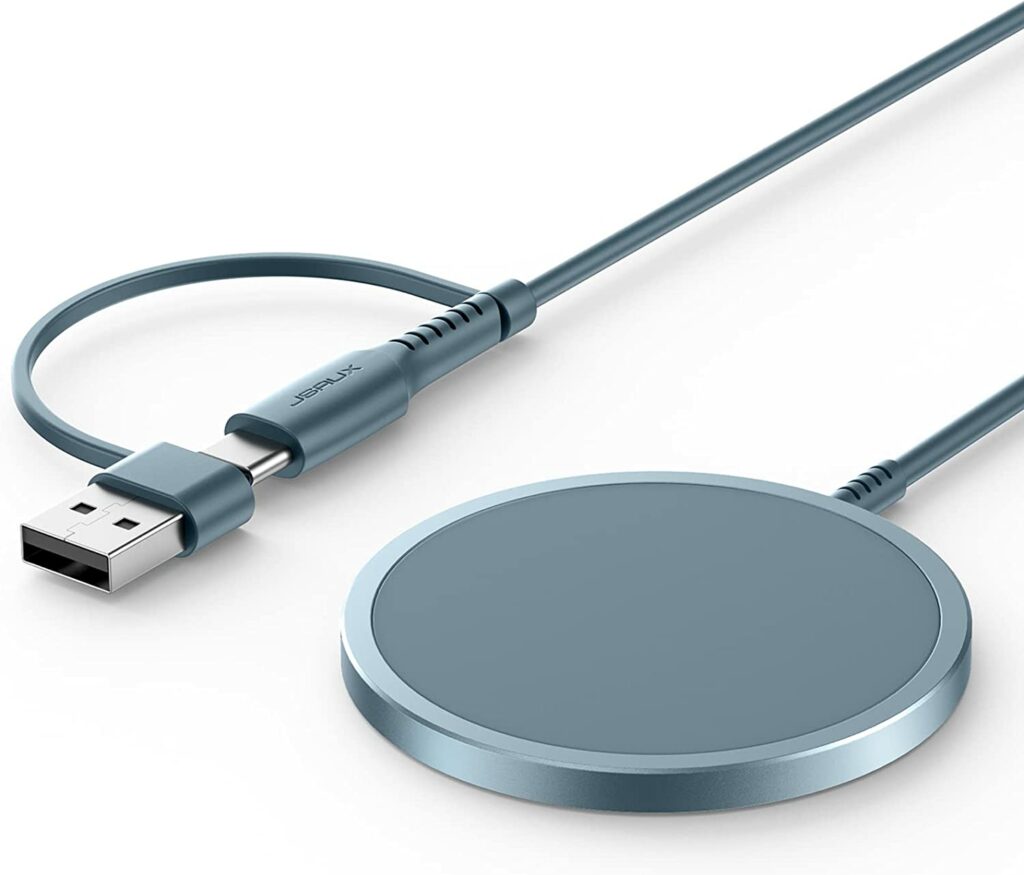 You will never have to worry about finding your charging port in the dark of your bedroom. Whether you are working, watching videos, listening to music, or chatting, the magnetic wireless charging pad lets you charge your iPhone 14/13/12 wirelessly.
High-quality metal material provides superior performance and a longer lifespan. It measures 0.23 inches (thickness), and has an integrated multi-port cable of 4.9 feet, making it the smallest and lightest wireless MagSafe charger. It is highly recommended to use 18W, 20W, or higher USB-C & USB-A Power Adapters.
You might notice that your iPhone or JSAUX magnetic wireless charger gets slightly warmer while charging your iPhone, just like with a MagSafe Charger. Battery life may be extended by software limiting charging above 80% if the battery becomes too warm.
Buy JSAUX Magnetic Wireless Charger Compatible with MagSafe for $18.99 here
6. OANDYS Magnetic Wireless Charger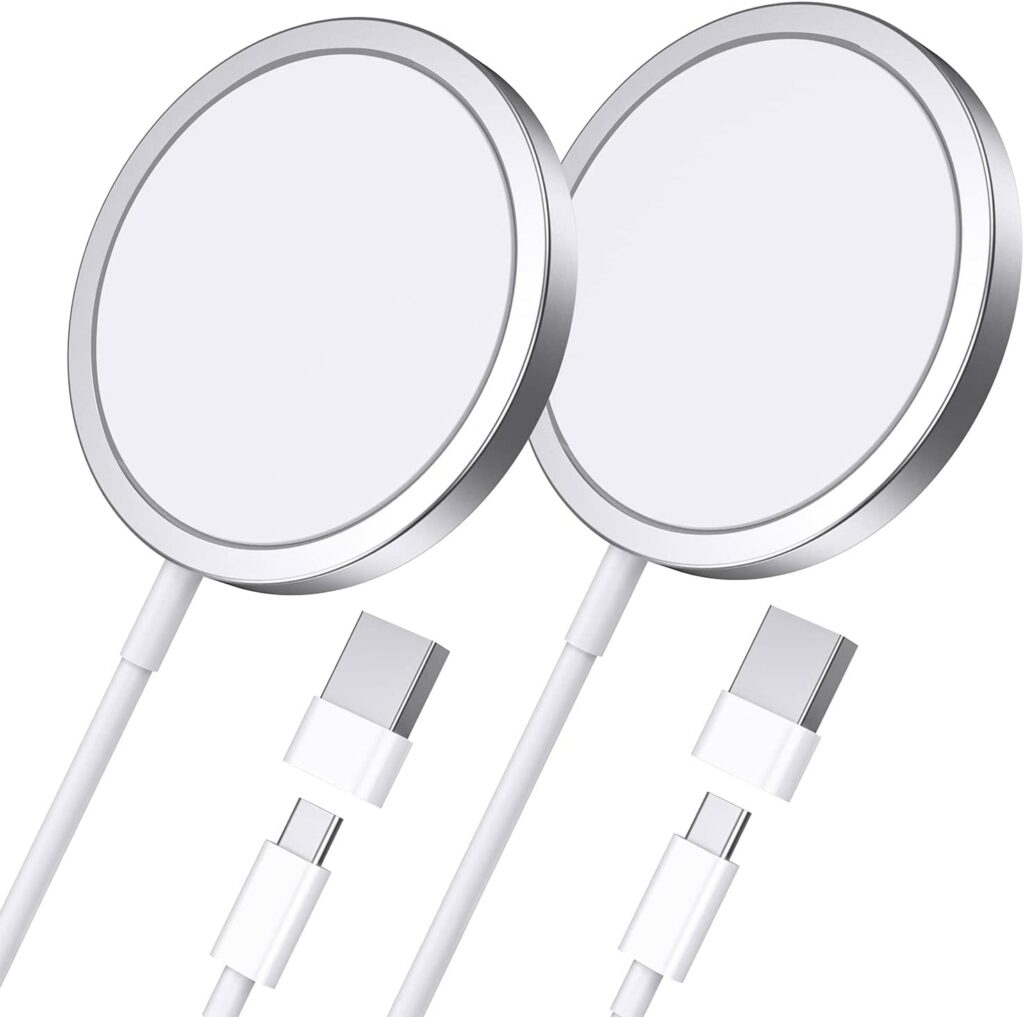 It features a 5ft/1.5m 2A charging cable, and both Type-C and USB-A connection modes, so you no longer need to keep purchasing new chargers for your iPhone. With a 5ft charging cable, you can charge your phone without a conflict.
You can use the magnetic wireless charging pad just about anywhere. No matter if you're working on a project, playing games, watching movies, listening to music, or just chatting, the magnets will securely attach to your iPhone.
This Qi-certified wireless charger ensures safe and secure charging for your iPhone. Magnetic wireless chargers come with a built-in smart chip that protects your phone against overheating, overcharging, and short circuits.
Due to its lightweight design, it can easily be carried and slipped into a pocket or handbag without taking up any room.
Buy OANDYS Magnetic Wireless Charger for $29.89 here
7. LK Magnetic Wireless Charger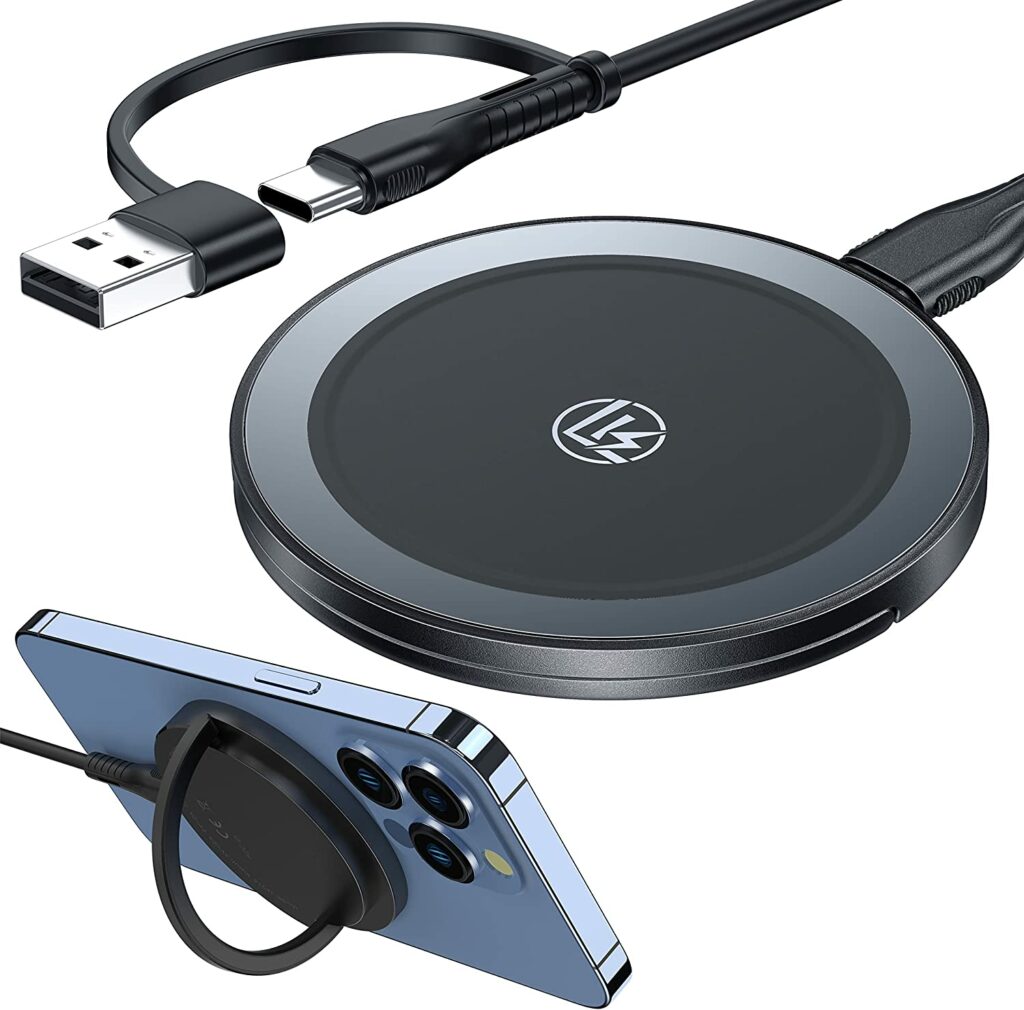 Designed with Magsafe technology, you will never have to worry about the charging port disappearing in the dark. On 14/13/12, you will be able to perfectly and automatically charge your iPhone with this magnetic wireless charging pad. Using this magnetic charger for iPhone, you can enjoy video games, watch videos, and FaceTime from any angle.
This small and light wireless MagSafe charger measures only 0.3 in (thickness), and 2.3 in (diameter), plus it comes with a 3.3-foot multi-port cable. This iPhone magnetic charger also has two USB ports: USB-C and USB-A.
The Magsafe magnetic wireless charger for iPhone provides overheating protection, short circuit protection, and surge protection, enabling you to charge safely without worry.
Buy LK Magnetic Wireless Charger for $21.99 here
Final Words
We have summed up the best MagSafe Charger alternatives for you. If you think about it, you'll certainly have an idea of which one to choose. All the above-mentioned wireless chargers have their unique features.
The chargers are ideal for your workstation, whether you wish to use them while driving or wish to keep your phone aesthetically displayed while charging. All in all, the wireless chargers offered by these brands are your best bet on the market, as they deliver the most reliable performance.
So, which Magsafe charger would you pick? Let us know in the comments section.