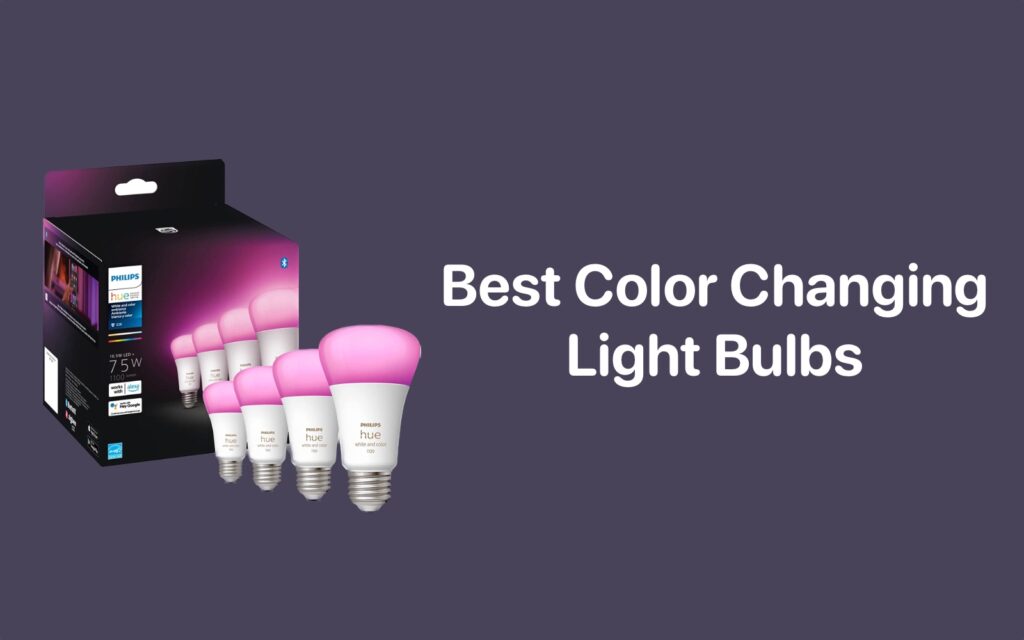 Do you wish to turn your house into a smart home and you have no idea where to begin? To answer your question, we suggest you start with a smart light bulb.
The smart bulbs connect to your existing fixtures like regular bulbs, but you can control them remotely using your phone. Using your voice, you can turn them on and off, set a timer, and adjust settings and brightness levels.
How convenient!
Keeping all that in mind, we have come up with the best color changing smart bulbs that would help you boost your mood and productivity.
Best Color Changing Bulbs for iPhone Users
The market is flooded with different options for iPhone-controlled smart bulbs, but you should only choose some quality choices out there. Here is a list of some of the most popular color-changing smart bulbs.
1. Philips Hue White and Color Smart Bulb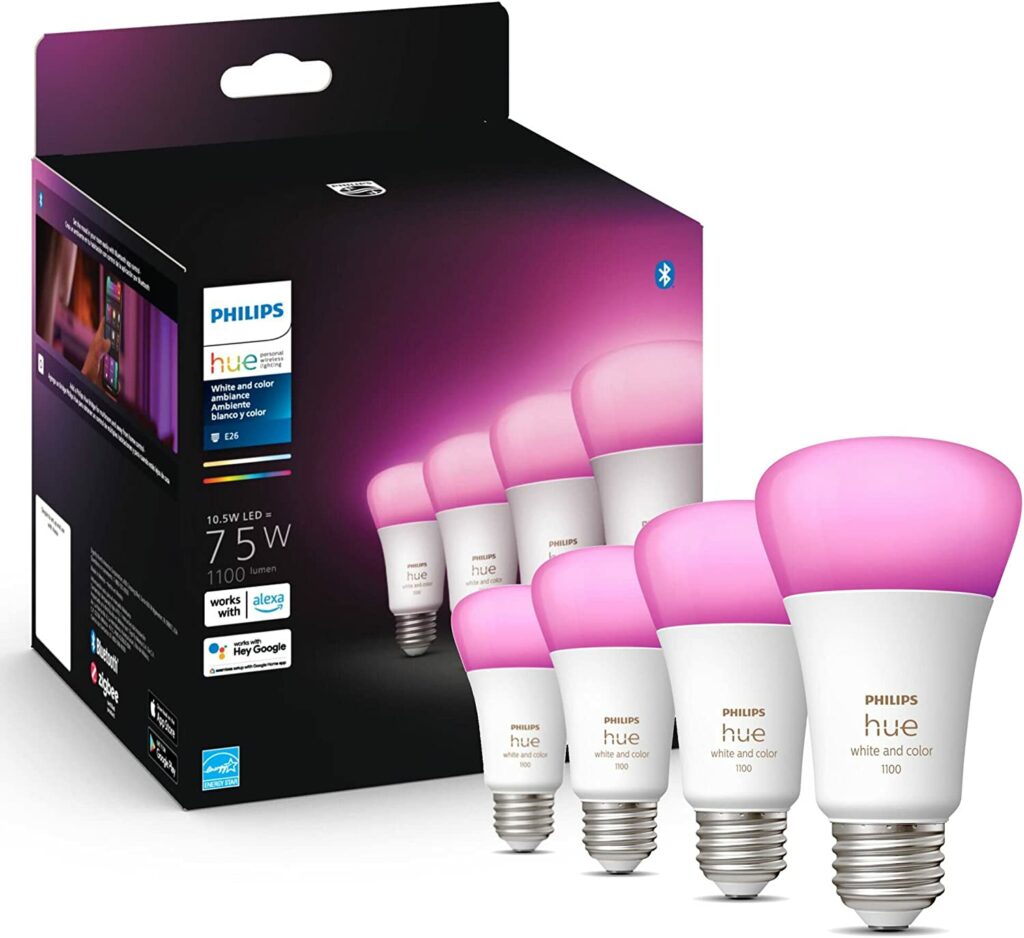 Philips is the market leader in smart bulbs primarily due to the features it offers and its compatibility. It's no different with Philips Hue's LED smart light bulb that works seamlessly with iPhones.
With the Starter kit, you get three A19 smart bulbs and a Hue hub. Using 16 million colors and shades of white, you can create your customized light scenes or choose from pre-sets using the Philips Hue app. Philips Hue LED smart light bulbs also allow you to schedule custom light scenes according to your needs.
The lights can also be turned on automatically when you arrive home and turned off when you go to sleep.
With its voice-activated capabilities, iOS users can manage it via Siri.
Buy Philips Hue White and Color Smart Bulb for $167.94 here
2. Govee Smart Light Bulbs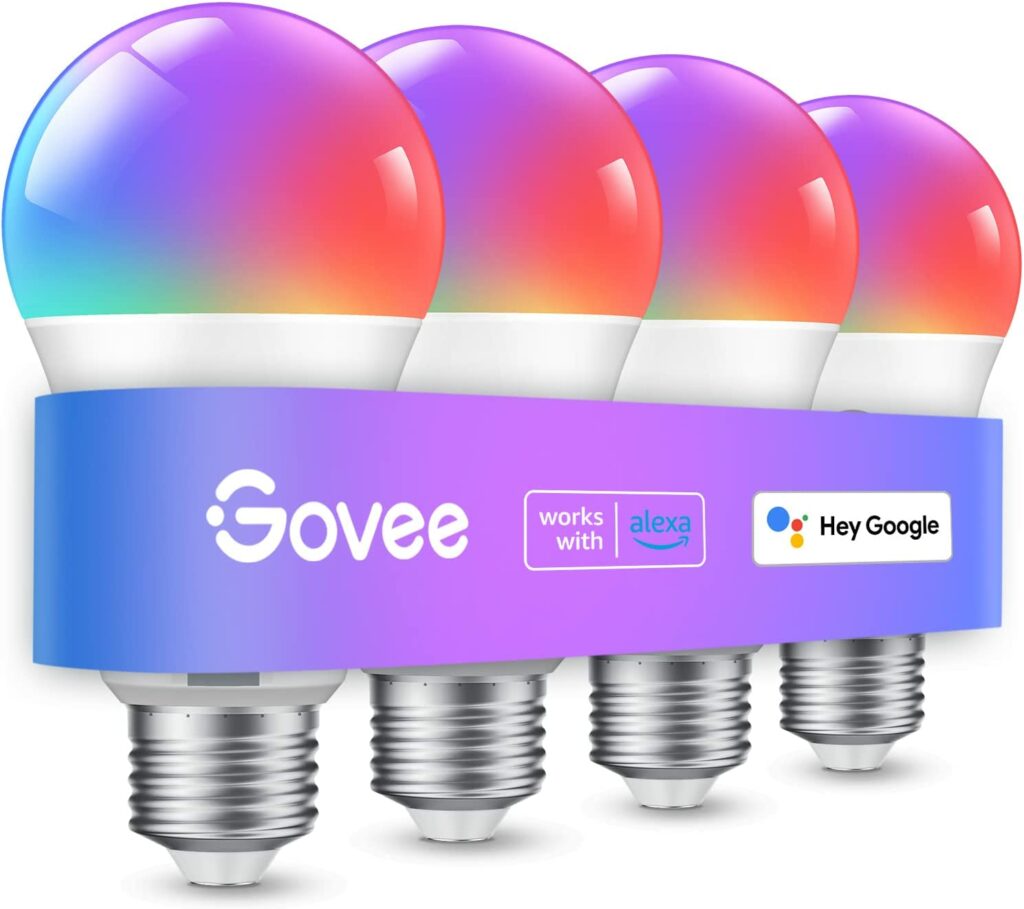 Smart light bulbs make it simple to implement your daily routine, with timers and modes such as Sunrise & Sunset, the bulbs can automatically brighten when you wake up and gradually dim when you go to sleep.
With Govee smart light bulbs, you can choose from millions of colors and 54 preset scene modes, creating the perfect lighting ambiance.
When your phone's microphone detects sounds, this smart light bulb changes color and brightness simultaneously. Meaning you can control your Govee color-changing light bulbs using just your voice.
With Govee Home App, you can also turn your smart light bulbs on/off, adjust brightness, change colors, and set scenes.
Buy Govee Smart Light Bulbs for 4 here for $39.99
3. GE CYNC Smart LED Light Bulbs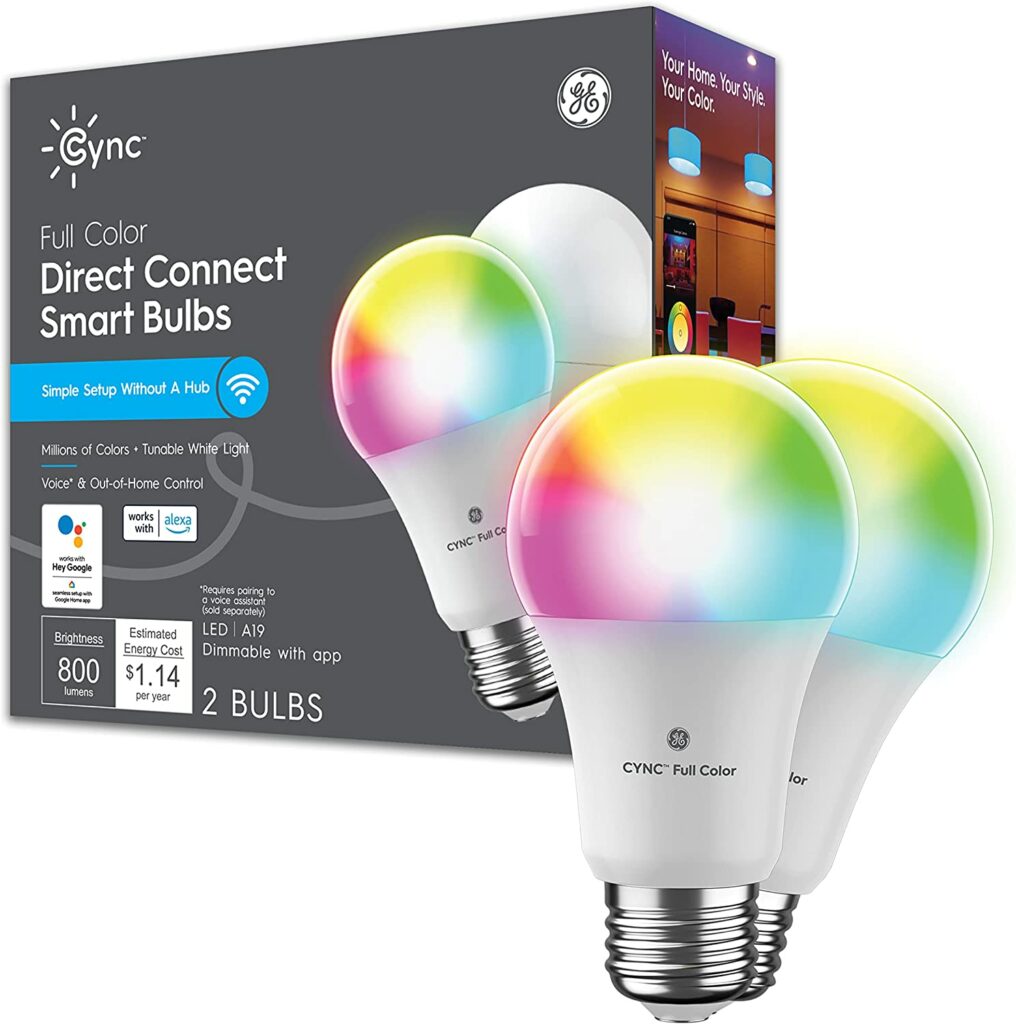 Your Wi-Fi light bulbs can be controlled via the Cync mobile app, adding security and convenience to your home. You won't have to worry about coming home to a dark house or disrupting your comfort from bed once you have installed these Cync smart lights.
With millions of colors, you can transform kids' rooms, plan next-level movie nights, and support your team on game day. With the smart bulbs, you can change the white color to any of the warm, amber, or cool, bluish tones.
The smart lights are compatible with 60W incandescent A19 bulbs, enabling you to make your house a smart home. Besides, as compared to a 60W incandescent bulb, these smart LED bulbs consume 84% less energy.
Automation lets you schedule when lights come on and off with different schedules for different days of the week.
Buy GE CYNC Smart LED Light Bulbs for $30.92 here
4. CT CAPETRONIX LED Light Bulb
Aside from 16 million colors, this one of the best smart bulbs also has warm white and cool white (2700K and 7000K) to meet your daily needs. The colors of the bulb dance to the rhythm of the music creating an ideal environment for the party.
With their premium LEDs and 8W rating, CT CAPETRONIX LED Light Bulb is brighter than most A19 e26 smart bulbs yet they save you 80% on your energy bills. Also, this colored RGB light bulb works with a voltage range of 100-277Vac, which is much more stable than other Alexa-compatible bulbs that work only with 120Vac.
Moreover, this smart bulb recognizes and picks colors from the camera of your phone, then automatically changes to the same color as it.
Buy CT CAPETRONIX LED Light Bulb for $12.99 here
5. Sengled Smart Bulb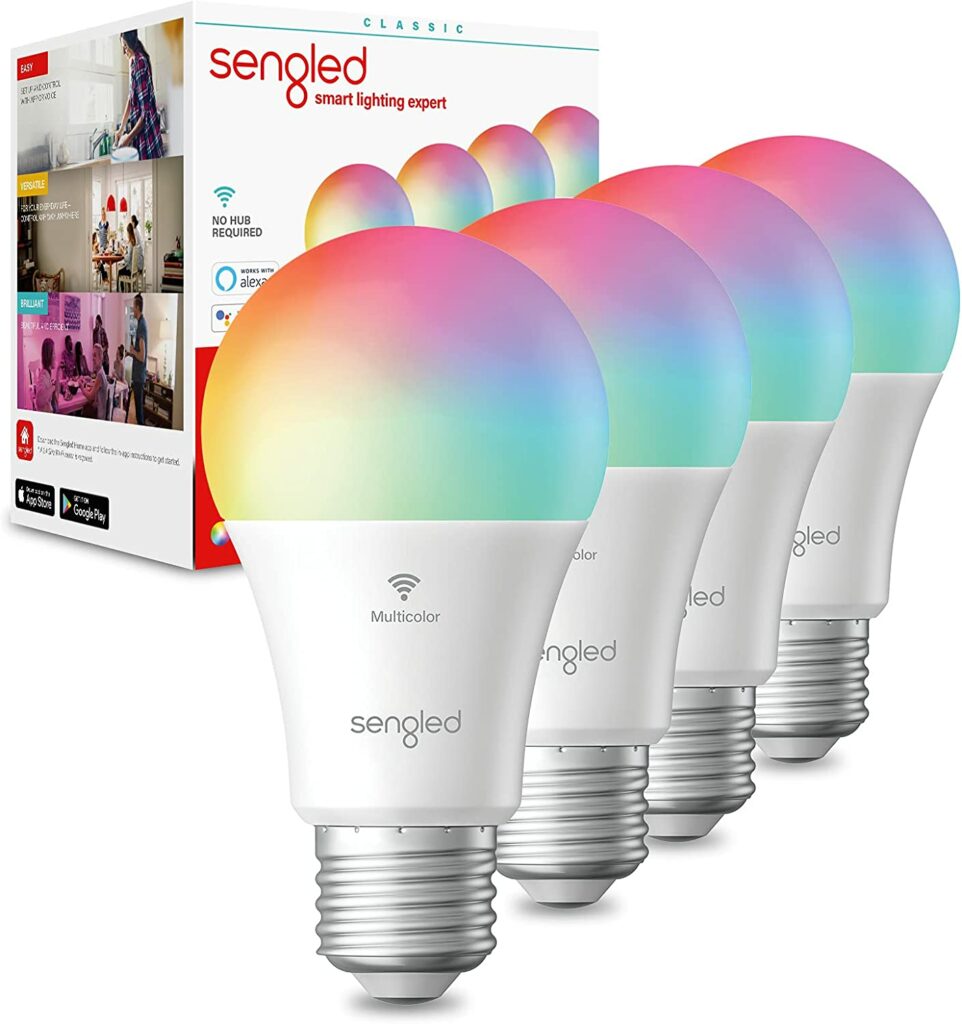 Make your smart home smarter with Sengled Smart Bulb, which you can control remotely from anywhere. You can automate your smart lights to make it seem like someone is home even when you are away by setting timers and schedules. Additionally, Alexa devices and Google Assistant players allow you to easily group control your smart light bulbs with a single command.
You can schedule your smart lights to slowly light up. As you set a time for the smart bulbs to turn on, they will gradually brighten over the set period. In addition, you can schedule your lights to simulate a sunset each evening so that you will be more likely to drift off to sleep naturally every evening.
All in all, you can control your smart lights from anywhere with your smartphone, the Sengled Home App, and a 2.4GHz WiFi router.
Buy Sengled Smart Bulb for $29.99 here
6. MagicLight Smart Light Bulbs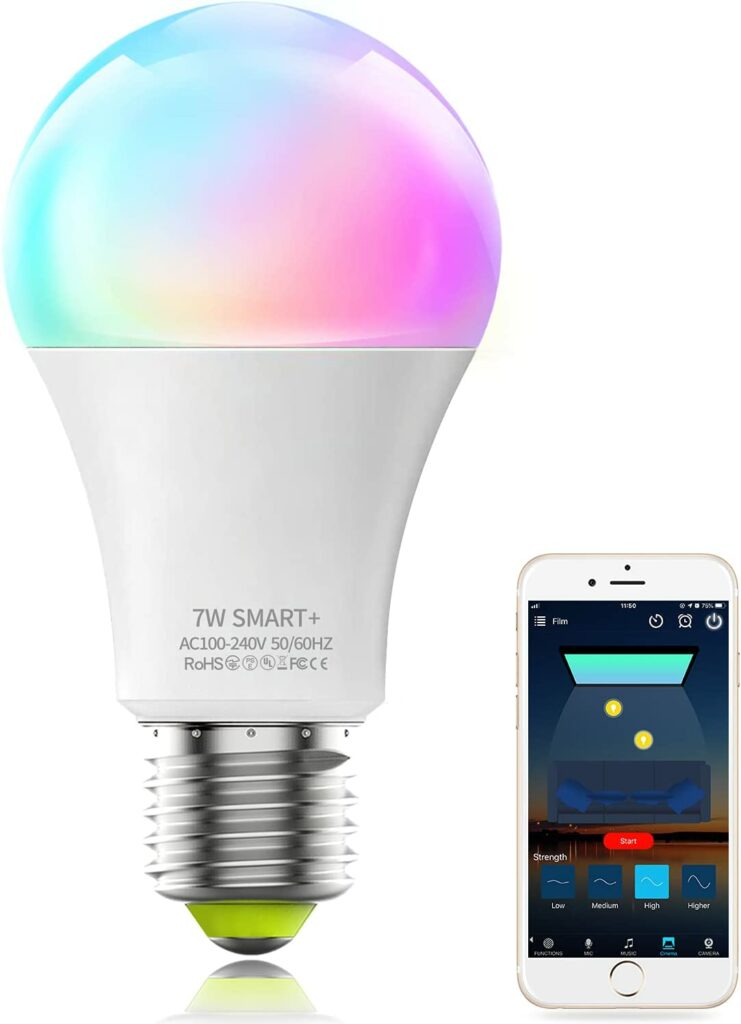 Create your light display with millions of colors. RGB vivid colors, 5000 – 6000k daylight colors, 3000 – 4000k warm colors that give you more comfort while you sleep. Additionally, stepless dimmable is a 1% brightness to help you sleep better.
The updated software offers great functionality, such as timers, schedules, music synchronization, scene creator, brightness control, white color temperature tunable, RGB color modes, group control, sunrise-sunset functionality, dynamic mode, and customized mode.
You can automate your smart home lighting with timers and routines. Set an alarm at sunrise for waking up, and a sleep schedule at sunset.
MagicLight Smart LED lights save up to 90% energy consumption when compared to traditional light bulbs, and have a high brightness equivalent to 60 watts.
Buy MagicLight Smart Light Bulbs for $8.99 here
7. Kasa Smart Bulb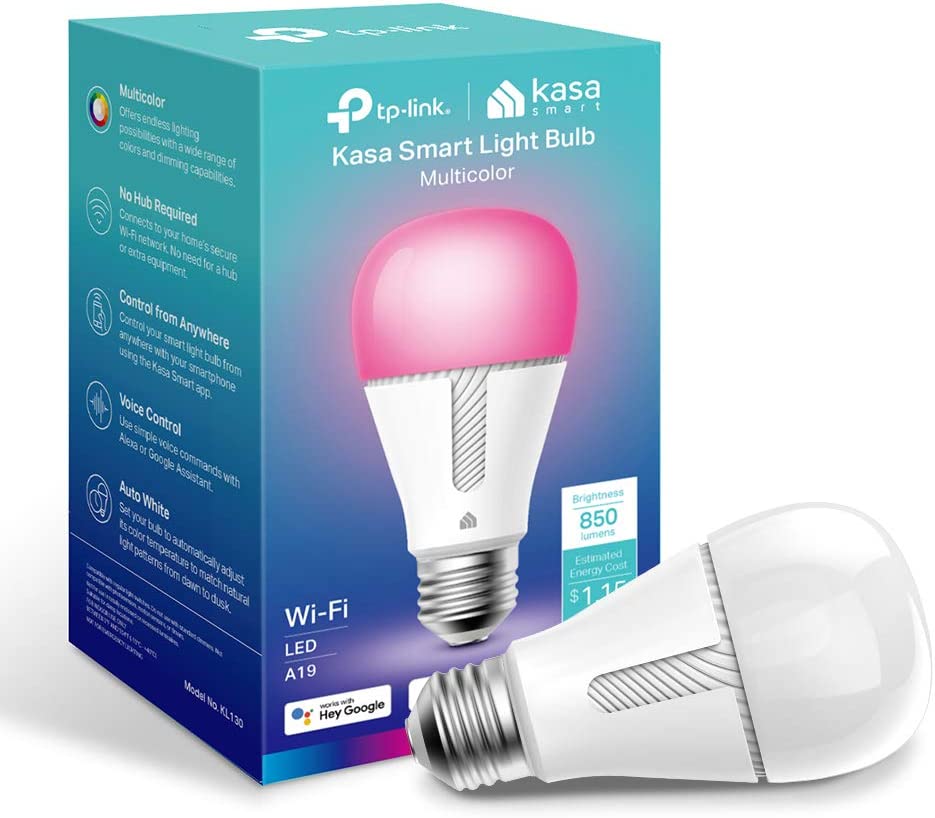 Featuring a wide range of colors and dimming capabilities, Kasa smart's multicolor light bulb gives you endless lighting options; for dinner parties and late-night study sessions alike.
Make your voice assistant change the color in the morning to help you wake up or reduce the brightness in the evening to help your kids fall asleep.
With the free Kasa smart app (iOS, Android), you can dim your smart light bulb remotely, turn it on or off, or change its color from anywhere.
You can control your Kasa smart multicolor light bulb with Amazon Alexa, Google Assistant, or Microsoft Cortana using simple voice commands. With the Kasa smart app and a Wi-Fi connection, you can control your bulb directly from your smartphone without the need for a hub or other extra equipment.
Buy Kasa Smart Bulb for $12.99 here
Light Up Your World!
Due to their use of light-emitting diodes (LEDs) and various technologies, smart bulbs are typically more expensive than traditional bulbs. This is a key point to remember, especially if you want to upgrade your entire home. But smart bulbs are also more energy-efficient and last a lot longer, meaning you can save money in the long run.
So, get any of the color changing bulbs from the list and live smartly!
Which smart bulb caught your attention? Let us know in the comments section.