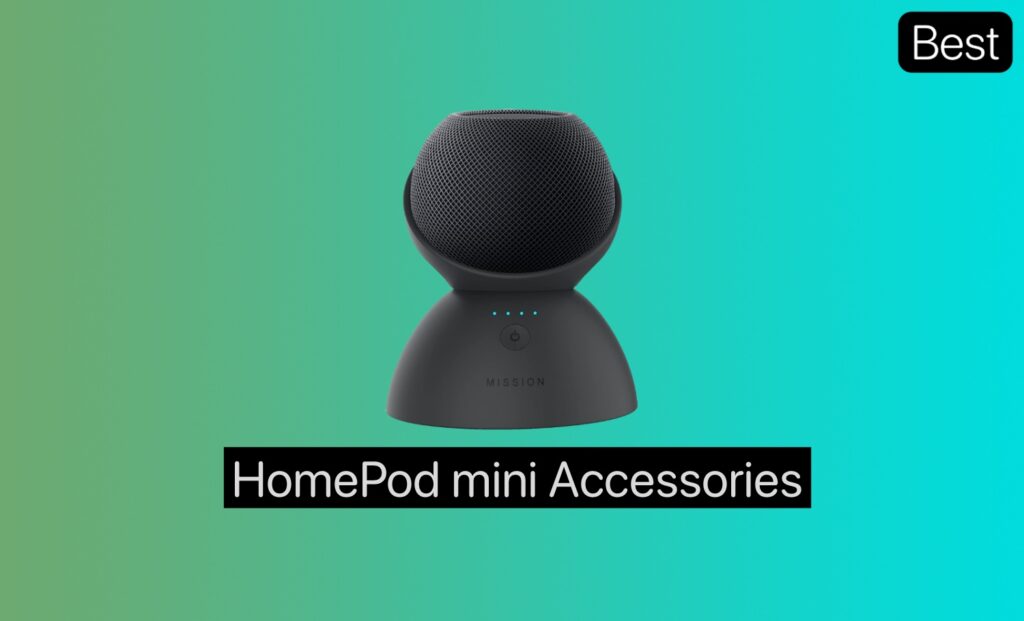 It's no secret that Apple's HomeKit devices make life easier, and HomePods are no exception. This little but powerful device gives your house theater-like sound, Siri controls, and more. In order to maximize the functionality your HomePod mini, you will need the best HomePod mini accessories.
That is exactly what you will find here. In this article we have listed some of the best HomePod mini accessories that you need to buy for yourself in 2023. This includes battery packs, HomePod stands, mounts and more.
Best HomePod mini Accessories
The smaller HomePod is cheaper than its original counterpart, but it still requires a significant investment. So if you want to protect or enhance the functionality of your speaker, you will need the best accessories for the HomePod mini.
Let's have a look at our list!
1. Mission Battery Base for HomePod Mini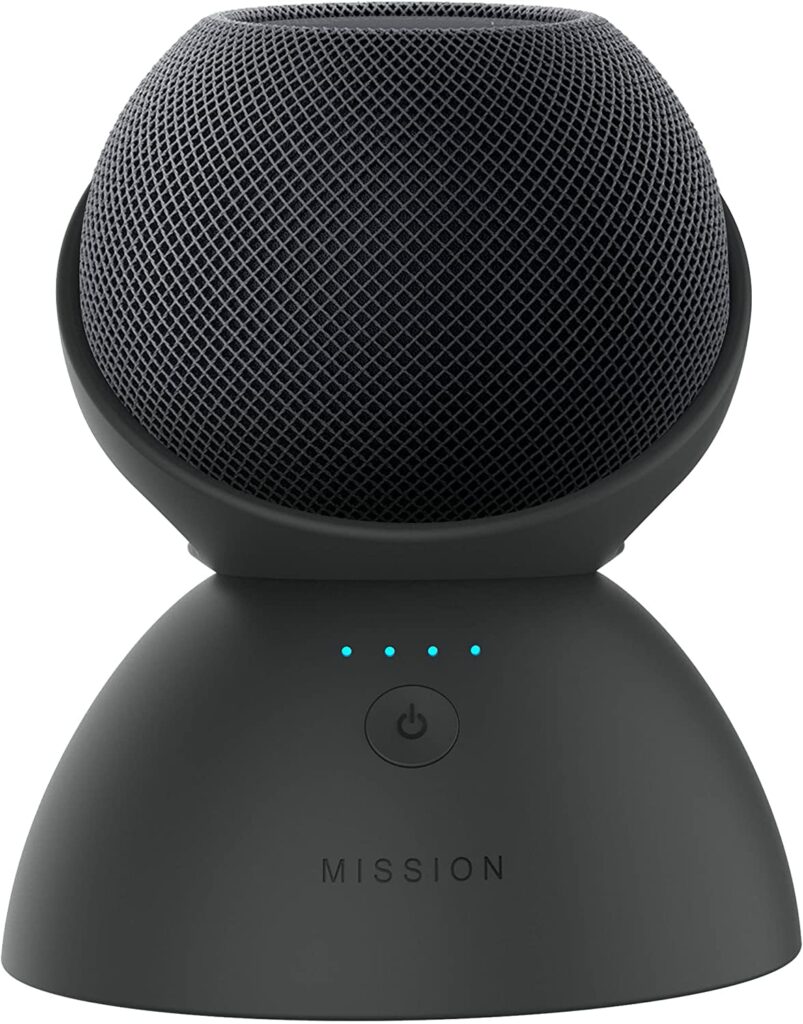 With the Mission Battery Base, you can make your HomePod mini portable. Its minimalist design blends seamlessly with HomePod mini without compromising sound quality.
The integrated battery lasts up to 9 hours, so you can enjoy your music anywhere. The integrated cable management setup takes seconds without tools. It also features a convenient carrying handle for easy portability. Plus, the base includes a USB-C port for charging other devices. The HomePod mini battery is the perfect accessory for bringing your HomePod mini anywhere.
Buy Mission Battery Base for HomePod mini for $41.99 here.
2. TotalMount Compatible with HomePod mini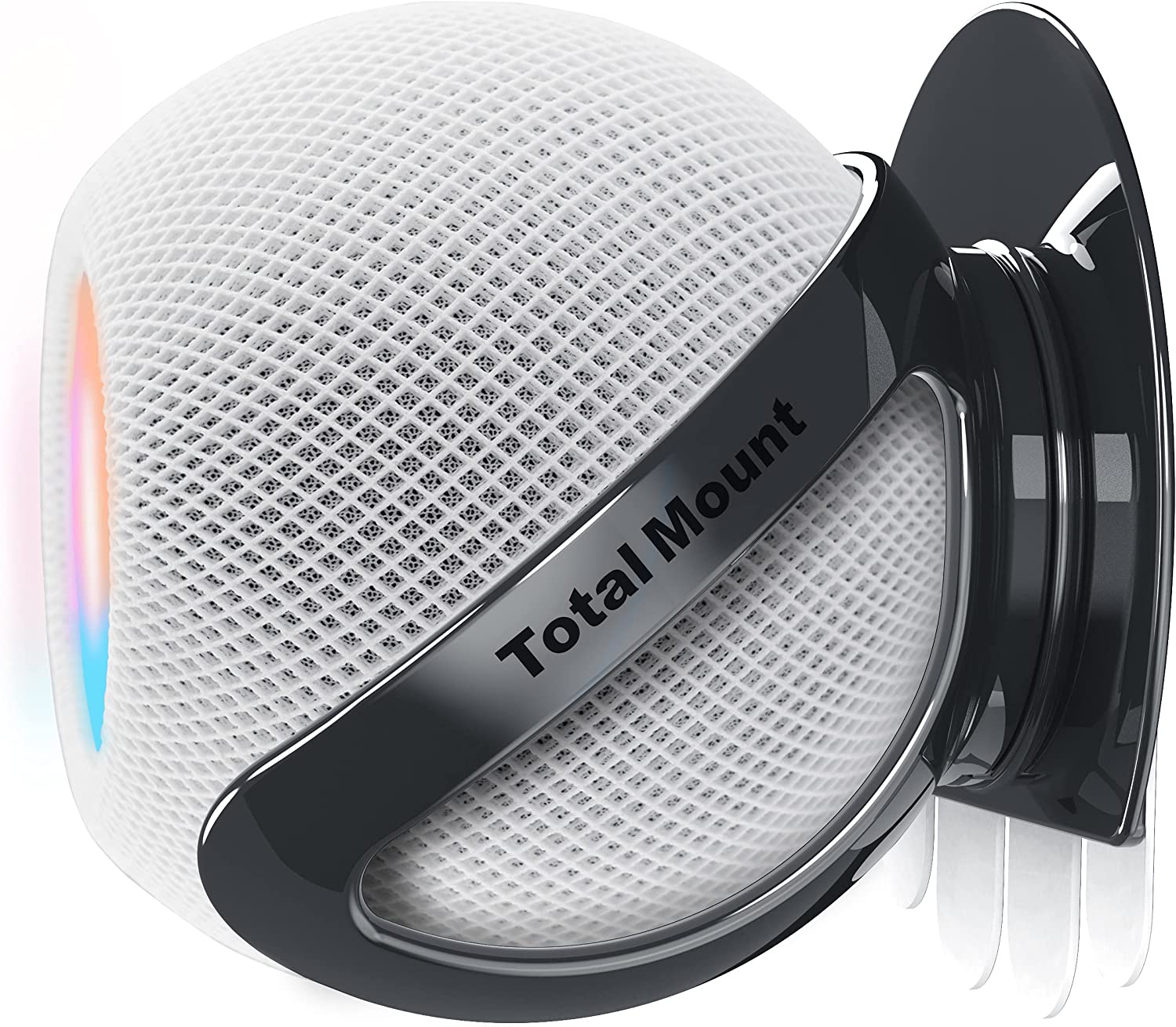 The hole-free mount lets you mount your HomePod mini wherever you like in your home without drilling holes into your walls. Designed to keep your HomePod mini safe, secure, and ideally positioned, TotalMount will keep your device safe, secure, and sound-enhancing. This is the best HomePod mini mount you can buy.
Acoustic waveguides are integrated into the HomePod mini to maximize sound reflection from flat surfaces like countertops and walls. With a flat surface, HomePod mini can provide an immersive 360-degree audio experience. Thus, when it comes to wall mounting, the bottom of your HomePod mini needs to face the wall to ensure a precise, room-filling sound.
All in all, this HomePod mini wall mount allows a long-term mounting of your HomePod mini, while removable adhesive is easy to pull.
Buy TotalMount Compatible with HomePod Mini for $18.99 here.
3. PlusAcc for HomePod mini Wall Mount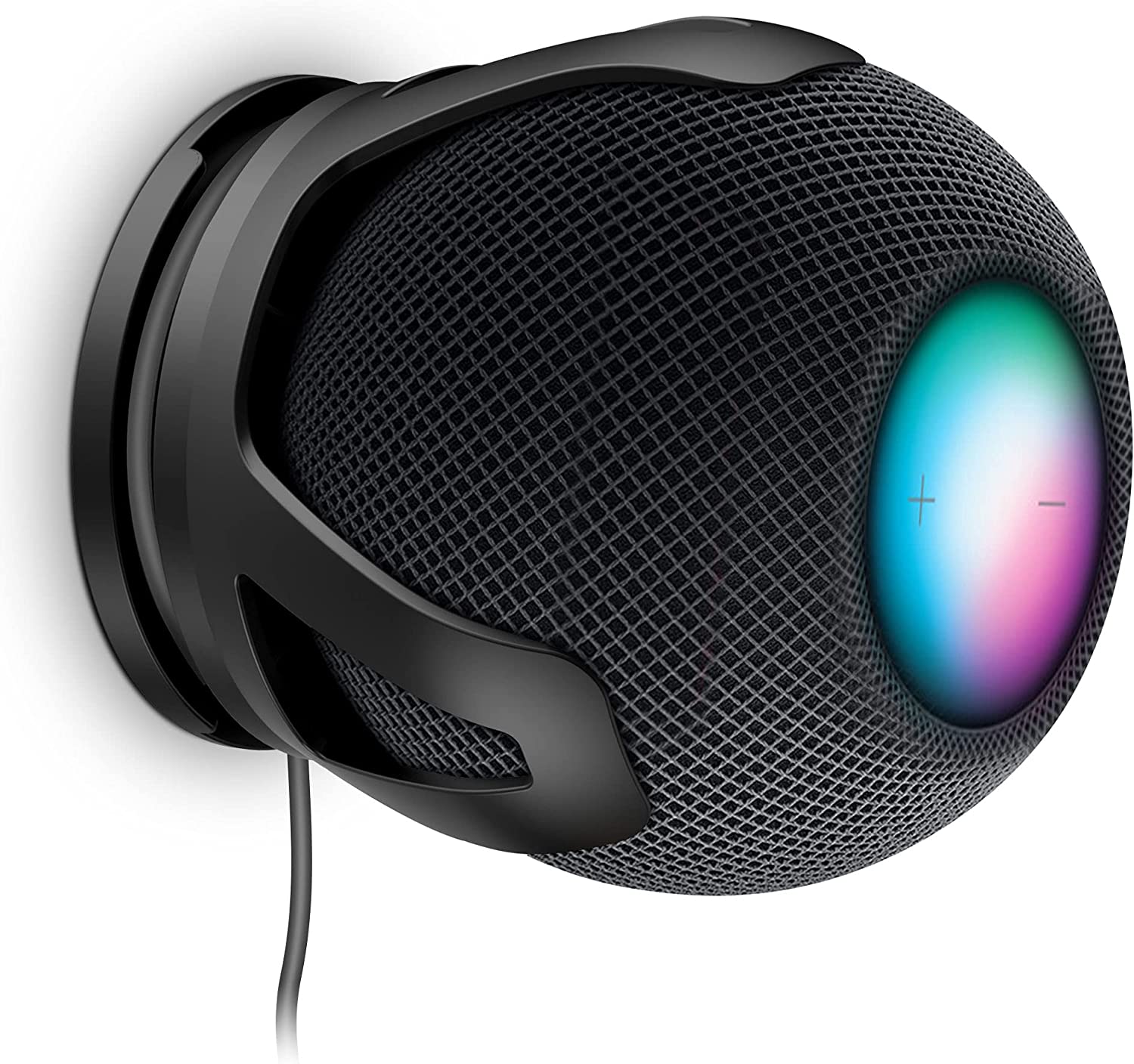 A seamless wall mount for the Apple HomePod mini by PlusAcc is the perfect way to show off your mini on your wall. You don't want to miss out on the convenience and minimalism of this stand.
Organize your space and hide excess cables around the home or office. HomePod mini doesn't take up precious counter space and is out of the way of inevitable messes and spills in the kitchen. It fits perfectly in a small bathroom as well, with its aesthetic design!
It helps the speaker pick up your voice more efficiently and helps project your sound more effectively. With its clever design, the speaker beams all 365 degrees of sound off the wall, making it easy to see when Siri is activated.
Despite its small size, the HomePod mini mount is highly functional and has good cord management. Additionally, the sturdy plastic prevents Wi-Fi and Bluetooth interference.
It helps you centralize sound and move the HomePod mini away from your desk. The mounting process is simple, snug, and secure.
Buy PlusAcc for HomePod mini Wall Mount for $14.99 here.
4. shinar Stand HolderCompatible with HomePod mini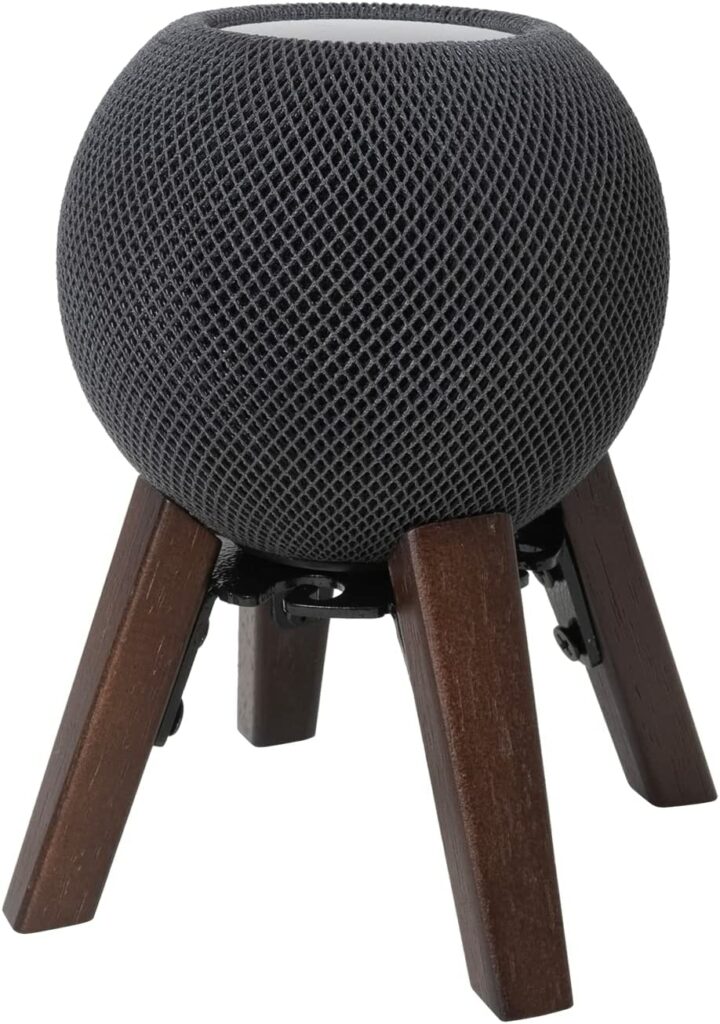 The Shinar stand holder is a new model for Dot 4/Dot 5 generation devices with a clock. Each of the four wooden legs is equipped with 1mm thick silicone pads. Using this method would prevent the holder from moving and absorbing the impact.
Installing the speaker takes only a few minutes. With the stylish design, you can use the Dot (HomePod mini) as a modern piece of home decor. It is ideal for kitchens, living rooms, bedrooms, and bathrooms.
The solid wood legs make your device stand out on the table. Additionally, this HomePod mini stand protects your device. You can attach your device directly to the holder after placing it on the holder.
The stand allows you to hold your speaker horizontally, improving its performance.
Buy shinar Compatible with HomePod mini for $18.99 here.
5. AFOOYO Acrylic Stand for HomePod mini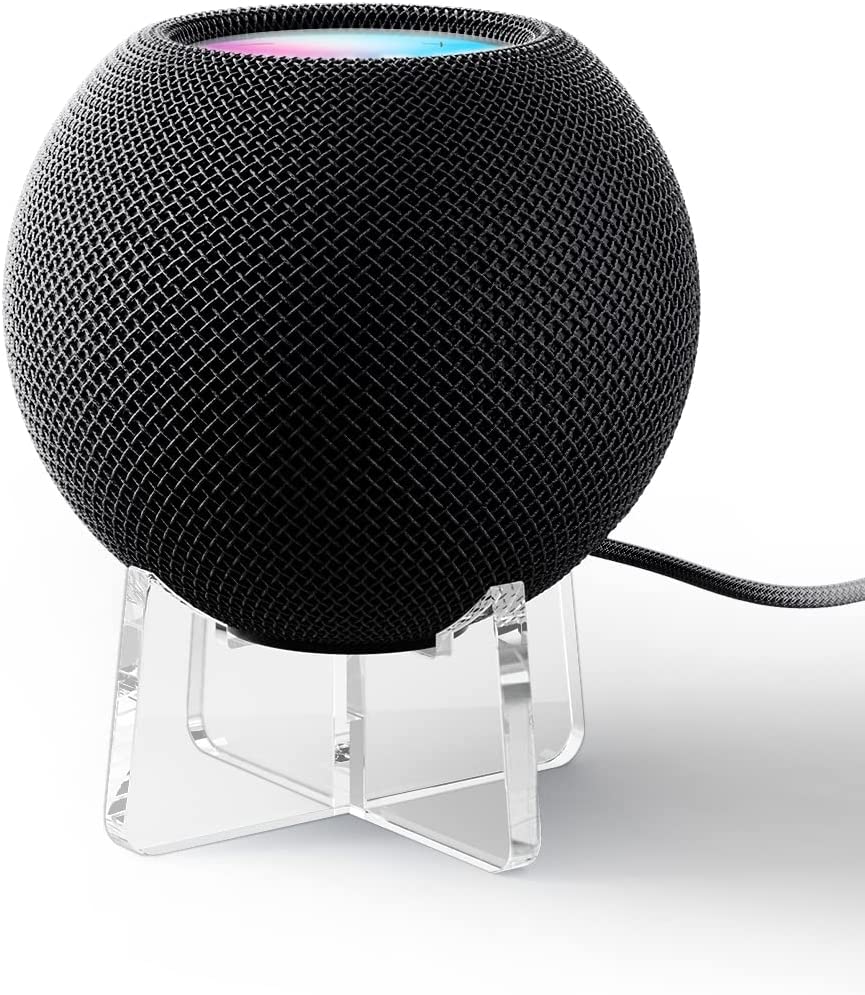 With a wealth of experience designing stands using bamboo, walnut, silicone, acrylic, and other materials, AFOOYO has created this new design that uses transparent acrylic, which is very neutral and suitable for a wide range of situations, including the bedroom, living room, kitchen, bathroom, office, and garden. This is a great HomePod mini stand that you should buy for your home.
A raised HomePod mini stand enhances the quality of 360-degree sound.
You will receive two acrylic panels with the package; peel off the protective film, mount the two panels, and then put the HomePod mini on to listen to your music.
Make sure you hold your speaker firmly and do not interfere with the audio output. These smart speakers are tailored to fit perfectly.
Buy AFOOYO Acrylic Stand for HomePod mini for $8.99 here.
6. HeyMoonTong Transparent Outlet Wall Mount Holder Stand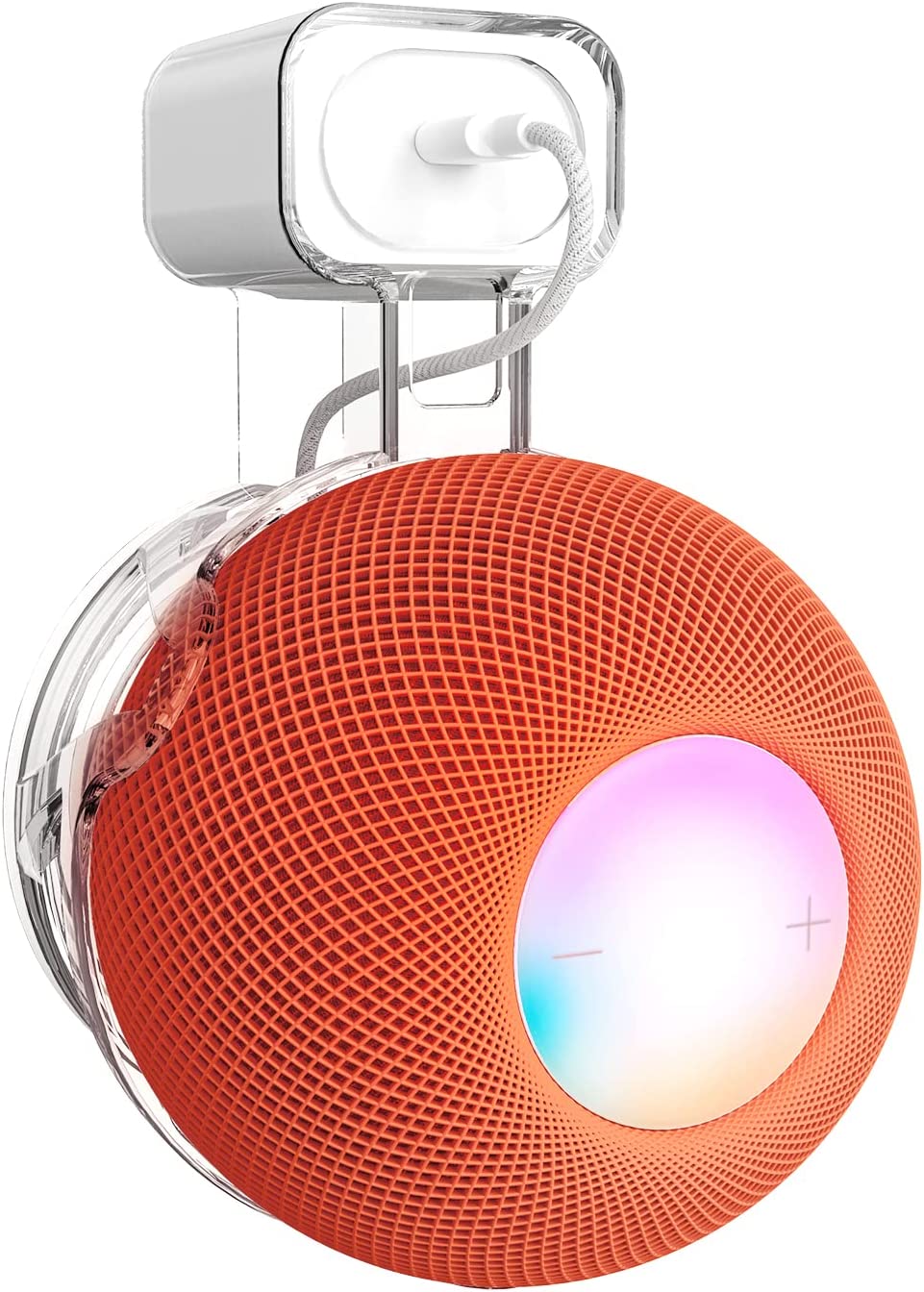 Need a holder for your Apple HomePod mini but can't find one that fits? This transparent outlet wall mount is designed for the HomePod mini in all colors. The acrylic material makes it elegant and durable. It can be hung anywhere you need, as long as there is a socket nearby, such as the bedroom, living room, study, bathroom, kitchen, garage, or office.
The wall mount holds the HomePod mini against the wall and protects your speaker from shocks, turbulence, and water splashes. It's a must-have HomePod mini accessory.
There is no need to drill holes or screw anything in. With the cable management system in-built, you can neatly coil the speaker cable around the Mount/Bracket and fix the HomePod mini to it.
Buy HeyMoonTong Transparent Outlet Wall Mount Holder Stand for $14.98 here.
7. TopMade Table Holder Stand for Apple HomePod mini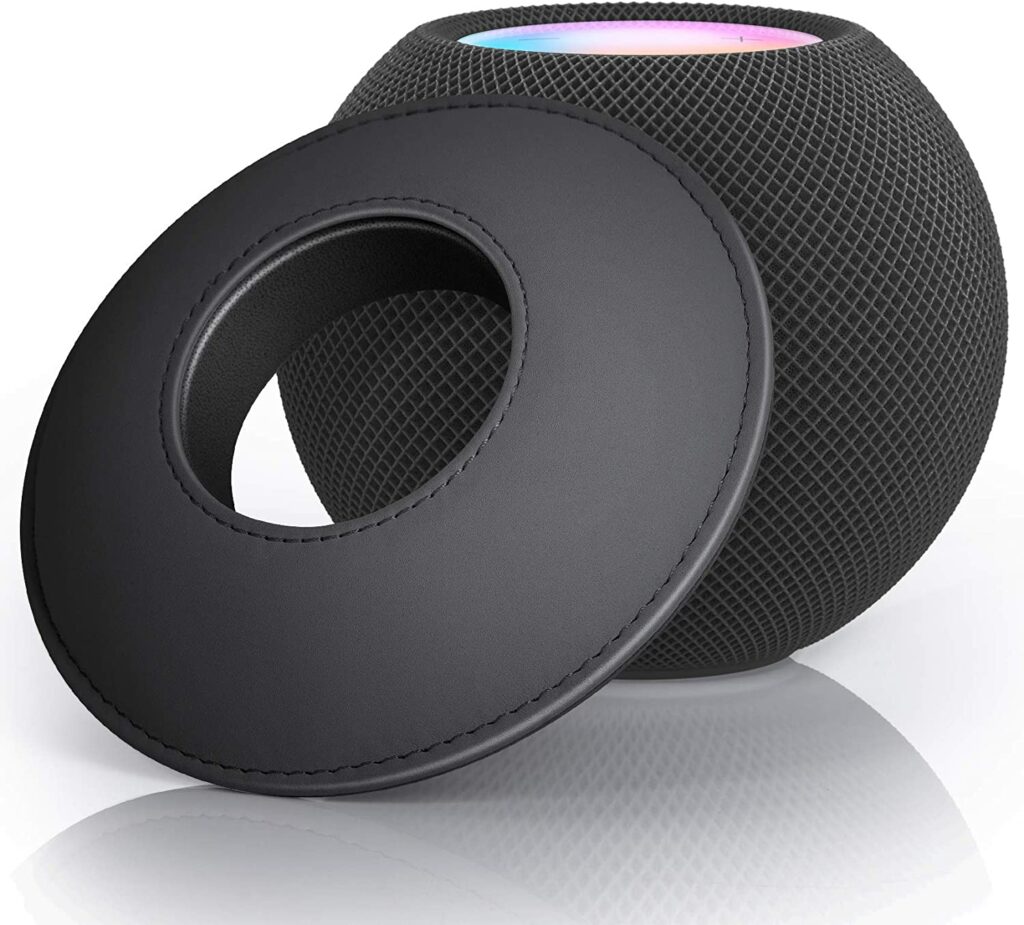 This Apple HomePod mini stand table bracket is made from high-quality natural leather, adding elegance to your tabletop. You won't have interruptions when using your HomePod mini speaker with the HomePod mini desktop mount holder. You can easily use different touch controls on your speaker. To keep the pure soundtrack, the speaker mount table shelf holder absorbs the vibration of the HomePod mini.
Designed for HomePod mini speakers, TopMade's pad coaster stand for HomePod mini nestles snugly within the precision machined ring at its lip. It includes unique speaker base mount accessories suitable for both men and women for the Apple HomePod mini. The table bracket stands to fit the HomePod mini perfectly. You can customize your stand for your HomePod mini and place it wherever you want, including the floor, desk, table, kitchen, living room, etc.
Designed to fit tightly against the tabletop, this anti-slip leather coaster stand holder keeps the anti-scratch HomePod mini stand shelf securely on the table, preventing the HomePod mini from rolling or falling. The speaker should not be in direct contact with a wooden desk to protect it from the white ring.
The HomePod mini shelf holder stand has been perfectly designed to match the curve of the Apple HomePod mini speaker. The ring design of the HomePod mini desk bracket stands not only elevates your device for a cleaner, better appearance but also adds a touch of elegance to your living space. With this waterproof leather base mount for the Apple HomePod mini, the speaker remains dry and clean at all times.
Buy TopMade Table Holder Stand for Apple HomePod mini for $11.99 here.
8. CableCoaster Cable Management Cord Organizer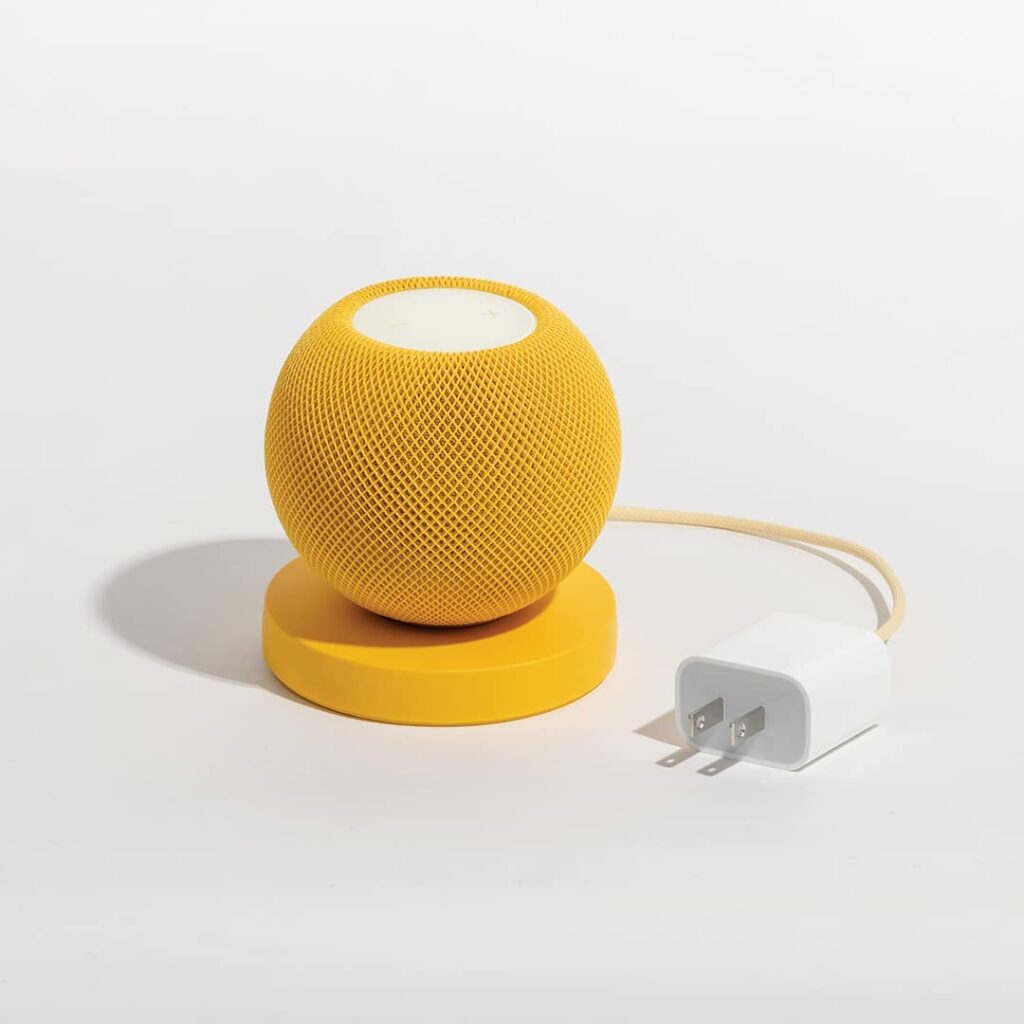 The Apple HomePod mini is a great little gadget to play music in the bathroom during your morning routine. If you're looking for the perfect CableCoaster, this is the one for you. This prevents clutter on the counter and hides the unsightly cord.
Designed with built-in cable storage, it cleans up counters of excess cables by wrapping cords around the base. It is less than 3/4" thick and fits under your device neatly and cleanly.
The modern and sleek design of this accessory is designed to blend in rather than stand out.
Buy CableCoaster Cable Management Cord Organizer for $11.99 here.
To Conclude
Invest in any of these HomePod mini accessories and your life will get a little easier! We hope you will find the perfect gadget for your HomePod!
If you have any queries let us know in the comments section.