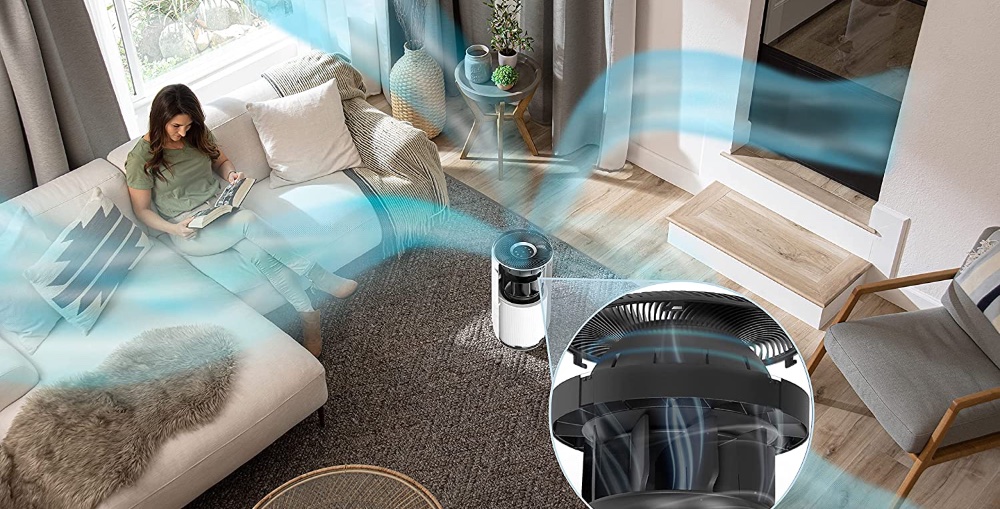 Having a HomeKit-compatible Air Purifier that you can control with your iPhone is a must-have for any Smart Home. The good news is there are plenty of great smart Air Purifiers out there that fit this description.
In this list, we have shared some of the best Smart Air Purifiers that you need to consider before making a purchase in 2023.
These great options from Sensibo, Levoit, Proscenic, and Smartmi are enough for someone who wants an iPhone-controlled Air Purifier.
Smart Air Purifiers In 2023
Here are the best iPhone-controlled Smart Air Purifiers that you can buy in 2023.
1. Sensibo Pure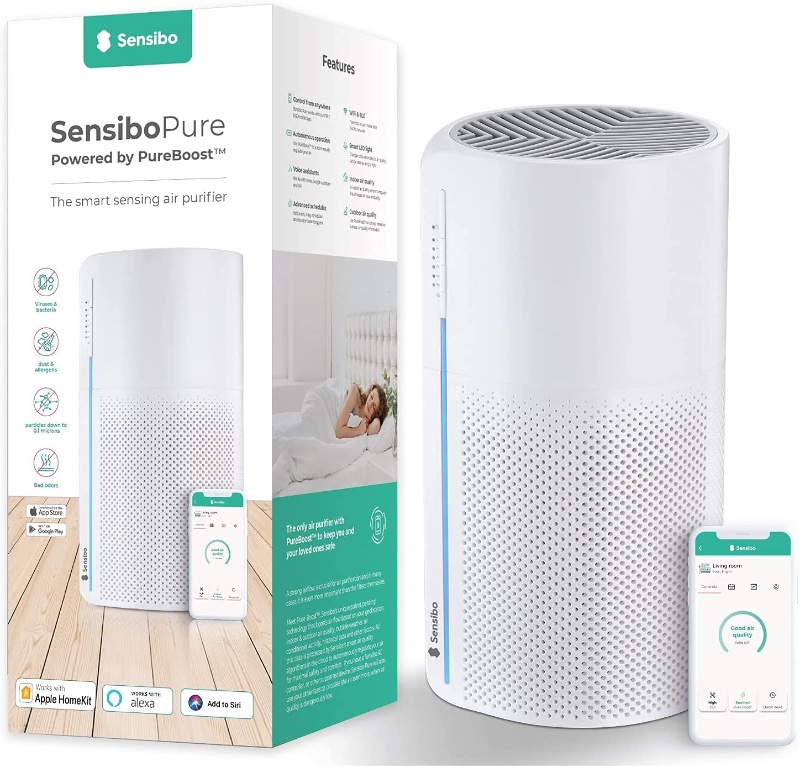 Sensibo Pure has one of the best air purifiers that make the air cleaner for you and your family. This smart air purifier keeps your home atmosphere free from seasonal allergies and pollutants. If you are worried about increasing air pollution, this iPhone controlled air purifier is the right thing for you.
With only a few taps, it is super easy to connect it with Apple HomeKit, Google Home, Amazon Alexa, and Android and iOS. Sensibo's air purifier is powered by Pure Boost which means its smart sensing technology improves the air quality at a higher level. Its multi-dimensional scanning ability automatically tracks the air and removes germs and dirt.
Wondering how it works? Well, this smart air purifier with its triple-layered filtration system grabs the harmful substances you cannot see and releases the filtered air in the room. Once installed and played, it works automatically. You don't need to control the filter all the time. Moreover, its smart sensors scan the environment and run on turbo mode whenever needed in an empty room. This way you always return to a cleaner and healthier environment. You can also use it in the kitchen, office, or bedroom.
You can buy this Sensibo Pure Air Purifier for $169 at the link below.
2. Levoit Smart Air Purifier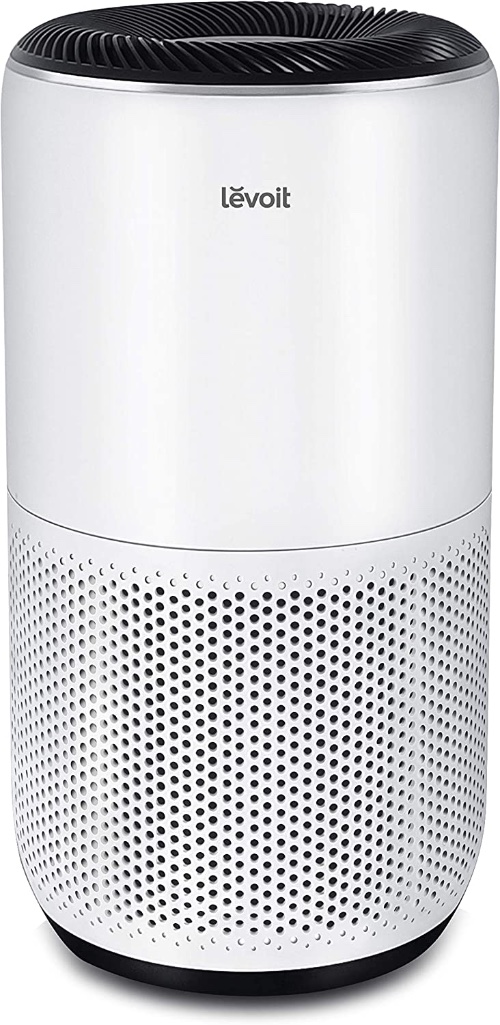 Levoit iPhone-controlled air purifier cleans the air 360° with its powerful VortexAir 3.0 technology. This system increases air circulation, filters the air, and releases clean air. If you are concerned about its noisy machine, that is also taken care of. Its rubber pads absorb the noise from the fan vibrations and reduce the noise level to 24 dB. All because you deserve a relaxed sleep environment.
Worried about monthly bills? Well, its 38W energy-saving fan with its highest speed ensures controlled electricity usage. Its Ozone free 3-stage filtration system removes allergens, 0.3 microns sized airborne particles, and neutralizes odors in the air. Its Laser Dust Sensor scans the environment improving its efficiency makes it one of the best air purifiers. Its color-coded display helps you see the real-time amount of particles.
In order to enjoy hands-free control, connect the iPhone-controlled air purifier with a third-party voice assistant such as Google Assistant or Amazon Alexa.
You can buy the Levoit Air Purifier for $219.99 at the link below.
3. Proscenic Air Purifier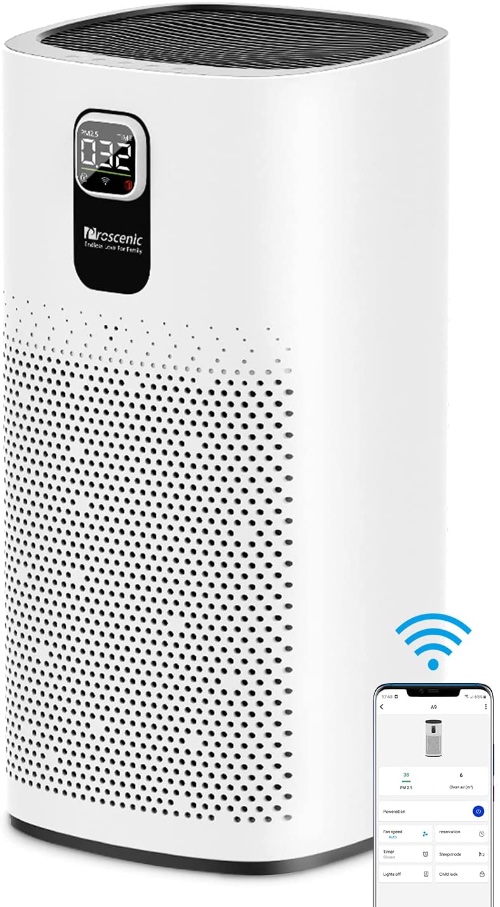 If you want to improve the quality of your life, get your hands on Proscenic, one of the best smart air purifiers. It is ideal for rooms up to 2,904 sq. ft and purifies the whole area within an hour. Likewise, you can use it for your office, dining room, and living room.
This iPhone-controlled air purifier has a touch-lock system to prevent any accidental touch by children or pets. Moreover, you can set the timer from 1 up to 8 hours exactly whenever you want. When going to bed its sleep mode reduces sounds and turns off the light to let you have a deep sleep.
Its ozone-free A9 purifier does not use UV light. This means during the cleansing process, your home remains protected from harmful ozone rays as well as resultant pollution. As opposed to its competitors, its 4-stage filtration system removes 99.97% of airborne particles, dust, smoke, fumes, odor, and other large particles harmful to your lungs.
This smart air purifier is easy to set up and control via Proscenic App. The app also gives you real-time air quality and filter replacement updates.
You can buy the Proscenic A9 Air Purifier for $125 at the link below.
4. Levoit Wi-Fi Air Purifier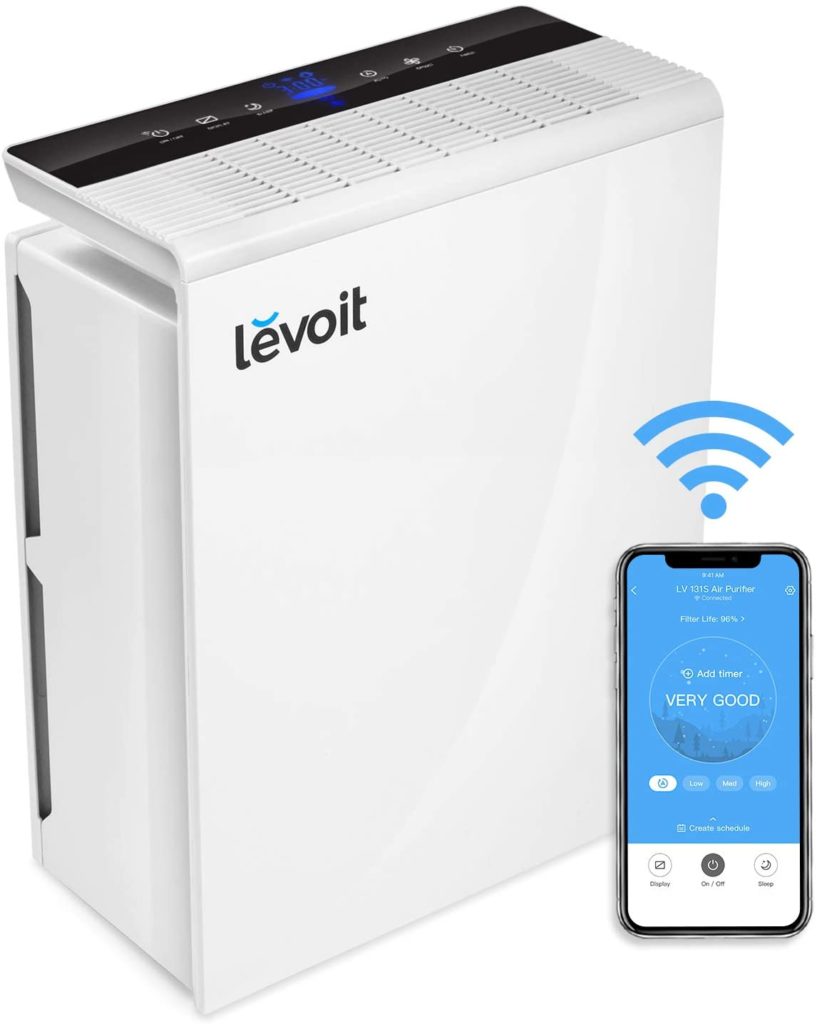 We have another one of the best smart air purifiers by Levoit. In order to control its functions remotely with your voice, you need to connect it to Alexa or Google Assistant via VeSync app. Forget about using smart plugs and use your smartphone to control this air purifier. Even when you are away, you can control its functions and when you reach home breathe fresh air.
Its advanced features such as direct control, air quality display, timer, and filter life legitimately make it one of the best air purifiers for your home. Its odor-removing and smoke-diminishing features have Honeycomb Activated Carbon Filter and Pre-Filter increase its purifying speed and efficiency by 30%.
So, if you are allergic to dust, pet dander, pollen or mold this smart air purifier its 3-in-1 filtration system is perfect for you. Apart from preventing allergies, you can have a good night's sleep with its sound at 27dB. Its automatic fan adjustment system controls its speed to give you a real-time air quality reading.
It takes 1 hour to clean 900 sq. ft room whereas 30 minutes to purity 360 sq. ft room. In order to check the filter life, you can see it on the VeSync app.
The Levoit Smart Wi-Fi Air Purifier is available for $162.59 at the link below.
5. Smartmi Air Purifier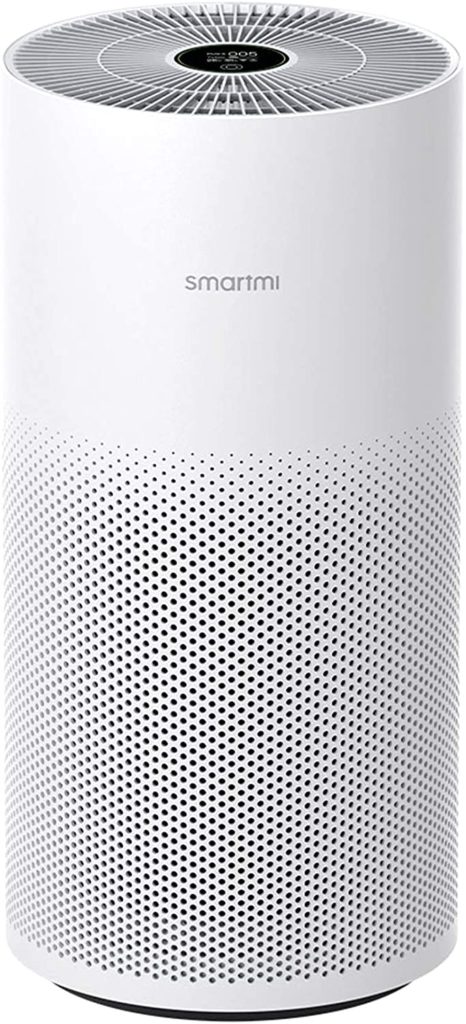 If you are looking for one of the best smart air purifiers for large rooms, Smartmi is the right choice. It smartly deals with uncomfortable odors, pet dander, pollens, and even smoke. Its H13 HEPA filter purifies your home effortlessly. Its real-time air quality display ensures pure air around the clock. Moreover, it also keeps the temperature and moisture moderate.
Its super high efficiency purifies the 100 sq. ft area within 5 minutes whereas cleans 517 sq. ft in only 26 minutes. That being said, it is ideal for large rooms such as the living room, dining room, and master bedroom. With its sleep mode, its sound reduces to 30dB ensuring your sleep is not disturbed.
In order to control it remotely, you can give it voice commands via Google Assistant and Alexa. As well as use its gesture and App control features.
Smartmi HEPA Air Purifiers for Home is available for $79.99 at the following link.
Do you want to breathe in pure air in your home? Grab one of the best smart air purifiers from the above list. Don't forget to share this with your friends and family.
For more iPhone-controlled air purifiers and more gadgets, stay tuned to iOSHacker.com
More Smart Home Accessories: