In terms of performance, battery life, and color options, Apple's 10th-generation iPad is a solid entry into the company's lineup. It would make a great addition to anyone's everyday carry, but you should consider getting a case if you are planning on adding it to your gadget arsenal.
Unfortunately, it isn't easy to sort through the dozens of choices that are available. You are in luck because we have picked the best magnetic keyboard cases for iPad 10 from a whole bunch for you.
Best Keyboard Covers for iPad 10th Generation
Here are the best iPad 10th-generation keyboard cases. All of the following options are a great way to maximize your iPad's protection.
1. ESR Rebound Magnetic Keyboard Case
Convert your iPad into a portable productivity machine and work whenever and wherever you want with this case on.
You can easily open the floating cantilever stand with ultra-strong magnets which allows you to type or browse at the right angle while using the case and tablet together.
The larger, perfectly spaced keys with the scissor mechanism provide the required bounce for a quiet, accurate, and smooth typing experience.
In addition, the extended, ultra-sensitive multi-touch trackpad allows you to tap, pinch, and swipe with perfect precision and navigate your iPad like never before.
Buy ESR Rebound Magnetic Keyboard Case for $119.99 here
2. typecase Edge Magnetic Keyboard for iPad 10th Generation
This one of the best iPad 10 keyboard cases with trackpad magnetically holds your iPad on the back cover, attaches your Apple Pencil on top, and connects your iPad 10th generation to the wireless keyboard, transforming it from an iPad into a laptop within a second.
Using a multi-touch touchpad, you can navigate your iPad 10th generation in a whole new way, edit documents, browse the web, and build presentations at unmatched speeds. Whenever you type on the keyboard, the palm rejection function disables the touchpad.
With ergonomic keys that feature backlighting and adjustable brightness levels, you will be able to comfortably type in any light condition.
Additionally, it covers the front and back of your iPad 10th gen with synthetic vegan leather and folds into a slim protective cover, making it easy to carry around in a purse or handbag.
Buy typecase Edge Magnetic Keyboard for iPad 10th Generation for $139.99 here
3. FUWANG iPad 10th Generation Case with Keyboard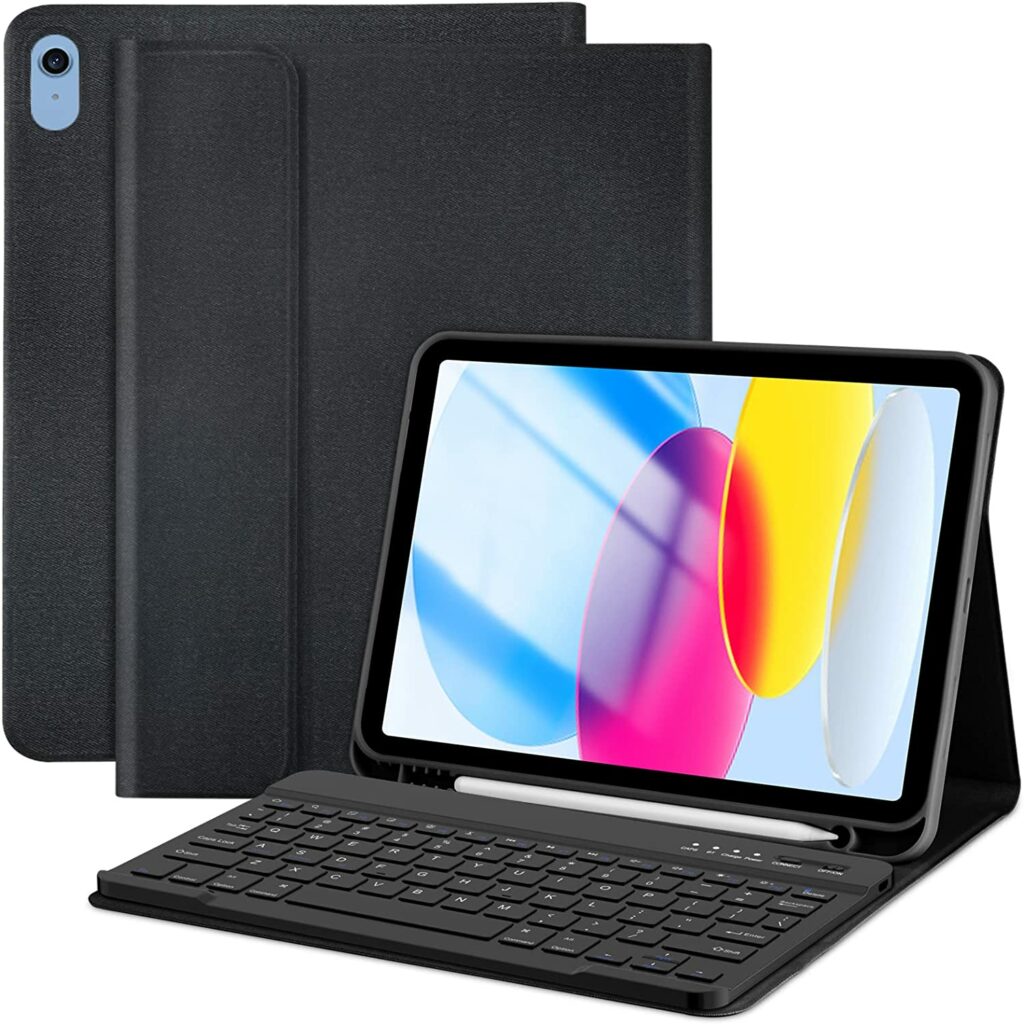 Suitable for any occasion, this iPad keyboard case is the perfect accessory for your iPad 10th generation. No matter if you are using it for meetings, travel, or everyday use at home, it's a smart choice. Whether you are on the go, studying, or entertaining, it is the perfect companion.
There is a magnetic connection between the keyboard and the case of iPad 10.9, which allows the keyboard to be removed from the case. The USB keyboard for the 10th generation iPad can be recharged without having to be replaced. In case you are not using the keyboard, you can simply remove it.
Perfectly designed for easy use and maximum protection, the iPad 10th generation case offers precise cutouts for all functions. You can use this iPad case to ensure your device is protected all around due to its drop- and scratch-resistant design.
Furthermore, it lets you adjust its position to suit your viewing preferences, whether you are watching, reading, working, or playing games. A pencil holder is included with the iPad 10th generation keyboard case. This means you can carry your Apple pencil and iPad with ease.
Buy FUWANG iPad 10th Generation Case with Keyboard for $39.99 here
4. BLUTLOTUS iPad 10th Generation Case
This protective case is lined with honeycomb grid pattern cushioning that releases more than 80% heat and prevents overheating. Consequently, this helps prolong the life of your iPad and protects the screen from damage. This feature alone makes it one of the top iPad 10.9-inch keyboard cases.
A flip leather case integrates a tablet and keyboard, which together form a laptop with a keyboard function. You can adjust screen vision and typing position with the smart folio keyboard and magnetic case. In the event that you don't need the Bluetooth keyboard, you can simply remove the keyboard and wear the iPad Pro case instead.
When closed, this smart cover automatically puts your iPad to sleep.
What's more, a built-in pencil holder for the iPad leaves a slot to secure the stylus pen and has a photo window.
Buy BLUTLOTUS iPad 10th Generation Case for $45.99 here
5. ProCase Keyboard Case for iPad 10th Generation
This wireless keyboard is magnetically detachable and comes with a stand, carrying case, and built-in pencil holder. Its versatility makes it stylish, convenient, and suitable for travel and everyday use.
The tablet can be propped up into three different viewing angles in landscape mode with the Adjustable Viewing Angles on the case.
An exterior constructed of premium composition leather prevents accidental drops and bumps. Plus, an interior made of soft anti-slip material protects your tablet from scratches.
All in all, it has detailed cutouts that provide full access to all functions, making it the perfect accessory for your newly-bought iPad 10th Generation.
Buy ProCase Keyboard Case for iPad 10th Generation for $36.99 here
6. VOPOTEK iPad 10th Generation 2022 Keyboard Case
VOPOTEK iPad cover boasts a multi-color backlit keyboard as well as a scissor mechanism with 1.2 mm of travel for quiet and responsive typing. You can type more efficiently with a full row of iPadOS shortcut keys.
With a magnetic latch and slim design, your iPad will remain scratch-free on the front, back, and corners. You can even protect your iPad from drops and other mishaps with shock-absorbing technology.
From typing notes or emailing to watching videos, any angle stand offers you the right angle for the job at hand.
In addition to its 650mAh battery, Bluetooth low energy technology ensures that the keyboard can operate without its backlight for up to 6 months.
Buy VOPOTEK iPad 10th Generation 2022 Keyboard Case for $41.99 here
7. edaiser iPad 10th Keyboard Case
With this Apple iPad 10th generation keyboard case, you can rotate the iPad 360 degrees and flip it 180 degrees without needing a stand.
This iPad keyboard case includes a smooth trackpad and supports multi-touch gestures along with iPadOS shortcuts.
You can type comfortably in any light with the updated iPad 10th generation magic keyboard.
Wireless and rechargeable, this iPad keyboard pairs automatically with your 2022 Apple iPad 10.9-inch without a password. With the backlit off, it can be used for 180 hours with a rechargeable battery.
Designed with a pencil holder, this Edaiser iPad 10th generation case is handy for taking notes on the go. This ultra-portable 2022 iPad 10th generation 10.9-inch swivel keyboard case allows you to safely charge your Apple pen.
Buy edaiser iPad 10th Keyboard Case for $62.55 here
That's all, folks! 
Now that you have gone through the best iPad 10 cases with keyboard and trackpad, it will be easier for you to choose the right one.
So, which one would best match your preferences? Let us know in the comments section.