One of the most common questions that many people have is whether or not to get the Keyboard Covers For 2021 MacBook Pro. The question arises due to the confusion about whether you need one or not. 
In one word, yes, you should get a keyboard cover for your MacBook Pro.
As it defends the MacBook Pro Keyboard against accidental damage from liquids and other things. For this reason, it is important to have the best keyboard cover for MacBook Pro.
Selecting a MacBook Pro keyboard cover, however, can be a challenging task. It is quite difficult to choose between all the options available on the market.
However, do not worry, we have handpicked a bunch of 2021 MacBook Pro keyboard covers for you to choose from. So, let's just jump right into the topic without further ado.
Must read: Help I Just Spilled Water On MacBook And It Won't Turn On
Best 16-Inch MacBook Pro Keyboard Cover
Using a keyboard cover or keyboard protector will prevent dust and grime from accumulating on your keyboard and ensure that it remains in good condition even after many years of use. These MacBook Pros aren't cheap, so it makes sense to invest in MacBook Pro cases, screen protectors, and keyboard covers.
The good thing about keyboard covers is that you can choose from plain or designer prints.
Here are MacBook Pro Keyboard cover options for your 14-inch MacBook Pro. Depending on your needs, choose the one that suits you best.
1. CASEDAO Keyboard Cover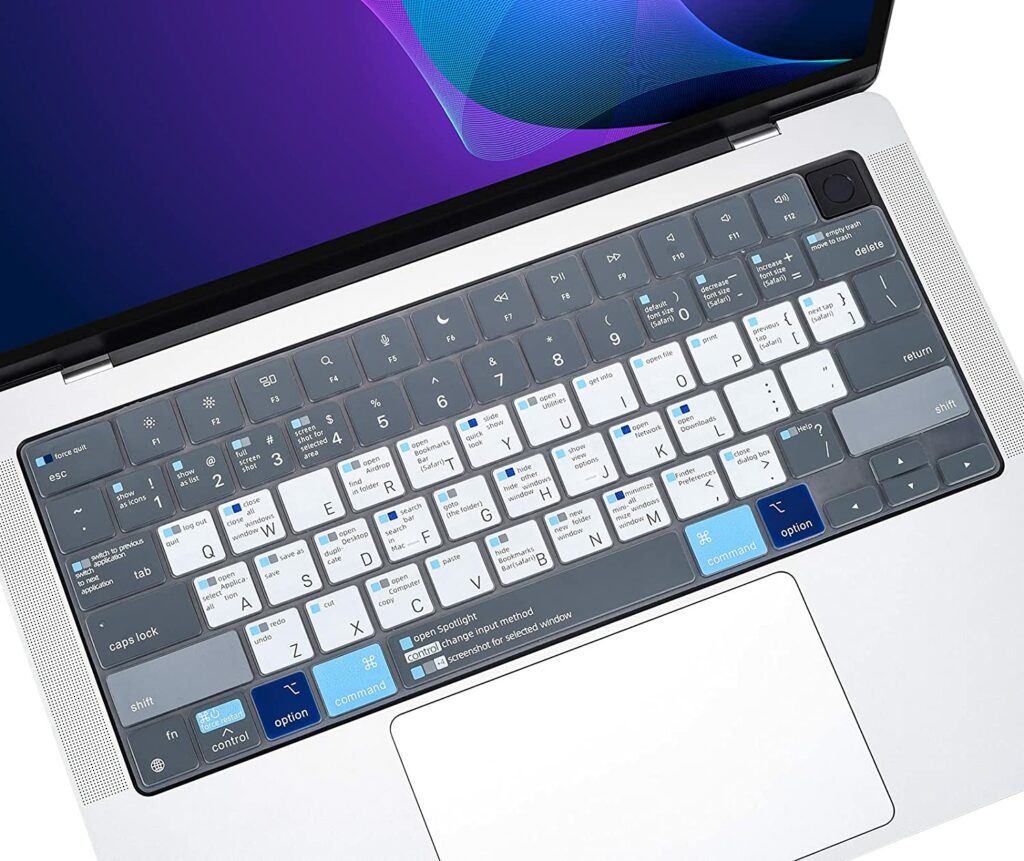 Not only does it provide shortcut instructions, but it also provides all-around protection for the keyboard, each key and symbol is individually molded and specially printed on silicone for a long-lasting professional appearance.
Your keyboard will be protected against accidental fluid spills, dust, dirty fingers, and other contaminants thanks to its waterproof and dust-proof design.
Embedded with premium-grade elastic transparent silicone, the skin cover is ultra-thin to 0.3mm, making typing easier.
Using high-precision molding, each key is made accurately and in accordance with its quality. It's easy to access Touch ID because of the precise cut-out even when this keyboard cover for MacBook Pro is on.
All in all, the silicone material is premium engineering grade and has a thickness of only 0.3mm, making it lightweight, soft, flexible, and safe.
Buy CASEDAO Keyboard Cover for $10.99
2. CaseBuy Premium Keyboard Cover for MacBook Air
Designed for MacBook Pro 14-inch models, the keyboard cover is made of engineering-grade TPU material.
This product is durable yet lightweight, flexible yet non-slip, non-toxic, as well as healthy and environmentally friendly. What more could you ask for, right?
As an added benefit, soft material can reduce sound when typing, and the thickness of 0.12mm minimizes typing interference.
You can see the keyboard backlight through high transparency, keeping the elegance of your MacBook.
This silicone keyboard cover for MacBook Pro 2021 can be washed with soapy water and make it as clean as a new one. You can put it back on the keyboard once it is dry.
Buy CaseBuy Premium Keyboard Cover for MacBook Air for $7.90 here
3. Uppercase GhostCover® Premium Ultra Thin Keyboard Cover Protector
Uppercase is known for making some of the best MacBook Pro cases and accessories, and its GhostCover ultra-thin keyboard protector is no exception. Designed to fit precisely on the MacBook Pro keyboard, this 14-inch MacBook Pro keyboard cover offers excellent typing comfort. Because it has an industry-leading thickness of 0.12mm (0.005 inches), you won't have any problems typing.
The TPU material is high-quality, offering high transparency, and allowing the backlight to shine through, so you don't have any problem seeing the keys. There is no doubt that it is one of the most highly-rated keyboard covers, and it is perfect for use with MacBook Pros.
On top of all these features, the keyboard cover is also completely washable and reusable.
Buy Uppercase GhostCover® Premium Ultra Thin Keyboard Cover Protector for $12.95 here
4. Kuzy Compatible with MacBook Pro 14-inch Keyboard Cover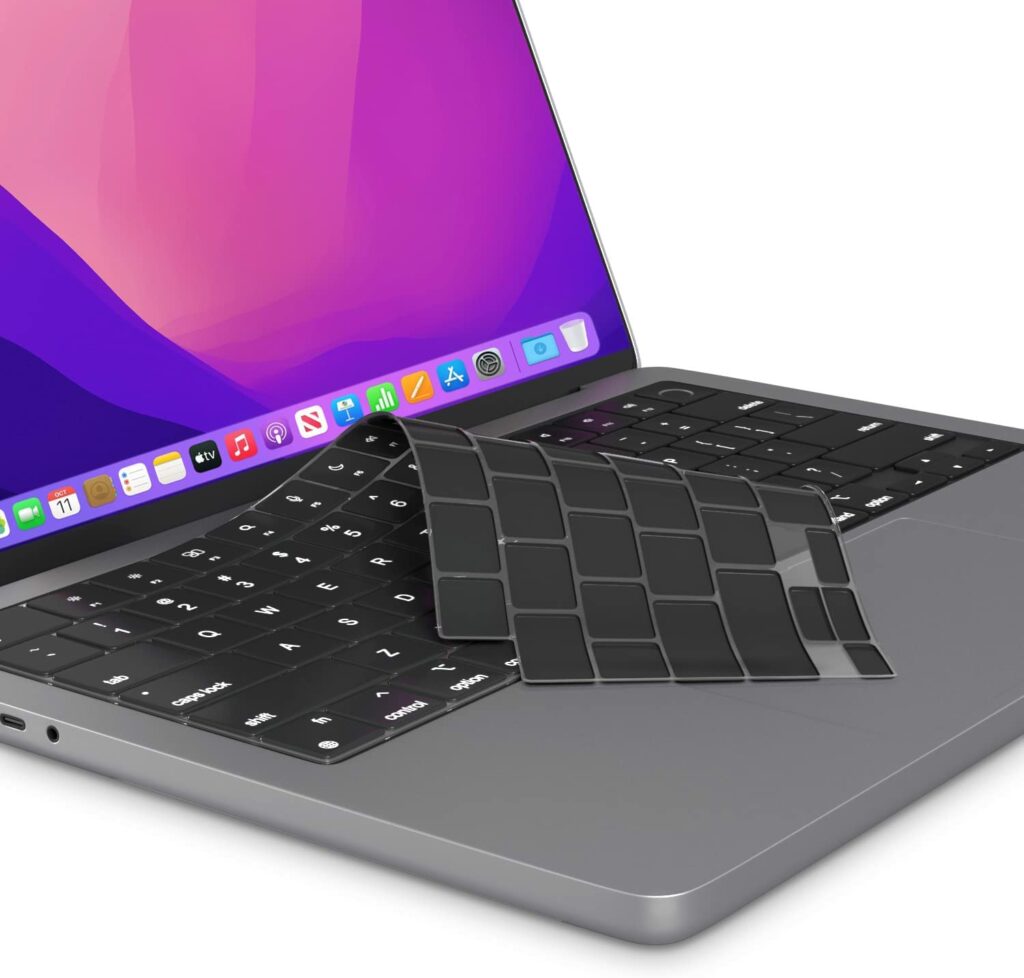 Using the best industry standards, Kuzy designed this keyboard cover for the MacBook. The Kuzy laptop keyboard cover is made from high-elastic silicone. Featuring a long-lasting professional look and advanced spill and dust protection, every key is individually molded.
The soft, flexible, and washable silicone keyboard skin is soft to the touch and makes typing more comfortable. You can easily roll up the MacBook keyboard cover for storage and travel thanks to its flexible, environmentally-friendly design. You can quickly apply and remove it when needed.
With Kuzy computer keyboard covers, you can extend the life of your Apple device. In addition to providing superior-quality MacBook Accessories, the brand ensures that they are designed to be sleek and stylish.
This keyboard cover is compatible with MacBook Pro 14-inch models A2442, A2485, and A2681.
Buy Kuzy Compatible with MacBook Pro 14-inch Keyboard Cover for $9.99 here
5. COOSKIN Ultra Thin Keyboard Cover Skin
Rather than silicone, this Cooskin Keyboard Cover uses premium TPU. In case you're wondering, TPU is a flexible polymer material that offers excellent physical properties, such as flexibility, wear resistance, strength, hardness, extension, and temperature adaptability.
With its ultra-thin and high-transparency properties, the TPU keyboard cover is not easily caught by dirt, does not deform easily, and has great visibility.
It is possible to see backlit keys clearly through films with high transparency.
The keys of the Apple Keyboard are 100% form-fitted, ensuring a tactile response like no other.
It measures 0.18 mm thin (one-fifth as thick as silicone protectors), so it is less likely to leave imprints on your screen when closed.
Buy COOSKIN Ultra Thin Keyboard Cover Skin for $6.99 here
6. EooCoo Keyboard Cover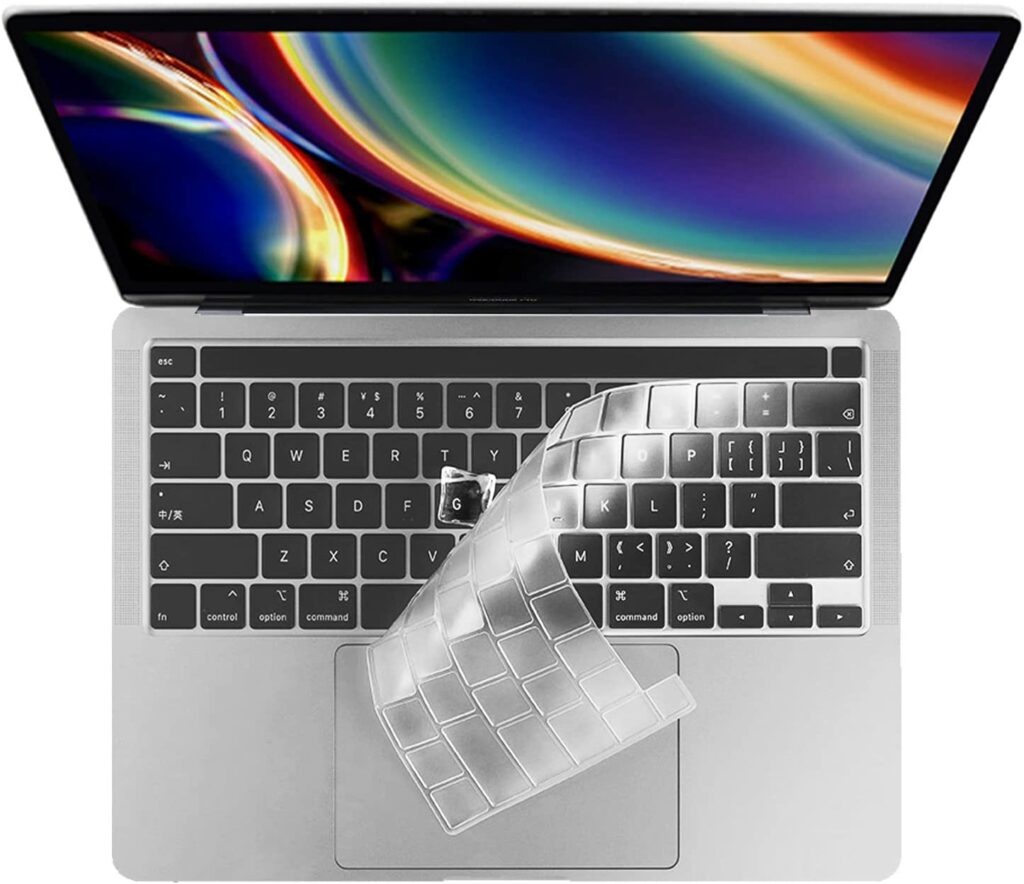 The keyboard cover provides full protection against dust, liquid spills, key wear, and contamination for your MacBook keyboard.
This keyboard cover is made from high transparency and engineering grade TPU material, plus, it is ultra-thin up to 0.12mm so it won't harm the screen when closed.
Featuring high transparency, backlit keys can be seen clearly through the keyboard cover, which is completely washable and reusable.
It means you do not have to worry about those Dorito crumbs getting inside the keys!
Buy EooCoo Keyboard Cover for $7.95 here
To Conclude
Keyboard covers for MacBook Pros are an excellent choice for people who want to keep their device in pristine condition for a long time.
Check out the list and let us know which keyboard cover you selected for your MacBook Pro if you are among them.