In this post you can find the best MagSafe wallets and card holders for your iPhone 14, iPhone 13, and iPhone 12 series.
MagSafe technology from Apple brings wireless charging to your iPhone and opens up a new world of mobile accessories, including simple MagSafe wallets and card holders.
With these minimalistic and tiny card holders, you can ditch your bulky traditional wallet and attach them to the back of your iPhone. There are several different models available, which can hold one to seven cards; some even have a handy kickstand.
Check out these best MagSafe wallets for iPhone users.
Best MagSafe Wallets for iPhone 14
To find out which MagSafe wallet is worth snapping onto your phone, go through the list below.
1. Apple Leather Wallet with MagSafe
Featuring style and function, the iPhone Leather Wallet with MagSafe keeps your ID and credit cards within easy reach.
With Find My, you can find your wallet's last known location in case it gets separated from your phone.
Featuring strong magnets, the wallet is made from European leather that has been specially tanned and finished. It easily attaches to your iPhone with no hassle. In addition, it can even be stacked on top of a MagSafe case to create your unique look.
This leather wallet has three card slots and a shield to keep 2-3 credit cards safe.
Buy Apple Leather Wallet With Magsafe for $54.99 here
2. HiWe Magnetic Card Wallet Holder for Apple MagSafe
HiWe magnetic card holder designed to work with Apple MagSafe has the most convenient size for keeping IDs and credit cards close at hand. It is easy to access the cards stored inside thanks to the thumb slot. It snaps effortlessly into place on the back of your iPhone with the powerful built-in magnet, which is up to 3500Gs, 20% stronger than the official magnetic leather wallet. Designed to fit any size hand, the iPhone 13 Mag-Safe wallet has a very comfortable, ergonomic grip.
This Magsafe wallet card holder can securely hold up to seven credit cards. It is shielded to prevent unauthorized scanning of your credit cards and has degaussing protection to prevent demagnetization. Be sure to safeguard your identity and property while shopping, traveling, or working outdoors.
High-quality PU leather material makes this Apple iPhone leather wallet with MagSafe look timeless and refined. All in all, the HiWe MagSafe wallet has been crafted with precision to resist deformation and opening.
Buy HiWe Magnetic Card Wallet Holder for $19.99 here
3. ESR HaloLock Vegan Leather Wallet Stand
You can be confident that your wallet stand will stay securely attached with powerful magnets that are 20% stronger than those of the official magnetic wallet.
Even with the wallet on the back of your iPhone, you can choose between portrait or landscape and an angle between 15° and 160° to find the right viewing position for your favorite television shows, FaceTime calls or browsing the internet.
There are three individual card slots so you can quickly and easily access the card you need; a clear window allows you to quickly and easily flash your ID.
Stainless steel mesh lining protects your cards from magnetization; and above all, high-quality vegan leather provides a premium look and feel. The combination of these features makes it one of the best leather MagSafe wallets.
Buy ESR HaloLock Vegan Leather Wallet Stand for $29.99 here
4. Pelican Magnetic Wallet & Card Holder
With a strong magnet, the Pelican protector MagSafe Wallet & Card Holder securely connects to your MagSafe-compatible phone, holding up to three times the weight of your phone.
Built from heavy-duty hard shell impact polymer, this MagSafe Compatible Wallet provides dust protection, IPX4 water resistance, sturdiness, and durability for long-term use. Plus, it ensures long-term support for your credit cards and cash.
The MagSafe phone wallet safely holds up to four credit/debit cards, IDs, business cards, cash, coins, and more.
Only MagSafe-compatible devices are compatible with this magnetic snap-on wallet; also works with MagSafe-compatible cases.
Buy Pelican Magnetic Wallet & Card Holder for $28.07 here
5. Miroddi Mi-Tower Magnetic Card Holder Wallet for Apple MagSafe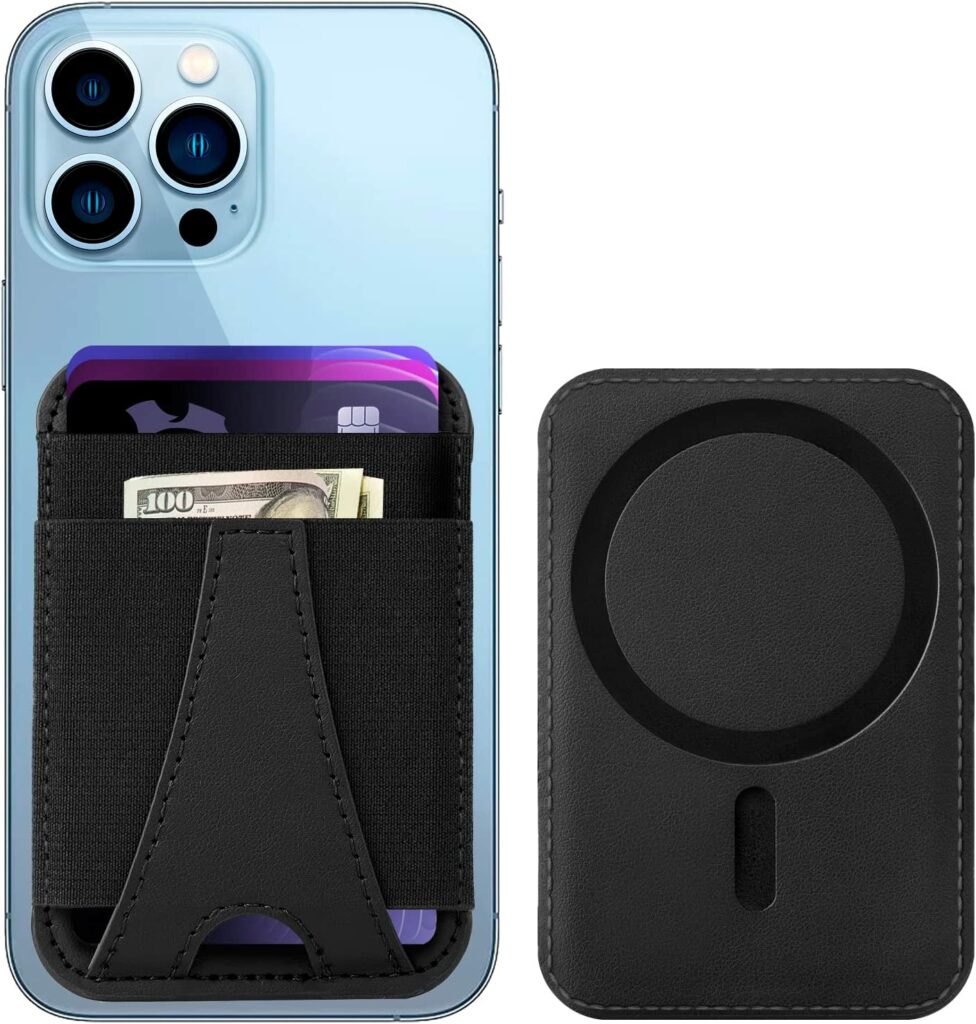 Designed with elastic straps, Miroddi Mi-Tower MagSafe wallets can be stretched to a large extent to increase capacity. It is easy to store up to seven cards or some cash in the Mi-Tower at once. Thumb slots make it easy to access the credit card you need when making a purchase.
It has powerful magnets that are 5X stronger than the official magnetic wallet which allows it to effortlessly snap into place on the back of your iPhone. Mi-Tower MagSafe wallet is equipped with strong magnets with a magnetic force of up to 3500Gs. Thus, you won't have to worry about your wallet and cards falling out. It secures your card wherever you go, so you can travel with peace of mind.
The Mi-Tower Apple iPhone leather wallet with MagSafe offers maximum protection against RFID/NFC scanning risks. MagSafe wallets have an interior strip that holds cards tightly, so even if you turn them upside down, they won't fall out.
Buy Miroddi Mi-Tower Magnetic Card Holder Wallet for Apple MagSafe for $19.99 here
6. OtterBox Detachable Wallet
When you pair the OtterBox Style Wallet with your iPhone and OtterBox case for MagSafe, you have one less thing to carry around. Apple MagSafe technology makes the Style Wallet a great addition to your case or phone. Simply tuck your ID, debit card, and cash inside. You should make the Style Wallet a part of your OtterBox MagSafe accessory collection.
The 6.7-inch display utilizes MagSafe technology so that interaction is seamless.
Synthetic leather is soft to the touch and magnetically aligned. It provides easy access to dedicated cards and cash slots.
With the detachable wallet, your valuables can be clicked onto your phone, while the shield prevents magnetic damage to credit cards.
Buy OtterBox Detachable Wallet for $22.99 here
7. Miroddi MagSafe Leather Wallet
A redesigned and improved version of Miroddi, with a stronger magnet and a larger capacity. The three card slots can easily hold two cards and some cash. In comparison with the previous version, you will be able to insert and remove cards with greater ease.
It's guaranteed that your phone will not be weighed down by MagSafe wallets, as their thickness is just 5mm (0.19 inches).
Unlike other MagSafe wallets on the market, this one features strong built-in magnets that attach effortlessly to the back of your iPhone 14, iPhone 13, or iPhone 12. Thus, you don't have to worry about losing your wallet. Whether you are at home or on the go, this magnetic wallet card holder gives you peace of mind.
Buy Miroddi MagSafe Leather Wallet for $18.99 here
Final Verdict
These are some of the MagSafe wallets that you can purchase for your iPhone. As far as features are concerned, the Apple Leather Wallet offers maximum safety since it can be tracked. Although it's expensive, it is totally worth it.
As affordable options, the Pelican wallet and Otterbox are reasonable choices. As advertised, they do their jobs without digging a hole in your pocket.
Which one would you most likely buy? Let us know in the comments below.