Looking for a privacy screen protector that will protect your iPhone's screen and your privacy at the same time? Then look no further than these best privacy screen protectors for iPhone 13 and iPhone 13 Pro.
No one can beat Apple when it comes to designing elegant gadgets. The iPhone 13 is just as beautiful to look at as it features a brilliant Super Retina XDR display and sleek, flat edges.
Getting a screen protector is the best way to keep your display in pristine condition and protected from scratches and other wear and tear.
Even though Apple's Ceramic Shield protects the screen, it's still a good idea to get the iPhone 13 privacy screen protector to ensure extra safety. So, you can use your iPhone 13 and 13 Pro without having to worry about damaging it!
Both iPhone 13 and iPhone 13 Pro have a 6.1-inch screen size, which means the same privacy screen protector can be used for both devices.
Got an iPhone 13 Pro Max? Best Privacy Screen Protectors for iPhone 13 Pro Max
iPhone 13 and iPhone 13 Pro Screen Protectors 
Here is the list of the best screen protectors that maintain the original iPhone touchscreen experience while providing reliable protection.
1. JETech Privacy Screen Protector for iPhone 13/13 Pro
JETech Privacy Screen Protector has been exclusively designed for iPhone 13 / 13 Pro 6.1-Inch. It fits perfectly on your screen and offers great protection to your iPhone. 
Not only does it shield your screen from wear and tear but it also protects your personal privacy effectively and ensures a comfortable viewing experience.
The screen protector is made of premium ultra-thin (0.33mm) tempered glass that resists scratches up to 9H. Besides, it is dust-free, fingerprint-free, bubble-free, and easy to install.
Get JETech Privacy Screen Protector for $8.99 here
2. Ferilinso Designed for iPhone 13 Privacy Screen Protector
Designed by Ferilinso Privacy Coatings, this iPhone 13 Pro privacy screen protector is made of German materials that are more privacy-enhancing than other materials.
Screen visibility is limited to those directly facing the iPhone 13 6.1 inch screen and is not affected by power usage.
You can keep your private and sensitive information hidden from strangers. It provides the maximum protection, even your friends or colleagues next to you cannot see your messages.
Featuring a military explosion-proof 9H glass and strengthened edges, Ferilinso Privacy Glass also ensures the corners of the screen are well protected.
Additionally, it shields your screen from scratches and high impact drops. With this screen protector, you won't have to worry about sharp objects like keys scratching your iPhone in the bag.
Get Ferilinso Privacy Screen Protector for $8.89 here
3. imluckies Privacy Screen Protector 
imluckies Privacy Screen Protector also helps you hide the personal, private, and sensitive information from the nosy strangers in public places.
Made of 9H hardness tempered glass material, this screen protector gives your phone maximum screen protection from scratches, drops, and scrapes.
The high-definition clear hydrophobic and oleophobic screen coating provides a smoother hand feel, increases wear resistance and prevents sweat and fingerprint residue.
Furthermore, being fully compatible with iPhone 13 it fits your device perfectly, supports non-destructive quick face ID, and offers you high screen sensitivity.
Get imluckies Privacy Screen Protector for $7.99 here
4. iPhone 13 Privacy Screen Protector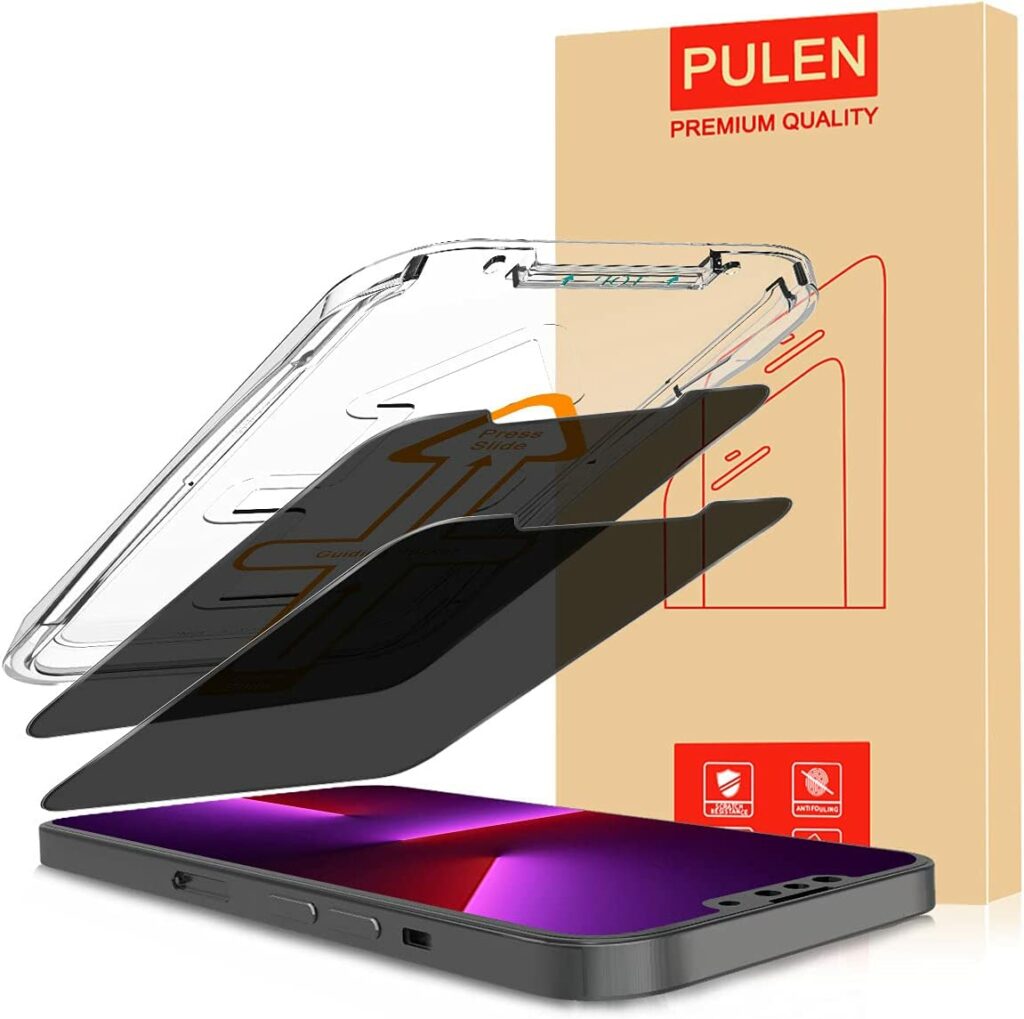 This tempered glass screen protector offers 99.99% touch-screen accuracy and compatibility with most cases.
A high touch sensitivity provides a "True Touch" experience and ensures fast response times. Even with the screen protector on, the case remains intact while providing maximum coverage to your mobile device.
You can use your iPhone with a privacy protector even on the go without worrying about the people peeking at your screen. It is the ideal screen protector for people who travel in the bus or metro.
Get iPhone 13 Privacy Screen Protector for $6.99 here
5. Syncwire Privacy Screen Protector 
The Syncwire screen protector is made of privacy tempered glass which provides high levels of protection against spying.
This privacy screen iPhone 13 protector features Korean LG Anti-Glare Technology to effectively shield your privacy from people nearby who might peek at you from any angle over 45 degrees.
The best thing about this screen protector is that it does not blur your front camera or interfere with Face ID. You can use your favorite phone case that matches your aesthetics and keep your screen protected at the same time!
Get Syncwire Privacy Screen Protector for $15.99 here
6. EGV Privacy Screen Protector
The protector has 2.5 D rounded edges with extra space around the borders to allow it to wrap around the edges of iPhone 13/13 Pro without interfering with the phone case.
Moreover, a hydrophobic and oleophobic coating protects the screen from sweat and oil residue from fingerprints and enhances its visibility.
Designed to protect your iPhone 13/13 Pro from scratches, scrapes, and bumps, this privacy screen protector is made from 9H glass.
Get EGV Privacy Screen Protector for $9.99 here
Final Verdict
With a plethora of choices out there it is a little difficult to choose the best privacy screen protector for your iPhone. However, we recommend buying the one that suits your needs while safeguarding your device.
Do not hesitate to let us know if you need any other product recommendations in the comments below.