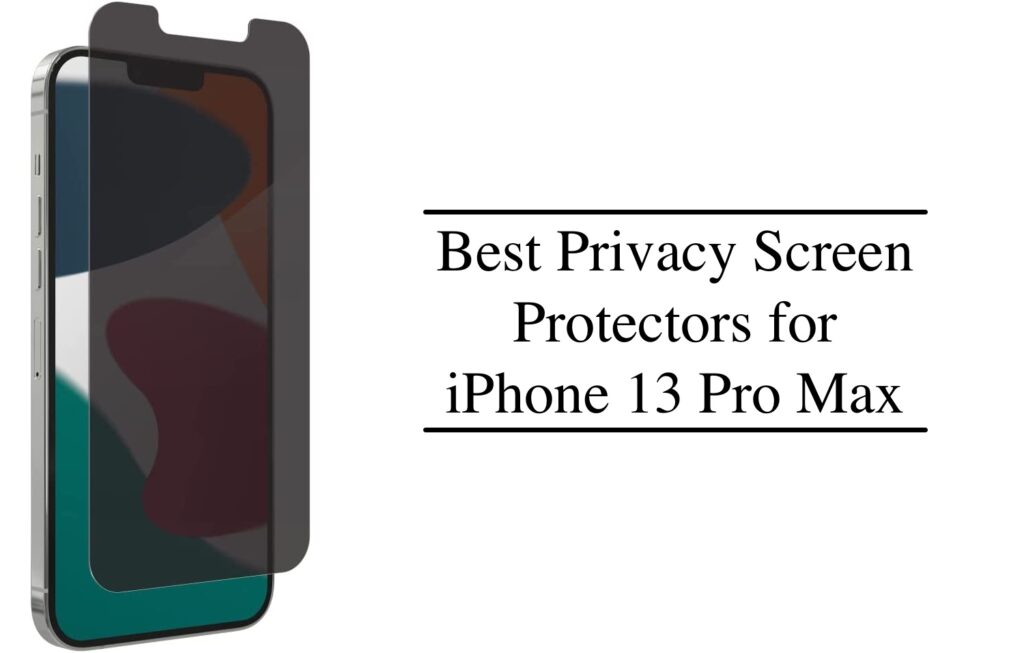 If you want to boost your own privacy, then we recommend using a good privacy screen protector for iPhone 13 Pro Max. Thankfully there are plenty of great privacy screen protectors out there that can help.
Doesn't it bug you when someone peeks into your phone while you are in a queue, coffee shop, or waiting at a bus stop? Well, we get you!
Whether you are a clumsy soul or someone concerned about privacy in public places, having a privacy screen protector would be your best bet!
Privacy protectors won't only keep your privacy in check but also protect your iPhone from scratches and cracks.
Here is a list of the best privacy screen protector for iPhone 13 Pro Max that will provide real protection and stop spying eyes from peeking into your screen.
1. Ravol Privacy Screen Protector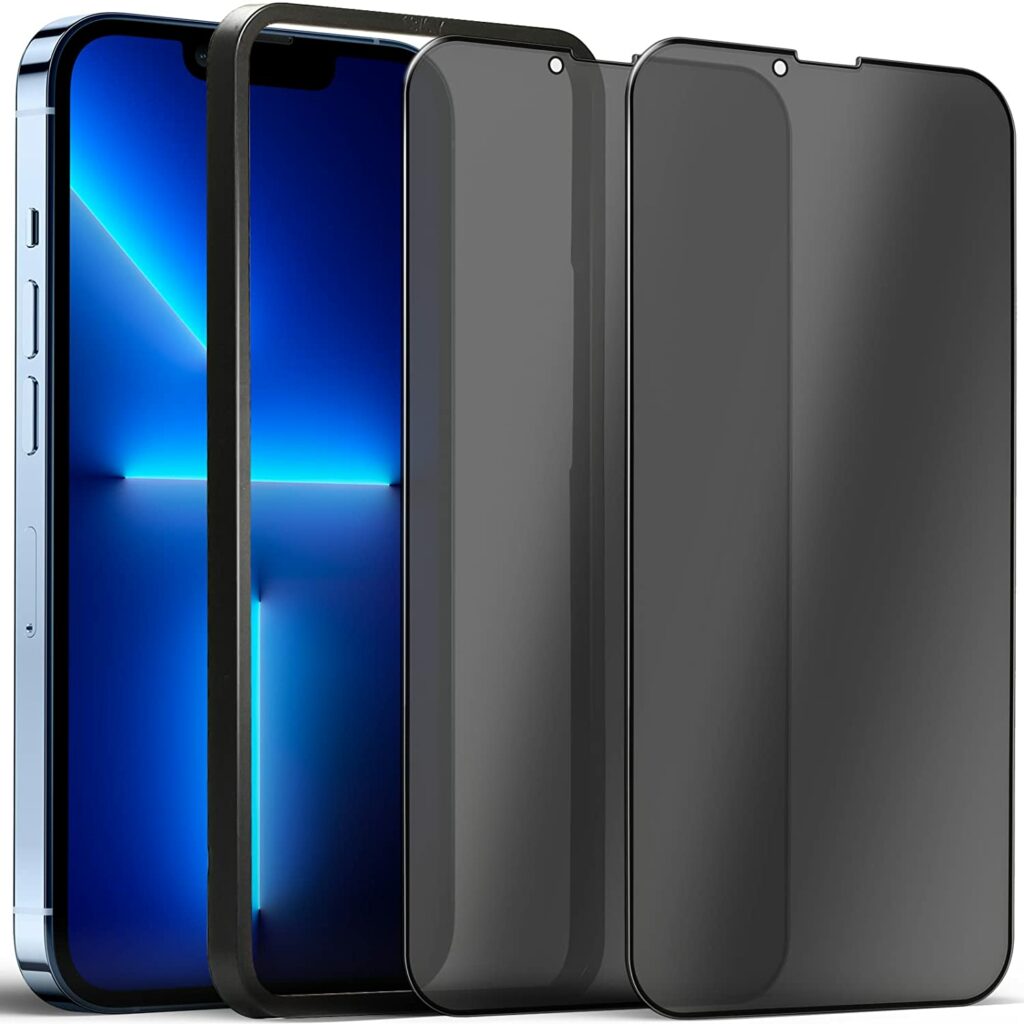 The Ravol Screen Protector is particularly designed for the 6.7 inches iPhone 13 Pro Max. It is ideal for people who spend most of their day outside the house. The film has 9H hardness which makes it shock resistant and prevents scratches, fingerprints, and oil.
The screen protector is fully transparent, which allows you to enjoy your phone while keeping your private, sensitive information from a stranger. However, you may need to increase the brightness of your phone while using it.
What's more? You can easily install the protector on your own as it comes with an installation frame and the wet-wipe, dry-wipe, and dust-absorber.
Get Ravol privacy screen protector for $10.99 here.
2. ZAGG Invisible Shield Glass Elite Privacy 360 Screen Protector for iPhone 13 Pro Max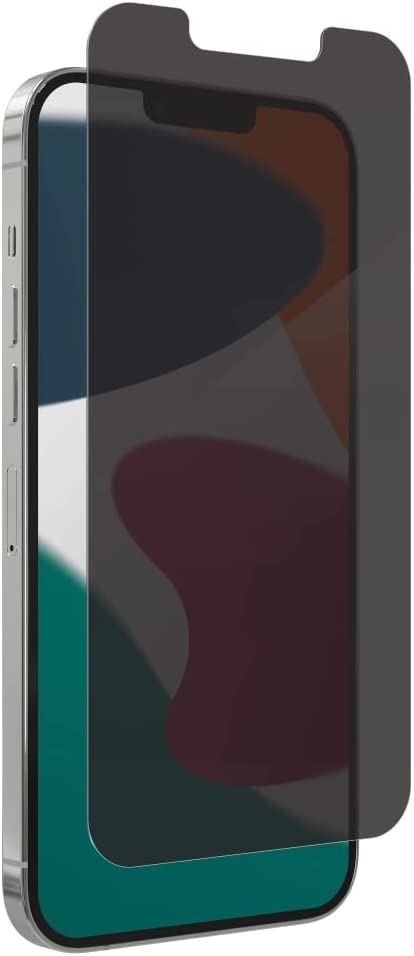 ZAGG InvisibleShield glass is 5X tougher than the traditional tempered glass. It features a four-way filter that guarantees all-around privacy in both portrait and landscape modes.
This screen protector is specifically designed with Ion Exchange Technology that enhances surface compression for scratch resistance and greater strength, while the reinforced edges protect the corners of your iPhone from cracks and chips.
The ClearPrint Anti-Fingerprint Technology hides the visibility of fingerprints on your phone's screen. Not only just that, but it also does not interfere with your phone's touch sensitivity.
The InvisbleShield Glass Elite Privacy 360 promotes hassle-free installation. It includes EZ Apply Installation, special adhesives plus guide markers that ensure seamless installation without any bubbles.
Get a Zagg screen protector for your smart gadget for $52.79 here 
3. Uminy Privacy Screen Protector for iPhone 13 Pro Max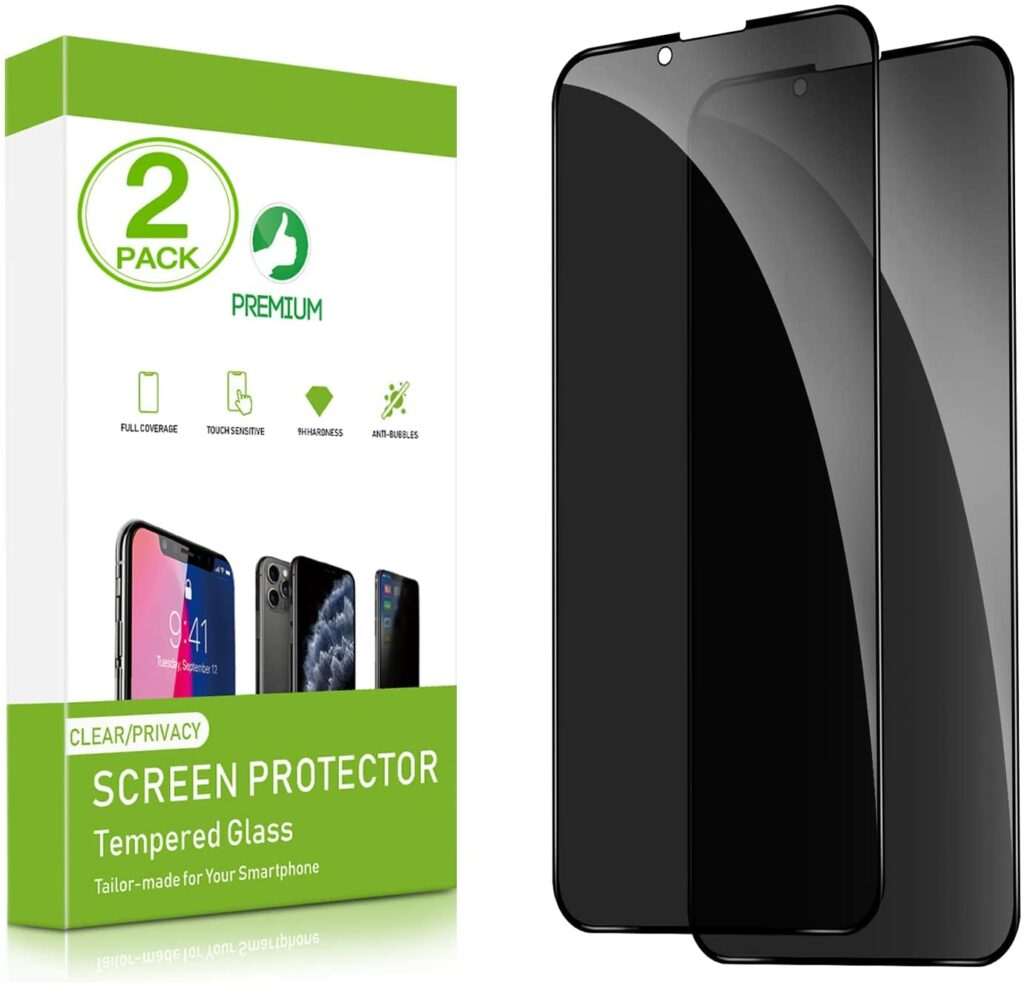 Made with high quality and high definition clarity premium 9H tempered glass, Uminy privacy screen protector is clearer than other privacy screen protectors out there.
This privacy screen protector keeps your personal, private, and sensitive information hidden from people around you. Making the screen visible for the user only.
With this protector, you won't need to worry about your screen hanging or slow touch responding. Because it provides a favorably smooth screen and response experience.
Besides, a colored frame makes quite an easy alignment to the screen, and a bubble-free adhesive provides a magnetic adsorption function for easy installation.
Get Uminy Privacy Screen Protector for $14.99 here.
4. Anti-Spy for iPhone 13 Pro Max Tempered Glass Screen Protector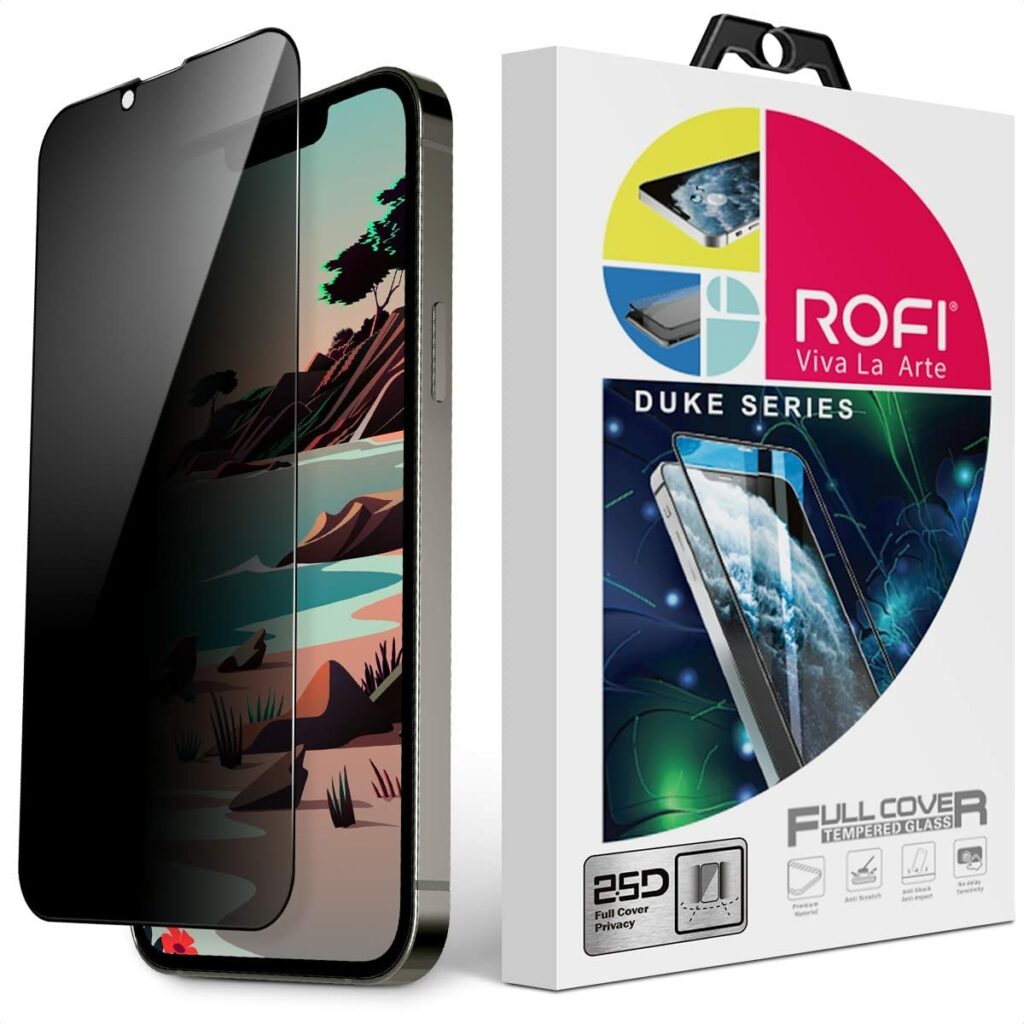 This privacy protector iPhone makes your screen blur for people around you, how cool does that sound? Basically, the screen just appears black for curious strangers around you.
0.26mm HD ultra-clear provides you with seamless touch and protective hydrophobic and oleo phobic coating shields your screen from liquid residue and fingerprint marks.
Its 9H hardness is durable enough and provides top protection from scratches, bumps, and damage to the iPhone screen.
Just like other screen protectors on the list, this one also guarantees easy installation with nano-electrostatic automatic adsorption technology. It removes dust and aligns it accurately before actual installation.
Get a Tempered glass screen protector for $19.99 here.
5. BENKS Privacy Screen Protector for iPhone 13 Pro Max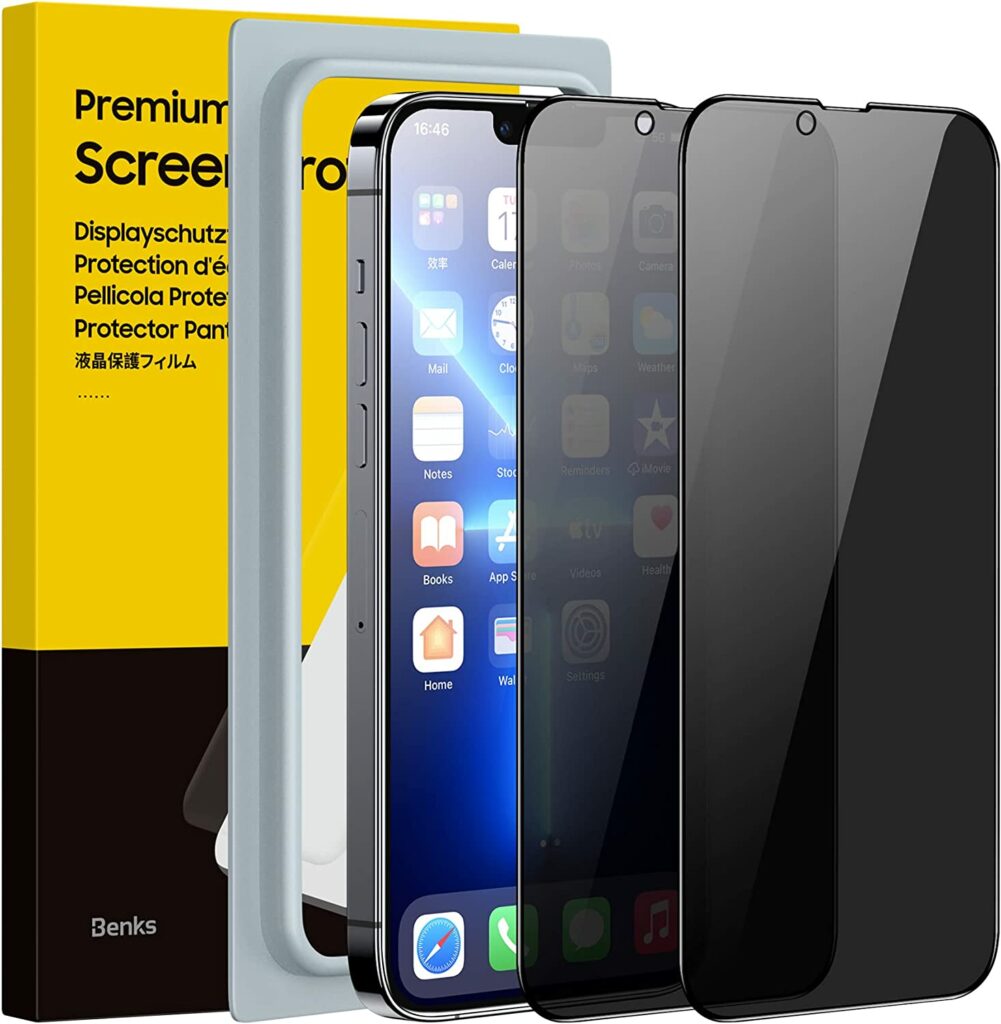 The protector is designed with super micro louver optical technology, which effectively protects your screen information private from every side.
This screen protector stands against scratches from sharp objects, as well as absorbs impact and force to protect your phone screen from sudden drops.
The glass screen protector almost covers the full screen but slightly leaves extra space on the round borders so the phone cases can fit ideally and the screen protector doesn't lift.
You can also install it easily without any professional help.
So, why the waiting? Get BENKS privacy screen protector for $14.99 here.
6. Spigen Tempered Glass Screen Protector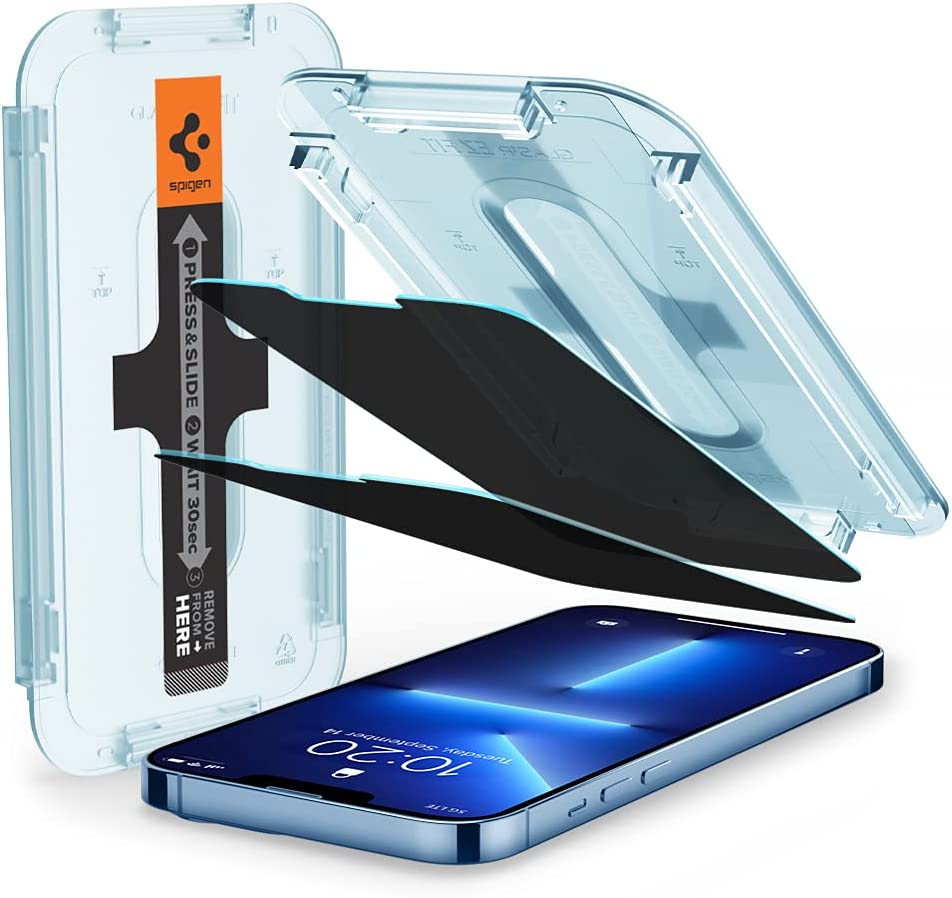 Spigen Tempered Glass Screen Protector is mainly engineered to fit iPhone 13 Pro Max. It keeps the feel and looks of the original screen along with a layer of crystal clear defense.
This screen protector offers to optimize screen protection with high-quality and durable tempered glass. Its Nano-hydrophobic technology adds an invisible coat that secures the screen by improving full coverage oil and scratch resistance.
The product also includes an innovative, auto-alignment installation kit for an effortless and bubble-free application.
Get Spigen Tempered Glass Screen Protector for $17.99 here.
Ready to Protect your iPhone?
Now that you have a list of the best screen protectors, you can buy the one that best suits your preferences. This way you can use your iPhone when even on the go without worrying about people spying on your screen.
If you have any queries, let us know in the comments below.