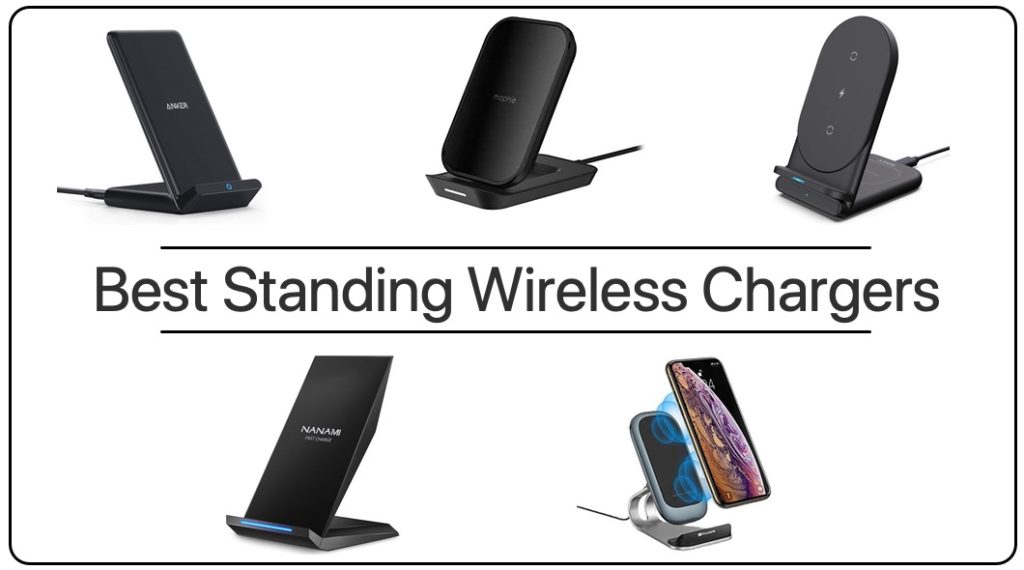 Here you will find the best standing wireless chargers for iPhone that you can buy in 2021. These Qi compatible wireless chargers will allow you to recharge your iPhone in a vertical position.
Ever since Apple has made iPhones compatible with Qi wireless charging, recharging an iPhone has become super convenient. Now instead of dealing with fiddling cables you can simply place your iPhone on a wireless charger and it will start recharging right away.
While you can find many great wireless chargers that let you place your iPhone on a horizontal surface to recharge it, what if you want a vertical wireless charging stand? If that is the case, then you have come to the right place.
If you are in the market to buy wireless charger for your iPhone, then don't forget to check our list of best desk lamps with built-in wireless chargers.
Best Standing Wireless Chargers for iPhone
In our list below you can find the best standing wireless charging stand for your iPhone that you can buy in 2021.
1. Anker Wireless Charger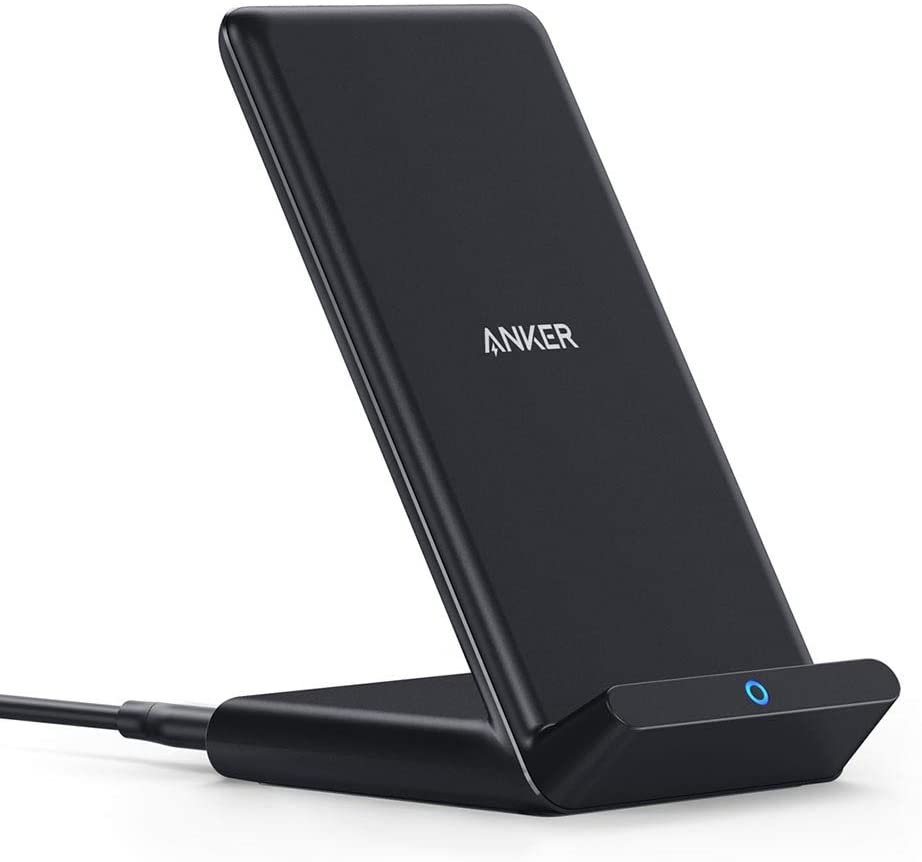 The age of messing with your mobile's charging cables is officially over. Anker's wireless charger is one of the best wireless charger stands that comes with a high-efficiency and high-speed charger with 10W of power. Your iPhone gets charged at a 10% faster speed than other wireless chargers in the market.
Be it landscape orientation or portrait, you can charge your cellphone while watching videos or messaging. Moreover, you don't need to remove your phone case. Because its PowerWave charges your phone through the protective layer of rubber, plastic, or TPU cases having less than 5mm thickness. However, if there is any metal or magnetic attachment it will prevent the charging!
This best iPhone stand for wireless charging automatically switches between 5W and 10W charging modes given the power your device needs. This wireless charger comes with a superior safety system that detects any foreign object, short circuit, and high temperature.
You can buy this wireless charging case for $18.99 at the link below.
2. NANAMI Wireless Charging Stand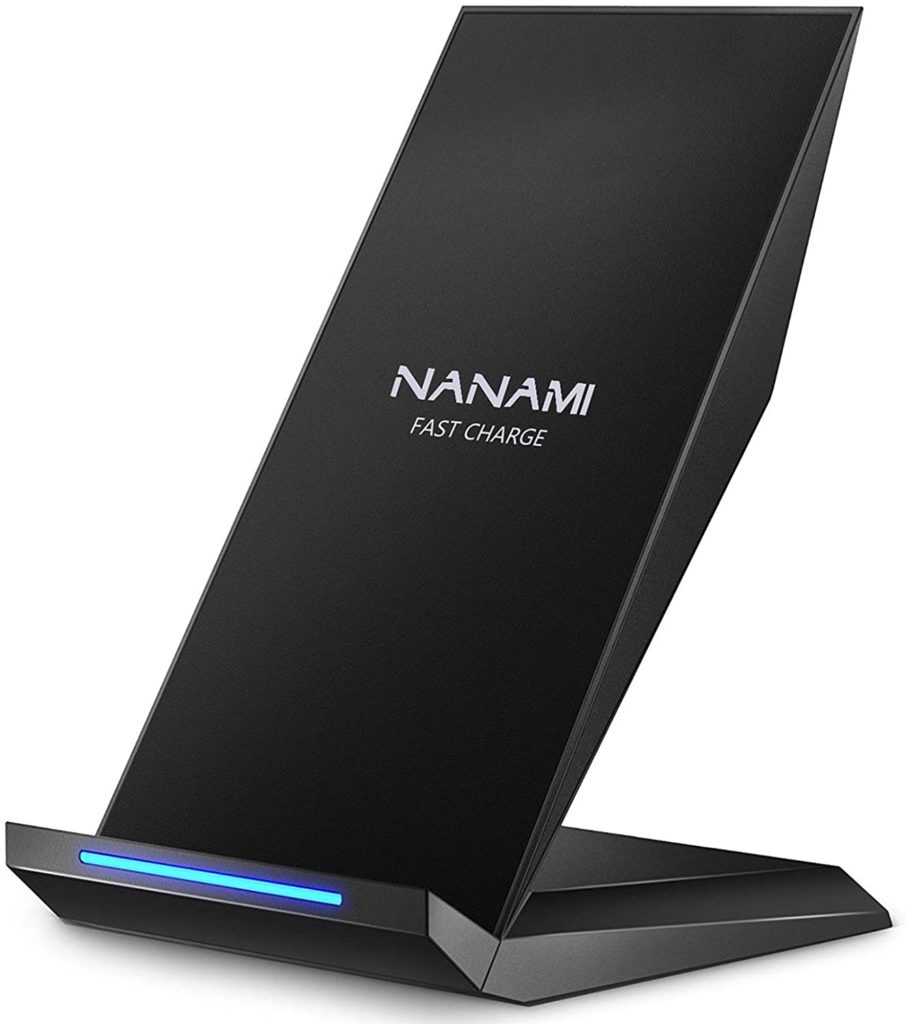 This unique windsurfer inspired best standing wireless charger serves all your cell-phone charging needs. Made up of high-quality ABS material and sturdy and curved bottom provides stability to your phone. It also prevents your phone from dropping or slipping.
Not only charger, but it also serves as a phone stand. You can enjoy yoga and other daily activities while charging your phone, hence, it saves your time. This best standing wireless charger is also compatible with iPhone 12, 12 Pro, 12 Pro Max, and SE 2020; iPhone 11, 11 Pro, 11 Pro Max; iPhone X, XS, XR, XS Max; iPhone 8, 8 Plus; Samsung S6, S6 Edge, Google Pixel 3, 3XL and all Qi-enabled devices.
Its ergonomic design gives you the freedom to charge your phone horizontally or vertically. You can enjoy watching movies or listening to music without interruption. Or answer any call without unplugging it.
Note: for iPhone 12, increase the height of the phone by 5mm for good results as the battery of the iPhone 12 is in the lower right corner.
The safety feature protects the battery from overcharging and saves energy. Moreover, this wireless charger does not work won the phones having cases thicker than 5mm. Its multi-colored LED indicator indicates the charging status; blue light for standby mode and green for charging mode.
You can buy this wireless charger for $16.95 at the link below.
3. Mophie Universal Wireless Charge Stand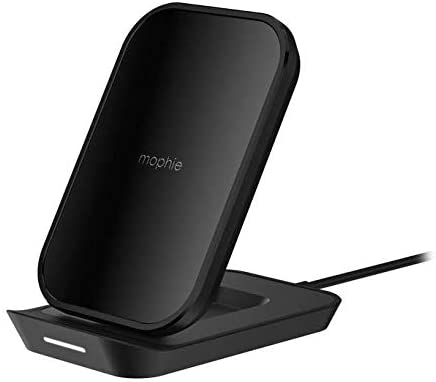 If you are looking for an adjustable wireless charger, Mophie's charger is one of the best wireless charging stands you should go for. Optimized for fast charging, you can charge your iPhone in portrait or landscape mode or even as a flat charging pad. It works equally well in every mode.
Its smooth and polished surface looks sleek and makes your table stylish. It works well through protective cases of up to 3mm thick. While being on a charge, it lets you use your phone at a very convenient angle. You don't have to wait for the charge to finish to use your phone.
You can buy this wireless charger for $56.68 at the link below.
4. AUKEY Wireless Charger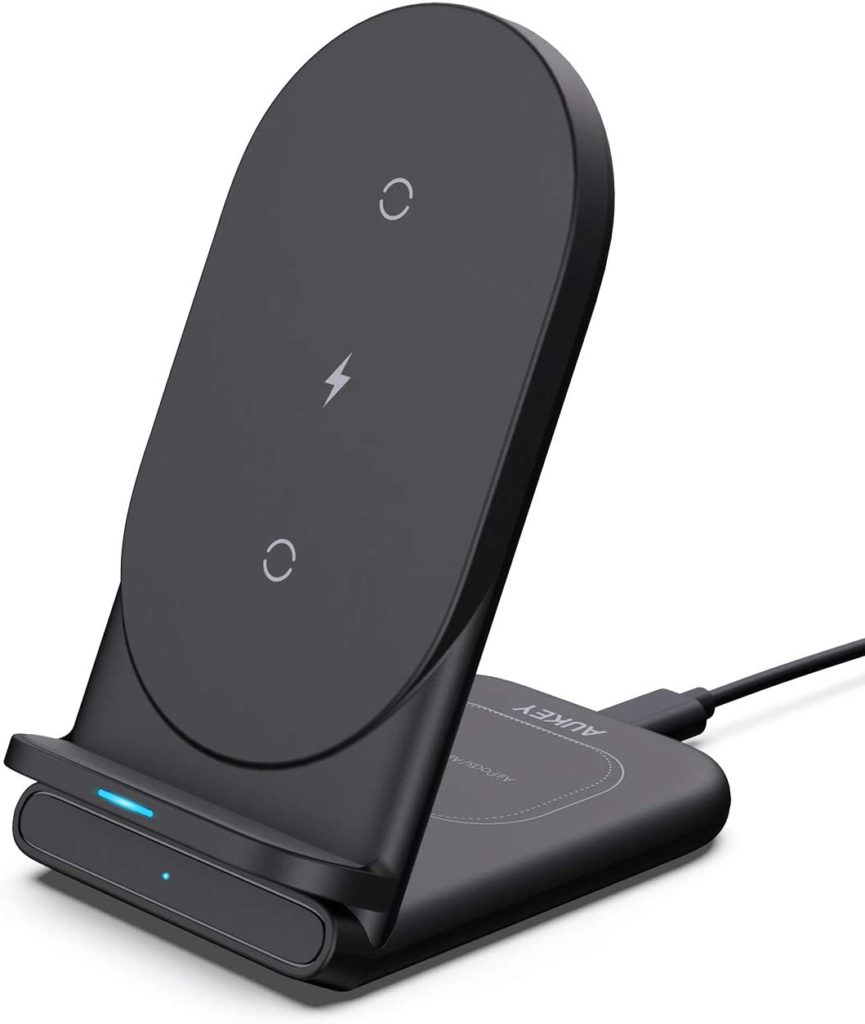 If you are looking for a wireless charger that charges up to two devices, Aukey is the best iPhone stand for wireless charging. Its 7.5W and 10W power charge two devices at the same time. This wireless charger is safe and energy-efficient, as it offers over-current, over-heating, and short circuit protection and can detect a foreign object.
Whether you are on Skype or watching a movie, it charges your phone in both horizontal and vertical modes. With the phone cases having a thickness of up to 3mm, it can charge your phone without any hassle. Just make sure your phone does not have any metallic or magnetic object attached to it. This wireless charger is compatible with both iPhone and Samsung.
You can buy this wireless charging stand for $26.99 at the link below.
5. ThunderBs Wireless Charger Stand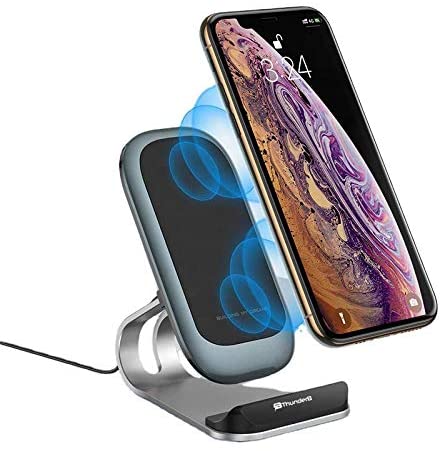 ThunderBs charger is a robust wireless charging stand made up of aluminous alloy. It offers a double coil to increase the speed two times. Its stylish and practical design adds to the modernity of your desk while protecting your phone from dropping.
The LED indicator lights notify about the charging status. Also, you can charge it with your phone case on. It is compatible with all Qi-certified devices.
You can buy this wireless charging stand for $19.99 at the link below.
Now that you have options to get your new best wireless charging stand, which one are you going to buy? Share with us in the comments below.
For more iPhone accessories, stay tuned to iOSHacker.com.