No matter if you have an iMac or a MacBook, having the best USB-C Thunderbolt 3 dock is very important for every Mac user. A USB-C Thunderbolt dock for Mac makes it easy for users to plug in USB devices, memory stick, audio devices and microSD card into their computer.
Buying the best USB-C Thunderbolt 3 dock is even more important for MacBook Pro users as these machines do not come with a SD Card reader, which is a must have for professionals.
In this article we have shortlisted some of the best Thunderbolt 3 docks for Mac that you should buy in 2021. These dock come with multiple USB-C and USB-A ports, audio ports, SD Card readers, microSD card readers and more. Getting these docks will greatly improve your workflows and save you from having multiple accessories.
Best Thunderbolt 3 Docks For Mac for 2021
Here are the best Thunderbolt 3 Docks for Mac that every professional needs to get for their iMac, Mac Pro, MacBook Air, MacBook Pro and Mac mini.
OWC 14-Port Thunderbolt

If you want to work on the go, the OWC Thunderbolt is there to serve the purpose. This single connection makes coming back to your desk and leaving it quicker and easier. This much-needed connection to all peripherals has 85 watts of power that is enough to charge your Mac notebook and other devices. The ports are designed mindfully and placed strategically to keep your desktop and work clutter-free. The high power adapter keeps your devices charged and ensures you don't have to search for multiple power adapters. Moreover, its USB Type-C and Mini DisplayPort connection amplifies screen space three times and gives 4K and 5K resolution display.
It comes with a MicroSD reader, SD Reader, mini DisplayPort, and Gigabit Ethernet. Also, OWC Thunderbolt comes with Type-A ports that deliver 5GB/s as well as up to 7.5W power to other devices connected to it. On the front side, you can connect headphones, mic, external speakers, and other audio devices. 
You can buy the OWC 14-Port Thunderbolt 3 Dock for $249 at the link below.
Kensington Thunderbolt 3 Docking Station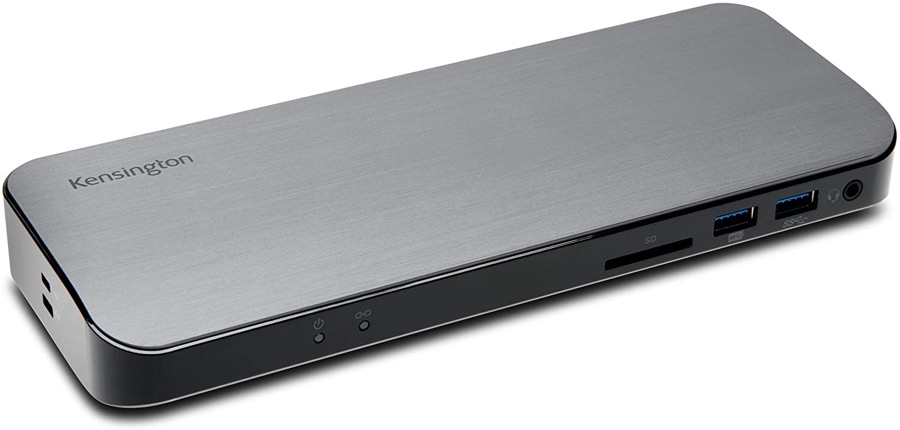 Kensington Thunderbolt is compatible with MacBook OS 10.14 and above as well as Windows 7, 8, 8.1, and 10. For a seamless display resolution, Kensington Thunderbolt supports 4K Ultra HD. Also, it supports dual monitors or 8K 60fps to a single monitor. If you have one of the new MacBooks with an M1 chipset, it will display on one external monitor owing to the limitations of the Apple chipset. The dual display video to a second monitor will be connected using an HDMI port and 15W USB-C port. With its 50GBps transfer speed shifts data in no time!
A big plus? It charges your iPad and other devices. Needless to say, Kensington Thunderbolt converts your computer into a desktop powerhouse. 
You can buy the Kensington Thunderbolt 3 Docking Station at a price of $249.99.
Baseus USB-C Thunderbolt Dock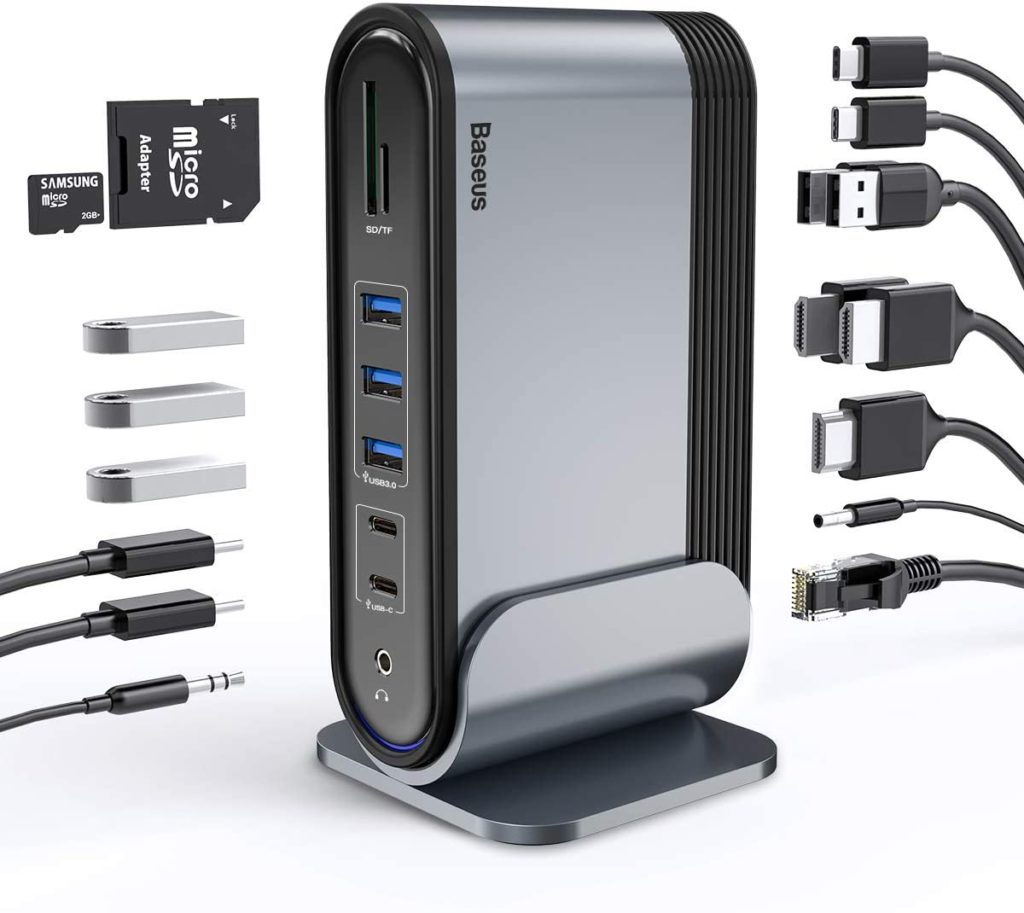 Baseus Thunderbolt is an all-in-one solution for your laptop, Windows tablet, MacBook, or desktop. Its triple display docking station offers convenient connectivity as well as an expansive workspace. Moreover, you can connect it with up to 3 screens using 3HDMI.
Its powerful 100W USB-CPD charging charges multiple devices at a time. In addition to it, its super-fast network speed lets you enjoy a stable connection with a much higher speed than Wi-Fi. It is simply a plug-and-play solution to all your networking needs, with zero complexities in installation.
Its stylish and space-saving design is suitable to place anywhere and use anytime. The indicator light also helps you determine the working status of the dock at one sight. While speaking of its safety, its built-in genuine VL817 master chip keeps the operation normal of its whooping 17 ports and offers triple protection to over-voltage, over-current, or over-temperature. 
You can buy the Baseus USB C Dock Universal Docking Station for $119.99 at the link below.
OWC Thunderbolt 3 Pro Dock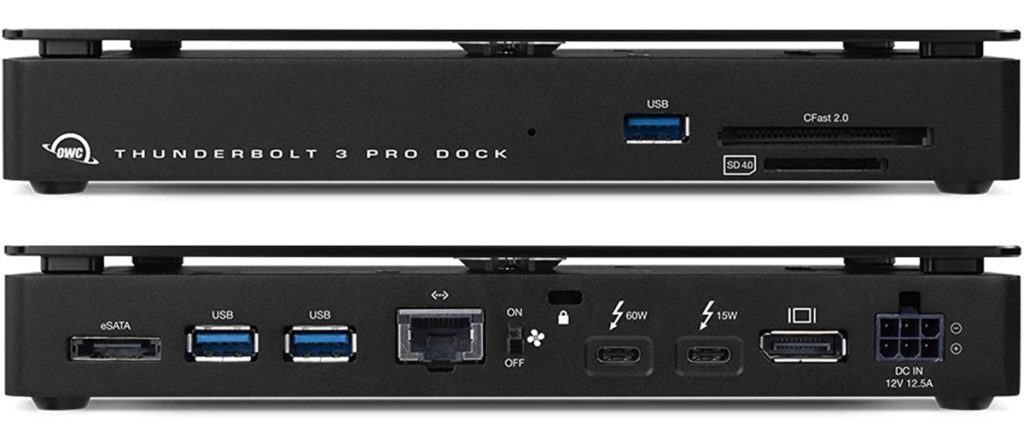 Here is another OWC Thunderbolt Pro docking station worth a try. This pro dock offers the best docking networking and media for video pros. It makes demanding data workflows super smooth. Given its excellent productivity configuration, you can efficiently use multiple card uploads. Its 10GB Ethernet connections help you access your essential connected devices and make shared workflow easier.
OWC Thunderbolt 3 Pro Dock offers two 4K displays or one 5K display that adds to more work view space. Also, its eSATA port supports multiple ports giving you access to various devices in a multi-bay RAID. While its 40GBps transfer speed shifts data very fast.
The front side of this docking station offers versatility with CFast 2.0 and SD, 4.0 card readers. This makes it perfect for an on-location work asset such as conferences, concerts, and festivals where you need multiple photographers and videographers.
Despite being compact, the thunderbolt 3 Pro Dock keeps all the cables at the back, organized and clutter-free. And if you need to charge your notebook, the 60W charging port is there to take care of it.
You can buy the OWC Thunderbolt 3 Pro Dock for $299 at the link below.
LXT Thunderbolt 3 Dock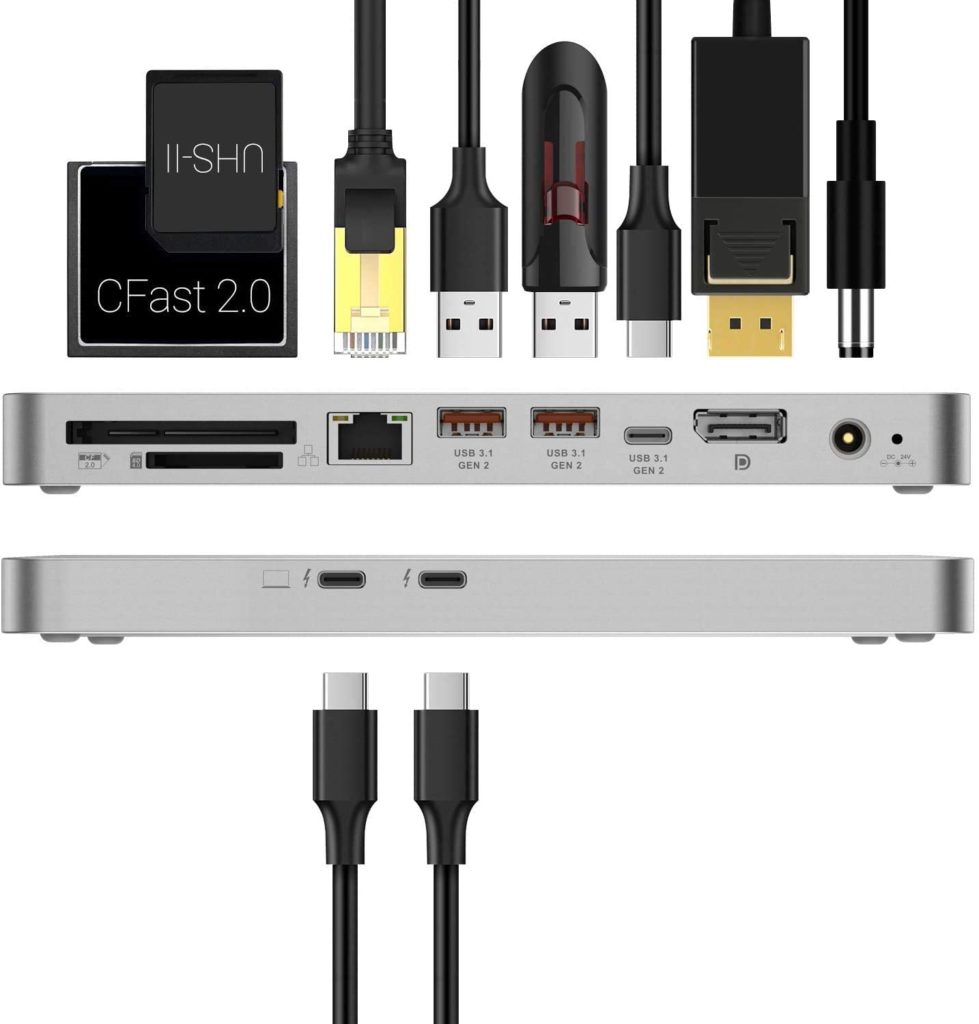 Looking for an unprecedented connection of multiple ports and convenience through a single cable? LXT Thunderbolt 3 is the answer. It makes access to peripherals and displays easier while reducing the desk clutter. Also, now you can charge your mobile devices and computer simultaneously. Its 14 ports are strategically placed to make multitasking easier and smoother.
It offers the most versatile and advanced interface while giving the highest speed and maximum connection options. The main port gives 135W of power which is more than enough to charge your notebook computer, and other devices. Whereas the secondary Thunderbolt 3 port offers device chaining, display support, and USB 3.1 Gen 2 connectivity. You can transmit data swiftly with its 40 Gbps speed.
LXT Thunderbolt 3 front connects headphones, speakers, SD and micro SD cards. Moreover, it offers two 4K and one 8K display option. Whether you have an iOS or Windows system, it is compatible with both. 
You can buy this Thunderbolt 3 Dock from LXT for $169.95.
WAVLINK Thunderbolt 3
WAVLINK Thunderbolt 3 is another worth mentioning device when it comes to making your networking efficient. This Intel certified docking station connects two 4K displays giving you high-resolution results. Its powerful 85W will charge your laptop and other devices at the same time. That means, forget about your hassle with multiple charging cables!
Moreover, its blazing fast speed will transfer data with a 40Gbps speed. This means it works 4 times faster than USB Type C Gen 2, and 8 times faster than Type 3.0. And if you speak of its Ethernet speed, that works faster and better than your trustworthy Wi-Fi. It is ideal for Windows 10 or newer.
You can buy the WAVLINK Thunderbolt 3 Dock for $141.46 at the link below.
Note: when connecting with USB C port to output display, make sure USB C supports display Port Alternate Mode.
Excited about buying your new USB C Thunderbolt dock for Mac? Let us know in the comments below which one you liked the most? Also, don't forget to share it with your friends and family.
For more gadgets and accessories for your Mac, stay tuned to iOSHacker.com. 
Disclosure: iOSHacker may receive a commission if you purchase products through our affiliate links. For more visit our privacy policy page.