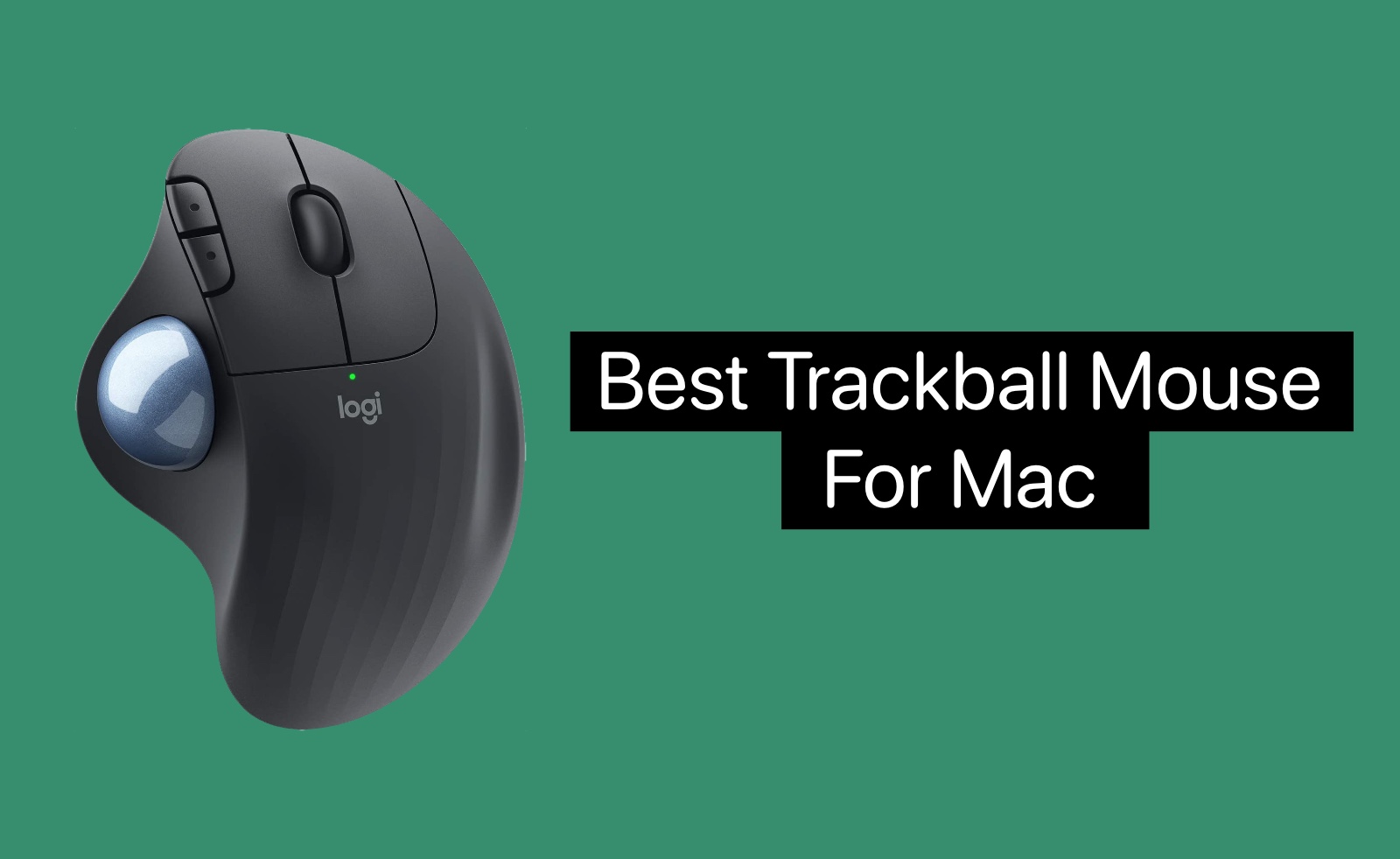 In this post we have featured the best trackball mouse for Mac that you can buy in 2023. These trackball mouse give you an alternate way to control your Mac and Windows PC.
A trackball is not technically a mouse, yet it is often referred to as such. Conventional mice have optical sensors on the bottom that track movement, while trackballs stay firmly on your desk, and you spin a ball while a sensor inside tracks movements. With limited desk space, trackballs are an excellent option, plus they are more ergonomic since they do not require wrist or arm movements.
Then there are mice that also have a trackball built right into them. In this post, we have featured the best of both varieties.
In your search for the best trackball mouse, you should find one that feels comfortable in your hand. You should also take into account what kind of features are important to you. If you're looking for a mouse for productivity tasks, such as searching documents or managing timelines, you'll need something with a good scroll wheel. Still, if you're looking for a mouse for gaming, you'll need something with a lower click latency and a high polling rate.
Best Trackball Mouse for Mac In 2023
We conducted intensive research for you and compiled this list of the best 2023 trackball mouse for Mac. Below are our top picks for the trackball mice.
1. Logitech ERGO M575 Wireless Trackball Mouse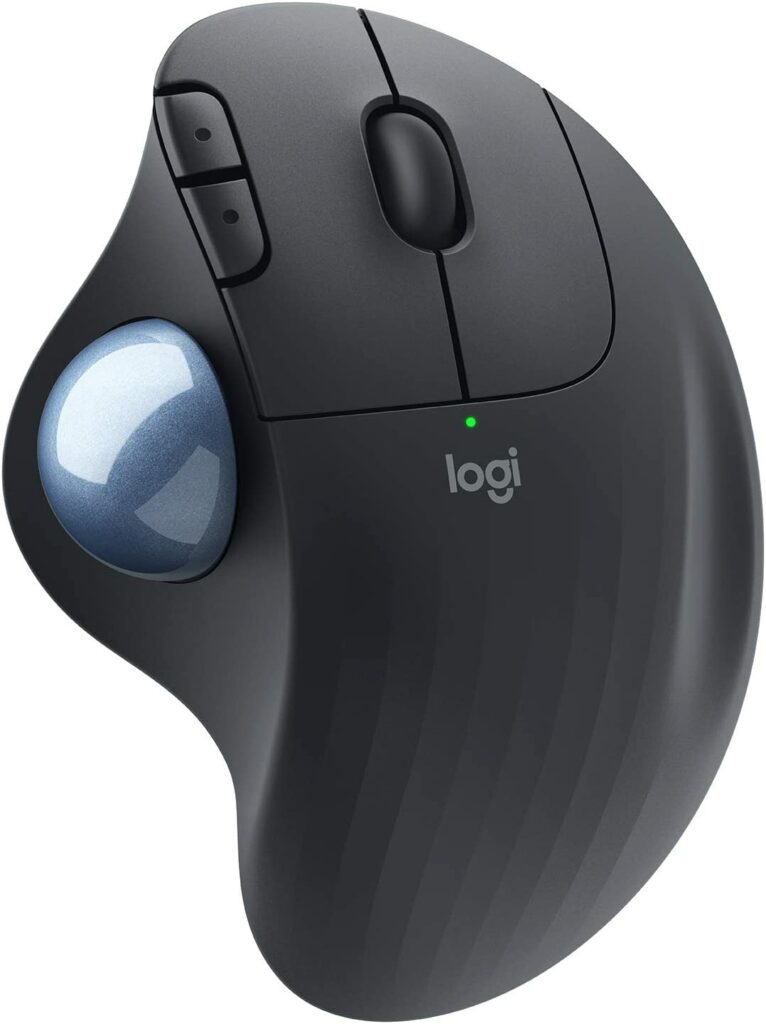 Logitech's Ergo M575 mouse is well-built and ergonomically designed to match everyone's preferences or workflows.
The cursor can be controlled on any surface with great precision. You can adjust the speed of the cursor with Logitech Options.
Its non-moving trackball is ideal for busy desks and tight workspaces.
Bluetooth or the USB receiver allows quick connections with no drop-offs or lags up to 33 feet (10 meters).
In the ERGO M575, 50% of the plastic parts are post-consumer recycled (Graphite/Black: 50%, Off-White: 21%).
Your trackball can last up to 24 months on a single AA battery with a USB receiver.
The large, easy-to-reach Back and Forward buttons allow you to browse your favorite websites or change between documents.
Buy Logitech ERGO M575 Wireless Trackball Mouse for $46.99 here
2. Kensington Orbit Trackball Mouse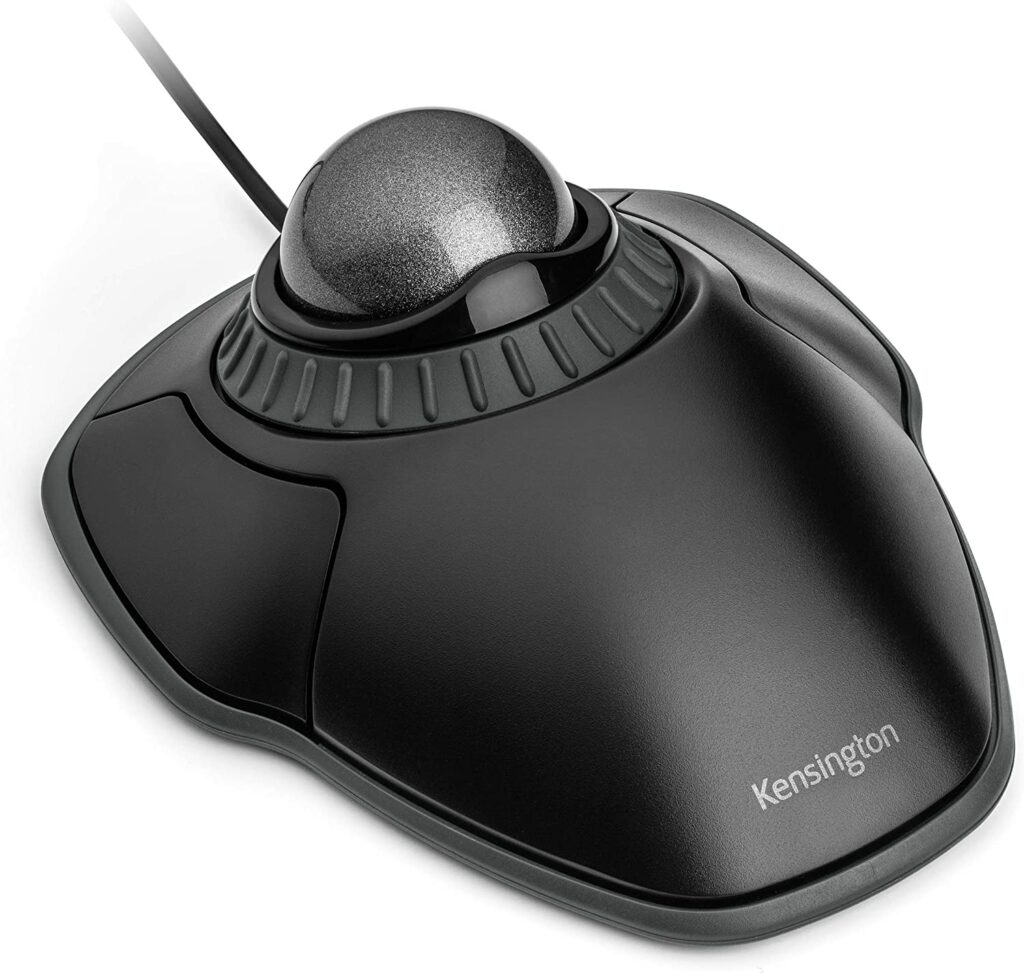 By using optical tracking technology, you can move the cursor more precisely, quickly, and with less hand movement on the screen, increasing productivity and efficiency.
A scroll ring lets you easily navigate web pages or documents; its ambidextrous design accommodates right-handed and left-handed users alike.
For pain-free productivity during extended periods of computer use, you can attach a detachable wrist rest that gently cushions and cradles your hand and wrist in an ergonomic position.
It offers a wide range of program functions and the ability to adjust cursor and scrolling speeds, with downloadable Kensington trackball works software that provides a personalized experience.
Buy Kensington Orbit Trackball Mouse for $36.99 here
3. Nulea Wireless Trackball Mouse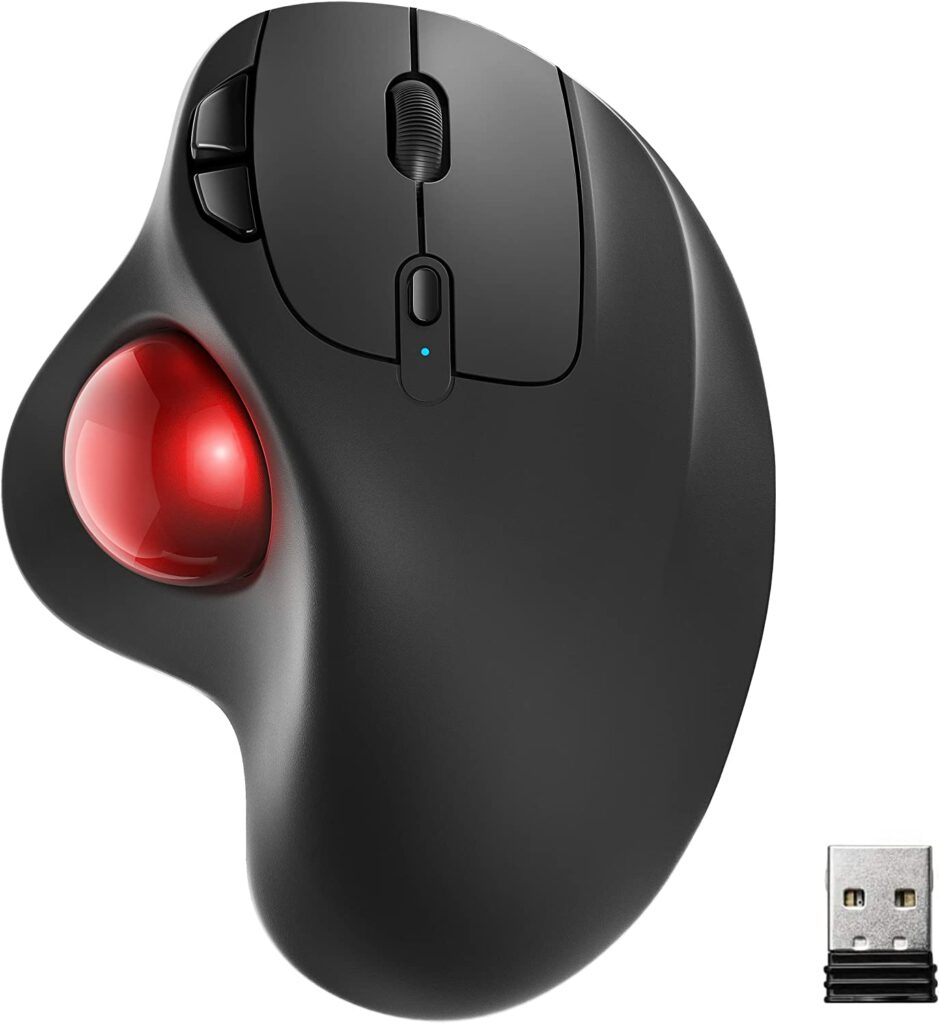 The Nulea trackball mouse Bluetooth features ergonomic details and a curved design that complements its elegant style. You can operate more efficiently and comfortably with the back and forward buttons.
With the smooth trackball, you can move the cursor instead of bending your wrist and arm. You will be able to reduce muscle stress with ease and smooth thumb control. With the trackball mouse, your palm remains in a natural position for maximum comfort all day long.
Precision cursor movement makes the Nulea trackball mouse an exceptional choice for accuracy and control.
You can connect up to three devices via Bluetooth or USB dongle. To improve your efficiency, you can easily switch between them by pressing a button on the bottom.
You can say goodbye to dry cell batteries because rechargeable batteries have a long life.
Buy Nulea Wireless Trackball Mouse for $32.99 here
4. ProtoArc Wireless Bluetooth Trackball Mouse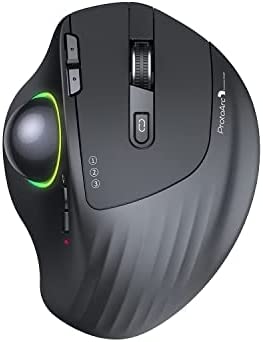 The rollerball mouse provides smooth and precise cursor movement, so you don't need to move your arm. Instead, you will use your thumb to control the cursor. You will be able to reduce wrist and arm fatigue and strain effectively.
The trackball angle can be adjusted from 0 to 20 degrees according to your preference for a more natural, comfortable hand position.
The Bluetooth RGB Trackball Mouse contains a 900mAh lithium battery. There is no need to change the batteries. With the lights off, it can last up to one month on one full charge. With three DPI settings (1000/1600/2400 DPI), you can control cursor sensitivity easily and track over a variety of surfaces more smoothly.
This trackball mouse comes with three connection modes. It lets you control three devices simultaneously, switching freely between Android, tablet, and Mac with just one click.
Buy ProtoArc Wireless Bluetooth Trackball Mouse for $59.99 here
5. ELECOM HUGE Trackball Mouse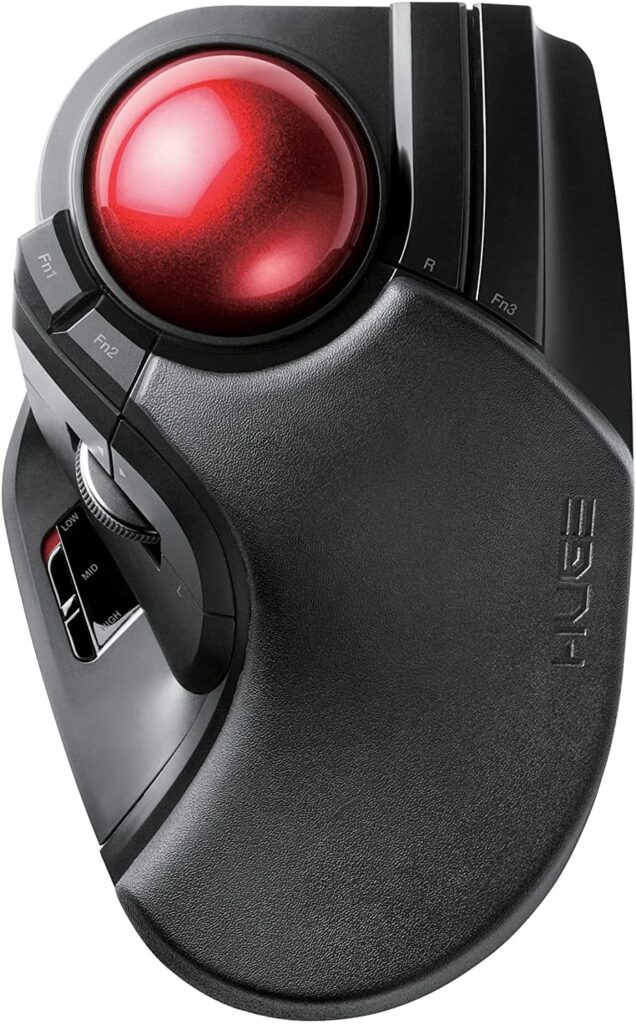 The ELECOM trackball enables precise cursor movement for superior accuracy, which improves your productivity and efficiency by allowing you to get to where you want more quickly on the screen.
You can move in any direction with ease. Besides the 8 physical buttons on the device, there are two more buttons that allow horizontal scrolling using the scroll wheel tilting.
It boasts a high-performance gaming optics system sensor and lens. With the DPI button, you can choose from 500 (LOW), 1000 (MID), and 1500 (HIGH) DPI, resulting in faster or slower cursor movements.
It rolls on three artificial ruby ball bearings with a diameter of 2.5 mm. Due to their extremely smooth surface and relatively large size, they are not clogged with dust or dirt. Therefore, you won't have to clean the ball bearings frequently. Ball bearings secure the ball in place, but it can be removed and cleaned easily by pushing it through the hole at the bottom.
Buy ELECOM HUGE Trackball Mouse for $59.99 here
6. Logitech MX Ergo Wireless Trackball Mouse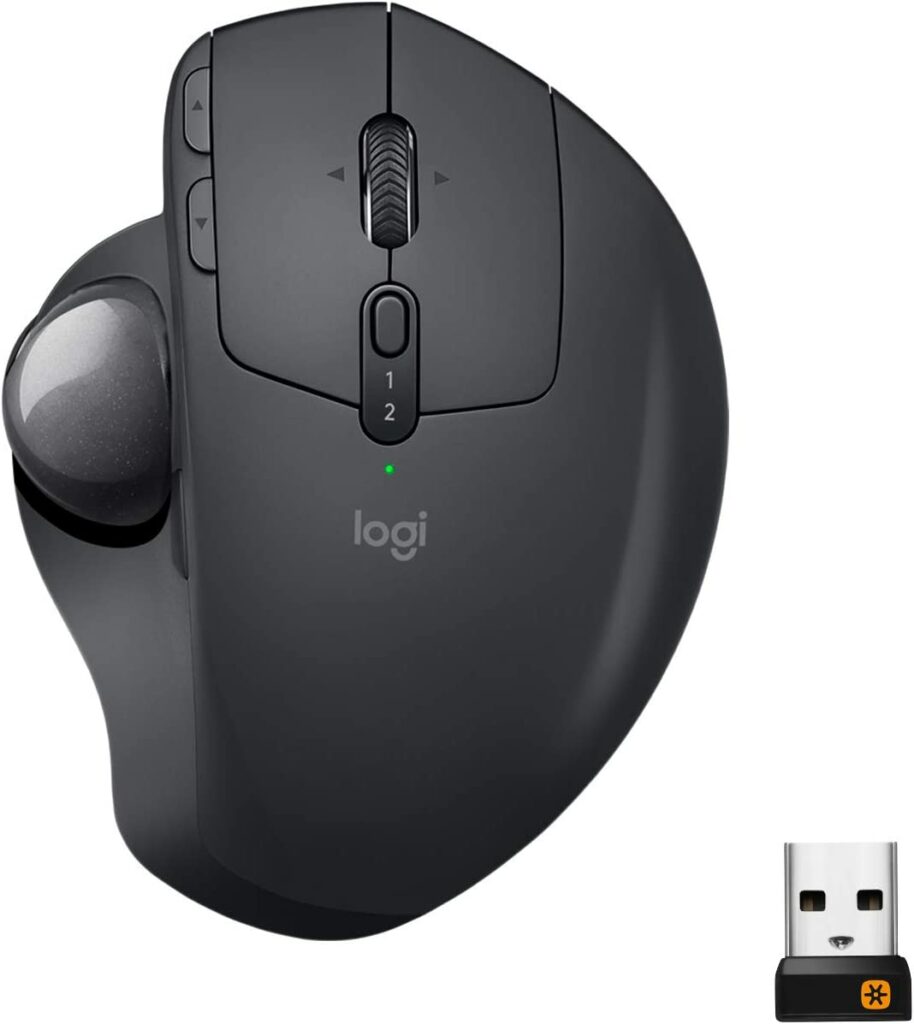 This best trackball mouse Logitech is ideal for trackball enthusiasts and consumers looking for alternatives to mice and touchpads.
The MX ERGO is equipped with the latest technology for tracking, scrolling, power management, and an adjustable hinge for personalized comfort. With Logitech FLOW, you can easily switch between computers. It reduces muscular strain by 20% compared to a regular mouse.
With 20 percent less muscular strain and an adjustable hinge that adjusts the angle, MX Ergo can help you power through your workflow.
Thanks to a unique adjustable hinge, you can choose between 0° and 20° for a more comfortable hand position.
Buy Logitech MX Ergo Wireless Trackball Mouse for $81.95 here
7. Kensington Expert Wireless Trackball Mouse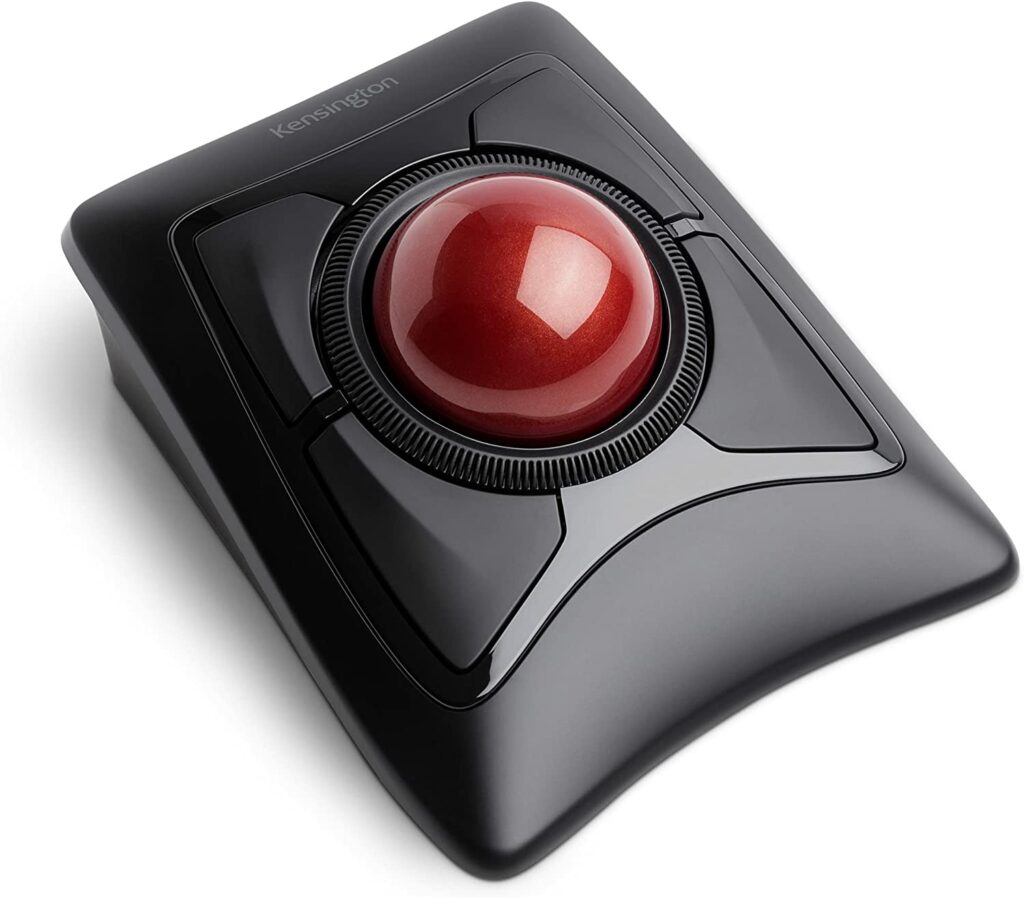 With the Expert Mouse Wireless Trackball, you can be hyper-productive without being tied to a USB cable. Bluetooth 3.0/5/0 LE allows the trackball to be paired to the computer, saving on precious USB ports or connected using a USB nano receiver. The Kensington Works software offers incredible customization and precise cursor control thanks to optical tracking technology.
Additionally, the Scroll Ring allows you to quickly scan up and down long documents or web pages. With that combination, you'll get a trackball that sets the industry standard for comfort and ease of use.
Buy Kensington Expert Wireless Trackball Mouse for $86.03 here
End Note
Picking the best trackball mouse Bluetooth for you depends on various factors. Firstly, check that it's compatible with the ports on your device, whether they're USB-A or USB-C. If you have a modern MacBook with few ports, use a wireless mouse instead.
Additionally, consider the mouse size, shape, and features you need, such as a scroll wheel or extra buttons. Finally, consider your budget, as the price of mice can vary greatly depending on how advanced your mouse needs.
Was this product list helpful? Let us know in the comments below.