iPhones are excellent standalone devices for capturing images. In addition to long-exposure photography, you can use it for nighttime shots, self-portraits, and videos. But if you possess a quality tripod or selfie stick, you will be able to master these features much more easily!
Using the best tripod for iPhone can reduce camera shake and result in sharper images. The camera is particularly useful for capturing motions, such as sports, running water, and wildlife, as well as low-light scenes.
In addition to that an iPhone tripod and selfie stick is great for traveling and recording vlogs style videos with iPhone.
Here are some options you can find on the market today.
6 Best iPhone Tripod and Selfie stick
In case you use your iPhone as your primary camera, adding a tripod is the most reliable way to ensure steady, professional-looking videos and photos. We have compiled a list of the 6 top-rated iPhone tripods on the market.
1. BZE 40-inch Extendable Selfie Stick Tripod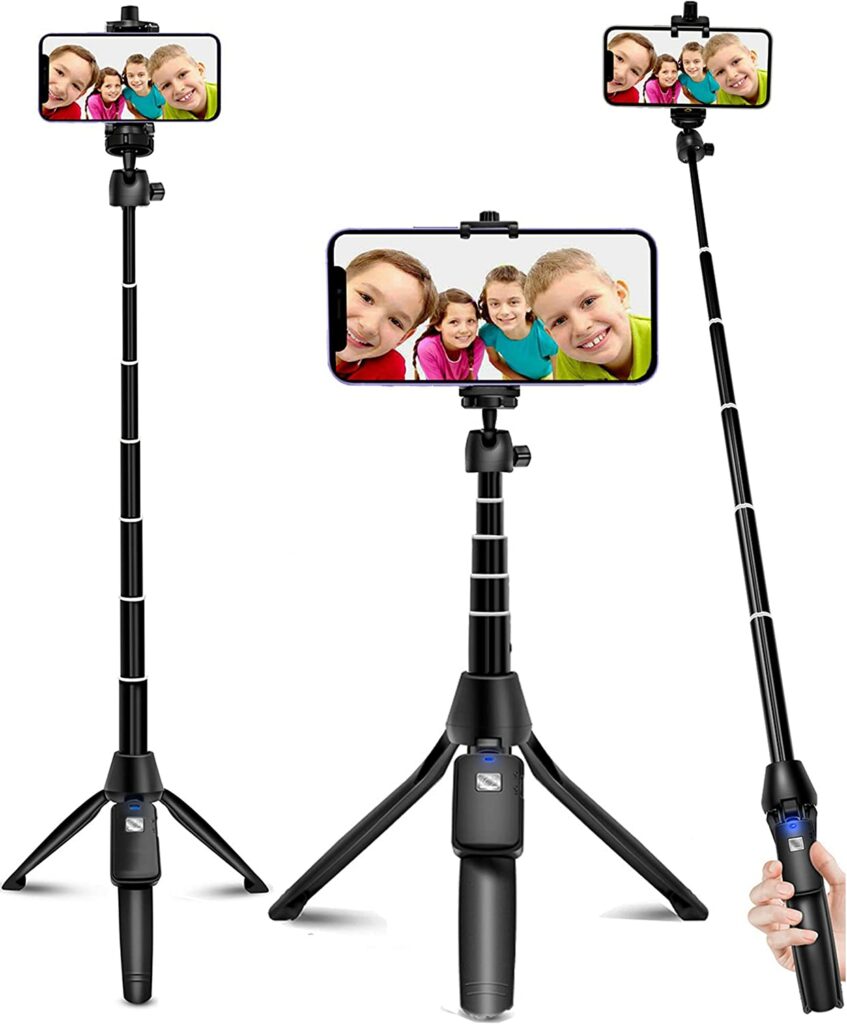 In addition to taking selfies, the tripod can be extended from 8.07 to 40 inches, which makes it a very useful device for business, live broadcasting, and Facetime. With its fully expandable selfie stick handle and built-in collapsible legs, it can also function as a tripod when opened. Selfie Stick Mode & Phone Tripod Mode can be switched easily according to your preference.
It is equipped with a wireless remote control. Wireless connections can reach distances of up to 10 meters. Using the remote control, you can take up to 1,000 photos.
This professional & lightweight selfie stick tripod with remote is made of high-quality aluminum alloy and ABS materials. You can store and carry it anywhere since it is compact and lightweight.
The 360° Rotatable Phone Holder and 180° Rotatable Head enable you to take photos, video calls, and live broadcasts.
Buy BZE 40-inch Extendable Selfie Stick Tripod for $25.99 here
2. Sensyne Phone Tripod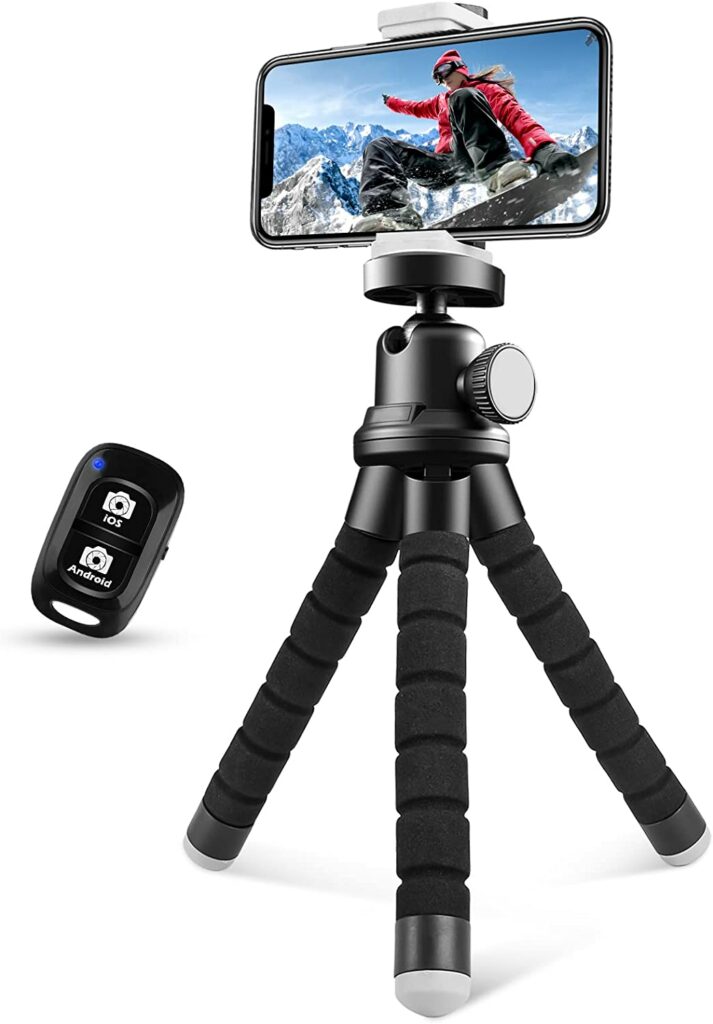 The Sensyne flexible phone tripod can help you capture the best images and create live streams, videos, and vlogs. For smartphone photographers looking for a tripod that can handle any scenario, this tripod fits the bill!
This tripod is constructed from thick premium metal, ABS, and durable foam. With only 150g, it's lightweight and compact enough to fit in a jacket pocket or small bag. Take it with you wherever you go and be prepared to capture all the moments that matter to you!
Using the updated 360° ball-head mount, you can target any landscape smoothly and accurately. This tripod can be used for capturing a wide variety of angles, no matter whether its legs are wrapped around a tree, chair, lamp, or any other object.
With the upgraded phone holder, you can expand the width to up to 2.8-5.7 inches. It also comes with a wireless Bluetooth remote, allowing you to take selfies, group shots, and steady shots hands-free from up to 33 feet (10 meters) away!
Buy Sensyne Phone Tripod for $12.99 here
3. Joby GripTight ONE GP Tripod Stand with Phone Holder
The Joby GripTight kit is great for beginner content creators. It fits most smartphones and has an integrated pin-joint mount that connects to a smartphone clamp mount.
This best iPhone tripod for travel can support weights up to 325 grams (0.187 lbs), which is ideal for most smartphones. It also supports GoPro pin-joint-style cameras. Thanks to its cold shoe adapter, you can also mount accessories like LED lights, microphones, and small to medium-sized flashlights.
The flexible tripod legs help on uneven ground and can wrap around objects for extra stability.
Furthermore, the versatile base; flexible gorilla pod legs with rotating ball head provides a variety of angles and platforms.
Buy Joby GripTight ONE GP Tripod Stand for $19.95 here
4. Aureday 67″ Phone Tripod & Camera Stand
Designed especially for DSLRs and compact cameras, the tripod plate provides enhanced stability and versatility.
The tripod measures 18.8 x 67 x 18.8 inches, making it convenient for any photographer. The universal phone holder fits all cell phones from 2.8″ to 4.8″.
With its solid aluminum construction, the large plate works with any phone, camera, or spotting scope for maximum compatibility, attached by a universal 1/4′ screw.
With its 4-angle adjustment mechanism and ergonomic handle, it is easy to set up and use.
There are 360° angles for taking pictures with different kinds of phones and cameras.
Buy Aureday 67″ Phone Tripod & Camera Stand for $22.99 here
5. EUCOS Selfie Stick Tripod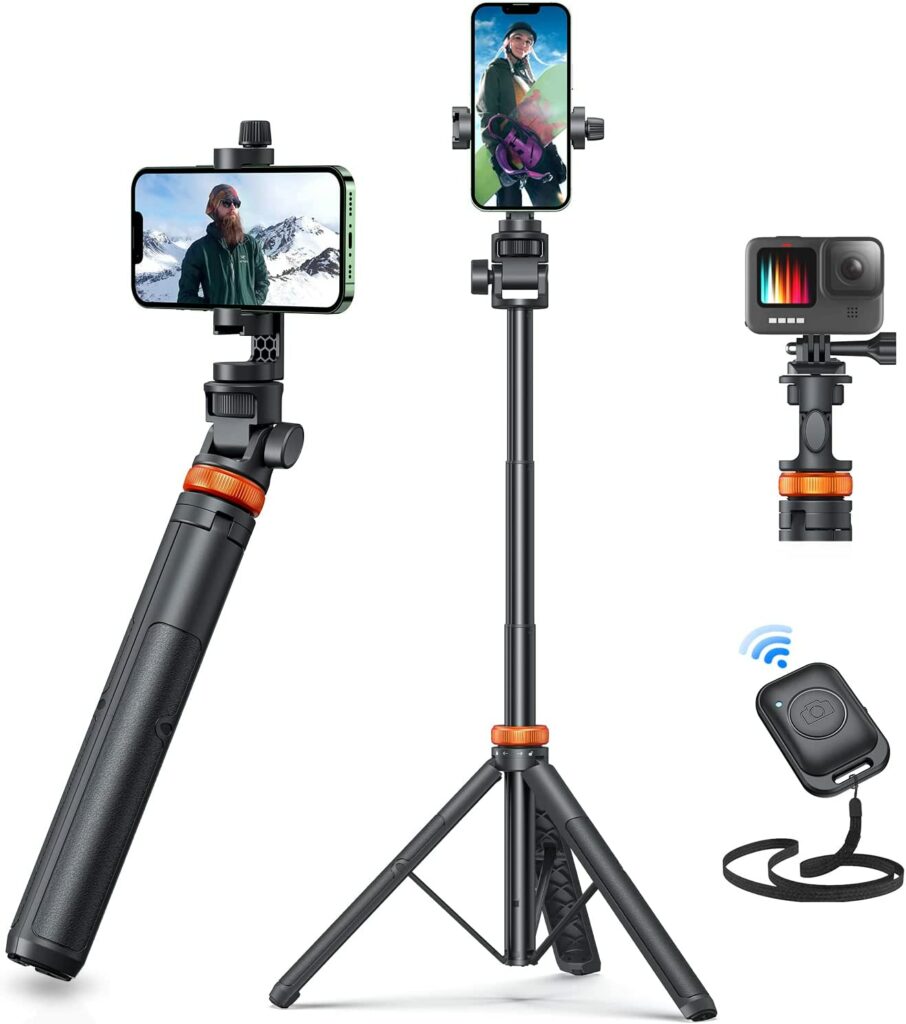 EUCOS designed a phone tripod stand modified with Nylon6/6 to build a tripod for the iPhone shell that is indestructible and comfortable, combining toughness and lightness to reduce crushing force and fractures, lighter, more rigid, and flexible.
With just one pull, the tripod iPhone stand can be turned into a 62-inch tall tripod, with a smooth and uniform extension rod.
This tripod provides excellent clamping stability with its flexible, highly durable design. To facilitate vlogging, the integrated Cold-Shoe expansion port allows fill lights and microphones to be expanded.
With its limit flange design, the iPhone tripod stand can be adjusted horizontally, vertically, or at 45 degrees, and can securely hold smartphones that range from 2.2″ to 3.6″.
Whether you use an iPhone stand for video recording or capture stable video with remote control, you can take a group selfie with the tripod. You will gain a completely different perspective with the adapter mount that lets you gain creative angles and vantage points when filming.
The EUCOS 2 in 1 multifunctional portable tripod for iPhone works as both a selfie stick and a tripod. The tripod stand is equipped with universal 1/4″ screws that can be connected to most cameras, action cameras, and GoPros.
Buy EUCOS Selfie Stick Tripod for $29.99 here
6. Sensyne 62″ Phone Tripod & Selfie Stick
With Sensyne's updated tripod, you get both a phone stand and a selfie stick in one. You can use this for taking selfies, taking pictures and video logging, live streaming, or capturing moments at family gatherings.
This tripod can be adjusted to meet a variety of photography height needs, with a maximum height of 62 inches. With 360 degrees of rotation, you can choose the appropriate vertical or horizontal viewing angle for you.
The universal phone holder is compatible with all cell phones with screen sizes ranging from 2.8″ to 5.7″. The 1/4″ screw mount attached is suitable for most digital cameras, action cameras, webcams, and camcorders.
Buy Sensyne 62″ Phone Tripod & Selfie Stick for $19.99 here
Final Words
Have you found the perfect selfie stick for your iPhone? Indeed, there aren't many options here, but these are the best tripod for iPhone 14, so you can pick and choose according to your preferences. Be sure to check every detail before making a purchase. Once you have made the purchase, you can rest assured that you have spent your money wisely.
If you have any queries, let us know in the comments section.