Be it a camping night, a get-together with your close ones, or a beach party, it's incomplete without blasting music on a waterproof Bluetooth speaker!
However, imagine if it starts raining amidst the party or someone accidentally splashes drink on your speaker, what a disaster that would be! Not only the event will be ruined but your expensive speakers might also stop working.
To avoid any chaos, it's advised to get your hands on waterproof speakers for any outdoor party. These speakers are specifically designed to resist weather conditions and are extremely durable. Besides, you can carry and place the wireless speakers anywhere without any hassle.
Since there are a lot of options in the market it can be confusing to choose the best one that fulfills all your requirements.
But we have found the solution to cure your confusion, here's the list of best waterproof Bluetooth speakers for you. 
Best Waterproof Bluetooth Speakers In 2022
Here are the top 6 waterproof Bluetooth speakers for iPhone that you should consider buying in 2022.
1. ECOXGEAR EcoTrek GDI-EXTRK210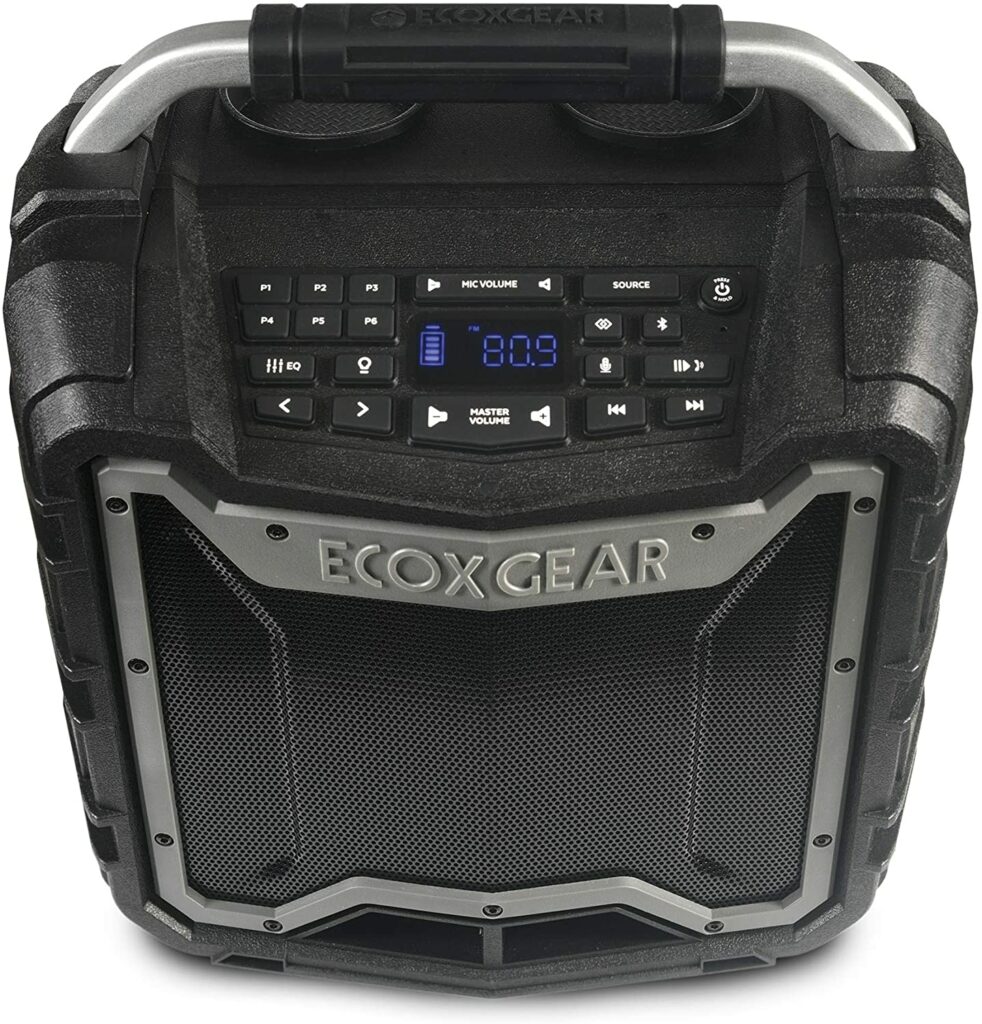 If you want stereo sound with clear vocals, crisp highs, warm midrange, and deep bass, then consider buying ECOXGEAR EcoTrek.
ECOXGEAR EcoTrek speakers have been designed according to IP67 international standards. These 100% waterproof and dustproof speakers would not get affected even if you drop them in the ocean.
The speakers are equipped with a max of 100 watts output power drives, a pair of 2.5-inch tweeters, 2 full-range 5.25-inch speakers, and dual 5.25-inch passive subwoofers. On top of that, it has amazing features, including a 4.2 streaming Bluetooth range up to 100 feet away, AM or FM, and a wired AUX-IN connection.
You can customize the audio output according to your listening preference with 6 preset EQ mode settings. LED display makes it even easier to use it at night time. Furthermore, a fast 5V, 2.1A USB output port can charge all your devices that are compatible with USB.
You can connect the speakers to Ok Google or Siri to control music with a simple touch of the ECOTALK button. It also provides an option to play nonstop full-volume music on standard AC plug-in power, or a built-in battery for up to 10 hours. 
You can buy the ECOXGEAR EcoTrek GDI-EXTRK210 Rugged Bluetooth speaker with waterproof capabilities for $189.99 at the link below.
2. JBL FLIP 6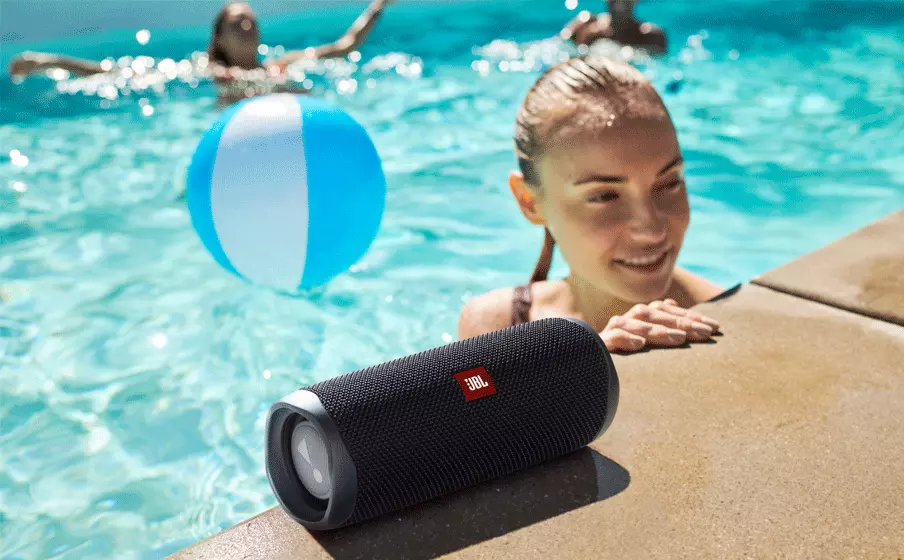 If you are looking for an affordable option that stays easy on your pocket then get JBL flip 6. On this wireless Bluetooth speaker, you can stream music for up to 12 hours. 
The speakers are wrapped in a fabric material that assures their durability and gives them an IP67 rating for being waterproof and dustproof. This means it will continue to work perfectly even if you submerge in up to three feet of water. There is a tough rubber on both ends of the speaker that protects the exposed bass radiators.
Furthermore, it is extremely light weighted, can be carried anywhere, and paired with multiple speakers with the PartyBoost button. Its premium sound quality can add life to any party!
You can buy the JBP Flip 5 for $129.99 at the link below.
3. Bose SoundLink Flex Bluetooth Portable Speaker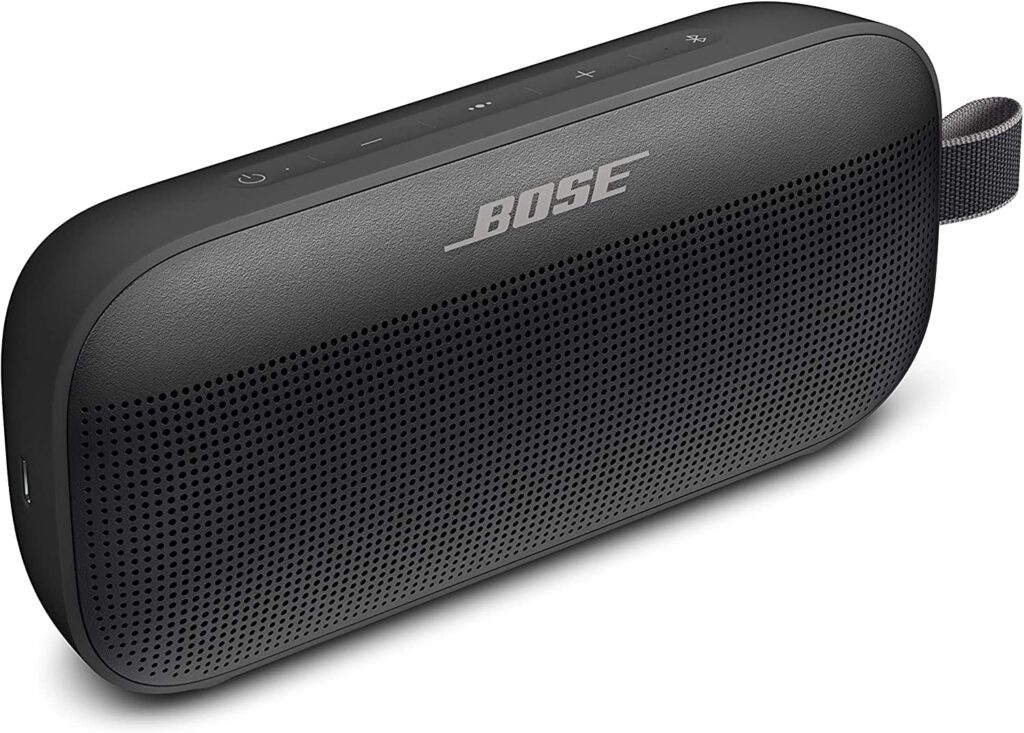 For a clear, balanced, immersive, and deep audio experience, SoundLink Flex is hands-down the best option. Because these waterproof Bluetooth speakers are packed with exclusive technologies and built to resist debris, dust, UV light, and corrosion.
SoundLink Flex is made with high-quality waterproof material which makes them an ideal companion for all your outdoor adventures. Besides, these speakers are thoroughly tested to meet IP67 waterproof speaker standards.
The Bluetooth speakers come with a built-in microphone so it is easier for you to get connected with your loved ones via calls when you are on the go.
Last but not the least, SoundLink Flex pairs seamlessly with Bluetooth-enabled devices and additional Bose speakers within a range of 30 feet.
You can buy the Bose SoundLink Flex Bluetooth speakers for $149.
4. Ultimate Ears MEGABOOM 3 Portable Wireless Bluetooth Speaker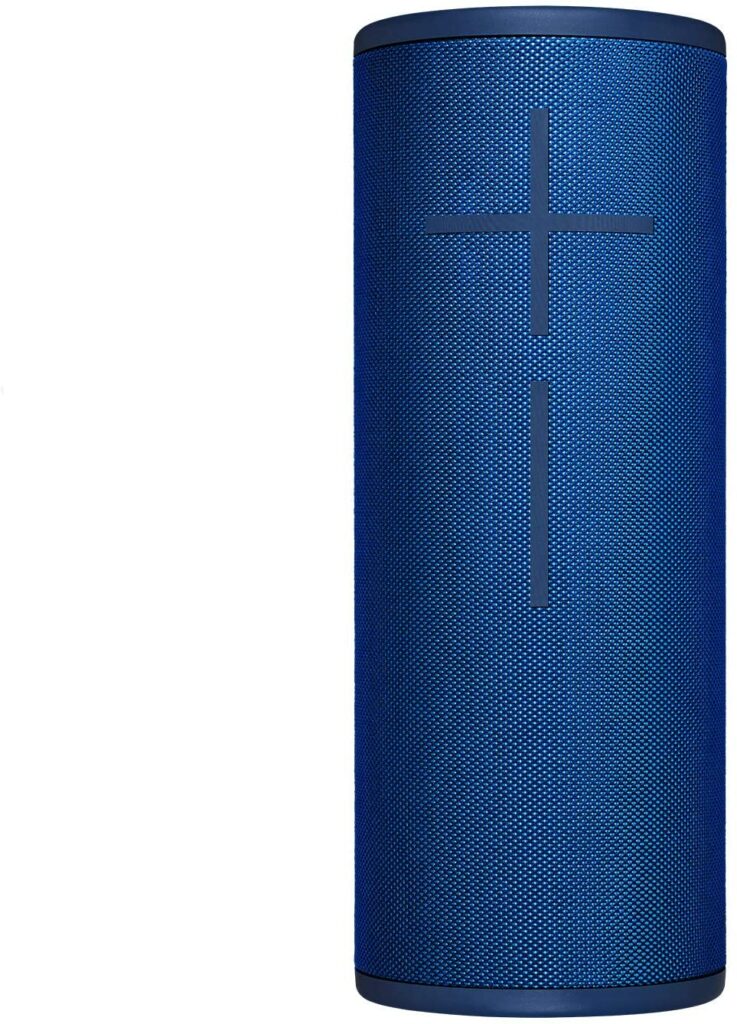 Your music should always be on point, regardless of all the chaos.
Megaboom 3 is yet another option for you, it takes your musical adventure to the next level with its immersive, 360° bold, and crystal clear sound.
MEGABOOM 3 is completely waterproof with IP67 water and dustproof rating. Plus, it is shielded in a double-toned shimmering fabric that looks tough and beautiful. Its rechargeable battery works tirelessly for more than 20 hours.
With MEGABOOM 3 you can play, skip, pause, and control any streaming music using a one-touch button on the Bluetooth speaker.
You can buy the UE MEGABOOM 3 Bluetooth speakers for $190 at the link below. 
5. INSMY Portable Bluetooth Speakers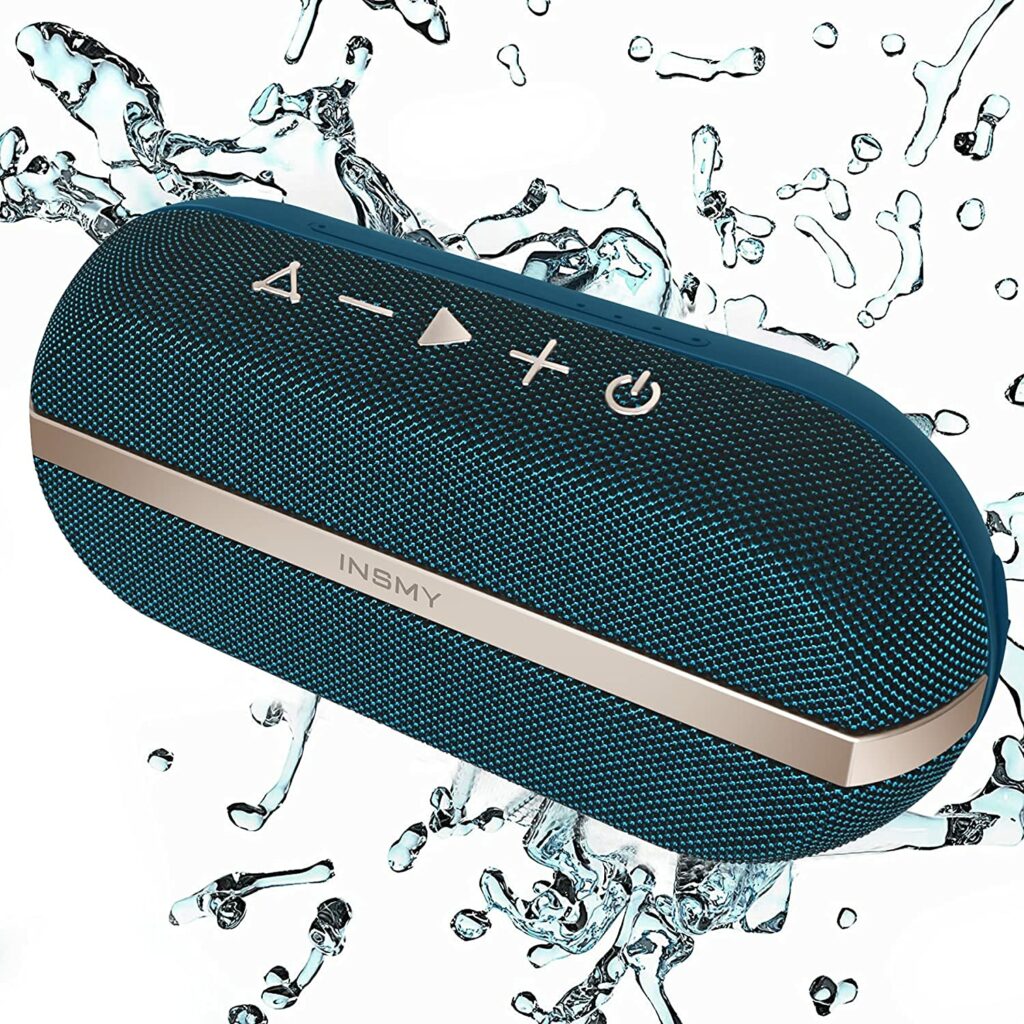 To play and listen to your all-time favorite hits in full and high definition volume, INSMY is your best bet. Because this Bluetooth speaker is designed with highly efficient drivers and dual passive bass radiators
This speaker is 100% waterproof. Whether you want to go biking, camping, hiking, or kayaking, no matter if it's a snowy or rainy day, this speaker is particularly made for all sorts of indoor and outdoor events.
INSMY speakers contain a built-in 4400mAh rechargeable Li-ion battery that supports non-stop playtime for more than 24 hours. You can recharge the speakers within 4-5 hours with the included USB type C cable.
You can connect two C30 speakers within no time to experience dynamic and 360-degree stereo HD sound as these waterproof speakers are equipped with Stereo Pairing mode.
Additionally, this wireless speaker has the latest Bluetooth 5.0 version that provides you with faster and the most stable signal transmission within 100ft range.
You can buy this budget waterproof Bluetooth speaker called INSMY Portable Bluetooth Speaker for $38.99 at the link below.
6. TREBLAB FX100 Portable Bluetooth Speaker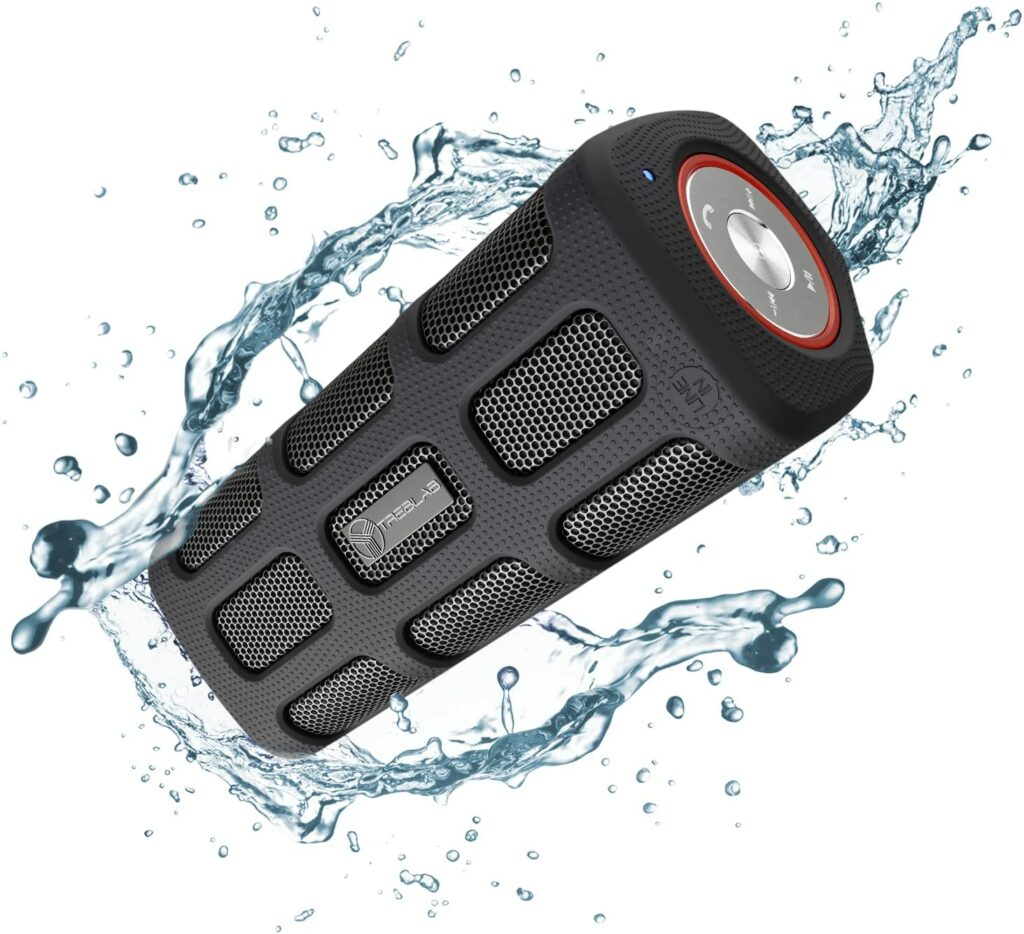 Treblab FX100 is suitable to carry around in any tough weather condition as the speakers are particularly engineered as dustproof, shockproof, and IPX4 waterproof.
These audio marvels are created from ultra-durable Metal, ABS, and Thermoplastic rubber, and are compatible with all Bluetooth devices.
With TREBLAB at your side, you can play all hit melodies for straight 35 hours! Because the speakers are built around a 7,200 mAh power bank with a battery life indicator.
Moreover, you can even create your sound system with a TWS mode. All you need to do is connect two FX100 portable Bluetooth speakers and you will be up for an out-of-the-world audio experience!
You can buy the Treblab FX100 Portable Bluetooth Speaker with Waterproof feature for $78 at the link below.
Ready to Groove?
All the above-mentioned speakers don't only have a beautiful appearance but decent battery life, strong water-resistant power, long durability, and most importantly, amazing sound!
Now that you have several options to choose from, get ready to knock around your next outdoor adventure with one of the best Bluetooth waterproof speakers!
So, when are you hitting the road for your next venture? Let us know in the comments section.