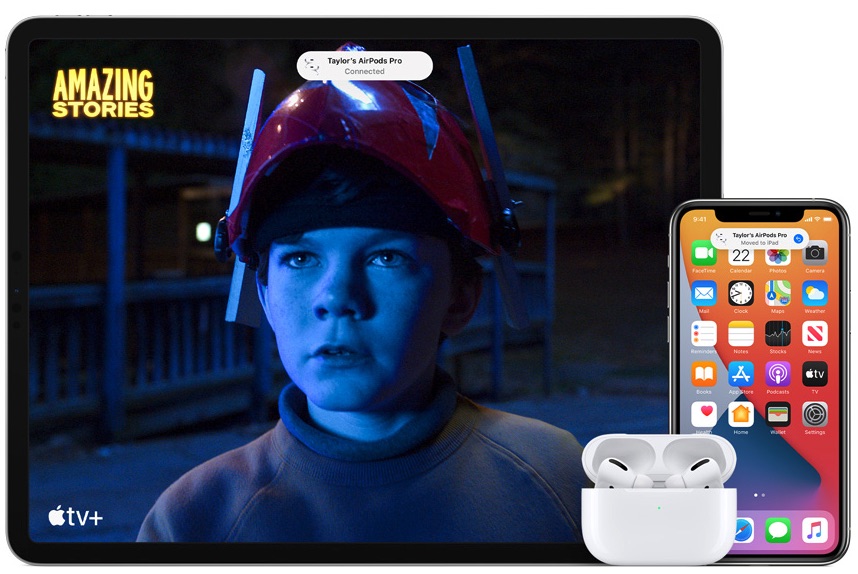 iOS 14 and iPadOS 14 bring a number of new features to the AirPods. These new features are designed to improve the user experience and make already great AirPods even better.
New features that have been introduced with iOS 14 include Spatial Audio, Automatic Device Switching on AirPods, Headphone Accommodations, Battery Notifications, Audio Sharing for Apple TV and Motion API.
Most of the new iOS 14 AirPods features are limited to AirPods 2 and AirPods Pro, whereas original AirPods are not included in the compatibility list for these features.
In addition to AirPods most of these features are also available on Beats headphones that are equipped with Apple's H1 chip. This includes Beats Powerbeats, Powerbeats Pro and Solo Pro.
New AirPods Features In iOS 14
Here are some of the best new AirPods feature introduced in iOS 14.
Spatial Audio
This is a feature that is exclusively available on AirPods Pro. This brings Spatial Audio feature to the AirPods Pro with dynamic head tracking through iPhone's gyroscope and accelerometer. This gives user a superior movie theatre like experience all while enjoying his or her favorite movie on the iPad. Spatial Audio applies directional audio filters and adjusts the frequencies that each ear receives. This results in an immersive surround sound experience.
Automatic Device Switching on AirPods
This is a my favorite feature out of the new AirPods features added in iOS 14. Now AirPods will automatically switch between your iPhone, iPad, Apple Watch and Mac. AirPods will recognize which device you want to use your headphones with and switch to it in an instant. For example if you are using your AirPods with the iPad and suddenly pick up a call on your iPhone, the AirPods will automatically switch to the iPhone. This feature is available with Apple AirPods Pro, AirPods 2, Powerbeats, Powerbeats Pro and Beats Solo Pro. Since this is an iOS 14 feature latest version of iOS, iPadOS, watchOS and macOS will be required.
Headphone Accommodations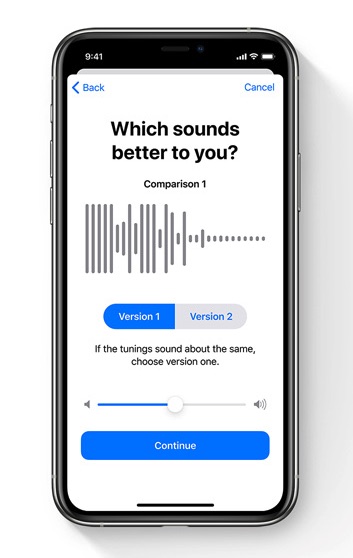 iOS 14 introduces a new accessibility feature that amplifies soft sounds and adjusts certain frequencies for an individual's hearing. This helps in making audio coming out of AirPods sound more crisp and clear. On AirPods Pro Headphone Accommodations feature supports the Transparency mode and when this mode is enabled it makes the quiet voices more audible and tunes the environmental sounds to user's hearing needs. It works with Apple AirPods Pro, AirPods 2, Powerbeats, Powerbeats Pro and Beats Solo Pro.
Battery Notifications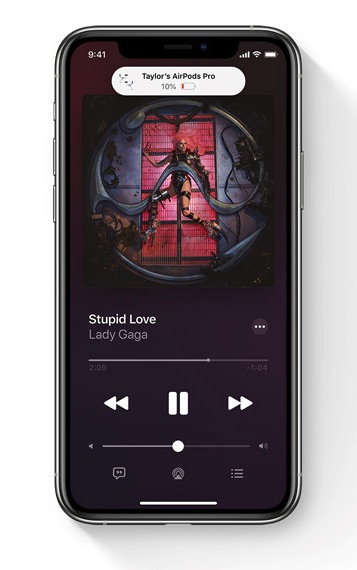 On iOS 14 and iPadOS 14 users will get battery notifications that will tell them if they need to charge their AirPods before starting a new call or a new movie. This is convenient as users often forget to recharge their AirPods and only realize that they are out of charge when it is too late. This is definitely a nice quality of life feature for AirPods users.
Audio Sharing feature for Apple TV users
You can now connect up to 2 AirPods to the Apple TV 4K and enjoy movies and shows without disturbing other people in your house.
Motion API for AirPods Pro
Apple has introduced a new Motion API for AirPods, which will give developers access to orientation, user acceleration and rational rates for AirPods Pro. Apple says this will be useful for fitness apps, games and more.
These are some of the new iOS 14 features for AirPods. These are available on AirPods 2, AirPods Pro and certain Beats headphones that are equipped with H1 Chip.
Disclosure: iOSHacker may receive a commission if you purchase products through our affiliate links. For more visit our privacy policy page.