There's no shortage of USB-C docks for Macs however very few of them stand out with their features, design and pricing as much as the Ugreen USB C Triple Display Docking Station (12-in-1), which we are going to review today.
Ever since the 2016 redesign of the MacBook Pro and removal of essential ports and card slots from that product, USB-C docks have become prevalent. Although many of the ports have made their way back to Apple's MacBook Pros, the USB-C docks have cemented their space on our desks due to the convenience they bring to our lives.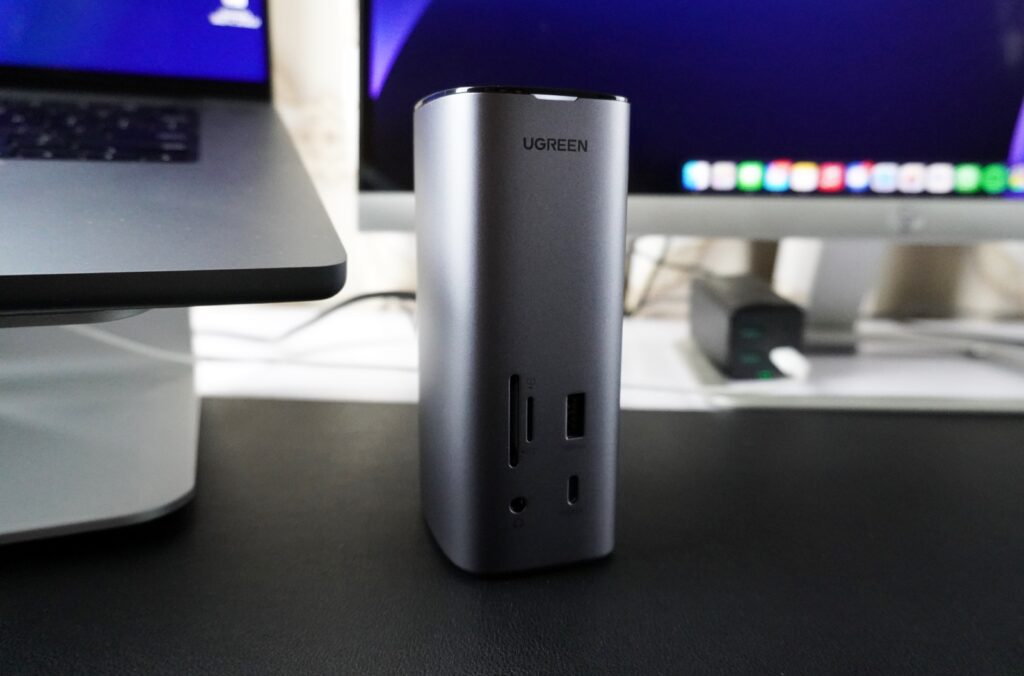 Before we get into the nitty- gritty of the Ugreen USB C Triple Display Docking Station and why I have absolutely fallen in love with this thing, let's talk about its purpose, features and why you need one in your life.
Ugreen USB C Docking Station – Features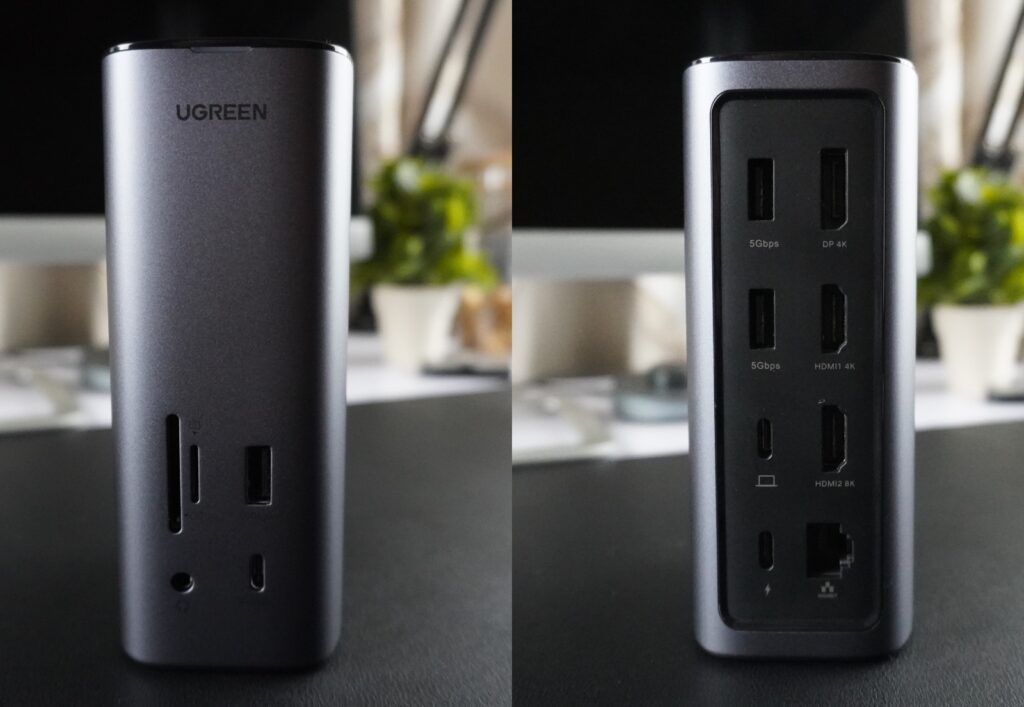 The Ugreen USB C Docking Station is an all-purpose dock for the Mac that adds a whooping 13 ports to your Mac. This is a must have accessory for MacBook users who want to get the most out of their machines without cluttering their desks and workstations with a bunch of dongles.
With the Ugreen USB C Docking Station you get 13 ports. This includes 3 USB-C ports, 3 USB-A ports, 2 HDMI ports, 1 Display Port, 1 3.5mm Audio port, 1 LAN port, 1 SD card slot and 1 microSD card slot.
The huge selection of ports that this small sized dock offers makes it suitable for any professional who wants to add a plethora of accessories and peripherals to their Mac.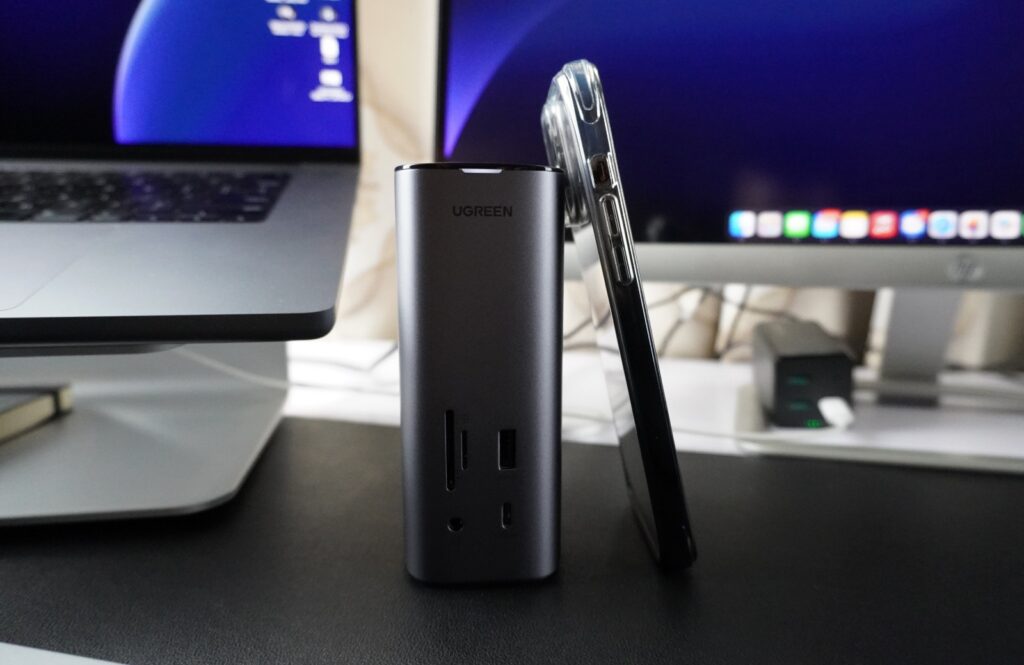 One of the main features of this Docking Station that its manufacturer highlights is its ability to add three external displays to the Mac. This is made possible thanks to the DisplayLink Chip and software that comes with the docking station.
The external display support isn't ordinary either, as for Windows users it is capable of supporting a 8K display at 30Hz through its HDMI port while simultaneously outputting to two other 4K displays at 60Hz. On the Mac you can attach one 8K and one 4K monitor in a dual display setup only, as 3 monitors will be limited to 4K resolution.
The Ugreen USB C Docking Station can also transfer your files at fast speeds. Using its USB-C and USB-A ports you can transfer hard drive data at 10gbps speeds at the same time. The SD and MicroSD card slots offer data transfer speeds of 104MB/s. The LAN port that you can find at the back of the dock supports up to 1000Mbps speeds.
Charging with the dock is pretty fast too. You can recharge a 15-inch MacBook Pro to full in just 1.3 hours.
In the box you get a USB-C to USB-C cable that you can use to connect the docking station with a power adapter. It would have been nice if it came with a power adapter. I opted to use my MacBook Pro's USB-C charging brick, as I no longer needed it to power the MacBook.
It also comes with some reading material to get you familiarize with all of its features and a small CD that contains all the drivers that you would need to connect all the displays to it. Although you can also download these drivers from the web.
My Review of the Ugreen USB C Docking Station (Spoiler Alert: I love it)
Before I talk about anything else there's one thing that I want to appreciate about the Ugreen Docking Station, and that is its design. Over the years I have seen plenty of docks and docking stations but very few of them come near to the Ugreen Docking Station design's awesomeness.
While many people won't think about it much but a docking station, which sits right on top of your workstation right besides your MacBook and 8K monitor has to look just as good as any other thing on the table. And thankfully this docking station not only satisfies with its design and looks but it is a delight to look at.
The space grey color of its body, the black top and neatly arranged front ports compliments its sleek tower design. The small white light that tells you whether the dock is on or off and the power button on the top all goes well with the design philosophy Ugreen is following and I love it.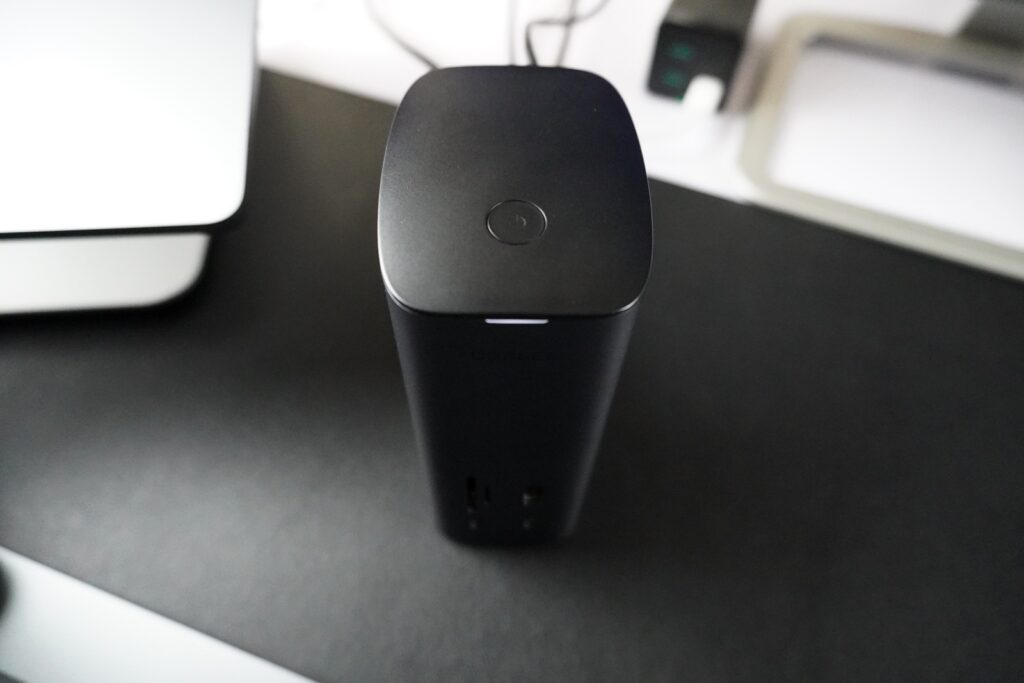 The dock itself is about the size of an iPhone 14 Pro. This not only makes it small enough to place anywhere on the desk but also makes it super easy to carry it in backpack or suitcase in case you want to carry it with you on a work trip.
Design and aesthetics are important but not as important as the practicality of a docking station that targets professionals. And in that department there's hardly anything that you can complain about.
The Ugreen Docking Station has all the ports that one would need, and more. I can't possibly think of a scenario where I will be able to use all 13 of its ports at once, but if you're someone who needs a lot of ports and two card readers at the same time you won't be disappointed.
The SD card slot, the HDMI port, the USB-C port and the USB-A port have all helped me in completing my day to day tasks. The USB-A port, which my 2021 MacBook Pro lacks and I had to use a dongle for allows me to quickly connect my USB data traveller and external hard drive without thinking twice.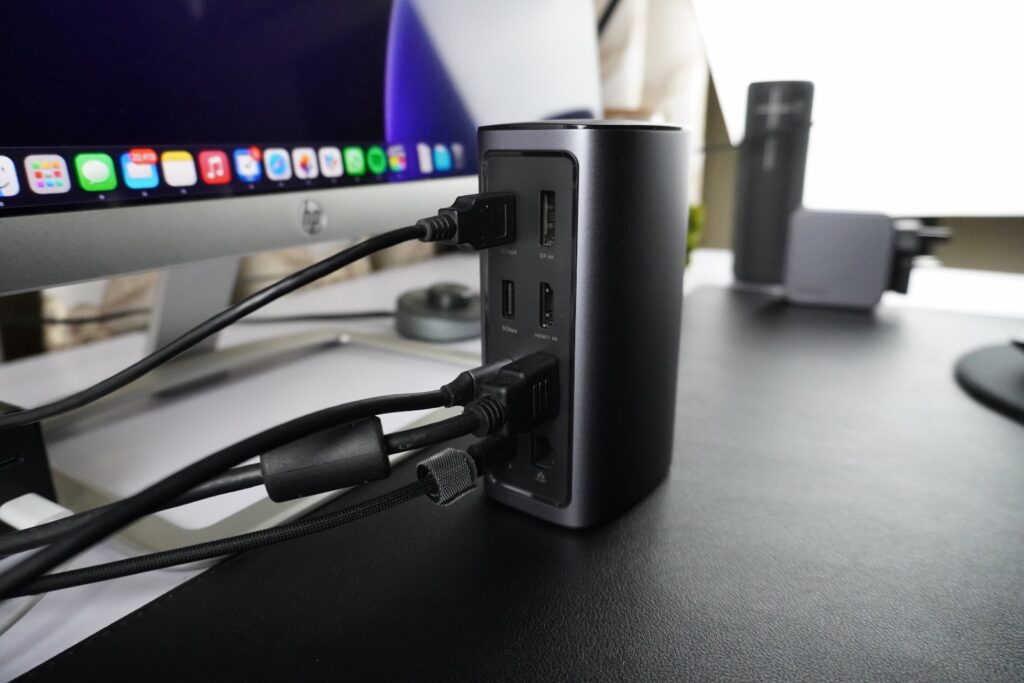 Another positive change that this dock brought to my life is that I no longer have to connect and disconnect HDMI cable to my MacBook Pro, as now that stays connected to the dock at all times along with other cables and accessories.
To conclude…
To conclude my impressions of the Ugreen USB C Triple Display Docking Station I would say if you're someone who regularly connects multiple displays and accessories to his or her Mac, then getting this dock for yourself is a no-brainer.
For those who want to connect up to 3 displays to their Mac while also being able to easily connect other accessories, then this dock is a absolute necessity. It will solve many of your problems and will payback its price tag multiple times over in the coming years.
Pricing and availability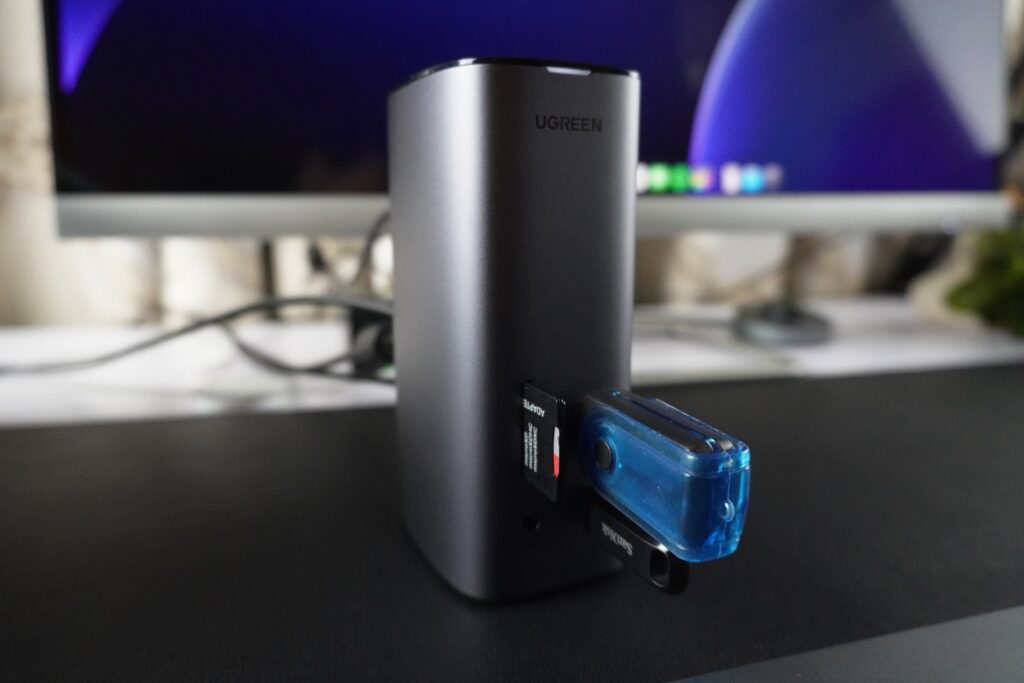 The Ugreen USB C Triple Display Docking Station (13-in-1) is available on Ugreen's official website for $329.99. The company is holding a sale on the charger thanks to which the price has temporarily been reduced to $309.99.