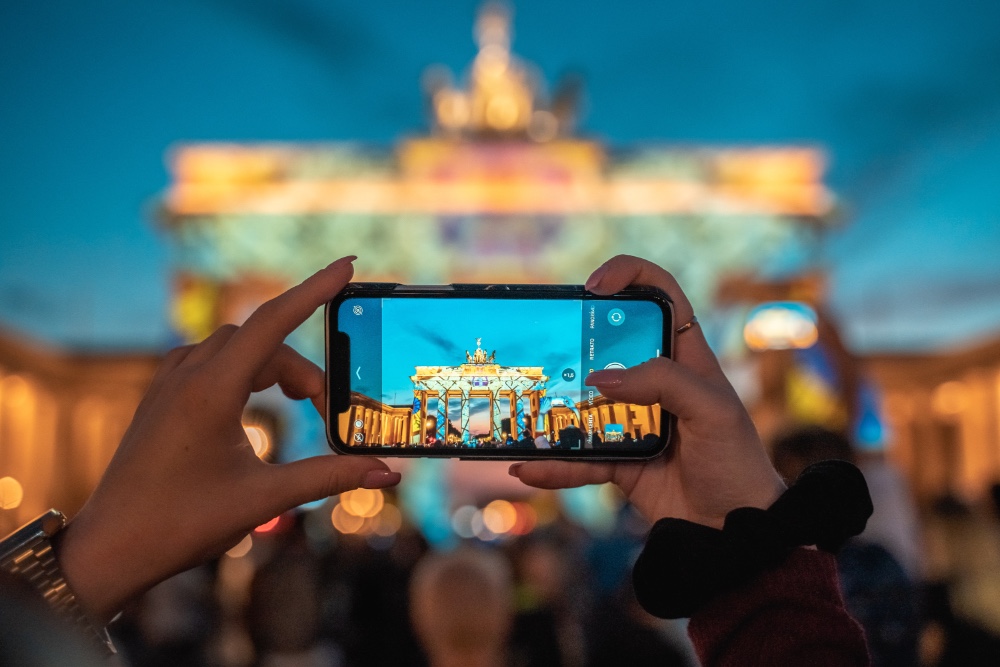 With millions of videos being uploaded to Instagram, TikTok, and other social media platforms every day, many videographers start to wonder how to shoot high-quality content using an iPhone.
Many of them also want to elevate their video editing skills to make their clips as engaging as possible.
Read on if you are eager to learn which iPhone model is best suited for capturing professional-quality footage and which apps you can use for creating and sharing your clips.
1. Select the Best iPhone for Shooting Videos
While all recently released models of iPhone are suitable for video production, some options stand out among the rest thanks to their advanced cameras. Most iPhones allow you to record 720p and 1080p video footage at 60fps.
If you are looking for an affordable model, iPhone 11 Pro Max is a great option to consider. Featuring a telephoto lens, it supports f/2.4, f/1.8, and f/2.0 apertures as well as 2x optical zoom. Due to its triple-lens system, you can alternate between different shooting modes. It allows you to record 4K footage at 60fps and 1080p slow-motion footage at 240fps.
Alternatively, you can use iPhone 12 for shooting in difficult light conditions. It supports Dolby Vision HDR, which makes it perfect for video making. The upgraded version of the iPhone SE released in 2022 is another great option to consider. Thanks to the A15 chip, it has impressive image processing performance.
2. Change Default iPhone Video Settings
By adjusting default settings, you can quickly improve the quality of your footage. Start by switching to 4K resolution and shoot content at 24 fps. You can also capture slow-motion 1080p videos at 120 fps or 240 fps.
We recommend you turn off the "HDR Video" feature under the "Record Video" tab. It will make it easier for you to edit your videos afterward. Make sure to turn on "Grid" to capture a well-balanced composition.
You should also turn off the "View outside frame" option to avoid getting distracted. After turning on "Macro Control," you can shoot objects from up close.
3. Select a Video Editing App for iPhone
To optimize your video editing workflow, you can use any video editing app described below. They allow you to trim and crop your videos, adjust the settings, and apply a variety of effects.
Movavi Video Editor
With the help of Movavi Video Editor, you can enhance your clips like a pro. It allows you to edit 4K footage without any delays. It supports keyframing and enables you to create videos using automated tools. You can enhance your content by adding visually appealing effects and transitions. In addition, it has a set of basic video editing tools that allow you to cut, trim, and join your videos.
MAGIX
Using MAGIX, you can speed up your post-processing workflow. Besides video editing, it supports compositing, color grading, and sound design. You can use it for creating engaging YouTube clips, tutorials, or video reviews. It also has convenient sharing options, which enable you to quickly share your content on social media. You can also use third-party apps to add music to your videos and make them more engaging.
Nero
With Nero, you can create engaging videos and slideshows, as well as edit them in a few clicks. This software supports multi-track video editing and allows you to work with HD, 4K, and 8K footage. To save time on post-processing, you can use customizable templates and effects, including Chroma Key and PiP effects.
CyberLink
Thanks to CyberLink, you can remove unwanted objects from your videos in a few clicks, as well as merge your clips. It allows you to create image and text masks, design titles, create In/Out animations, and add animated stickers to your clips. Using motion-tracking tools, you can make text or graphics follow the motion of different objects in the frame.
To enhance your videos even further, you can use AI-based sky replacement tools, stickers, transitions, and Chroma Key effects.
iMovie
The creators of iMovie did everything possible to make this app as easy to use as possible. With it, you can add attention-grabbing titles, music, and transitions to your videos. It automatically selects the best parts of a video and supports 20 editing styles.
Thanks to the Storyboards feature, you can edit your video shot by shot to make it even more engaging. To save time, you can use the available video templates. Unlike other best editors listed in this article, it allows you to edit your footage in Cinematic mode.
Splice
Using the tools available in Splice, you can create professional videos in a few minutes. This solution is suitable for creative professionals of all kinds and Instagram influencers who want to engage their followers by posting high-quality content. It can be used for creating TikTok videos and Instagram stories. This all-in-one solution stands out for its intuitive UI, an in-built library of audio files, and advanced video editing tools.
InShot
With the help of the InShot tools, it's possible to trim videos, remove unwanted segments, merge different clips, and split videos into different parts. You can also adjust the speed of different segments. This app has an impressive collection of filters and makes it easy to add voice-overs and audio effects. To make your content even more engaging, you can add animated stickers and captions to your videos. Using the Timeline, you can optimize your post-processing workflow. In addition, the app supports the synchronization of stickers and text with videos.
CapCut
Another great option for editing your videos is CapCut. It lets you create videos for TikTok and make them more engaging by adding text, stickers, filters, and audio tracks. It supports slow-motion, Chroma-key, and PiP effects.
Final Thoughts
Using the paid and free video editing apps listed above, you can add captions, animated stickers, transitions, and effects to your videos to enhance them without any prior experience. Select the iPhone model that suits your budget and needs best, and create top-level video content for increasing your online visibility!