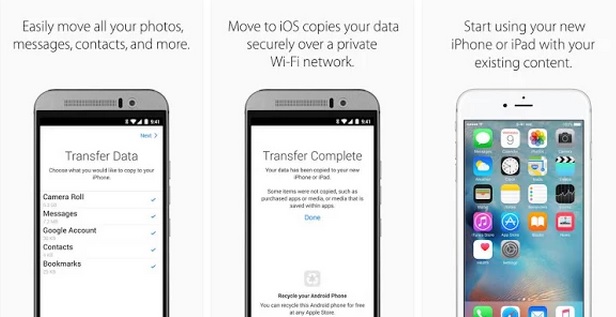 With the release of iOS 9 and other software goodies, Apple has also released the new Move To iOS app for Android and it is now available for download through the Google Play Store. The app that is available as a free download will make the transition from any Android device to iPhone or iPad easier. With this app users will be able to move their content that includes Photos and videos, contacts, calendars, messages, bookmarks, mail accounts and Google account details to their iOS device wirelessly.
The app once installed and configured uses the private WiFi network to transfer the data. It requires a security code before transfer of data can be started, adding a layer of security to the process. Move to iOS app is fully automated and does its job within minutes. This is much easier than older methods when users had to rely on third-party solutions or copy their data onto a computer before making the  transfer to an iPhone.
Here's how the app works.
When you choose to migrate your data, your new iPhone or iPad will create a private Wi-Fi network and find your nearby Android device running Move to iOS. After you enter a security code, it will begin transferring your content and put it in the right places.
It is interesting to note here that this is the first ever app that Apple has developed for Google's Android operating system. Will we see more apps from the company is something we are anxious to see in the future.
Move to iOS app can be downloaded from the Play Store for free. It works with all phones as well as tablets running Android 4.0 or above.