The popular Bear writing app for iPhone, iPad and Mac has finally been released on the Apple Watch. With this new release you will be able to use the Bear app right on your wrist and perform useful actions without having to take your iPhone out of the pocket. The Bear app is a useful extension to the iOS app, enabling users to read notes, create new notes and add text to existing notes right on their Watch.
Just like any other watchOS app, Bear uses voice based input to allow users to create or edit notes. Simply tap on the 'New Note' or 'Amend' buttons and start speaking. Once you are done, you can tap on the 'Done' button to add the text to your note.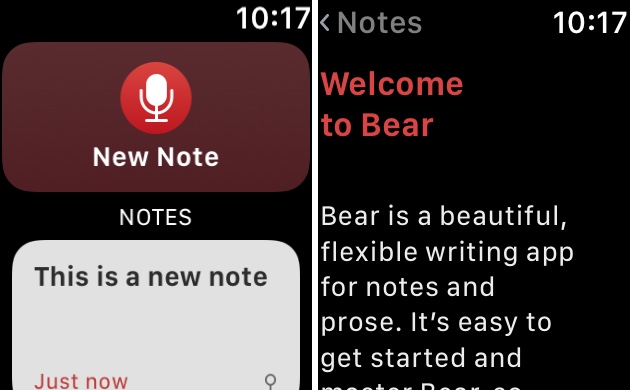 The main user-interface of the Bear app looks very similar to the Dock feature of watchOS, allowing users to scroll through the note cards with finger or digital crown. When you open a note you are presented with a black UI with white text on it, which is fairly comfortable to read. You can view the whole note on the Watch, which is also very useful.
One important thing missing from the Bear Watch app is the ability to delete notes. Right now you can't even delete notes that you have created using the Watch app, which is quite inconvenient especially when you make a mistake. You have to use the iPhone app to get rid of the note. We hope the option to delete note is added in the future versions.
Bear app for iPhone, iPad or iPod touch is available for free at the link below.
Please subscribe to our Youtube channel for latest videos on iPhone, iPad, Mac, Apple Watch and more.