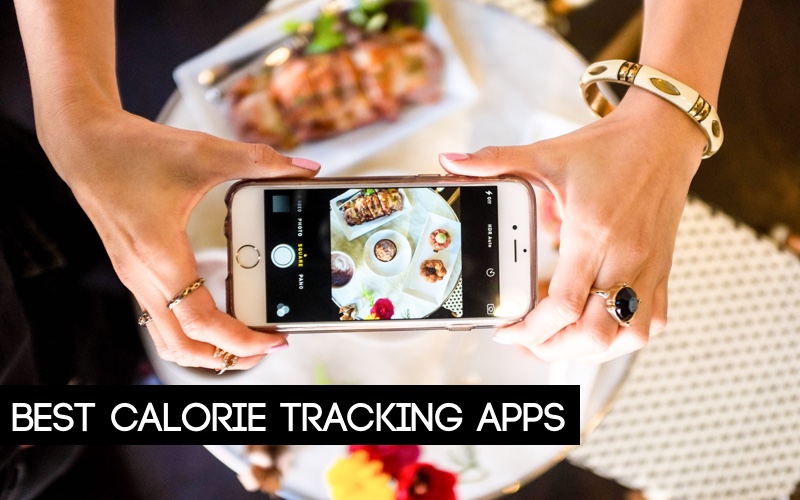 Keeping track of what you eat on a daily basis is extremely important for a number of reasons. Anyone who is looking to lose weight, has joined the gym or wants to improve his or her lifestyle by eating healthy food needs to keep track of calorie intake.
Using calorie counter calculators can be tricky especially if you don't know the nutrition facts of what you are eating. Thankfully there are plenty of good food calorie counter apps for iPhone that can make the process super easy for you.
In this post you will find the best calorie counter apps for 2017 that you can download on your iPhone, iPad and iPod touch right now. While all of these calorie counting weight loss apps are available primarily for the iPhone, some of these awesome calorie tracking apps also offer dedicated Watch apps that will make it easier for you to log food whenever you eat it.
Also read: 10 Best Workout Apps for Your iPhone And Apple Watch In 2017
1. MyFitnessPal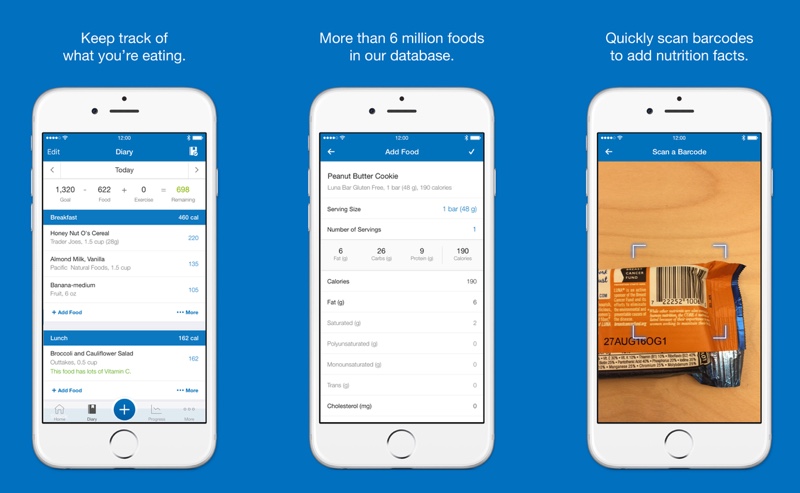 First on our list of best calorie counter apps for 2017 is MyFitnessPal. This is the app that I personally use and have grown to admire. MyFitnessPal is a Calorie Counter and Diet Tracker that can be your single weight loss app for iPhone. It will let you set a goal weight and work towards achieving it.
MyFitnessPal app has over 5,000,000 food items in its database, so you can simply type the name of what you just ate and just tap on it to add. You can adjust the quantity of the food as well. If you are always eating out or like to try different kinds of food, then you will appreciate that with MyFitnessPal you can input all kinds of food simply by searching for it. This includes packaged foods, regional foods like Indian food, Chinese food and more. The app will even remember your favorites and allow you to add multiple foods at once.
Other features include ability to support more than 50 devices and apps including Apple Health, Fitbit, Jawbone Up, Garmin and more. You can download MyFitnessPal for free. While the app is free to use you can unlock additional feature with an year fee. Read on to learn about other calorie tracking apps on this list.
2. Lose It!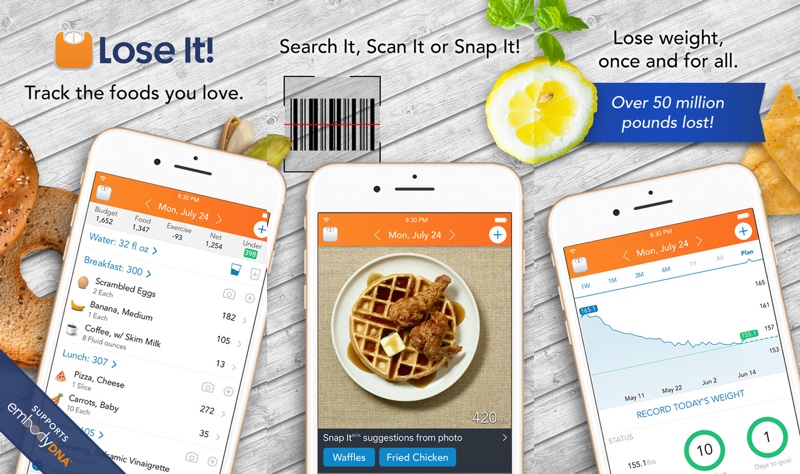 Next on our list of best calorie tracking apps is the Lose It! app, which also allows you to set a weight goal and track your food. At the end of the day you will be able to see how much you would weigh if you continue to eat like you did on that day, which helps you stay motivated and on track. The app offers a feature called embodyDNA, which gives DNA based insights to suggest what kind of foods and activities will help user lose more weight.
You can search for any kind of food and enter them to calculate your daily calorie intake, and see how much more you can eat before reaching your daily calorie intake goal. Other features include ability to track macronutrient, health, water and body measurement goals, meal planning, personal insights on foods and more.
You can download Lose It! for free. While the app is free to use you can unlock additional feature with an year fee.
3. MyPlate Calorie Tracker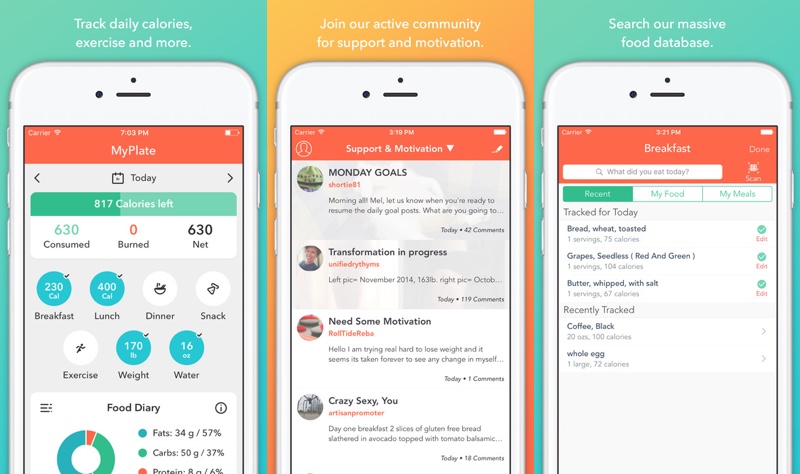 Its never too late to fulfill your new years resolutions, so if you are on a hunt to find weight loss apps, then do check out MyPlate Calorie Tracker app for iPhone. With MyPlate you can track your daily calories and stay under your daily calorie intake goal to lose weight.
MyPlate offers features like Apple Watch app, a database of 2 million foods, barcode scanner for scanning food items, water intake tracking, exercise tracking and more. It will also integrate with the Health app so you can sync your workouts and sync weight tracked from other apps. You can download the MyPlate Calorie Tracker for free.
4. My Diet Diary Calorie Counter App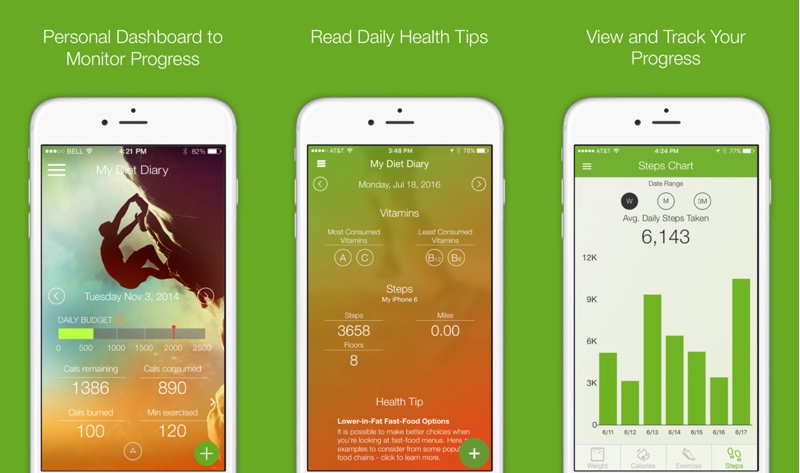 My Diet Diary Calorie Counter App is one of the best iPhone apps for weight loss. This app is not just for those looking to shed some pounds but can also be useful for those who want to gain or maintain weight. Features of this calorie tracking app include ability to track food, water intake, exercise, simple design, health tips, Health app integration to count steps towards burned calories and more. You can download this app for free.
5. Fooducate – Lose Weight, Eat Healthy,Get Motivated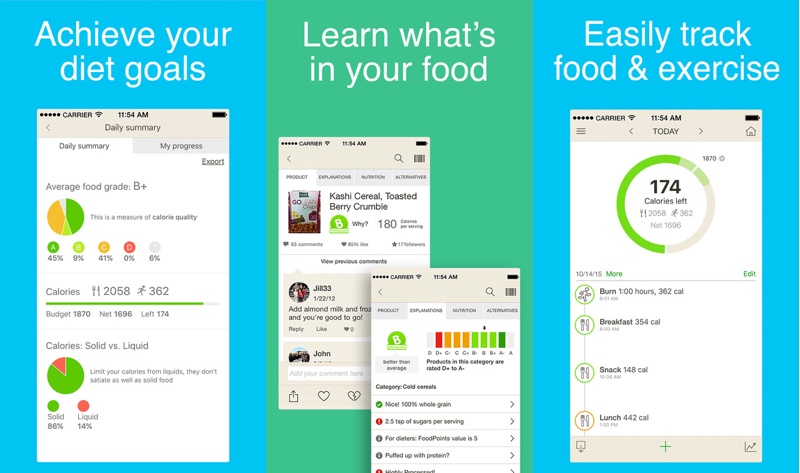 Last but not the least on our Calorie Tracking Apps for iPhone is Fooducate. With this app you can lose weight and live a healthy lifestyle. It will track food, sleep, mood and activity allowing you to take well informed dietary decisions. With Fooducate you can track your daily food intake and exercise, this information is also shared with the Health app. The app will also let you track your sleep, hunger levels and mood. You can add your own recipes and foods to track, and scan over 250,000 product barcodes to quickly enter them into the app. Fooducate app is available for free.
So these are the free and best calorie tracking apps that you can download in 2017. Do let us know what you think about these apps, or if there is any other app that has helped you in losing weight, in the comments section below.
Disclosure: iOSHacker may receive a commission if you purchase products through our affiliate links. For more visit our privacy policy page.