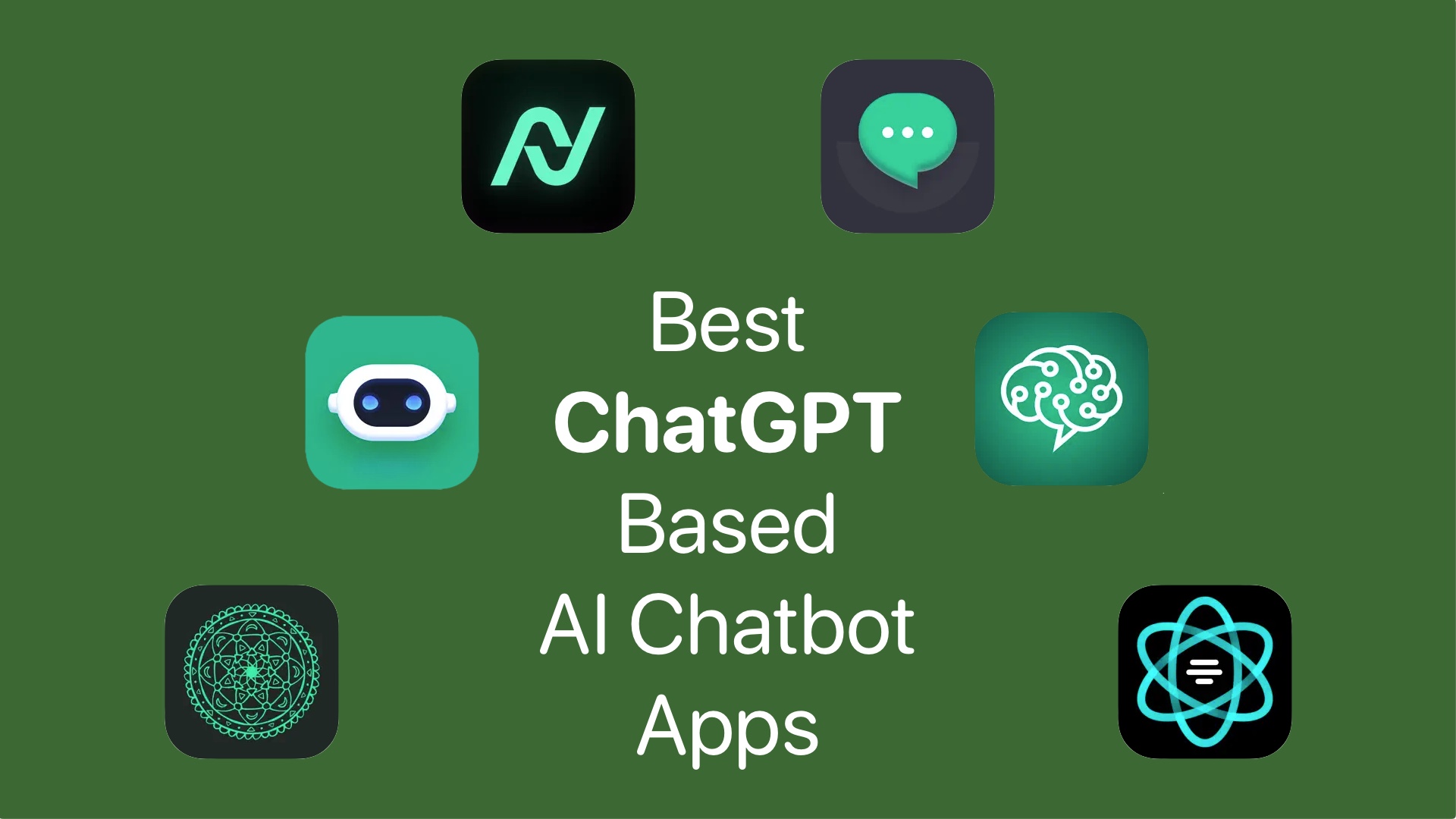 In this list, you will find the best ChatGPT based chatbot assistant apps that you need to check out on your iPhone or iPad in 2023.
If there can be one thing 'revolutionary' in this technological era, we would call it 'Artificial Intelligence' (AI)! What's more? There is a dramatic entry of ChatGPT. A chatbot that can converse with you about nearly anything. Put simply, it is your 'digital friend'. (Don't confuse AI ChatBot with Google)
From businesses to end users, these AI-based chatbots are taking chatting in a very different direction. Curious enough to know more? Well, our today's list of best ChatGPT apps for iPhone is out.
Read on to find out your AI chatbot assistant…
1. AI Chatbot, AI Chat: KnowItAll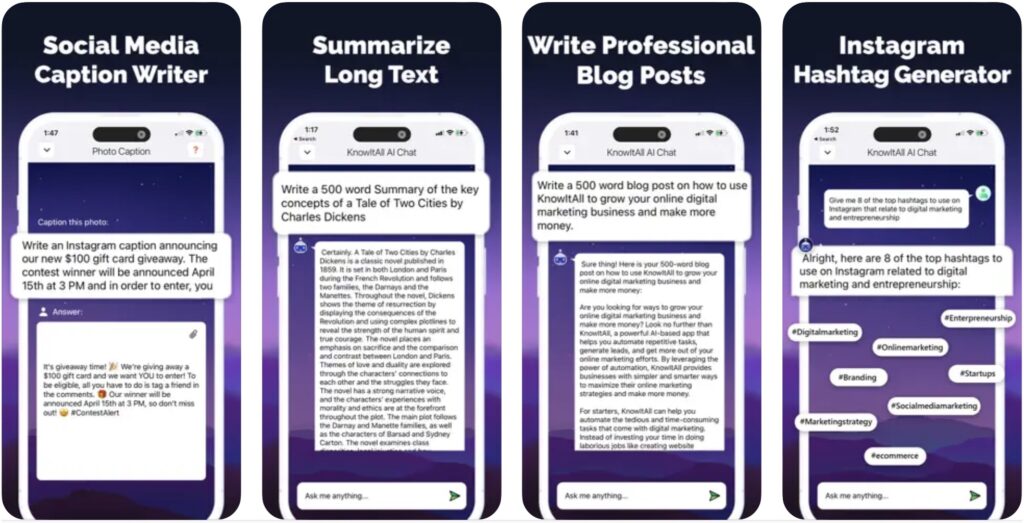 First on our list of ChatGPT apps for iPhone is KnowItAll AI Chatbot. This free app acts as your AI-based personal assistant and answers your typed commands in a matter of seconds. You can ask KnowItAll AI Chatbot all sorts of questions and save a bunch of time. The best thing about this app is that it does not have any in-app purchases and gives you full access to ChatGPT right on your iPhone.
Just like ChatGPT on the web, this app is designed with a user-friendly chat-style UI where you type your query and hit the send button. After sending a query you receive quick responses from the AI assistant just as you would receive a reply from your message in iMessage.
There's a long list of things you can use KnowItAll AI Chatbot for. This includes making the chatbot explain complex ideas in simple terms, writing code and pieces of text for you, summarising an article or paragraph, solving math problems, writing compelling social media captions, and more.
You can get KnowItAll AI Chatbot app from the App Store, where it is available as a free download here.
2. OpenAI ChatGPT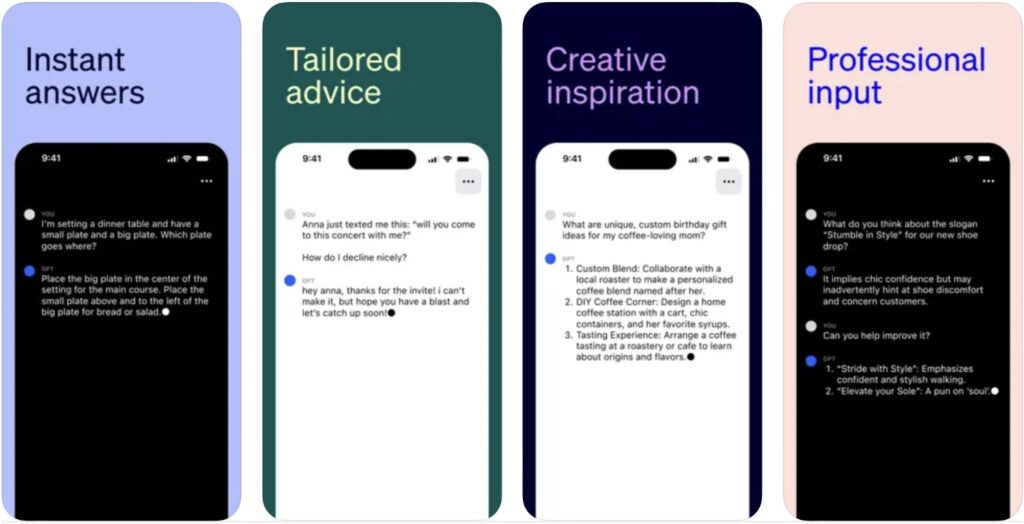 OpenAI ChatGPT is the official ChatGPT app from the creator of ChatGPT. This app features a clean user interface where users can quickly ask questions and get instant answers. The biggest advantage of this official ChatGPT app for iOS is that it syncs with your ChatGPT account on other platforms and shows your question history across all devices.
The free-to-use version of this app offers users access to GPT-3.5. However, from within the app, you can also subscribe to ChatGPT Plus and gain access to GPT-4, which is a better version of ChatGPT. The subscription costs $20 per month.
You can download OpenAI ChatGPT app from the App Store, where it is available for free.
3. AI Chat Ask Chatbot Assistant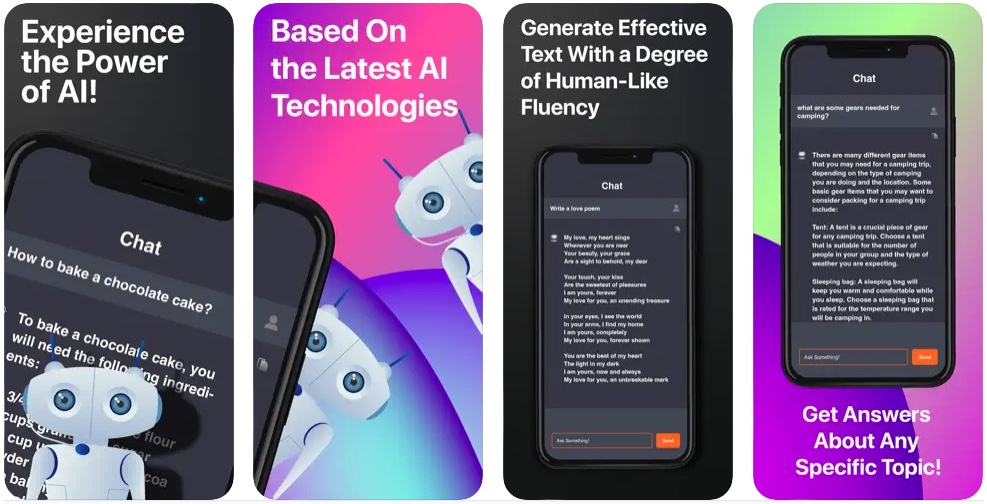 This one of the best AI Chatbot apps in 2023 is your pocket AI assistant. Whether you are traveling, or sitting in a coffee shop, you can ask it about anything, anywhere. It organizes your daily activities and prioritizes them to help you fulfill your daily tasks and activities.
This revolutionary AI-based Chatbot assists you with writing unlimited. Got unanswered questions? AI Chat can answer literally all of them. Want to write your own song but lack words?
This iPhone ChatGPT app will write a beautiful song for you. Or if poetry or storytelling fascinates you, AI Chat helps you write your own. In addition to poetry, essays, paragraphs, letters, or emails anything that interests you, AI Chat is there to assist you.
You can download AI Chat Ask Chatbot Assistant App From the App Store for free.
4. ChatAI – AI Chat Assistant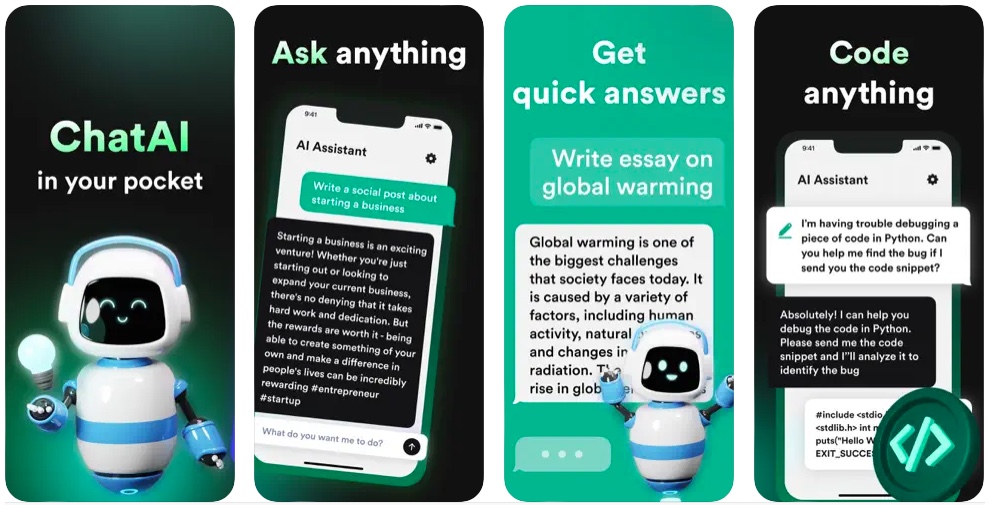 This ChatGPT app for your iPhone can be your 'true friend'. It can craft engaging social media posts, help you rewrite your essays, and suggest just the right gift for your loved ones.
Regardless of the nature or complexity of your question, ChatAI can respond to you efficiently, quickly, and with the best results. Its intuitive interface makes it one of the best iPhone ChatGPT apps.
Need help in writing? ChatAI is an excellent help for professional authors. You should simply know how to use it to its full potential.
You can download ChatAI – AI Chat Assistant app from the App Store for free.
5. Nova – AI Chatbot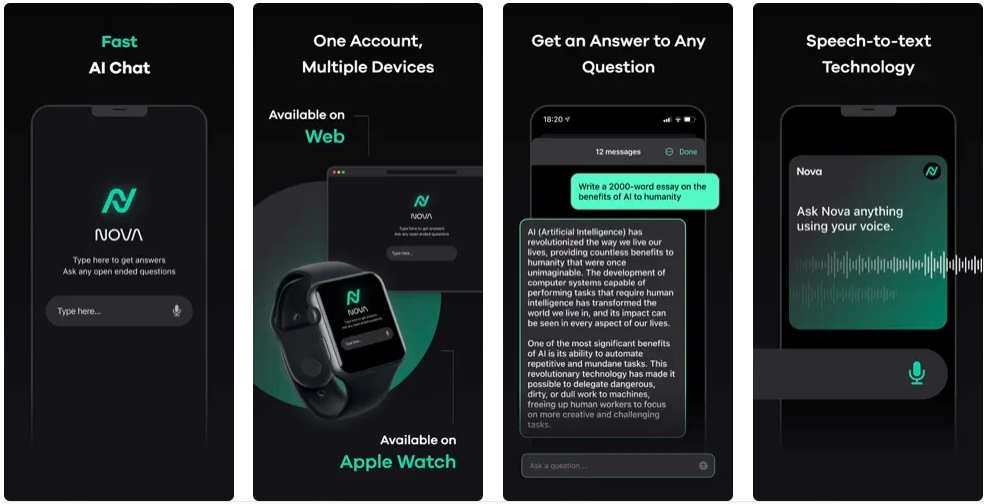 This iPad ChatGPT app takes your chatbot experience to the next level with added support by GPT 3.5 Turbo. Its advanced-level AI-powered chatbot understands your questions and provides answers just like a human brain does. It won't leave you alone when you need it the most – indeed, a knowledgeable friend in need. And when you are bored chatting, it can suggest you a good book or a movie of your interest.
This one of the best AI chatbot apps in 2023 is setting new standards in AI chat technology based on ChatGPT. The bonus feature? It is the only cross-compatible chatbot that can be used on iPhone, Apple Watch, web, and iPad.
Moreover, if you are not an English native, its multi-lingual feature with more than 140 languages enables you to chat in your language. And when you chat, it remembers your whole conversation. Still not getting enough?
In addition to your chat friend, it can be your creative writing assistant, helping you write essays, compositions, social media posts, and even poems. Thinking about grammar? Well, Nova AI is not only a creative writer but also a meticulous proofreader. You can draft professional, error-free documents.
You can download Nova – AI Chatbot app from the App Store for free.
6. AI Chatbot – Open Chat Writer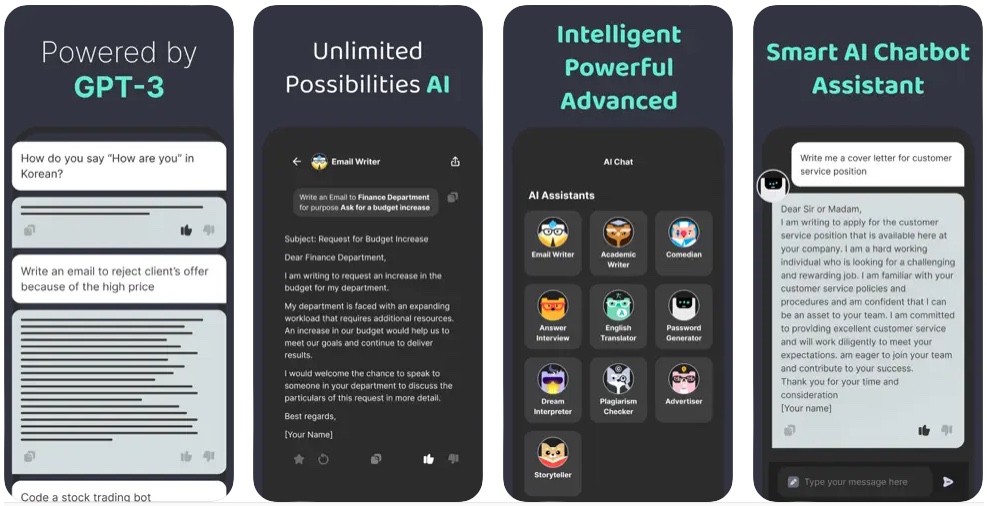 This one of the best AI chatbot apps for iPhone is designed to generate any kind of conversation, AI-powered search, and many other advanced AI features. Your new AI assistant can perform endless tasks efficiently. Be it generating SEO content, articles, emails, social media posts, coding, chat responses, proofreading or producing poems, and songs, and conducting research. And if you need a quick and effective ad copy, keywords or even product names simply ask AI Chatbot, and there you go.
No matter how many questions you have, it answers your queries impressively. This one of the best Chat GPT-based AI chatbots can also translate your text into other languages.
You can download AI Chatbot – Open Chat Writer app from the App Store for free here.
7. Chat AI – Good Chatbot Writer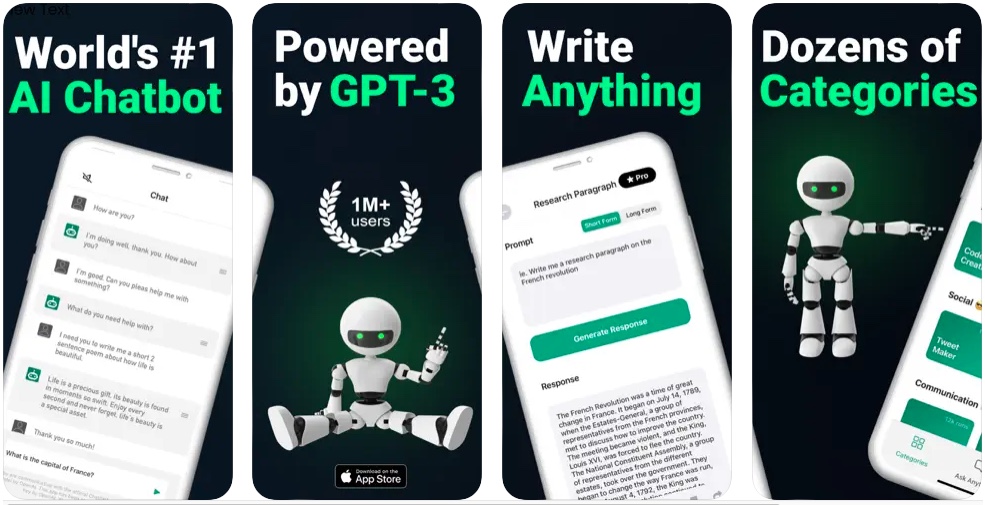 This chatbot is powered by ChatGPT and ChatGPT 4, making it the world's most powerful AI chatbot writer. That being said you have a world of knowledge only a few taps away. This one of the best ChatGPT 4 apps for iPhone can answer all your general knowledge questions, in addition to coding and creative writing, unlike its other competitors. While having your own diet or food preferences, can quickly generate healthy and customized recipes for your daily meals.
If you are out of words for your Instagram or Twitter posts, ChatAI is there to get the job done. Using one of the best AI chatbot apps in 2023, your sky is the limit!
You can download Chat AI – Good Chatbot Writer app from the App Store for free.
8. Roboco – AI Chatbot Assistant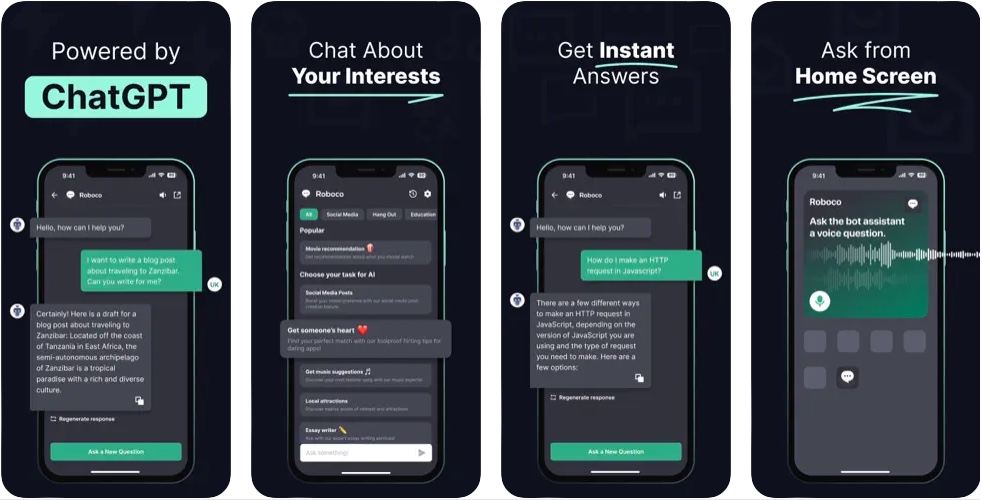 With Roboco, your AI chatbot experience becomes seamless. It's GPT 3.5 Turbo API and shortcut accesses to various features and categories make it one of the best ChatGPT apps for iPhone.
The results are simply immense. It can create great stories and impressive content for you. When you are feeling lonely, chat with Roboco about your interests. You can ask for a translation, writing stories or articles, codes, emails, letters, poems, or even lyrics.
Now, it is easy to become a poet or lyricist. Unlike other AI chatbots, Roboco offers shortcuts in various categories including travel, education, health, translation, and even astrology.
You can download Roboco – AI Chatbot Assistant app from the App Store for free.
Want to try it yourself? Let us know in the comments below which AI-based Chatbot from the list worked best for you.
For more AI-based news and products, stay tuned to iOSHacker.com.