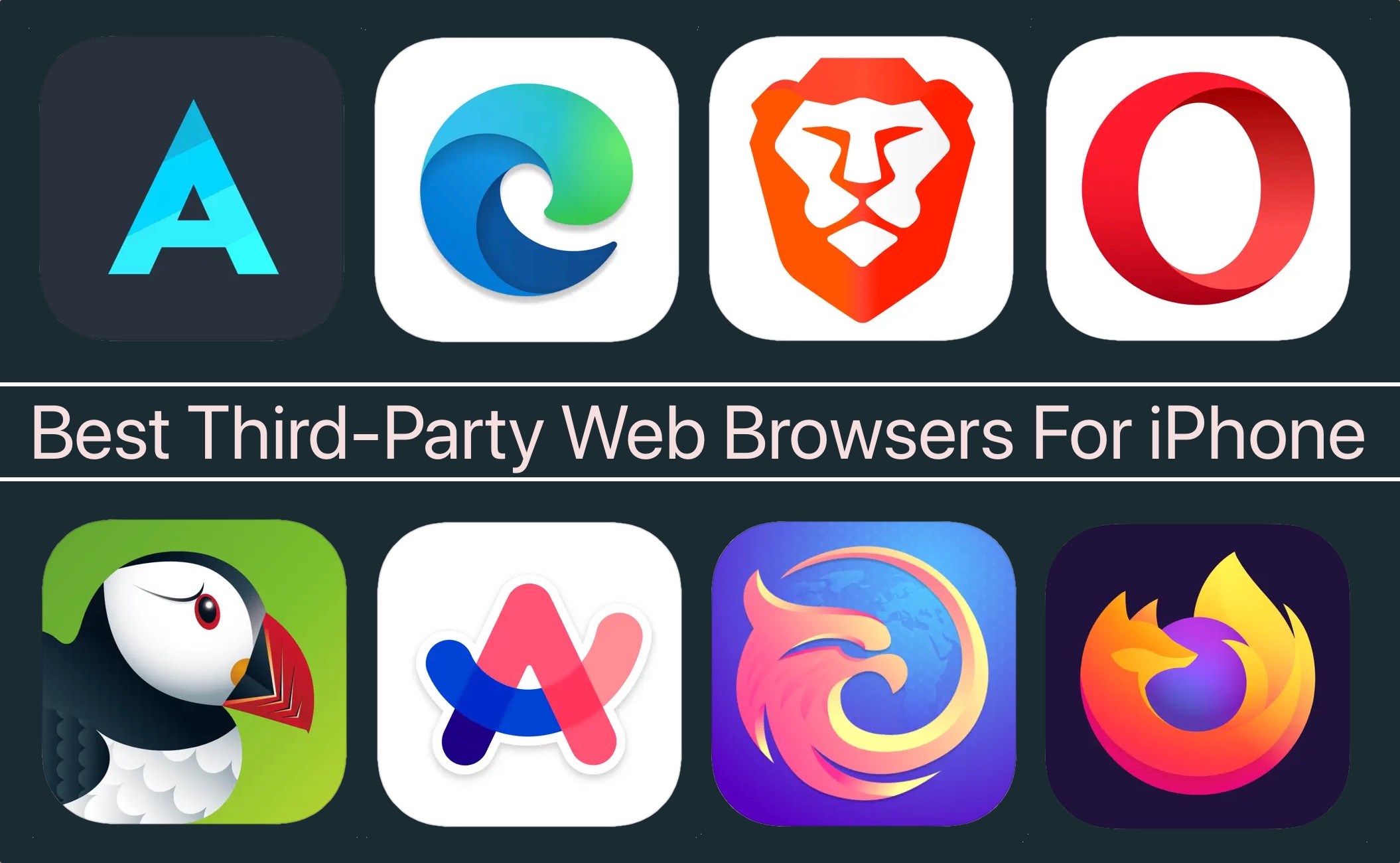 In this post, we have featured 8 of the best iPhone and iPad web browsers that you can download on your device in 2023. These Safari alternatives offer many features that are not available in the stock web browser.
Every new iOS device comes pre-installed with Safari, but numerous excellent alternatives exist. Previously, Safari held an advantage since it was impossible to change the default browser, but iOS 14 now allows you to select which browser opens when you click a link.
It's important, however, to find a Web Browser For iPhone with a robust set of smooth, fast, and secure features.
Having said that, we must ask, which are the best browsers for iPhone? Obviously, the answer will vary based on the needs of each user.
Worry not. We have listed the best third-party web browsers for iPad and iPhone below!
Best iPhone Web Browsers 2023 (Safari Alternatives)
The internet can be tiring when you spend all day shopping and reading, especially when you are bombarded with advertisements. Listed below are eight of the best browsers for ensuring your privacy and peace of mind.
Download these best web browser apps as soon as possible, from buttons that delete your search history to new ways to simplify and save your reading material.
1. Firefox: Private, Safe Browser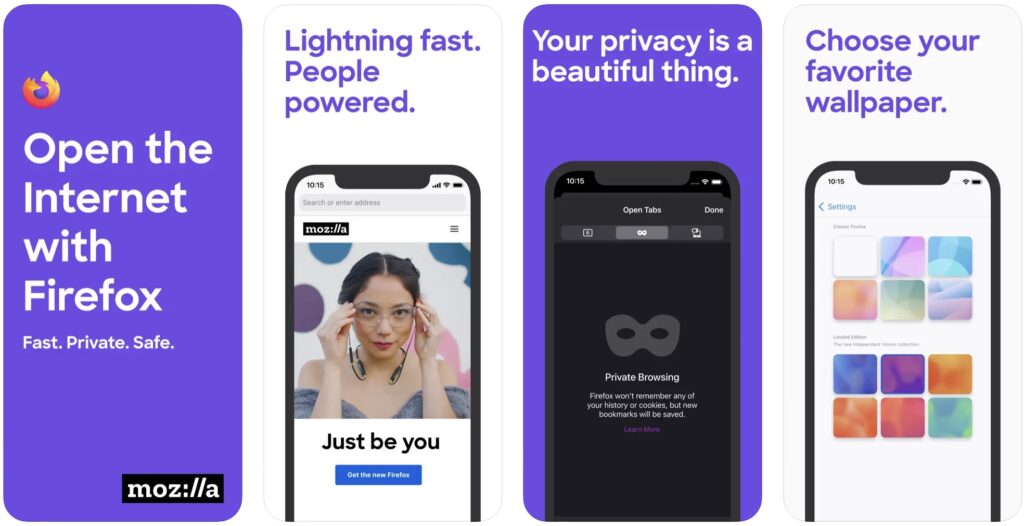 Discover the non-profit-backed browser that puts people first.
We are living in a new era of technology. Don't go with a browser produced by a data-hoarding technology company. When it comes to independent, ethical tech that respects your privacy and gives you more ways than ever to customize your Internet experience, Firefox is an obvious choice.
Searching for things on your laptop, then picking up the exact search on your phone, is now possible. You can quickly get back to what you were doing on Firefox's homepage by viewing the most recent searches you've made on other devices.
You can see all your open tabs intuitively grouped and displayed along with recent bookmarks, top websites, and popular articles you've saved.
No matter how many tabs you create, you won't lose track of them. You can easily find what you are looking for with Firefox by seeing thumbnails and numbered tabs of all your open tabs.
Install Firefox: Private, Safe Browser from the App Store now
2. Opera Browser: Fast & Private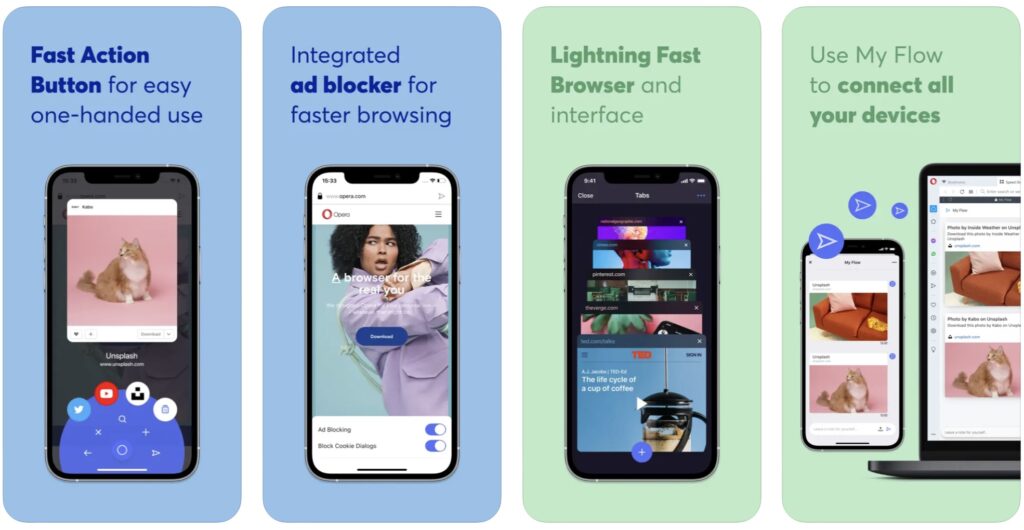 An award-winning web browser with an impressive user interface, Opera Browser is fast, safe, and private. This web search engine is built for people on the go and features a lightning-fast web search for instant results. Millions of users enjoy it across the globe. If you are looking for Opera Mini or an upgrade over your current iOS mobile browser, Opera Browser is the best option.
Opera Browser is designed to be the fastest mobile browser for iOS devices. You can start browsing the web immediately after opening Opera Browser. Direct access to Instant Search is always available via the Fast Action Button on your browser screen.
Opera Browser uses the latest web technologies to ensure maximum online privacy and security. A Private Browsing Mode helps you remain anonymous online with Apple's inbuilt Intelligent Tracking Prevention (ITP). Furthermore, Opera's Cryptojacking Protection prevents your mobile device from overheating or going out of battery when browsing the internet.
Install Opera Browser: Fast & Private from the App Store now
3. Arc | Mobile Companion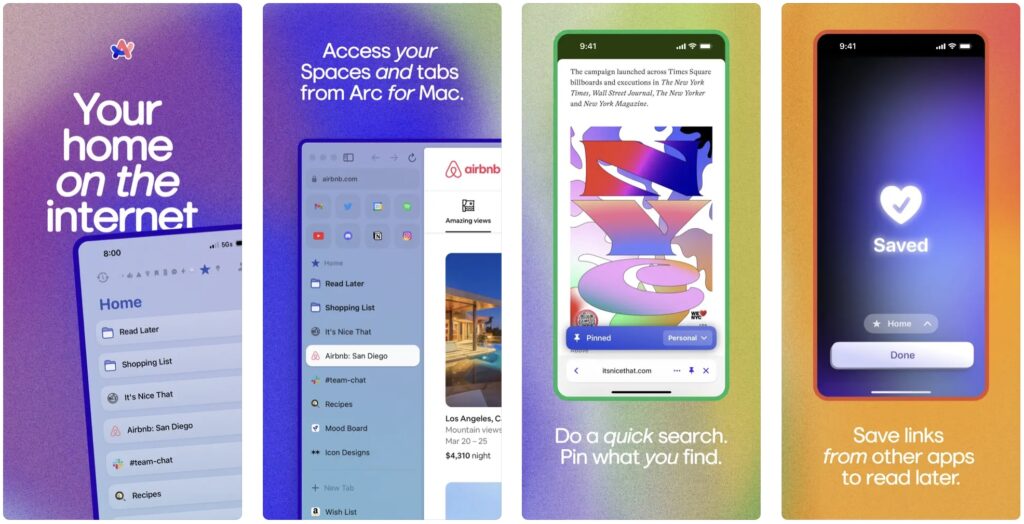 You can now download Arc for iPhone!
From Arc for Mac, you can access your Spaces and tabs on the go, save links for later reading, and view your Easels and Notes. Your entire internet is at your fingertips.
The Arc Browser for iOS eliminates clicks, clutter, and interruptions associated with traditional browsers to give users the best browsing experience. It also allows users to concentrate on their work while becoming more productive.
A built-in note-taking app is included with Arc Browser for iOS that allows users to take and save notes from within the browser. This feature is invaluable for those who want to organize their browsing history and notes conveniently.
The Arc Browser for iOS offers enhanced security features to ensure users' browsing experience is secure and safe. You can always protect your personal information with its built-in password manager, ad blocker, and tracker blocker. Thus, Arc Browser provides a significantly safer browsing experience.
Install Arc | Mobile Companion from the App Store now
4. Microsoft Edge: Web Browser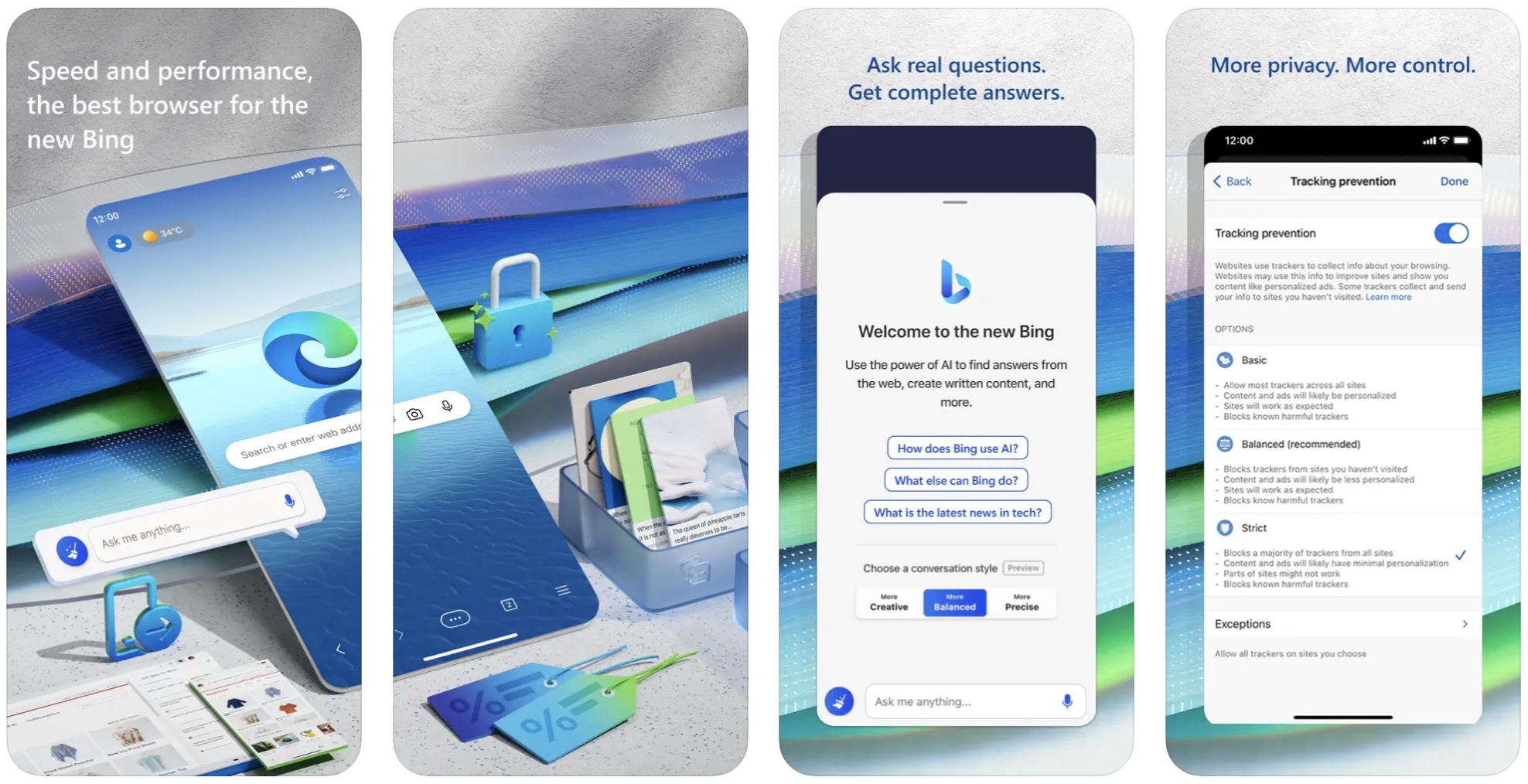 Refine your results with a chat. Find creative inspiration and comprehensive solutions. The Microsoft Edge browser is the best choice for the new Bing experience. The web browser that puts you first is the right one for you. With Microsoft Edge, you can protect your data, save time and money, and protect your privacy.
Take advantage of one seamless experience across your phone, computer, and other connected devices.
You can stay safe online with tracking prevention, AdBlock, and InPrivate browsing.
Make it easy to find, view, and manage your content on the go by organizing the web in a way that cuts through the clutter.
A powerful web browser that helps you work more efficiently, stay protected, and enjoy the best online shopping experience ever, Microsoft Edge is the only web browser you'll ever need.
Install Microsoft Edge: Web Browser from the App Store now
5. Puffin Cloud Browser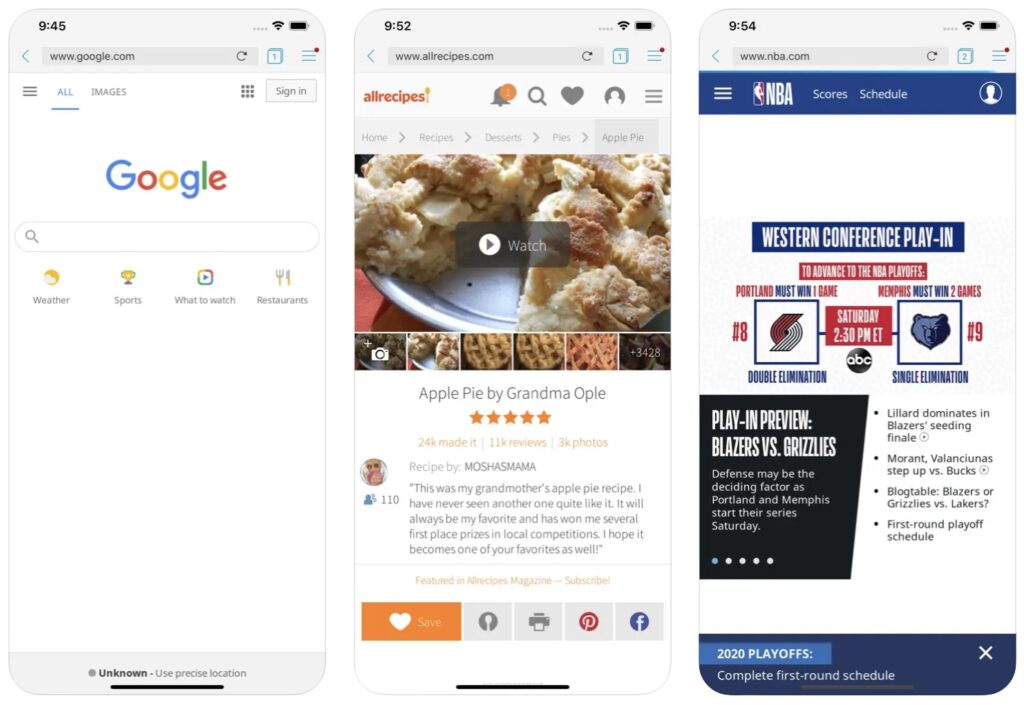 We emphasize that Puffin Cloud Browser is NOT a web browser.
The Puffin Cloud Browser connects to the cloud server that runs the web browser. Data exchange between Puffin's client app and the cloud server is not in HTML format, and the client app does not communicate with the cloud server over HTTP.
Puffin client apps are like remote desktop clients, while Puffin cloud servers are like remote desktop servers. In fact, Puffin Cloud Browser is not a web browser at all but instead gives the impression of one. It only displays the web content rendered on the cloud servers instead of generating it on the client's computer.
Install Puffin Cloud Browser from the App Store now
6. Phoenix Browser + Proxy VPN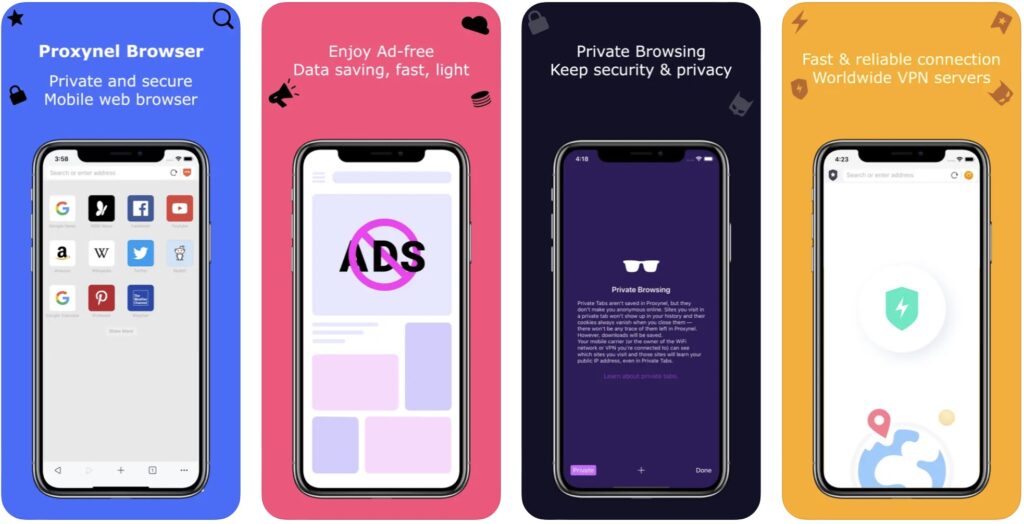 The Phoenix browser loads your web pages 2x faster, saves 90% of your data, and allows you to browse smoothly on slow networks. It also downloads videos, files, and all formats at lightning speed. In addition to providing maximum privacy and security, the Phoenix Browser is fast, free, and full-featured.
You can access websites and download multiple files (videos, audio, documents, and more) at lightning speed.
The Ad Blocker blocks annoying ads, popups, and banners to guarantee a comfortable browsing experience. Additionally, it reduces the amount of data used on the Internet while speeding up the loading speed of a page.
The Phoenix Browser can compress data, speed navigation, and reduce cellular data usage.
The Incognito tab guarantees a private browsing experience, which leaves no history, cookies, or cache behind.
You can easily switch pages between multiple websites. You will have an easier time browsing with a multi-tab manager.
Install Phoenix Browser + Proxy VPN from the App Store now
7. Aloha Browser: private VPN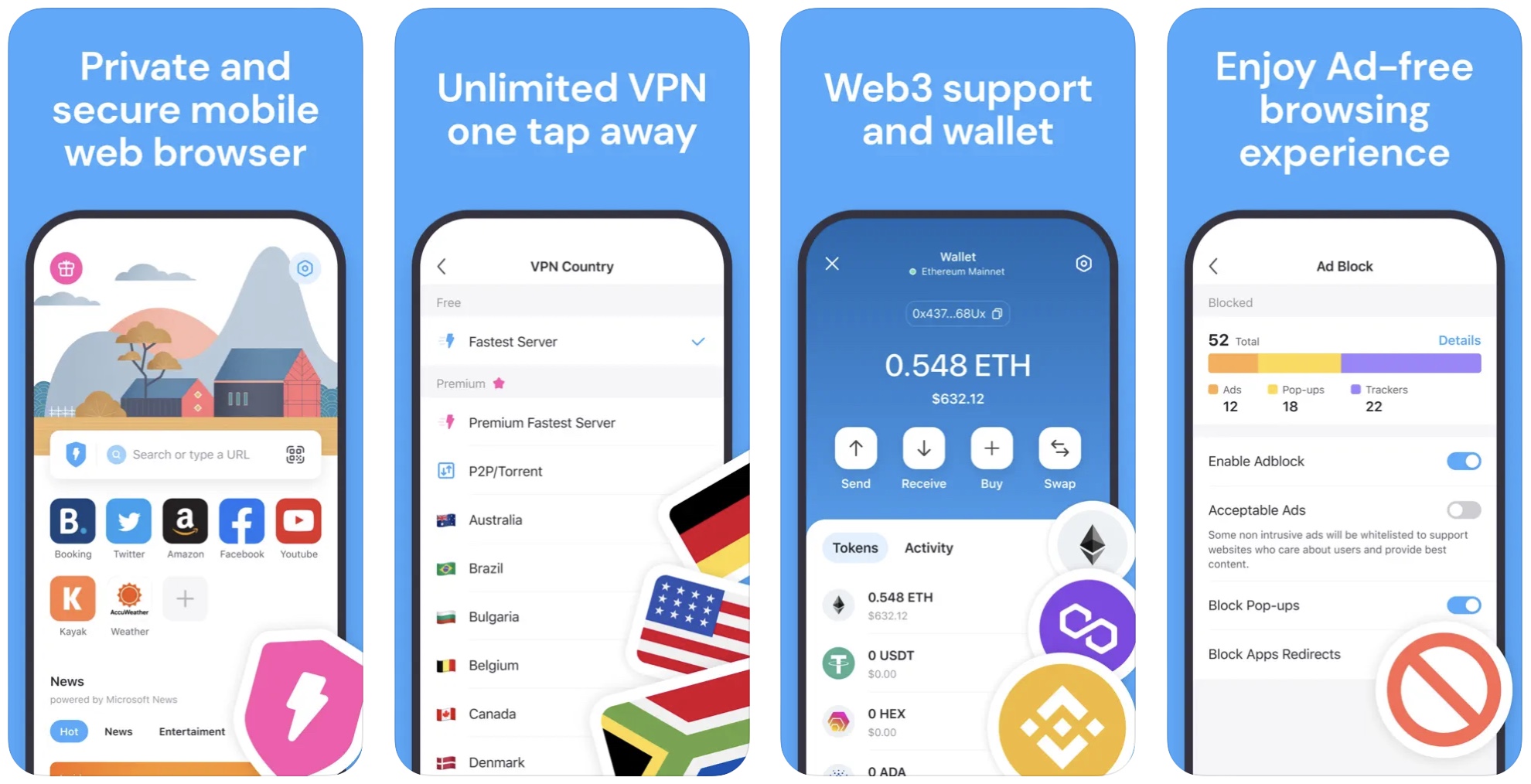 Those concerned about privacy will find this browser to be another excellent choice. You can browse freely without worrying about your data's use since it does not log any of your activity.
With an interface similar to Google Chrome, navigating is a breeze. The highlight of this one of the best third-party browsers for iPhone is its ability to play YouTube videos in picture-in-picture mode, just like Microsoft Edge. On your phone, you can watch something while doing other things simultaneously.
In addition, Aloha claims to load webpages twice as fast with hardware acceleration. Alternatively, Aloha Premium is a paid browser version with even more advanced features, including an in-built VPN that protects your privacy when browsing.
Install Aloha Browser: private VPN from the App Store now
8. Brave Private Web Browser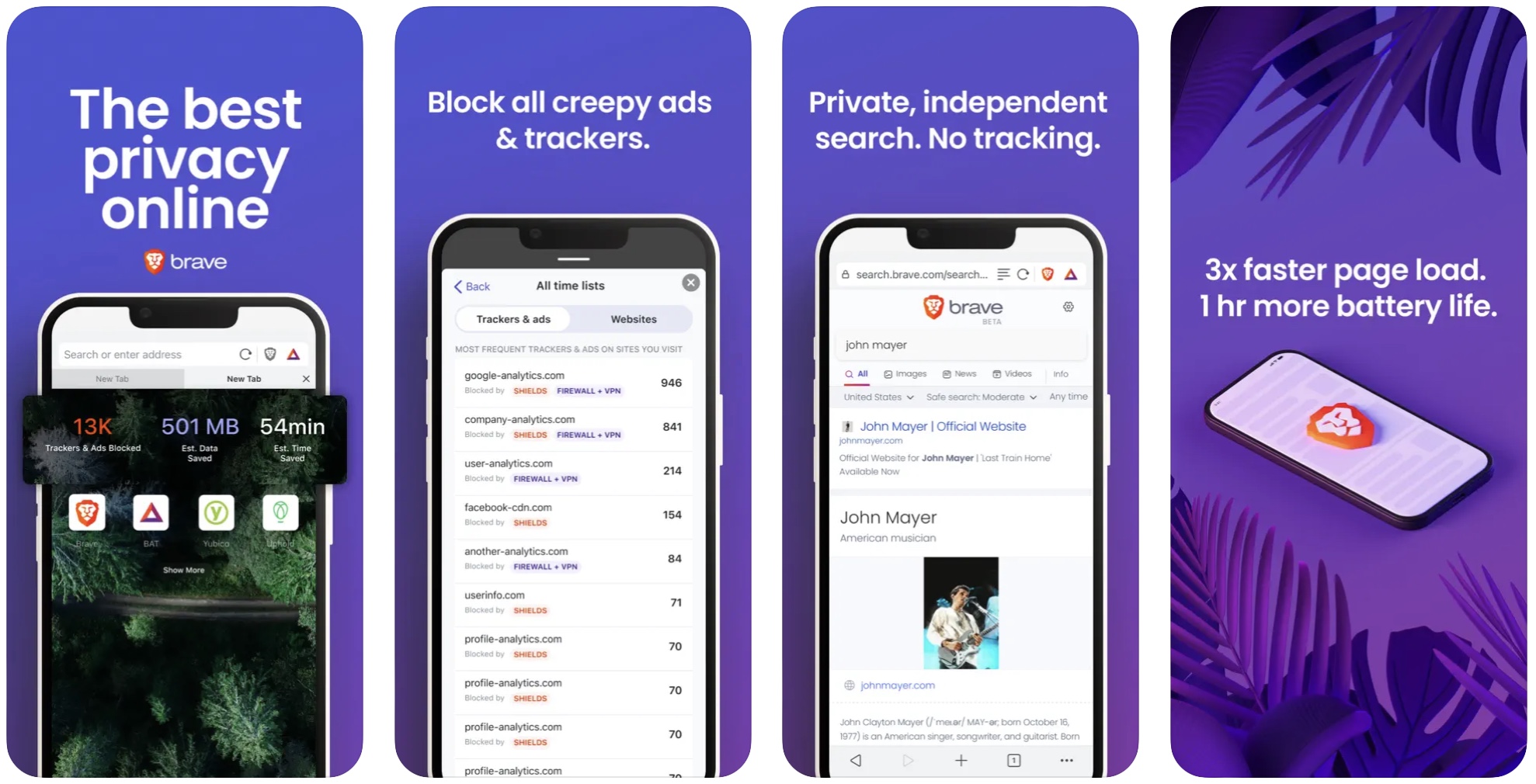 With Brave Browser, you can browse the web in an ultra-fast, safe, and private way. The browser is three times faster than other browsers and is used by more than 50 million people. A new version of Brave includes Firewall + VPN, Brave Wallet, Brave Search, Brave Playlist, and night mode!
You can buy, store, send, receive, and swap crypto right inside the browser with Brave's Web3 wallet. The BNB Chain, Ethereum, Solana, and many other cryptocurrencies are supported.
Brave Search is the most comprehensive, independent, private search engine on the web. It relies on a separate web index and doesn't track your searches or clicks.
You can make a playlist of the content you like the most. You can add almost any media and play it anywhere, anytime, even offline, or trying to use Apple CarPlay.
Get privacy and security protection with HTTPS Everywhere (encrypted data traffic), script blocking, cookie blocking, and private incognito tabs. Brave offers the highest security and privacy protection of all the other browsers.
Install Brave Private Web Browser from the App Store now
Final Verdict
According to Apple, Safari is the best browser for their iOS devices. The only one designed and explicitly downloaded for iPad and iPhone that protects your data and gives you the best online experience. Unlike third-party browsers, you can save links to Safari, which uses Apple's Intelligent Tracking Prevention.
Although you can bookmark webpages in Opera Browser and delete and manage your PC's bookmarks in Mozilla Firefox, you cannot do so on your iPhone or iPad because they are listed separately.
Despite this, Safari isn't for everyone. If you're using more devices than your iPad or iPhone, consider the Safari alternatives mentioned above.
You should choose your new browser based on how much secrecy and protection you require and features such as Apple Pay.