If you're looking for a currency conversion app for your iPhone in 2023, then look no further, as we have the perfect list for you!
In addition to aiding travelers in understanding how their currencies will fare in foreign exchanges, currency conversion apps are also useful in helping travelers plan their trips.
Calculating different monetary values with currency converter apps enables you to plan your travel or trade efficiently. Thousands of premium quality currency converter apps are available for download on the Apple App Store.
But we have come up with our list of the best iPhone currency converter apps for you! So, without further ado, let's dive right into it!
Best currency conversion apps for iPhone in 2023
These are the best currency apps that you can download from the App Store.
1. Convertium: Currency & Units
First on our list of best iPhone currency apps for travelers and traders is Convertium: Currency & Units for iPhone and iPad. This app allows users to quickly convert over 160 different currencies in just a few taps. In addition to that Convertium supports 350 different physical units, allowing users to convert weight, volume area, length, and much more.
The best thing about Convertium is that it gives you currency conversion rates in real time. However, if you are ever offline, you don't need to worry as it updates currency rates every half hour, so you can convert in your favorite currencies even when you are offline.
The app offers a 'favorite' list of conversions, that lets you place your most frequently used conversions at a convenient place.
Notable features of the Convertium: Currency & Units app include:
Real time conversions
Offline currency conversions
Support for over 160 currencies
Ability to convert 350 physical units
User-friendly design
You can download the Convertium: Currency & Units app for free from the App Store.
2. Currency
One of the first 500 apps in the App Store, Currency is the #1 currency converter for iPhone.
With Currency, you can convert over 160 currencies and countries at the same time! A must-have for when you travel abroad.
You can search for currencies using the names of countries or regions in the best currency converter online. Also, you can get location-based currency suggestions when visiting a new country or region
In addition, the app can be used to find cryptocurrency and precious metals that are supported by it. On iPad, it also displays up to 12 currencies in an extra-large widget.
Install Currency from the App Store today!
3. Xe Currency & Money Transfers
XE Currency is a popular foreign currency trading application that displays world currency and precious metal data.
If you use the Xe Currency Converter, you will always know what the mid-market rates are for every global currency.
When you have checked the mid-market rate, you can proceed directly to converting your currency to transfer at the send rate.
Do you need to send money overseas? With the upgraded Xe app, you can complete the process in one step. You can check live mid-market rates in the Currency Converter, get send rates when transferring money overseas, and track your money transfer.
The Xe app is the ultimate destination for all of your money transfer and currency exchange needs.
Install Xe Currency & Money Transfers from the App Store today!
4. Currency converter: Exchange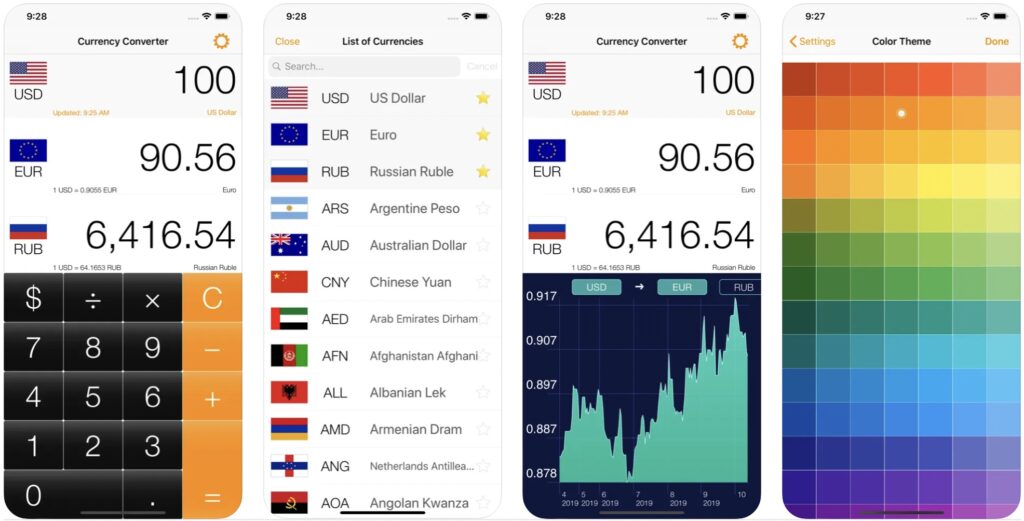 Next on our list of best currency apps for iPhone is a Currency converter. Using this powerful yet lightweight tool, you can track multiple currencies at the same time. It has a wide range of features that are highly useful for business and trade professionals.
When traveling or shopping online, you can use this currency converter app seamlessly.
Some of the core features of this app include:
Live exchange rates
Offline mode
Custom rates
Historical Exchange Rates
Crude Oil Prices (Brent, WTI)
Convert multiple currencies
Install Currency converter: Exchange from App Store today!
5. Currency Converter Calculator!
Currency converter calculator is one of the best currency converter apps for 2023 which helps you keep track of multiple currencies. It comes with an offline currency calculator, which is convenient for those making or receiving one-time payments.
The historical graph and current news can provide you with information about the currency you are converting. You will only be able to use these features if you have an internet connection, unlike the calculator.
Install the Currency converter calculator from the App Store today!
6. Elk Currency Converter
When you are on the road, Elk is the fastest way to convert currencies. When you open the app, it automatically detects where you are and chooses the appropriate currency.
With Elk, you will be able to view rates quickly and easily on your iPhone. In addition, it converts the next ten values into your home currency based on a suitable starting value.
Elk is optimized for watchOS 3 on the Apple Watch. Every time you raise your wrist, the app launches automatically and is ready for conversion. You can tap, swipe and rotate the Digital Crown to convert currencies. How convenient does that sound?
You can download Elk for free and try the Pro version for two weeks for free.
Install Elk Currency Converter from the App Store today!
7. Currency Converter – Money
This is one of the most widely used currency converter apps for iOS users. You can use Clear Currency Converter in today's widgets and Safari browser to convert currencies.
By automatically storing the latest exchange rates in the app, users can use the app even when they are offline. Through the historic rate chart, travelers and traders can convert currency rates for over 170 currencies and precious metals.
In addition to the colorful user interface, the app also has a lot of features that make converting fun and interesting.
Install Currency converter – Money from the App Store today!
Conclusion
There are tons of best currency convert for travel apps out there that also deserve a place on this list, but these are the most popular ones. Pick the app that ideally suits your needs and preferences and download it today from the App Store so you can start converting currencies right away!
Have you used any of the currency-converter apps listed above? If so, leave a comment and share your review with us!