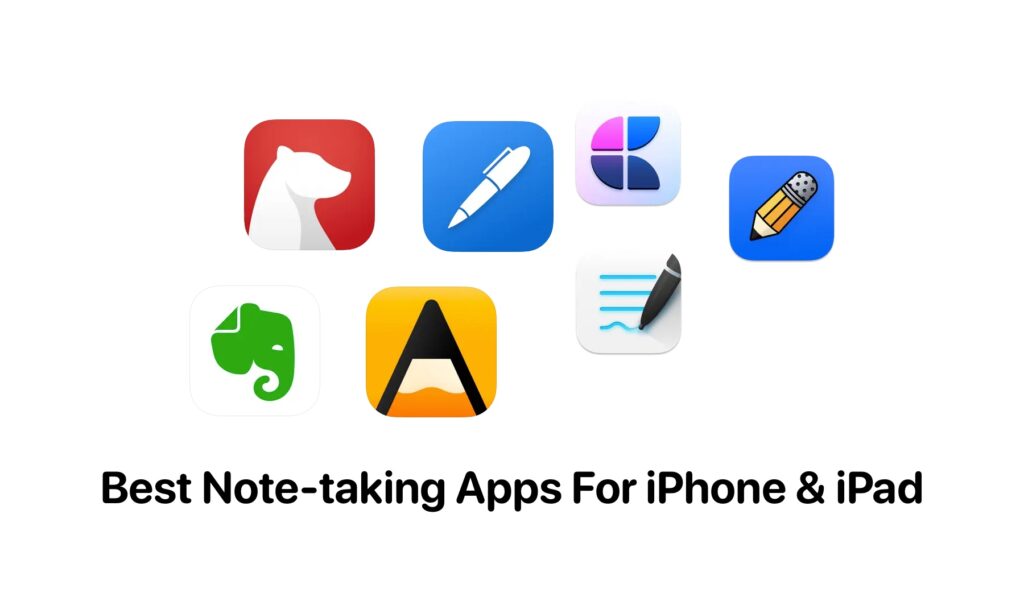 Are you the kind of person who likes to take notes, create to-do lists, and jot down unique ideas, inspiration, or reminders on a regular basis? If so, read this article to know the best notes apps for iPhone and take a step forward to enhance your productivity.
From taking notes in an office meeting, making a shopping list before hitting a grocery store to writing down important stuff as a reminder or the instructions for a delicious recipe, you can always rely on a note-taking app.
Since you cannot always carry a pen or a notebook with you, this is where note-taking apps come in handy.
These note-taking apps for iPhone and iPad are particularly designed to help you keep notes whether in a written/image form, or voice memos. However, there are a plethora of such apps it can be a daunting task to choose the best one. 
Best Note-taking apps For iPhone and iPad in 2022
There's absolutely no need to be worried, we have put together a list of the best note-taking apps for iPhone and iPad for you that you should download in 2022. Have a look.
1. Bear – Markdown Notes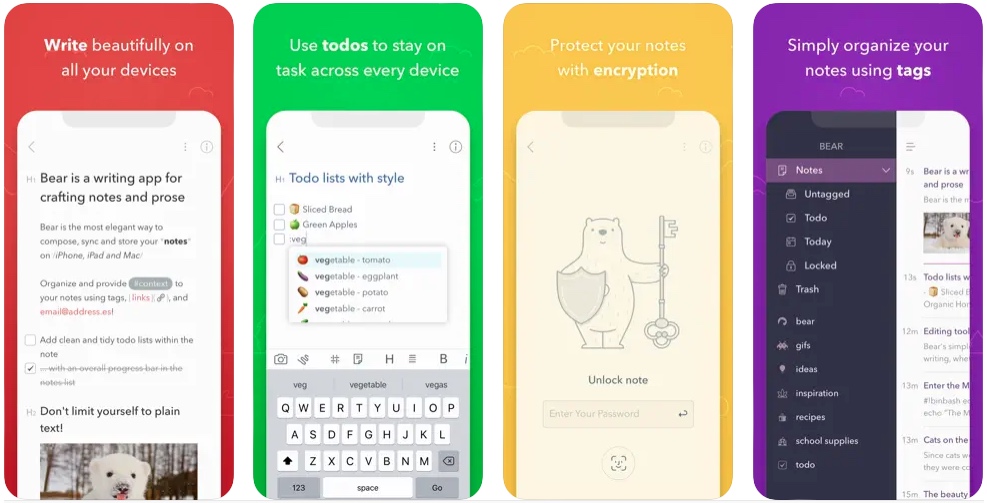 Bear is one of the most flexible notes-taking apps used by professionals, students, and parents, all over the world!
With top-notch editing tools, Bear helps you to stay organized and take quick notes even on the go. The app also includes export options in different formats and a possibility to share your ideas anywhere, that too, while keeping your privacy in place.
With this incredible app, you can:
enjoy portable Markdown
add sketches and drawings
set a beautiful theme
organize notes with nested tags
sync between Macs and iOS devices
create to-do lists and multimedia elements.
You can download the Bear app for iPhone for free. You can get access to a variety of additional features by subscribing to the premium version for $14.99 annually and $1.49 monthly.
Install Bear Markdown Notes from the App store now
2. Notability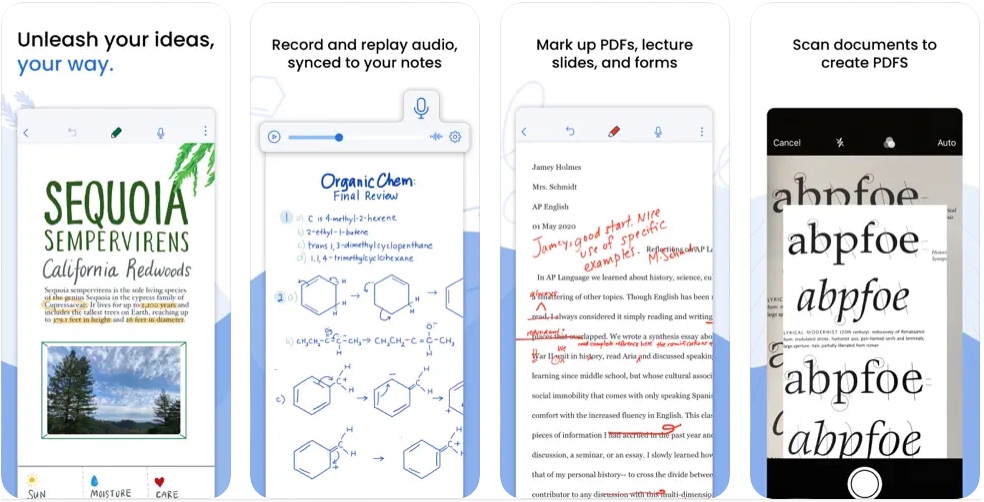 Notability not only allows you to take notes but you can also find inspiration, capture ideas, and unleash your creativity to enrich your life.
Notability is a third-party app for iPhone and iPad that is a great alternative if you don't like to note down the stuff. This app is one-of-a-kind when it comes to creating and editing text and image notes.
Using Notability, you can:
Edit and annotate PDF documents.
Work with various note-taking, journaling, and drawing tools including highlighter, ink, text, and audio.
Mark up imported documents, lecture slides, textbooks, class assignments, and pictures.
Promptly create notes from different templates with customizable backgrounds and spacing.
Record your lectures and meetings.
Replay audio recordings anytime with just a tap.
You can download Notability app from the App Store for free with limited features. You can unlock unlimited premium content with a Notability annual subscription for $11.99 and a monthly subscription for $2.99. 
Install Notability from the App store now
3. GoodNotes 5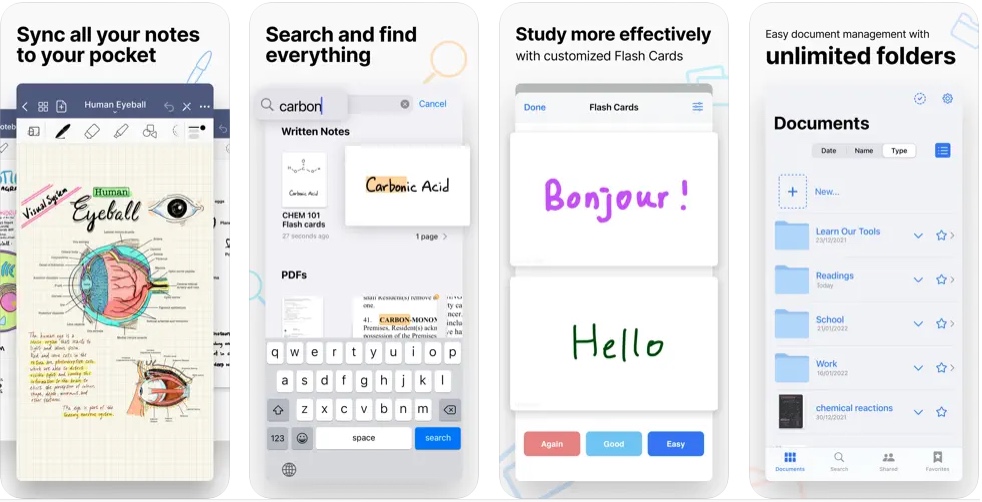 GoodNotes 5 takes your writing experience to the next level and let you shape and share your ideas with the world.
Along with iPhone and iPad, you can use GoodNotes on Mac as well because it allows you to access your notes wherever you want. This app syncs your digital notes to iCloud, Google Drive, OneDrive, and Dropbox across all your devices.
With GoodNotes 5, you can:
Search your handwritten notes, PDF text, typed text, folder titles, document titles, and document outlines.
Collaborate with your teachers, students, team members, or colleagues on the same document with a sharable link.
Keep everything organized by creating unlimited folders and subfolders, or marking your favorite ones.
Create, add, or import stickers, images, diagrams, and tables with Elements to enrich your notes.
Present a lecture, a business plan, a lesson, a brainstorming result, or your group study without interruptions when you connect your Mac via AirPlay or HDMI to an external screen.
You can unlock the full version for just $7.99 to enjoy unlimited features.
Install GoodNotes 5 from the App store now
4. Noteshelf – Notes, Annotations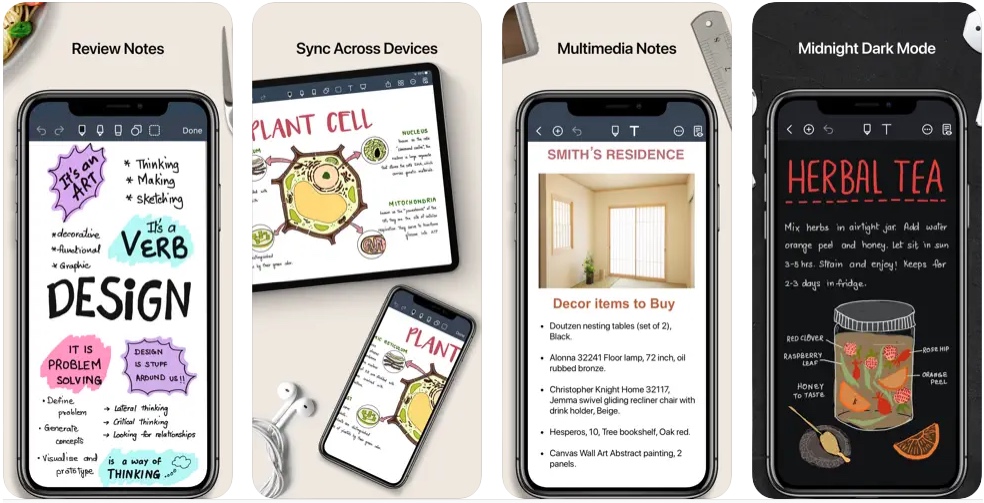 Whether you are a student, working professional, artist, or bullet journalist, Noteshelf is one of the best writing apps for you.
Using Noteshelf, you can take quick notes in your natural handwriting just as you would on a notepad! The fountain pen feature in the app makes your handwriting look elegant.
Choose from a variety of pens, pencils, and highlighters with endless colors and sizes options to suit your needs for jotting down notes in fluid handwriting.
You can also:
Create multiple folders and subfolders for a seamless arrangement of your notes.
Add as many recordings as you want and play them back anytime, even as you take handwritten notes.
Open up multiple windows of Noteshelf and work simultaneously. This multi-screen workflow of using 2 notes side by side will work only on iPads running on the iPad OS.
Create voice notes with Noteshelf for the Apple Watch.
Auto-save all your recordings to the iPhone and use iCloud to sync them on your smart devices.
Share your notes with friends, colleagues, and family via Dropbox, Evernote, Google Drive, and OneDrive.
Secure your notes with passcodes using Face ID and Touch ID to lock and unlock your notebooks.
Keep your personal and professional notes separate. Drag and drop notebooks into categories or groups with no trouble on the iPad OS.
Noteshelf is on the way to delight its users with premium features making it your go-to note-taking app for just $9.99.
Install NoteShelf from the App store now
5. Agenda.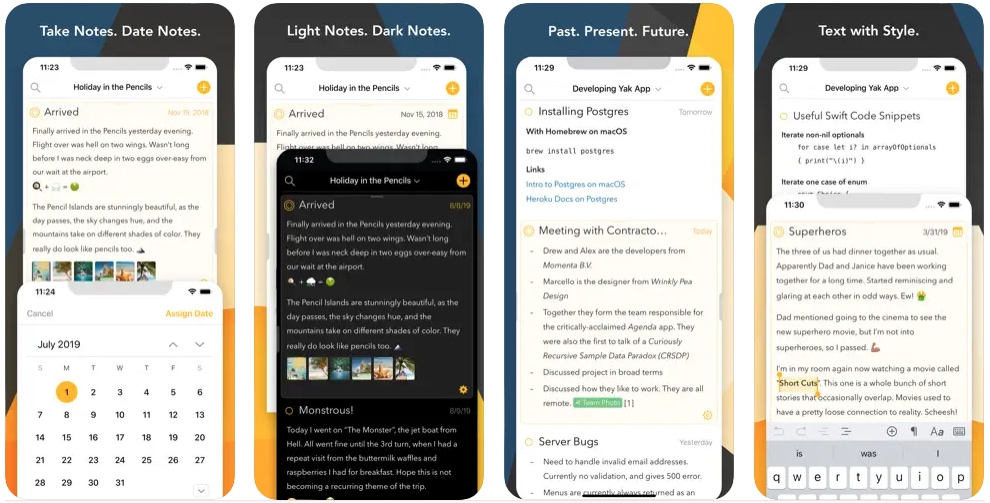 Agenda is the award-winning, date-focused, and elegant note-taking app for iOS, iPadOS, and macOS.
Agenda helps you plan and document your projects and gives you a complete picture of the past, present, and future to ensure productivity. You can even convert your notes to events in your calendar and add due reminders to your tasks.
What else can you do with Agenda?
You can attach dates to each note, and even link them to events in your calendar.
Organize your recent or future projects into categories to find them easily
Drag the digital notes around, apply dates, use a mixed approach or even collapse notes to save space.
Print and share notes, even whole projects, in standard formats including PDF, RTF, and Markdown.
Use archive format to exchange exact duplicates of your notes with other users, including any attached files.
Agenda is available as a free download and allows users to use most of its features without any time limit for free. Agenda does offer extra premium features for $14.99. If you decide to purchase an upgrade, you permanently unlock all current features across all of your eligible devices.
Install Agenda from the App store now
6. Craft – Docs and Notes Editor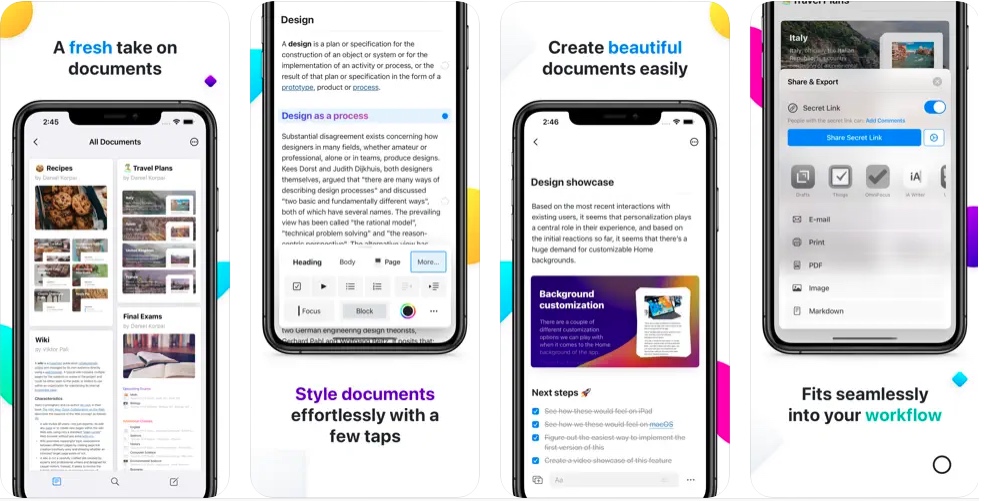 Craft is a writing tool for creating aesthetic documents or notes and sharing your thoughts plus ideas.
You can share anything and everything with Craft with only a tap. The app fully supports inline markdown, code snippets, backlinks, images, audios, videos, attaching PDF files, and rich link previews.
Craft allows you to nest notes within notes, create and customize the structure of your choice, and make your scattered thoughts easier to organize.
With Craft, you can:
Share your content through a link or collaborate with others in real-time.
Select between various export formats including, Email, TextBundle, Markdown, PDF, and Print Export.
Use Craft on all iDevices without switching tools as you move between devices.
Store all your documents on your device
Edit notes offline and the app will automatically upload changes once your internet connection is restored.
To get a frictionless experience, you can buy a monthly subscription for $5.99 or an Annual Subscription for $47.99 and enjoy unlimited premium features.
Install Craft Docs and Notes Editor from the App store now
7. Evernote – Notes Organizer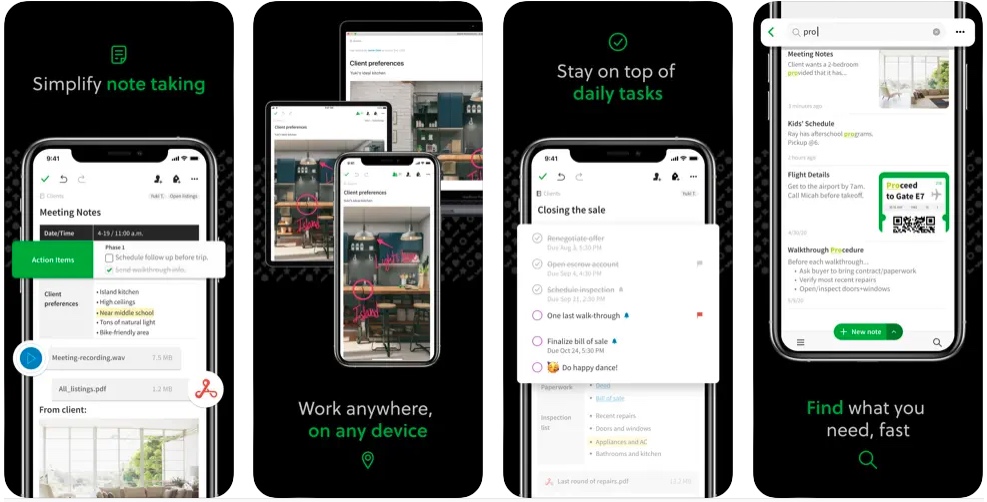 Evernote doesn't let you miss an opportunity to capture your ideas when inspiration strikes. With its capability to capture a broad range of digital information and unique organizational features, Evernote is undeniably the best note-taking app for iPhone out there.
Bring your notes, to-do list, and weekly or monthly plans together to break distractions and accomplish more whether at work, at home, and everywhere in between. You can connect your Google Calendar to stay on top of your schedule, and view your most relevant information at a glance with a customizable Home dashboard.
Evernote allows you to:
Keep everything up to date by noting down meeting minutes and sharing notebooks with your team.
Keep track of exams, lecture notes, and assignments.
Create notebooks for each class and keep everything organized.
Access your notes and notebooks even without an internet connection.
Take notes in the form of text, images, audio, files, and web pages.
Enjoy Evernote Premium monthly subscription for $4.99 or go for a yearly subscription for $44.99.
Install Evernote Notes Organizer from the App store now
Ready to Be More Organized?
There is no need to keep small journals now to scribble down everything you want to remember in your daily routine.
All the above-mentioned apps offer interface simplicity, aesthetics, and amazing features like cloud-based accessibility, team collaboration, and integration with third-party apps. So, choose the one that you think will be right for you!
Do you also find it difficult to carry a journal and pen all the time? Let us know in the comments section.