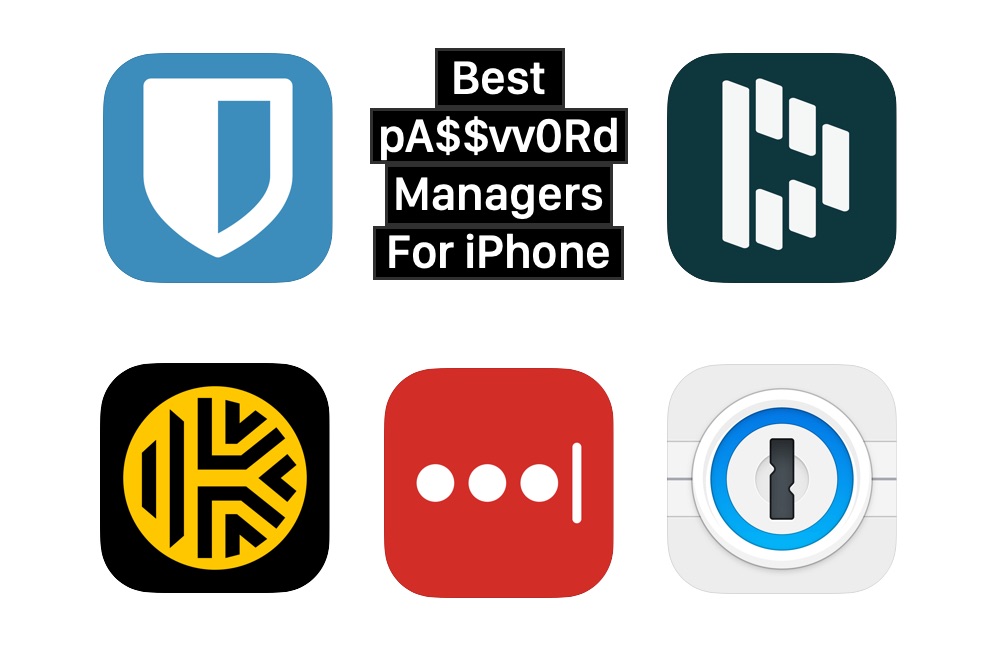 In this amazing list of apps we are going to explore the 5 best password manager apps for iPhone and iPad. Read on to find out which apps you should download when you are looking to manage your passwords in a secure way.
What Are Password Manager Apps?
A password manager app is a software that allows you to store and manage passwords to various websites, apps and services.
These apps are useful as with them you can use a different password for each website and service you use, and store all those passwords securely in a password manager. Using a different password for each online service greatly reduces your risk of getting hacked.
Most password managers also allow you to easily generate a secure password, notify you when your password has been compromised on the dark web and offer two-factor authentication to keep your data safe.
With dozens of apps, websites, and online accounts, comes a stressful task of managing passwords.
So if you are wondering what password managers are, they are your digital vault that keeps your important login information such as PINs, credit card numbers, and passwords. This digital vault is necessary as it secures your sensitive information and prevents any security breach. 
So, with password manager apps for iPhone, you can keep your personal information and passwords secured.
Having said that, today I am going to share 5 best password managers for iPhone that you need to check out before settling for one.
1. Dashlane Password Manager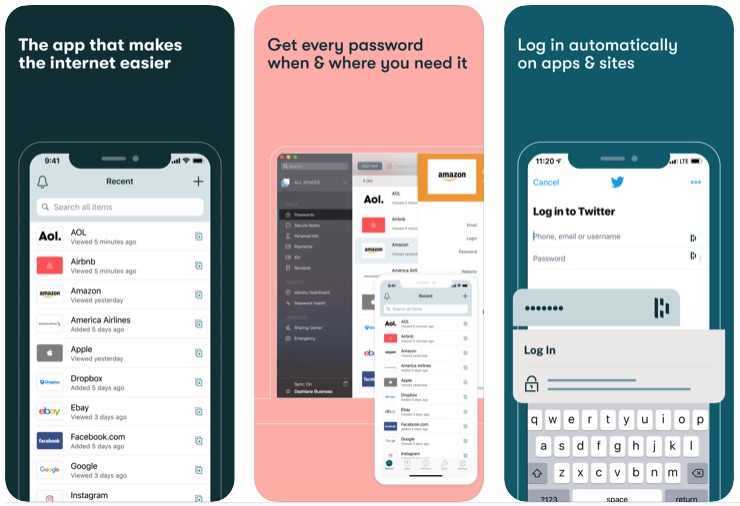 Dashlane is a password manager that fills your passwords and personal details wherever you want to enter them. Be it a website, or any other device, the difficult job to remember multiple passwords becomes easier with Dashlane.
Moreover, even if your phone or computer run on different systems, it automatically syncs your data, you can also share your passwords quite safely. 
Dashlane surprises you with more features, such as:
Receive security breach alert and hacks and you can learn how to take action.
Dark Web Monitoring lets you know if your data is on the dark web.

A built-in VPN helps your browse data safely and anonymously.

2-step authentication re-assures that your data is safe.

You can receive real-time alerts and monitoring.

With Family Sharing, up to 6 family members can use Dashlane.
You can download Dashlane from the App Store here. Dashlane premium costs $6.49 per month.
2. 1Password Password Manager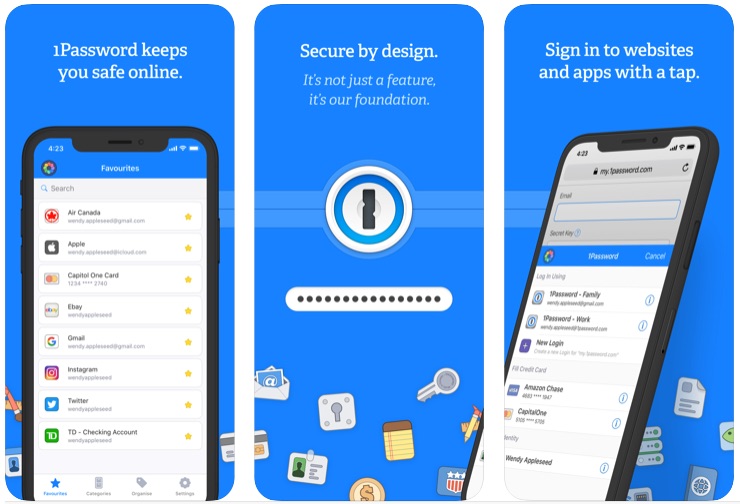 Out of the most popular password manager apps on iPhone, 1Passwords password manager takes the lead in so many ways. The best thing is that it remembers your passwords for you need to know only one password.
Moreover, it is very simple and secure. You can sign in to websites and other apps with only a few taps. Its password generator helps you change the password and set a stronger one. 
Additional Features:
It creates unique, strong, and easy-to-memorize passphrases.
Automatically fills log in details, credit card numbers, and addresses into apps and websites.

You can access your information on any (or all) of your devices.
It is more organized and categorizes passwords such as credit cards, logins, bank accounts, passport numbers, driver license, etc.

You can create multiple vaults and share documents and passwords with your friends and family.
Secure your secret information with a master password required to log in to 1Password.

Get security alerts in case of a security breach.
You can download 1Password on your iPhone from the App Store here. It costs $3.99 per month.
Also read: Internet Users Continue To Use Dumb Passwords Like 'Password', '123456' And More
3. LastPass Password Manager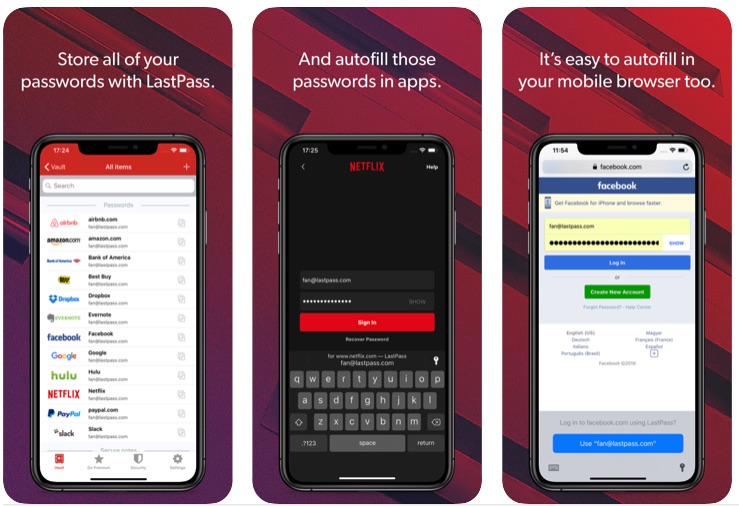 With several password manager apps on iPhone, LastPass stands with its unique features. With the help of this password manager, you can secure your personal info and passwords and autofill your login credentials whenever needed.
Like 1Password, you have to remember one master password to log in and leave the rest to LastPass.
Moreover, you don't have to reset the passwords because it remembers your passwords and prevents you from the frustration of getting locked out of your online accounts. 
Additional Features:
You can easily use LastPass across all your devices.

It stores your logins for all online accounts in the encrypted vault.
You can log in with your fingerprint and securely access your passwords.
You can create a secure password with a built-in password generator in just one tap.

Multi-step authentication.
You can download LastPass from the App Store here. It costs $35.99 per year.
4. Bitwarden Password Manager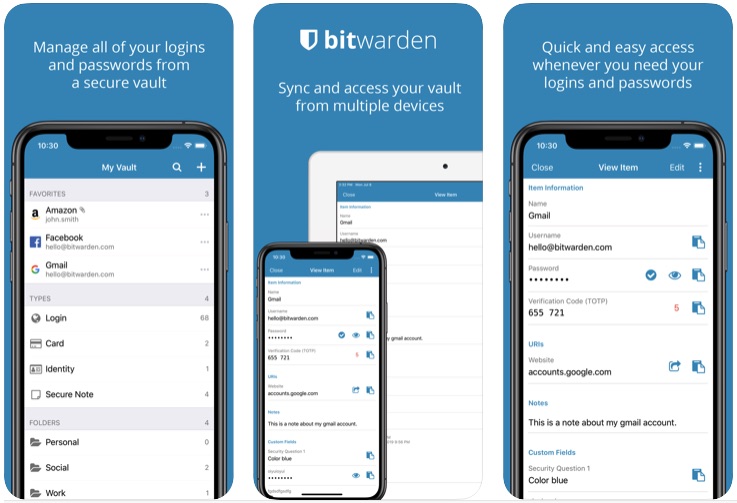 If you are looking for the easiest and safest password manager app for iPhone, Bitwarden is the answer. Bitwarden's app extensions let you seamlessly log into any website via Chrome or Safari.
It is also supported by dozens of other apps. Given the security concerns, experts suggest using different passwords for different websites and apps.
In this case, Bitwarden generates, stores, and makes it easy for you to access all those passwords. Moreover, you can also access it on different devices. 
You can download Bitwarden from the App Store here. It is open-source and free to use.
5. Keeper Password Manager
Keeper is the world's most trusted and rated as 'Best Password Manager' by many. This password manager app for iPhone is trusted by thousands of businesses across the globe.
There is no limit to the number of passwords you can save in the Keeper. Also, its password generator keeps your info secured from hackers through strong and unique passwords. 
Additional Features:
KeeperFill helps you stay organized, in control of your passwords, and auto-fill passwords.
Its BreachWatch feature monitors the Dark Web continuously and notifies you as soon as there is a data breach.
Keeper keeps your files, photos, and videos secure along with your passwords.
You can also enable Touch ID and Face ID for more secure and convenient access to your encrypted vault.

With its Emergency Access Feature, you can choose up to 5 persons to access your account in case you are unable to access your account.
The Keeper is free!
You can download Keeper Password Manager for iPhone from the App Store here. It costs $29.99.
There you go folks, these are the top 5 Best Password Manager Apps for iPhone and iPad users. What do you think about this list?
Which one is your favorite password manager app for iPhone? Share with us in the comments below.
Stay tuned to iOSHacker.com for more informative posts for your iOS devices. 
More apps to check out: