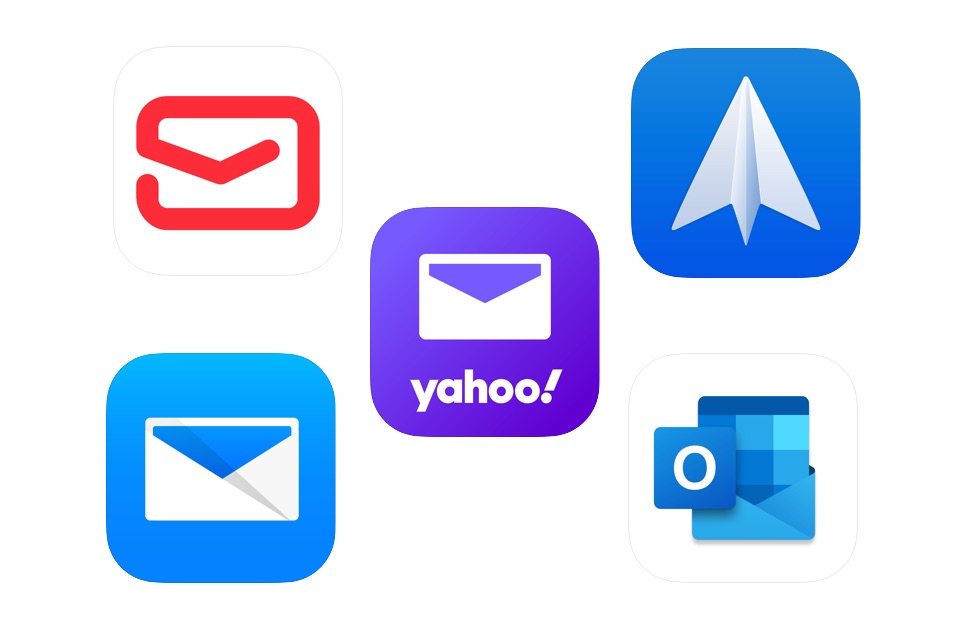 In this article we have showcased some of the best Mail apps for iPhone and iPad in 5 Best Mail Apps For iPhone And iPad In 2022. All of these Mail app alternatives offer unique features and tools that make them better than then stock Mail app on iOS.
We cannot deny the necessity of email in our daily lives, be it a business matter or personal one. Now it has become the easiest and quickest way to communicate with our loved ones. However, sometimes receiving too many emails makes us feel overwhelmed, and maintaining email inbox seems a daunting task. But the good news is now it is easy to manage your inbox be it on iPhone or iPad via mail apps for iPhone or iPad.
And that is what we are going to explore today. There are dozens of mail apps that claim to be good enough, but I am going to tell you about five best mail apps for iPhone.
Best Mail App Alternatives In 2022 – The List
Here are our choices for the best Mail app alternatives for iPhone and iPad:
Spark Email App
Email – Edison Mail App
Microsoft Outlook App
Yahoo Mail App
myMail App
1. Spark Email App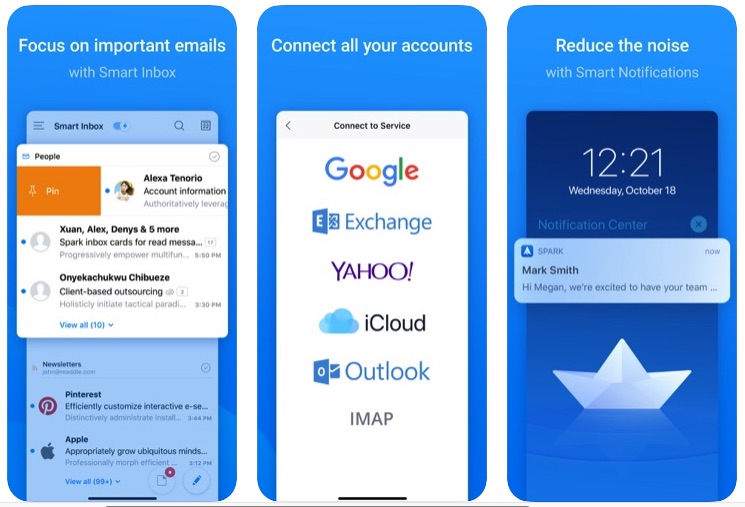 There are various iPhone mail app alternatives but, one of the best mail apps for iPhone you could find out there is Spark. It gives professionals an excellent and most collaborative emailing experience. Moreover, it is also ranked as 'the best' email app from various tech experts and industry leaders.
For those who work at night, this app comes in the dark mode that does not put a strain on your eyes and saves battery too. Its smart inbox, helps you quickly go through the most important emails that are efficiently categorized into Notifications, Personal, and Newsletter.
Additional features:
Spark brings a real-time editor that composes professional emails with your team members.

You can snooze emails to send out later.
Finding emails has become easiest through its natural language search.

With Spark, you get a calendar in your email that keeps you ahead of your schedule.

The threaded messages keep your messy inbox organized and beautiful.
Download Spark email app from the App Store, where it is available as a free download.
2. Email – Edison Mail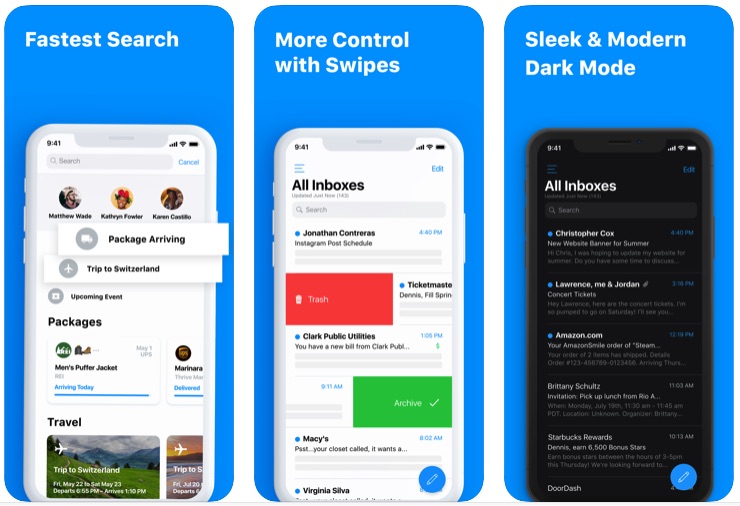 Second in our list of the best mail apps for iPhone is Email by Edison Mail. This iPhone Mail app alternative brings excellent speed, less spam, no ads, and your multiple email accounts in one place. Isn't it an amazing feature? Mail brings your overflowing inbox under control through features such as blocking the senders, delete bulk emails, and unsubscribing from the junk mails. You can simply configure the notifications settings exactly the way you want it.
This mail app for iPhone works simultaneously across your other email accounts too. There is a special AI-based search for your subscriptions, travel, purchases, bill, and even entertainment. Moreover, blocking the read receipts is done automatically as well as snooze your messages to send out later.
Additional features:
Email is supported on both iPhone and iPad.

You can preview your travel itinerary, meetings, bills, even unsubscribe suggestions.
You can undo a sent message quickly and easily.
Now stay notified about the price of your recently bought item drops, and even take your cashback.

Mail is secured with Touch ID.
Download Email – Edison Mail from the App Store, where it is available as a free download.
3. Microsoft Outlook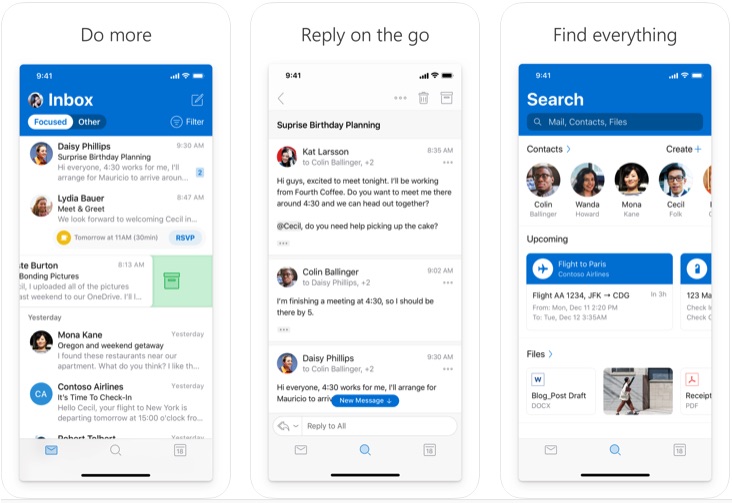 Although not a new name, it is one of the best mail apps for iPhone. If you want to bring all of your email accounts in one place, Outlook is one of the best iPhone mail app alternatives. Now you don't have to worry about scheduling your big things or prioritizing your emails through this smart inbox.
Additional features:
You can swipe to schedule, delete, or archive messages.

Outlook's latest search experience helps you find whatever you want such as contacts, files, or scheduled trips.

Get rid of the process of downloading a file and then send it. Instead, via OneDrive or Dropbox you can simply view and attach any file without downloading it.
Microsoft Outlook is available on the App Store for free.
4. Yahoo Mail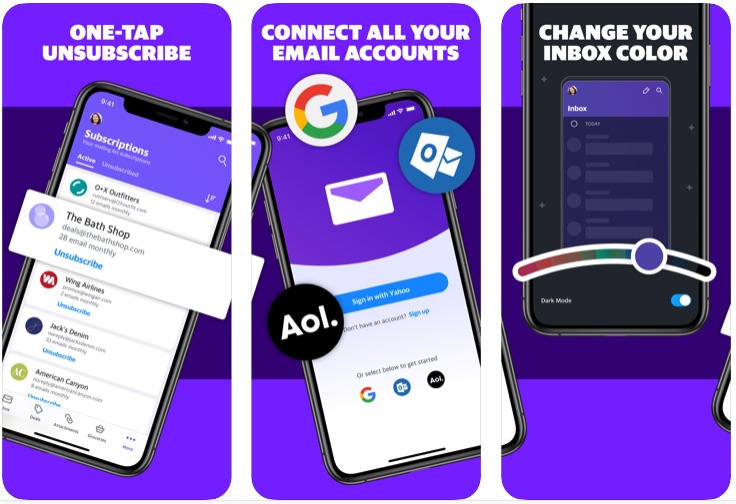 Although Yahoo Mail is not a new name however, the Yahoo Mail has proved itself to be one of the best mail apps for iPhone. For those who love to stay organized, this mail app for the iPhone is highly recommended. One of several IPad mail apps, Yahoo Mail takes the lead in giving you even more space.
Additional features:
Keep Gmail, Outlook or AOL account in one place

Customized settings, notifications, and color schemes make Yahoo Mail lively and seamless.
You can unsubscribe from junk and spam emails that keep you bothering in your inbox.

Preview your photos and docs without any hassle.
View your travel itinerary or different deals in your area.
You can also add grocery store loyalty cards and save the coupons that will be used at check out.
You can download Yahoo Mail from the App Store for free.
5. myMail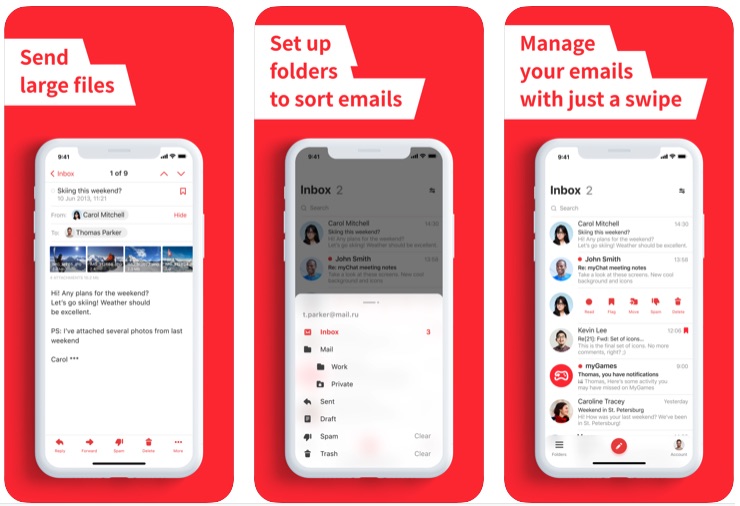 On number fifth, we have myMail, also ranks as one of the best mail apps for iPhone as well as the best iPad mail apps. Like other mail apps for iPhone and iPad, myMail helps you manage your messages in multiple email accounts such as Hotmail, Gmail, Outlook, MSN, Yahoo, iCloud, and AOL simultaneously.
With this mail app for iPad and iPhone, your communication becomes fast, easy, light on the go. Just one swipe, and reply your messages, forward them or even add an attachment to your mail. It makes up for a great Mail app alternatives for iOS and iPadOS users.
Additional features:
With push notifications, you can customize your schedule.
Turn on or off any notification depending on social websites, domains, email addresses, or folders.
Add your friends' avatar and icons to navigate messages faster.
Email threads eliminate the hassle of finding previous conversations.
Its Touch ID and PIN lock protect your emails from any breach.
Download myMail app from the App Store for free.
There you go folks, these are some of the best Mail apps for iPhone for 2022. They are also great alternatives for stock Mail app as they offer more features and unique tools that make user's life easy.
Which one of the above apps, is your favorite one? Share with us in the comments below.
Stay tuned to iOSHacker.com for more useful content for your Apple devices.