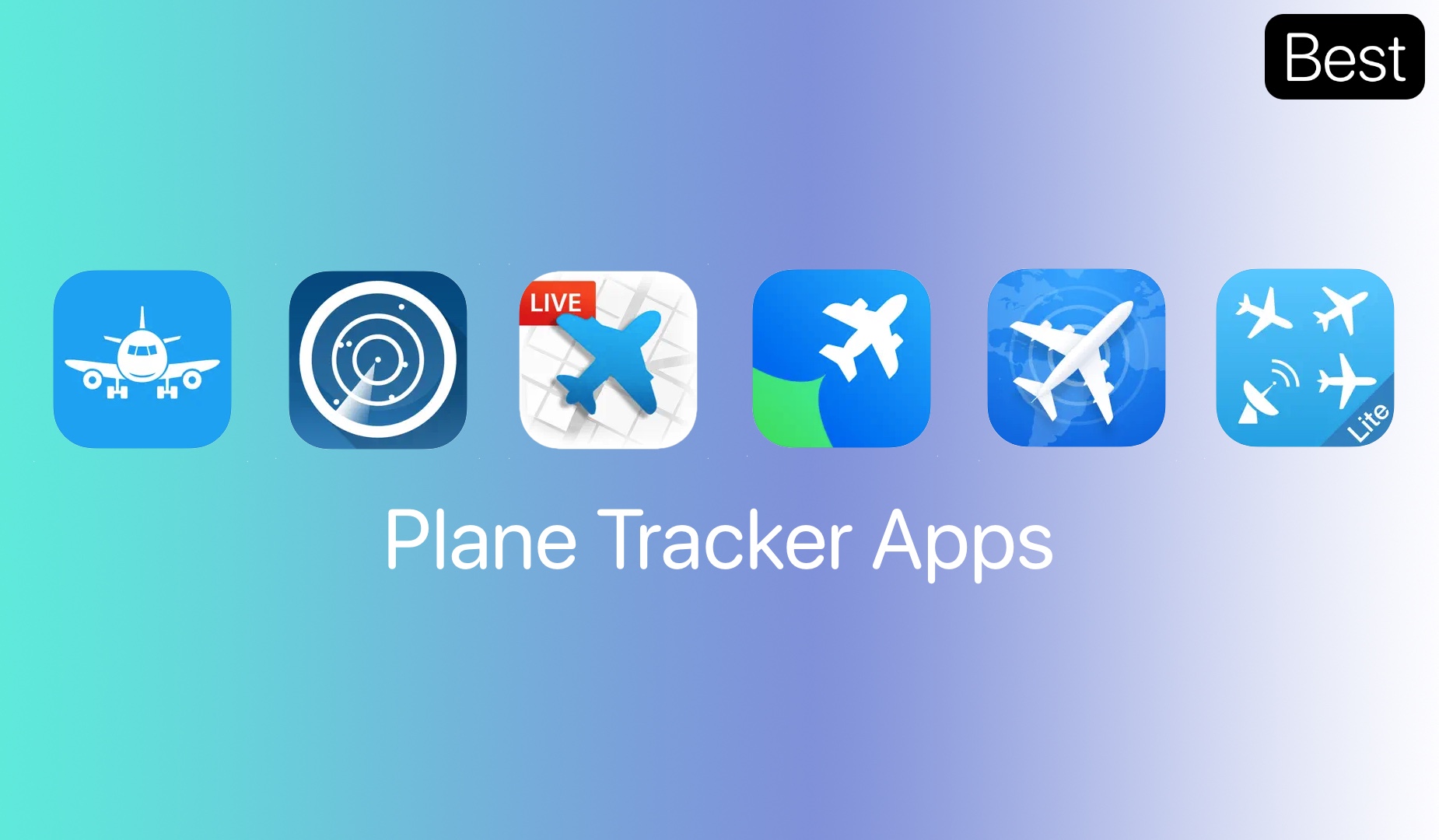 Using one of the best free plane tracking apps for iOS can help you reduce the stress of flying. The apps are handy for plane enthusiasts looking to identify what's flying overhead, travelers on vacation, and family members waiting to meet incoming guests.
You can use the free flight tracker apps below to track flights, check-in, get boarding passes and get boarding passes from some airlines. Plus, they provide real-time tracking and a multitude of additional features.
Looking for travel companion apps that let you track flights? Then check out these best flight tracking apps for iPhone.
Best Plane Tracking Apps
Instead of letting unexpected delays or alerts get you down, moving swiftly with each change is a wise choice. It ensures you stay on top of your flight schedule and saves you from annoying hassles.
The apps that tell you where the plane is going are useful because of their ability to provide flight related information. 
Getting one of the below-mentioned top-flight trackers can keep you off the guessing game when you go on a much-anticipated vacation with your family or when you travel frequently.
Here are some of the best apps to check where plane is!
1. Flightradar24 | Flight Tracker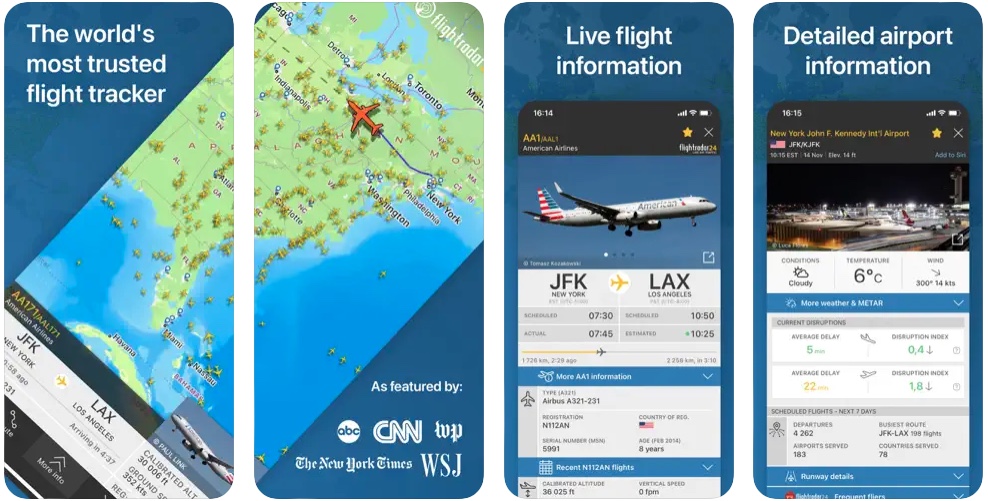 Turn your iPhone or iPad into a real-time flight tracking app and track planes around the globe in real-time. Alternatively, you can point your device at a plane to find out its route and type of aircraft. You can also identify flights and view flight information by pointing your device at the sky, including a photo of the aircraft.
A tap on a plane will bring up details such as the route, estimated arrival and departure times, aircraft type, speed, and altitude, along with a high-quality photo of the actual aircraft.
An airport icon provides arrivals & departures, flight details, aircraft on the ground, current delay statistics, and detailed weather information.
The app also allows you to search and bookmark individual flights using a flight number, airport, or airline.
Install Flightradar24 | Flight Tracker from the App Store today
2. The Flight Tracker: Live Radar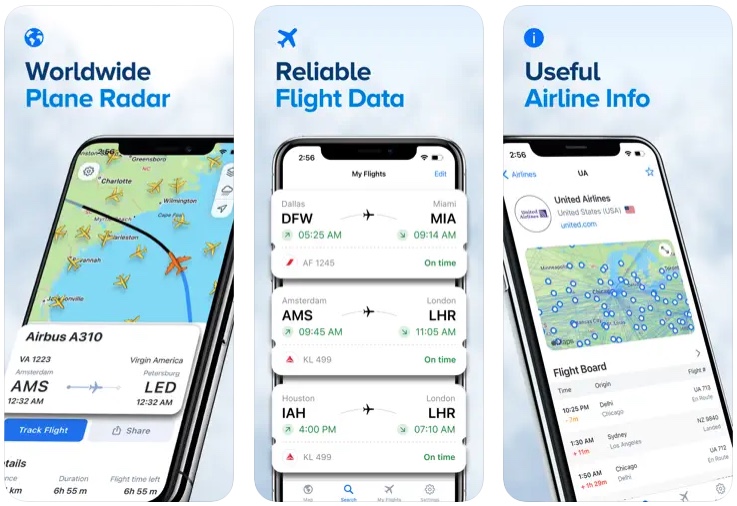 With The Flight Tracker: Live Radar, you can relax knowing that everything will be taken care of to make your flights a hassle-free experience.
You will be able to view detailed flight information such as estimated arrival time, actual departure time, terminal and gate number, route, distance, duration, and remaining flight time. It supports more than 850 airlines.
With a tap of the plane, you can see detailed flight information and customize the map with valuable filters, such as hiding airport locations or aircraft.
The app also allows you to access your boarding pass, vaccination certificate, booking confirmation, etc., and add relevant notes directly from the app.
Install The Flight Tracker: Live Radar from the App Store today
3. Plane Finder ⁃ Flight Tracker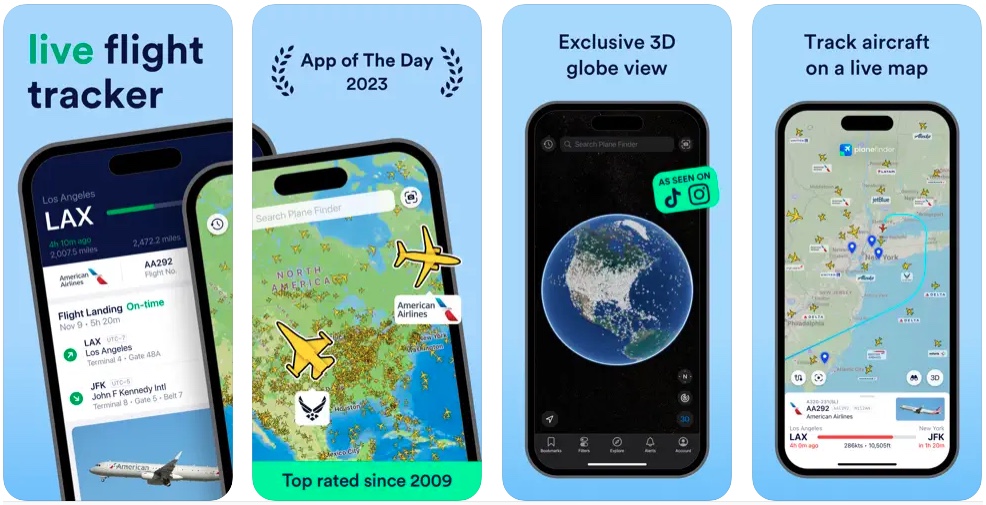 This beautiful and easy-to-use app will help you unravel the mysteries of live air traffic. Does it look like a bird? Or is that a plane?! A Plane Finder will tell you exactly what plane is flying if it's the latter.
Plane Finder is an utterly fascinating and easy-to-use application. With it, you can see any plane's location, altitude, speed, and heading in real-time. Moreover, you can also see the air traffic patterns with live air traffic tracking of almost any plane.
It's super handy to have live flight information when you're traveling. In addition, if you're trying to spot rare birds, such as the Airbus A380, you can even be alerted when a specific flight heads your way.
You can seamlessly track aircraft, airports, or locations on the map using incredible 3D flight tracking.
Thanks to its excellent augmented-reality option, it works just as well for daytime flights as it does for nighttime flights. If you point your camera at the sky, you can see details of the overhead aircraft, and it's compatible with iOS's dark mode.
Additionally, hundreds of airports have weather reports for live arrivals and departures, which complement flight tracking.
Install Plane Finder ⁃ Flight Tracker from the App Store today
4. Flight Radar 24: Plane aware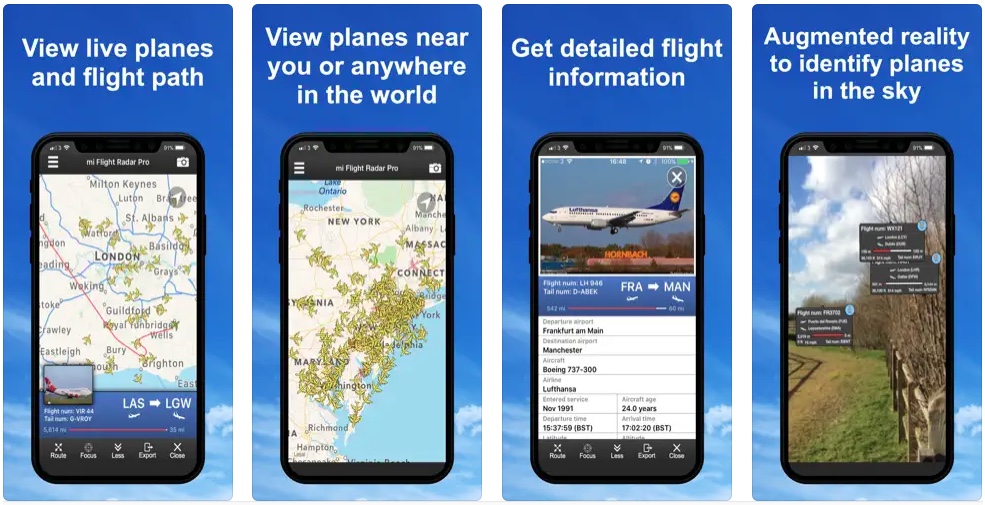 Your phone can be turned into your own flight radar. Get the latest flight information near you or anywhere in the world. Using augmented reality, you can identify aircraft in the sky.
You can access full flight details, including flight number, airline, aircraft type and tail number, flight photo (where available), departure and destination airports, distance to and from airports, altitude, speed, latitude, longitude, and date of aircraft in-service.
Mi Flight Radar Live lets you customize your iPhone or iPad to your air traffic radar. A beautiful map displays real-time flight tracking near you or anywhere worldwide. Find out where the plane is headed by pointing your device in the sky. By tracking their flights, identify the best time to meet your family and friends at the airport.
Install Flight Radar 24: Plane aware from the App Store today
5. SkyTrack | Flight Radar 24 air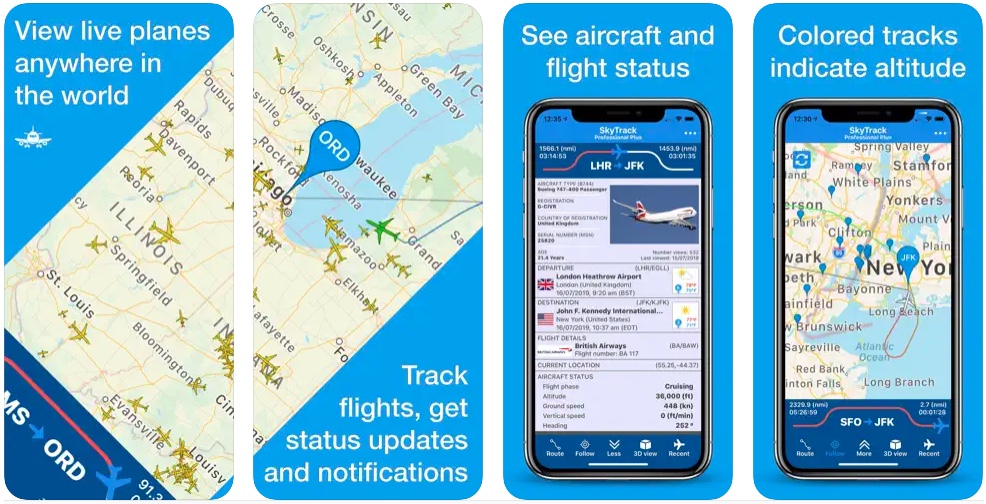 Using your phone, you can make your flight radar. Get live flight updates anywhere in the world. Follow flights, see arrivals and departures, and track flight status.
SkyTrack lets you view your personal air traffic control radar, flight tracker, airport departures, and arrivals board on your iPhone or iPad. A beautiful map displays flights near you or around the world in real-time. Live-track the flights of your family and friends or simply watch the aircraft fly around the globe.
Install SkyTrack | Flight Radar 24 air from the App Store today
6. Flight tracker: Flightradar 24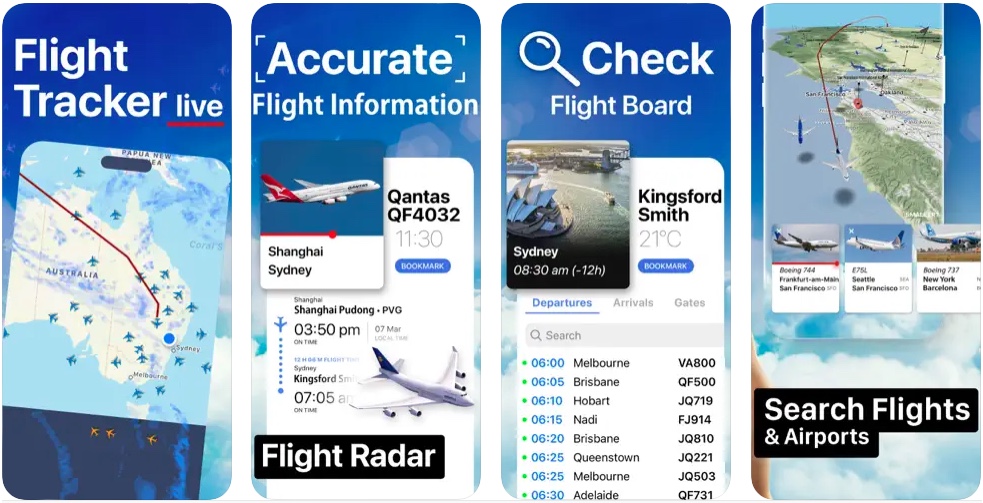 With the tap of a finger, you can identify flights overhead, view their information, and even view a picture of the aircraft themselves.
You can tap on any plane to view exact and detailed flight details, including route, estimated arrival time, departure time, aircraft type, speed, altitude, high-resolution photos, and more.
An airport icon provides arrivals & departures, flight details, aircraft on the ground, current delay statistics, and detailed weather information. You can also view a 3D satellite map and get detailed information about the aircraft, such as make model, and registration number. With this data, you can easily access and track the flight history of any aircraft.
Install Flight Tracker: Flightradar 24 from the App Store now
Ready to Fly!
Install any of the above-mentioned plane tracking apps and keep track of real-time flight status. They are not just helpful in keeping you updated on last-minute changes and delays but are also great travel assistants. In addition to detailed flight histories and playback capabilities of older flights, they can pique your curiosity.
Anyhow, which flight tracker have you selected for your device? Feel free to share its name in the comments.