Apps
Best Time Tracking Apps For iPhone And iPad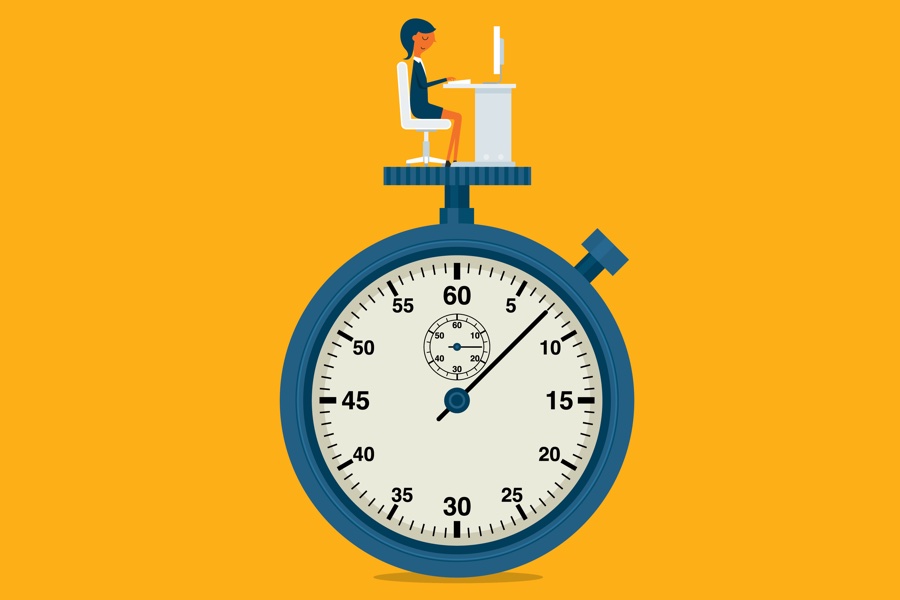 If you are a freelancer, employer or someone looking to better manage his or her time, then we have got a great collection of best time tracking apps for iPhone and iPad. Time Tracking apps can help you organize your day and give you a way to see how much time you are spending on different tasks.
At the end of the day you will have a better idea about how much time a certain task took and how much was wasted browsing social media.
These time tracking apps are also valuable to those who are freelancers and are looking for way to better divide their precious time between different projects and help them manage billing. So without any further ado lets take a look at the best time tracking apps for iPhone and iPad that you can download right now.
Timely – Auto Time Tracking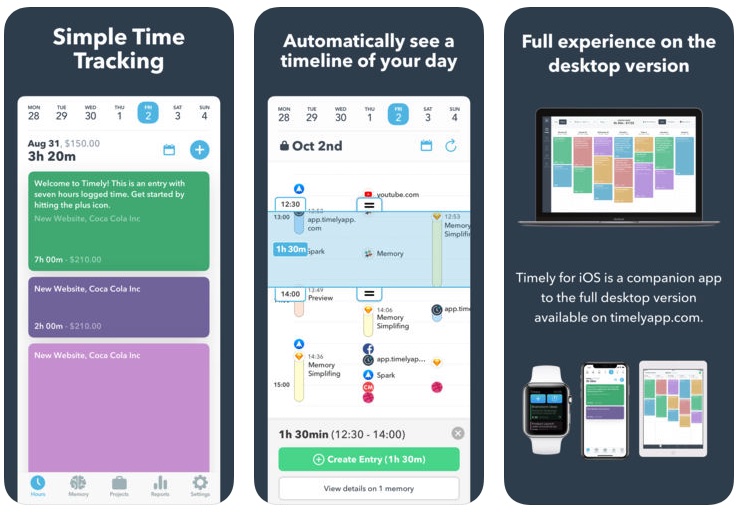 Timely – Auto Time Tracking app combines scheduling and time tracking in a single beautifully designed app. The app lets you add tasks and assign how much time you want to spend on each of them. The app has dedicated apps available for iPhone, iPad and Apple Watch so you are always on top of your game. With this app you can organize hours into projects, set hourly rates for tasks and at the end get complete reports on how much time you spend on each one of them.
The Apple Watch app is pretty powerful too, as it allows users to log time, start timers, check out current timers and more. Timely even has a Mac app that lets you view your account information in real time across all your devices. You can download the Timely – Auto Time Tracking app for free. The service comes with a 14-day trial after which it costs $13.99 per month.
Hours Time Tracking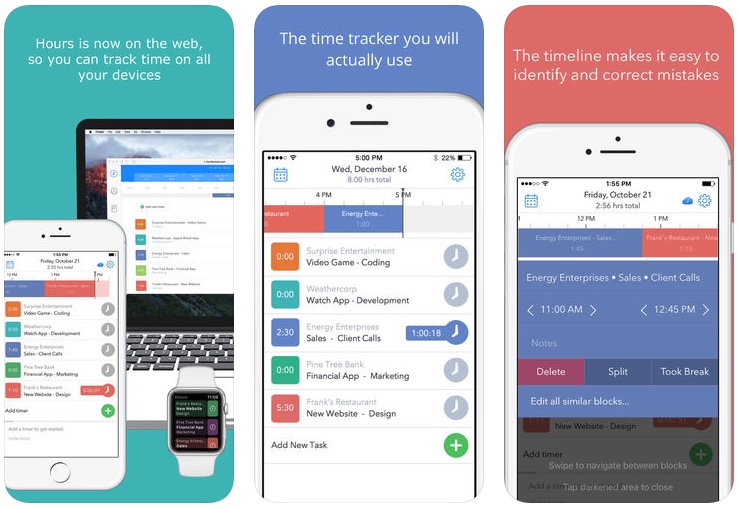 Next on our list of best time management apps for iOS is Hours Time Tracking. With Hours Time Tracking app for iOS you can track time with a visual timeline that makes keeping track of everything much easier. The app that is an Apple Design Award winner allows users to set smart reminders, quickly control timers with a variety of ways, see a visual timeline of their day, track time by projects, tasks and clients, access account on the web and more. It also offers a handy Watch app. You can download Hours Time Tracking app for free. The subscription based service costs $7.99 per month.
Eternity Time Log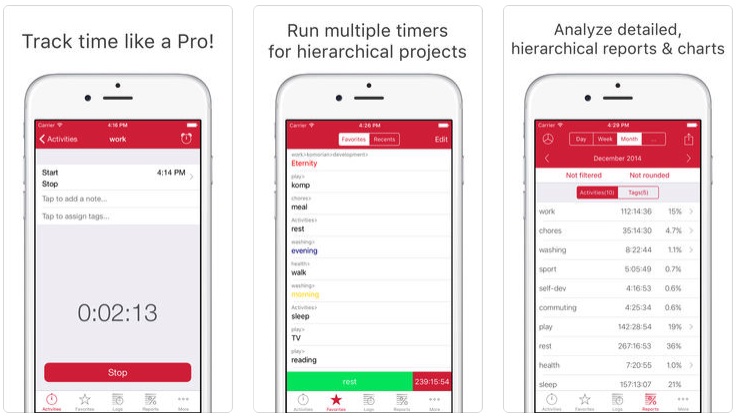 With Eternity Time Log app you can track time like a pro. It can be used for both tracking professional work and personal development. You can also use this time tracking app to track billing. Using Eternity Time Log you can set hierarchy based activities that allow you to start timers as you go through the day. Features of the app include tags for better organization, ability to run multiple timers at once, integration with several third-party apps and services including Pomodoro, Dropbox, Box and more. You can download Eternity Time Log for free.
Harvest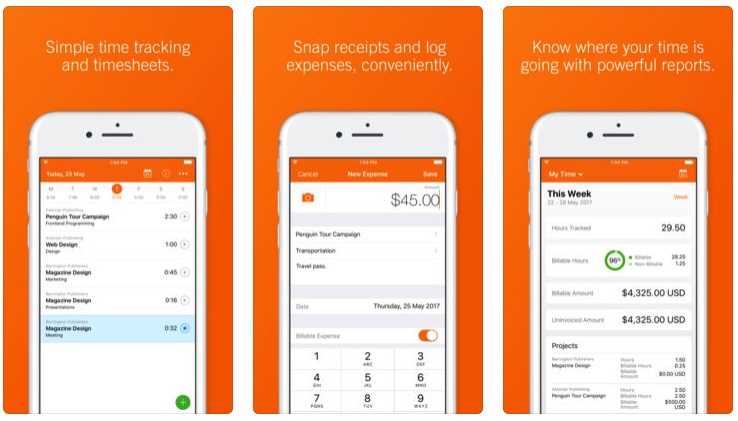 Harvest app allows users to not only track time but also log expenses and manage invoices, making it the perfect tool for professionals. With its expense tracking feature you can store images of receipts, use it to send invoices, manage project and task timers, set up reminders and more. The Harvest app is available for free. With a free Harvest account you can manage 2 projects at the same time. For $12 a month you can manage unlimited projects.
Download Harvest
Hours Keeper – Time Tracking, Timesheet & Billing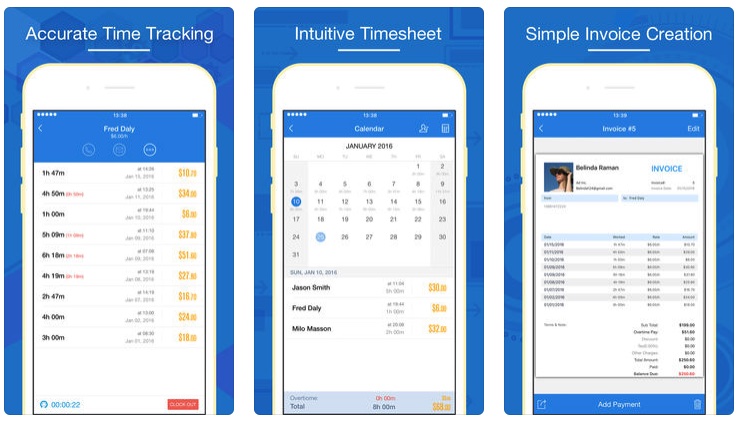 With Hours Keeper app you can track your hours and earnings for multiple clients. The app has features like weekly and monthly timesheets, ability to send PDF invoices to customers, earning reports, calendar to track earnings, passcode protection and more. You can download Hours Keeper app for free from the App Store.
There you go folks, these are the best time tracking apps for iPhone, iPad and Apple Watch. If you have another other suggestions then use the comment section below.