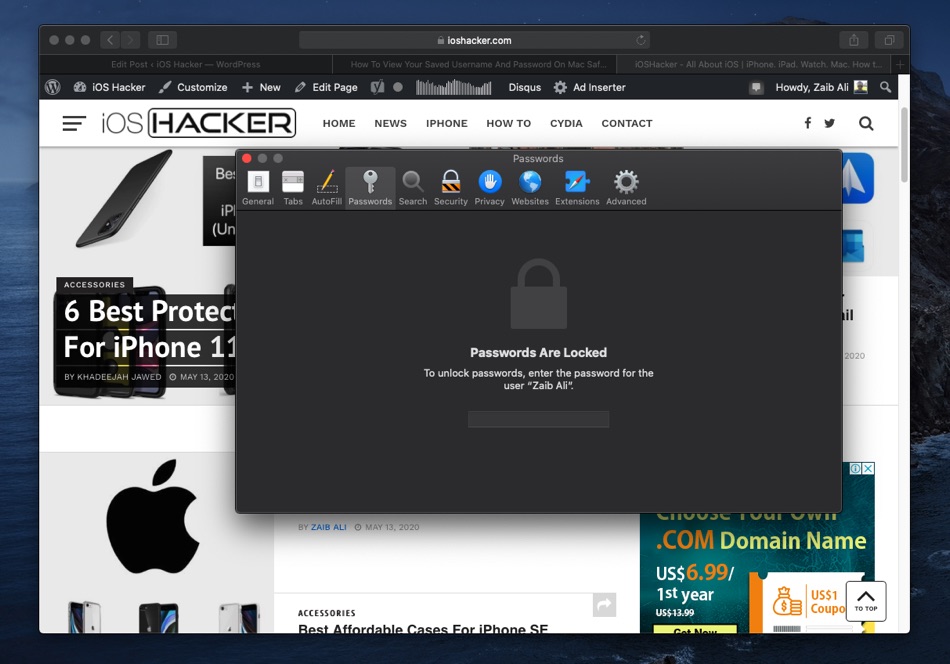 In this step by step tutorial we will show you how to view saved username and password on desktop Safari on the Mac. This guide will let you retrieve stored passwords and make changes to them.
Desktop Safari on the Mac offers a handy secure password auto-generation feature. This feature auto-generates a strong password and suggests it to you whenever you are signing up for a new service.
If you choose to use this new password, then Safari will automatically store it securely. As a result it can be entered conveniently whenever you are trying to login next time. The same username and password is also synced with your iCloud keychain, so that you can also enter it on your other Apple devices.
While this feature is great it has one drawback. The password that is auto-generated is long and complex and hard to remember – as all passwords should be. It is also stored in iCloud Keychain so it can only be accessed by Apple's own apps or apps that support iCloud keychain feature.
So if you try to log into the same account with Chrome you have to manually enter the password for the account. And if you used Safari's password auto-generation tool chances are you don't remember the password or have it written at some place from where you can retrieve it. In this case you will have to retrieve the saved password from Safari.
If you are in a similar situation and want to view your saved username and password on Mac Safari, then don't worry we are here to help.
If you are on an iPhone and iPad and want to view saved username and password on iOS, then read this guide.
How To View Saved Username and Password on Mac Safari (Guide)
Retrieving a stored password from Mac Safari is quite simple. You can easily do this by following the simple steps below.
On your Mac launch Safari browser.
From the top menu bar click on Safari > Preferences… option.
From the window click on Passwords tab and enter your Mac's password.
Now you will see a list of websites and their stored usernames and passwords. You can use the search bar to find the website you want to retrieve the password for.
Then click on the website to get its username and password. You can easily copy the password and paste it anywhere you like by double clicking on your selection.
Once you are done simply click on the 'Done' button.
When viewing saved username and password on Mac Safari you can also edit or delete saved passwords from the Safari browser.
Another cool feature that you can take advantage of on the Passwords screen is knowing which passwords are weak. Safari will show you a yellow icon with '!' to tell you that the password you are using can be easily guessed or it has been used with more than one accounts. If you get this warning it is recommended that you change your password to a more secure one.
In our computer security recommendations post we recommended that you use a strong password for your computer and all online accounts. Using a strong password can make a huge difference in protecting your account from hackers.
When using a strong password it is also essential that you take advantage of best password manager apps. They can make your life easy by not only remembering your passwords but also suggesting strong passwords. Some password manager apps even notify you if your username and password has been leaked online.
There you have it, this is how you can easily view stored username and passwords in desktop Safari. If you have any questions regarding this guide, then let us know in the comments below.
Disclosure: iOSHacker may receive a commission if you purchase products through our affiliate links. For more visit our privacy policy page.