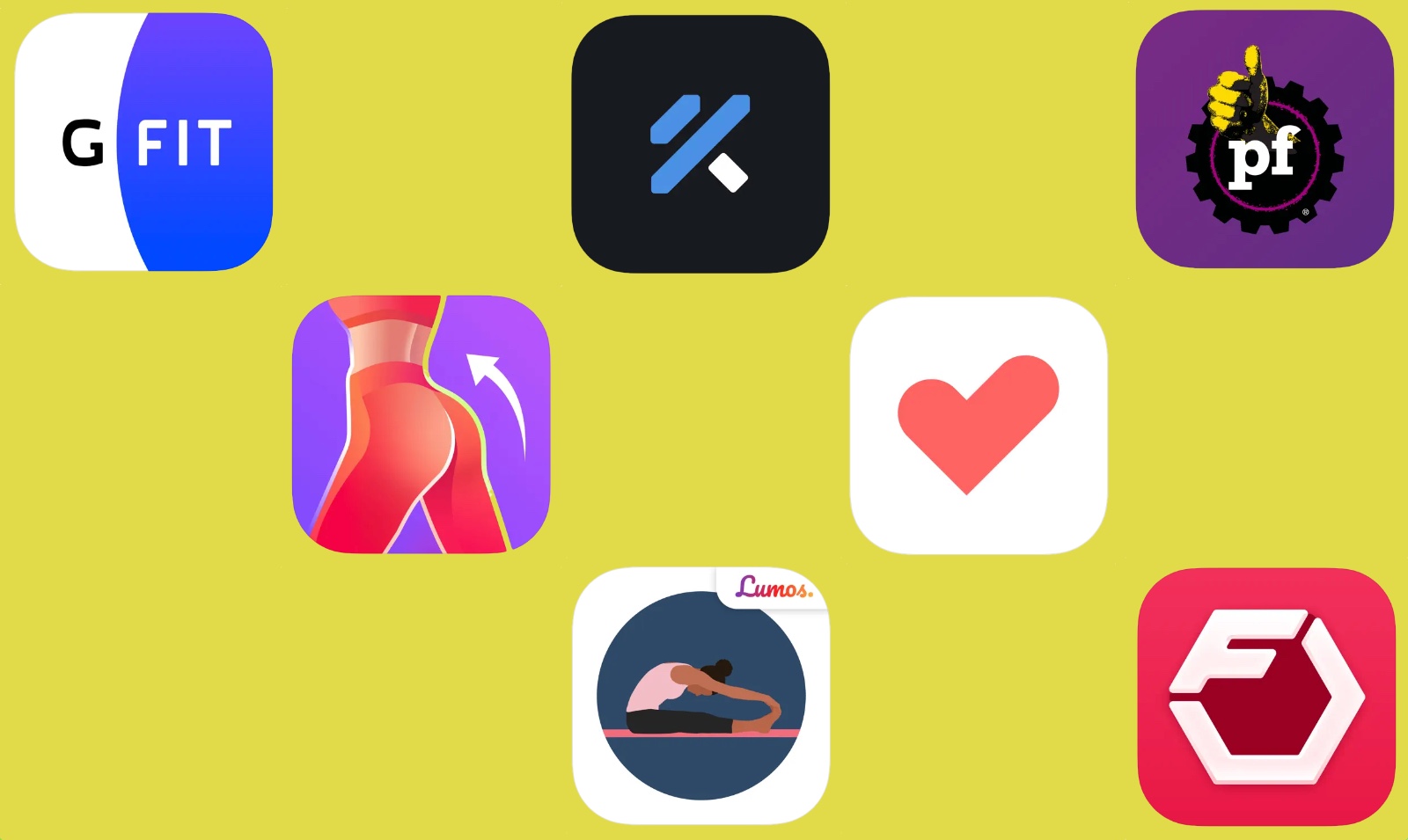 The fast-paced world we live in prevents us from taking good care of ourselves and living healthy lifestyles. Nevertheless, we must always keep in mind that health is our greatest wealth. Hence, staying fit and active is essential for a happy and healthy lifestyle. As modern life is so hectic, we often cannot make time to regularly hit the gym. However, iPhone and other Apple devices are now equipped with effective fitness apps thanks to iOS app developers.
Using your smart device, you can learn about healthy habits, diet plans, and fitness routines. You just need to install a suitable app and follow the instructions.
It's now time to take action if you are an iPhone user and looking for the best workout apps for iPhone.
Best Fitness Apps for iPhone
A good workout app can rival a personal trainer. Workout and exercise apps provide users with privacy, motivation, and support, helping them make drastic fitness changes or simply stay fit.
The best home workout apps of 2023 are listed below.
1. Planet Fitness Workouts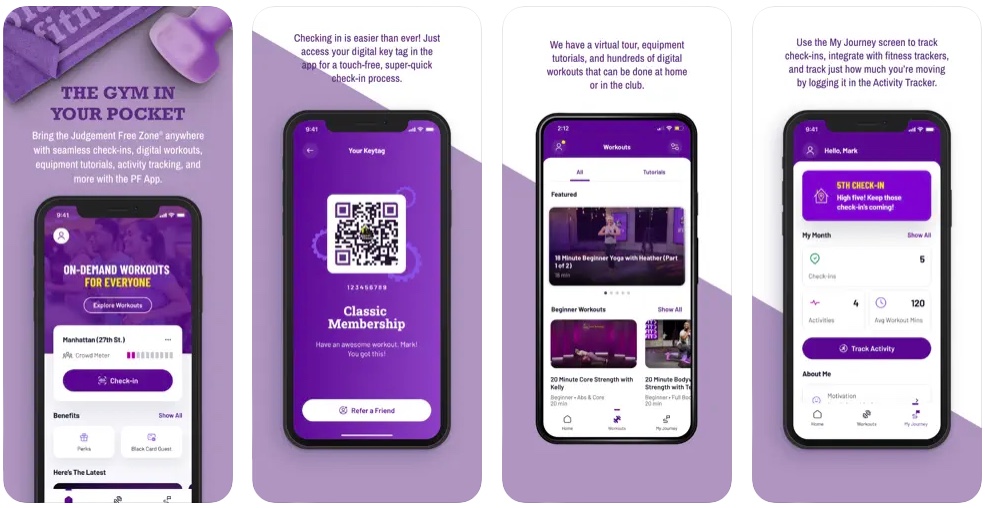 In addition to digital check-ins and trainer-led virtual workout classes, Planet Fitness Workouts offers hundreds of exercises you can do at home or in a gym, tutorials on gym equipment, activity tracking for in-club and out-of-club workouts, and more!
This is one of the best strength training apps that can help you get the most out of your in-club or at-home workouts, whether you are just starting your fitness journey or want to try something new.
Everyone can find a workout to suit their needs, no matter what level they are at! The wide range of workout programs makes it easier than ever to find the one you prefer. Using search filters, you can find workouts according to type, time, or target.
Install Planet Fitness Workouts from the App Store today
2. JustFit: Lazy Workout & Fit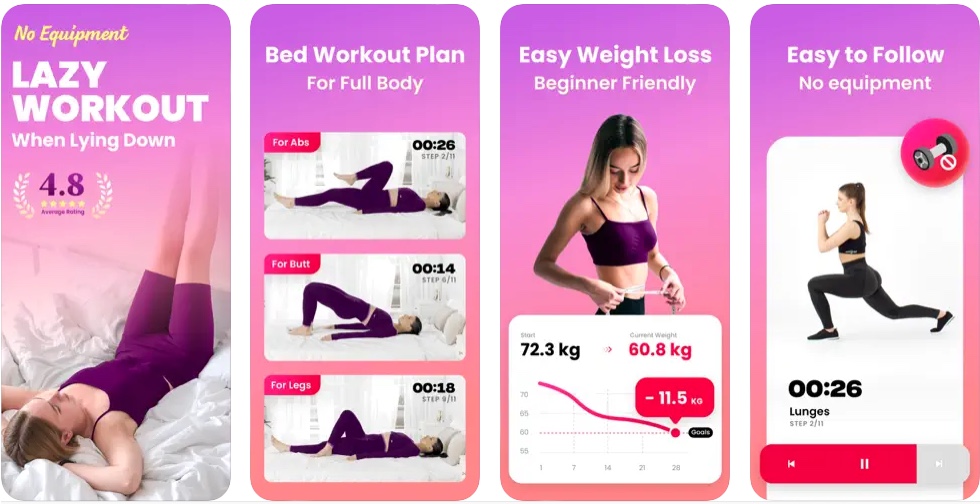 JustFit, a scientifically designed virtual coach, helps you achieve your fitness goals. JustFit has everything in one place.
JustFit offers workout plans and a huge library of exercises, and it even provides personalized recommendations based on your requirements. It does not matter whether you aim your training at problem areas, lose weight, or gain muscle mass. In addition, JustFit will track your progress daily.
Install JustFit: Lazy Workout & Fit from the App Store today
3. Home Fitness for Weight Loss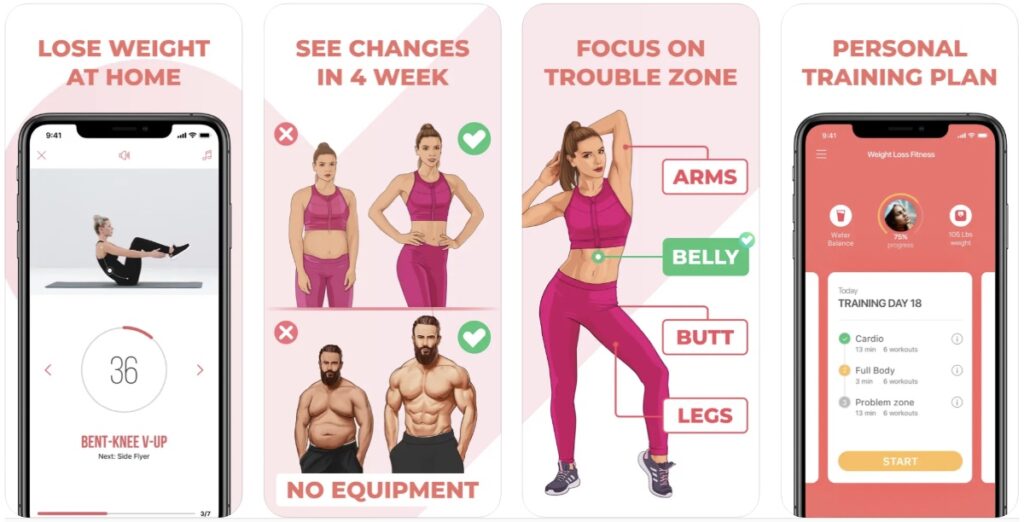 For those seeking to lose a few pounds, Home Fitness is one of the best free workout apps for iPhone.
Each training plan in the app can be customized for you based on your parameters and goals and is strongly devoted to your trouble zones. Real-time plan adjustments allow you to manage your workout schedule and select the number of workouts per week based on your feedback and progress.
Using the app, you can do short, easy guided workout training sessions in just six minutes every day. There are a wide variety of exercises you can perform with the help of video and audio coaches.
Furthermore, you'll enjoy the latest music mixes to keep you motivated during your workout, smart reminders regarding upcoming workouts, and detailed weight-tracking stats. Additionally, you will receive useful insights and tips on how to live a healthy lifestyle.
Install Home Fitness for Weight Loss from the App Store today
4. Gravity Fit: Workout Challenge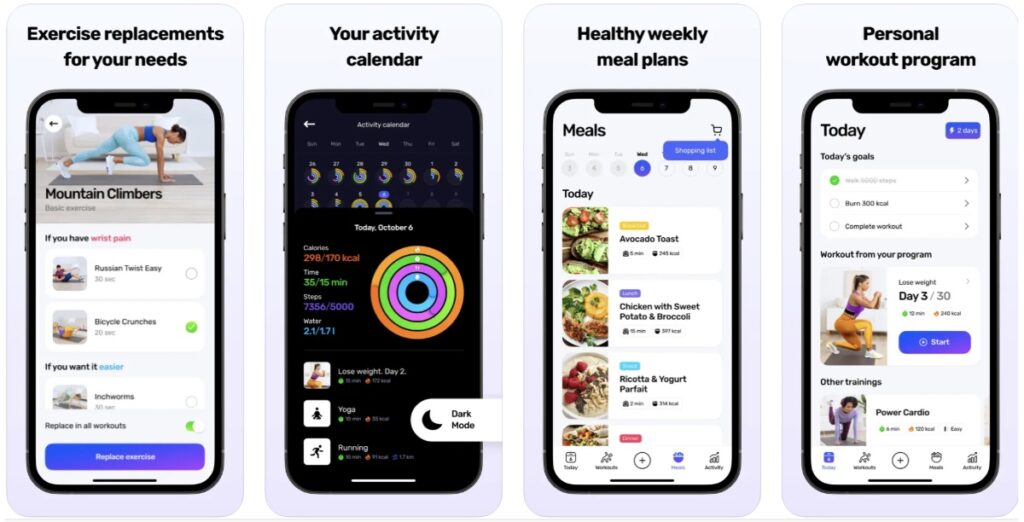 Looking to lose fat, tone your legs, and develop lean glutes? Gravity Fit will help you achieve your goals in 30 days. You can train your entire body or select workouts that are tailored to your needs and parameters.
Gravity Fit will help you achieve your fitness goals and make regular workouts a habit. You can get your heart rate up whenever you feel like it and without any equipment!
Using your data (goals, gender, age, height, weight, and health limitations), the algorithm chooses the right program for you and adjusts it as you progress. Additionally, the app provides more than 100 short workouts for major muscle groups: abs & core, glutes, arms, and chest.
You can work out for as little as 5 minutes or as long as 45 minutes, depending on how much time you have.
Install Gravity Fit: Workout Challenge from the App Store today
5. Bend: Stretching & Flexibility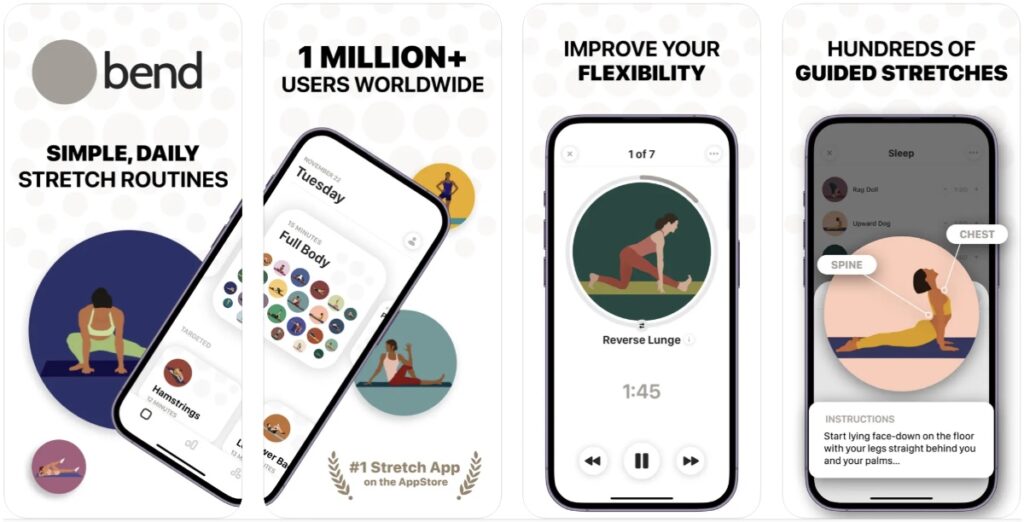 Stretching is all you need to keep your body young!
With Bend, you can stretch at home to recover mobility, improve flexibility, and relieve back, shoulder, neck, and hip pain. If you're a beginner, you can stick to a daily stretching routine with easy-to-follow stretching and yoga poses.
A minimalistic illustration and a timer keep you on track when it's time to switch sides or move on to the next stretch with Bend. Furthermore, you can track your progress and build up a streak as an incentive to stretch every day.
Apple Health is integrated with Bend, allowing users to sync their health information and activity with it.
With Bend, you can create custom stretching routines that are tailored to your specific needs, including convenient and effective methods such as a Wake Up Routine, Posture Reset Routine, Full Body Routine, Sleep Routine, and Expert Routine.
Install Bend: Stretching & Flexibility from the App Store today
6. Fitness AI: Gym & Home Workout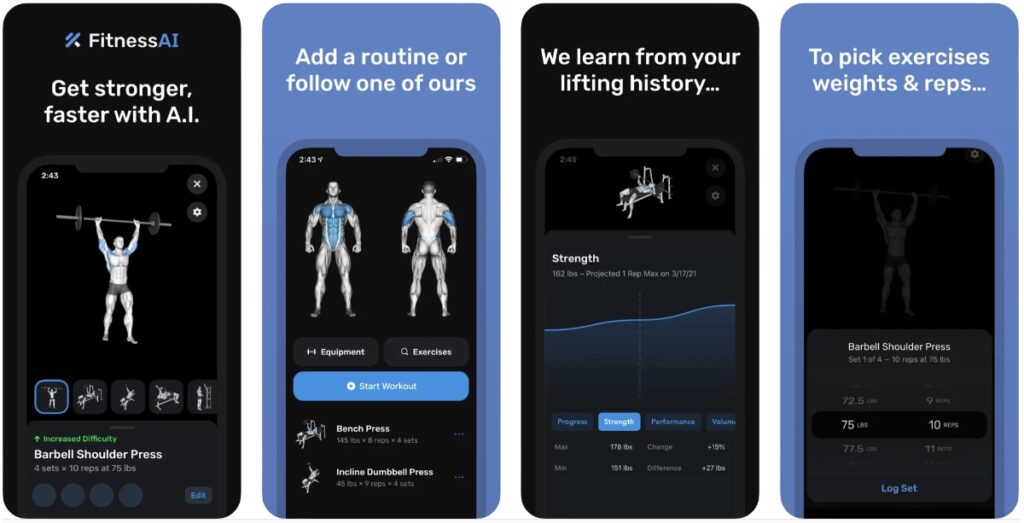 You can use the app as a personal trainer to focus on your back, biceps, chest, triceps, shoulder, legs, core workouts, and weight-lifting ab exercises. With a wide range of workouts for beginners and advanced strength training techniques, FitnessAI is sure to provide you with the best workouts.
Weight-lifting workouts optimized for your gym routine make your workouts as efficient as possible.
With FitnessAI, you can plan your gym sessions and optimize them for your health, strength, and fitness. In addition to high rep modes for toning, the algorithm offers advanced optimizations for progressive overload to increase mass while weight lifting.
The app offers easy-to-follow gym workouts and home workouts that are backed by data, not intuition. FitnessAI provides easy exercise tracking for your entire body workout with its simple design.
Install Fitness AI: Gym & Home Workout from the App Store today
7. Fitbod Workout & Fitness Plans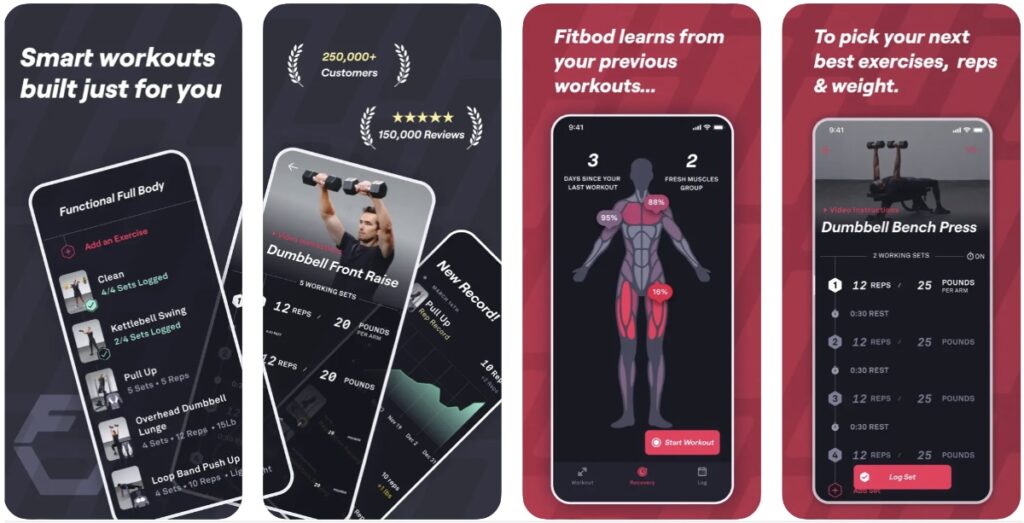 You can make Fitbod your go-to source for strength, weight loss, and muscle gain! Whether you train at the gym or at home, Fitbod's innovative training algorithm will guide you to your fitness goals with the right sets, reps, and weights.
Fitbod's powerful technology learns your strength-training capabilities, analyzes your previous workouts, and adapts to the available gym equipment to craft your custom workout.
The intensity (weight) and volume (sets/reps) of your training plan will be intelligently varied between sessions to maximize fitness gains. Plus, you will receive a customized training plan that targets all muscle groups.
Using Fitbod, you can mix up your gym sessions with new exercises and make full use of the equipment you have at your disposal.
Install Fitbod Workout & Fitness Plans from the App Store today
End Note
The above-mentioned best apps for exercise work on both iOS and Android-compatible portable devices. Besides free trials, they offer daily workouts, health stats, and downloadable progress reports, including past logs.
Additionally, these apps encourage you to maintain a healthy lifestyle through social media posts and unfiltered feeds from active communities.
Pick an app, get started with a fitness journey, create your fitness regimes, and share them with friends and followers.
Was this article helpful? Let us know in the comments section.