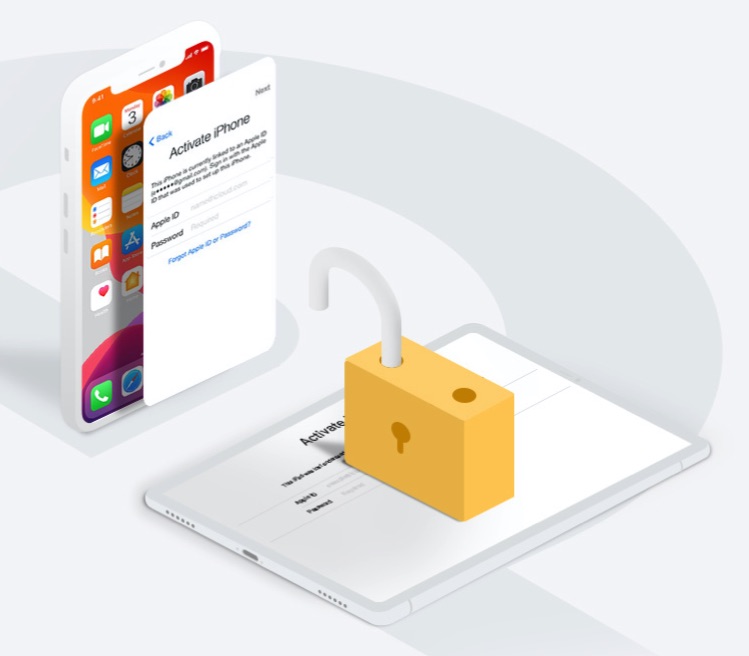 Apple's iCloud Activation Lock provides a necessary layer of security for iPhone and iPad users. This feature is designed to prevent anyone else from gaining access to your iOS device in case you happen to lose it. The Activation Lock prevents a thief from simply resetting the iPhone and gain access to it.
When iCloud Activation Lock is enabled on a device, iOS asks the user to enter the Apple ID password of the account that is set up with that device. The device can only be activated and become available to use once this password is entered. If the user fails to type the correct password the device remains locked indefinitely. The whole idea is a thief would not have access to owner's password and will not be able to unlock the device without it.
Apple's iCloud Activation Lock feature is great, however it has many drawbacks as well. For example, it can also result in locking out legitimate owners of the device if they happen to forget their Apple ID's password and are not able to recover it. We have heard from numerous users who tell us that they are unable to gain access to an old iOS device as they don't remember its password and are not able to recover it from Apple's website for one reason or another.
In these situations a bypass for iCloud Activation Lock can be helpful as it could save the iOS device reducing into just a paperweight. There are many tools and services that claim to offer bypass for iCloud Activation Lock however most of them sadly don't work. That being said there are several reliable tools that are able to unlock user's iPhone or iPad without much trouble and are easy to use.
One of the tools that do work is iMyFone iBypasser iPhone activation lock bypass. This tool claims to 'easily bypass iCloud activation lock' and give users the opportunity to gain access to their locked devices. Unlike most tools out there iMyFone iBypasser is designed specifically to bypass iCloud activation lock and it is able to do so with techniques that are guaranteed to work.
It takes advantage of the jailbreak technique to bypass Apple's iCloud activation lock. In fact an important part of the unlocking process includes jailbreaking the device. Once the jailbreak is achieved iMyFone iBypasser works its magic and makes the device usable again.
Important features of this tool include ability to fully remove older Apple ID from the account, prevent old Apple ID to track the whereabouts of the device (useful if the Apple ID was hacked), prevent the device from getting remotely blocked or erased and more.
Using this tool also has a few drawbacks, as it will essentially turn your iPhone into an iPod touch. Due to the techniques it uses to bypass iCloud Activation Lock, you will no longer be able to use iCloud, Phone call feature or cellular data on your device.
However you will still be able to use Wi-Fi and everything else, which is still better than throwing away your device.
How to use iBypasser to bypass iCloud Activation Lock
Using iMyFone iBypasser tool is quite easy and the whole process takes a few moments to complete. You can follow this guide to successfully remove iCloud Activation Lock from your device.
Download the iMyFone iBypasser tool from the official website.
Launch the tool, accept terms and conditions and hit the Start button.
Connect your iPhone or iPad to the computer with a USB cable.
iBypasser will now download Jailbreaking resources from the web. Once it is done click on the 'Start Jailbreak' button.

Follow the on-screen instructions during the jailbreak process. Once jailbreak is complete you will be shown details about your device.
After confirming the details are right click on the 'Start Bypass' button.
Once the tool is done simply click on the 'Done' button and unplug your iPhone or iPad.
That's it, iCloud Activation Lock has been removed from your iPhone, iPad or iPod touch. You can now use the device. Most features will work however as mentioned above you will not be able to use iCloud, Phone or Cellular data.
You can download iMyFone iBypasser tool from its official website for free. A 1-month license for 1 device is available for $39.95.
Disclosure: iOSHacker may receive a commission if you purchase products through our affiliate links. For more visit our privacy policy page.