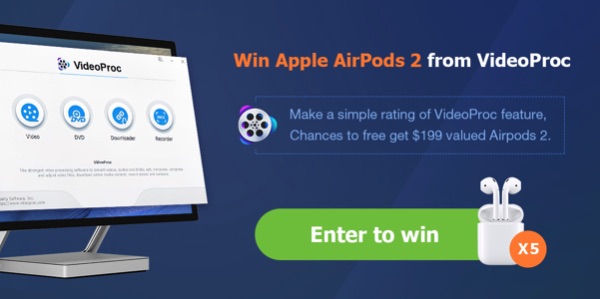 If you edit video on your Mac, then there are a number of great third-party tools that you can use. One of the great tools that are available to Mac users is called VideoProc, which boasts itself as a one-stop video processing software for both macOS and Windows users.
VideoProc comes with a bunch of useful features that make it sufficient for most video editors out there. With VideoProc you get a range of features including basic features like Cut, Crop, Rotate, Merge, Effects and Subtitles to advance features like video enhancements, watermarks, stabilize video and more.
VideoProc handles 4K and HD videos like a champ, allowing you to effortlessly edit videos recorded from your iPhone or video recording cameras like GoPro, DJI drones etc. Plus, thanks to the full support of full GPU hardware acceleration tech, VideoProc can convert, edit and process videos at 47X real-time faster while keeping highest possible output quality. Watch the following video to learn more about how GPU hardware acceleration influences 4K and HD video processing.
In addition to editing, VideoProc is also capable of performing advanced conversions, converting videos in over 420 output formats. Using VideoProc you can convert the format of your videos to make them compatible with your devices. For example, you can convert H264 to H265, MKV to iPhone, AVI to YouTube and more. It can also reduce the size of the large video by 90%, making it easier for users to store, share and upload their videos.
Users also get the ability to download videos from their favorite websites including YouTube, DailyMotion, Facebook and more. Once downloaded you can use VideoProc's amazing editing features to edit and convert the videos, before transferring them to your devices.
VideoProc also has a built-in screen recording feature, which makes it possible for users to record videos in 3 different modes, record only their desired part of the screen and use useful tools like draw, highlight, text and voiceovers to make screen recordings look professional.
Free Licensed Copy
Good news is you can download and try the VideoProc 4K Video Editor on your Mac or Windows for free by going to their download page. When you download the video editor, you will get the full free licensed copy with all the features available in the current version. The only caveat is that you will not be able to update this licensed copy to the latest version in the future.
The Apple AirPods Giveaway
If getting a free licensed copy of VideoProc wasn't enough, our friends over at VideoProc are also giving away 5 Apple AirPods to lucky winners. To enter their awesome giveaway all you have to do is open their Ratings and Reviews Page, and leave a rating for VideoProc. You also need to enter a valid email address so you can be contacted in case you end up winning a pair of AirPods.