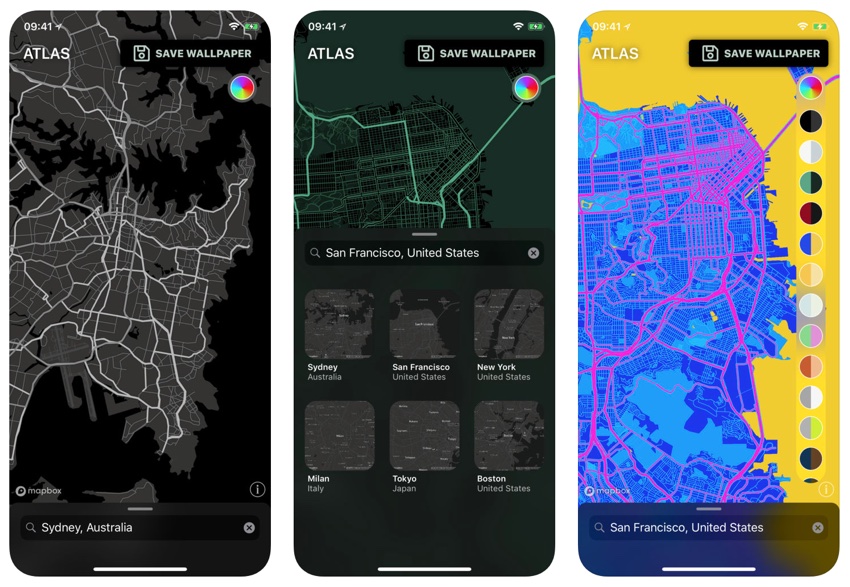 Looking to decorate your iPhone's lockscreen with a unique wallpaper? Then download the Altas Wallpaper app from the App Store. With this unique app you can create beautiful wallpaper for your iPhone featuring the map of your current location or any other place that you like.
The app lets you access any place on earth by searching for it in the built-in map. Once you have found the place that you want to turn into your device's wallpaper, simply tap on the 'Save Wallpaper' button.
This app lets you move around the map to find the best view to create wallpapers. Want to use a specific city in your map? The app also offers a search feature, where you can type the name of your favorite city and access its map.
Altas Wallpaper offers a bunch of looks for the map, that let you select the appearance of the wallpaper from a range of art styles. You can change the colors of the wallpaper by tapping on the rainbow button and then choosing the style that suits you the best .
The app supports both iPhone and iPad, so you can create wallpapers for all your iOS devices. When you save a wallpaper, the app saves two different versions of the image, one is a normal one while the other is a blurred version that is more suitable for the homescreen.
You can download the Altas Wallpaper app from the App Store, where it is available for free.