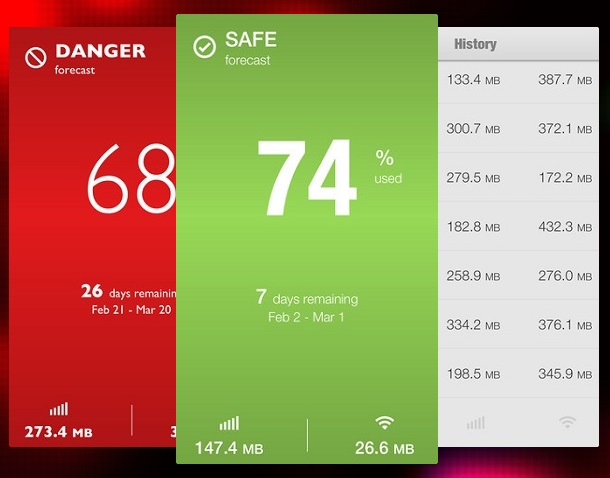 Several studies suggest that iPhone users consume more data than users of other smartphones. This means that if you are an iPhone user then chances are that you overuse your limited data and have to pay the price at the end of the month with extra charges. This usually happens because there is no easy way of tracking how much data you have consumed on your iPhone.
To solve this problem we suggest the DataMan app for iPhone. Using this app ou can see the real-time statistics about your data usage and track them without much effort. The app runs in the background and keeps record of every bit of upload and download you perform on your iPhone using the cellular network.
DataMan app for iPhone features a really good looking design in which it nicely displays your statistics. While the most useful feature of DataMan is tracking how much cellular data, which includes LTE, 4G and 3G you have used the app also supports WiFi and is capable of tracking that too.
Users can set custom threshold alerts so that they know how much data is left. The app shows the percentage of total data you have consumed and how many days are left in the month to let you know how much time and data you are left with. The app also shows past usage cycles so you can analyze how you used the mobile Internet in previous times.
DataMan comes with a number of great looking themes and supports all carriers so you don't have to worry about compatibility issues.
DataMan app for iPhone is available for $0.99 here.