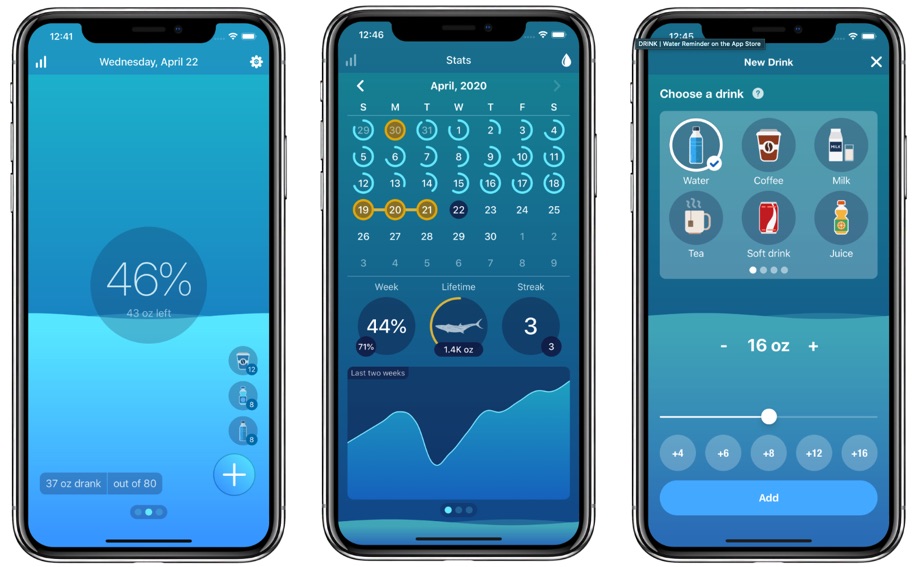 I recently came across a shocking fact that says around 75 percent of people around us are chronically dehydrated. After learning this fact I looked at my own water drinking patterns and realized that even though I always thought I drink sufficient water, even I am not able to in take the recommended 2 litres of water every day.
We all live busy lives and remembering to stay hydrated is something that is more likely than not to skip our minds. The DRINK Water Reminder app for iPhone is here to help. This app sends you useful water drinking reminders that can help you with staying hydrated. The app offers a bunch of features that will make your life easy and bring significant improvements to your water drinking habits.
With DRINK Water Reminder app you get the recommended amount of water that you should be drinking based on your weight, sex and lifestyle. Once the app has determined the amount of water you should be drinking in a day it will start sending you timely reminders. The reminders on this app are smart, which means you will get reminders based on your ongoing performance. If you are on top of things and have drank enough water for that part of the day, then you will not see a reminder. However if the app sees you are running behind you will get more reminders than usual.
You will always know how you are doing at any given time thanks to the visual meter that shows how much water you have drank and how much you still need to drink in order to complete your daily target.
DRINK Water Reminder app tracks your daily performance and shows you useful stats and history of your water intake. You can also add a widget on the home screen to stay up to date on your performance.
DRINK Water Reminder is a paid app that costs $4.99 a month. But the good news is iOSHacker has partnered with the DRINK app's team to give you a 1-month free trial. This means you can use the app for the first month for absolutely no charge. This offer is only valid today on August 31st, 2020, so you should better hurry up.
Redeem iOSHacker exclusive offer in the DRINK Water Reminder app
You can redeem the iOSHacker exclusive offer by downloading the DRINK Water Reminder app from here.
After downloading it launch the app and tap on the Premium option to see the exclusive iOSHacker offer.
Tap Continue to redeem 1-month free offer.
Disclosure: iOSHacker may receive a commission if you purchase products through our affiliate links. For more visit our privacy policy page.