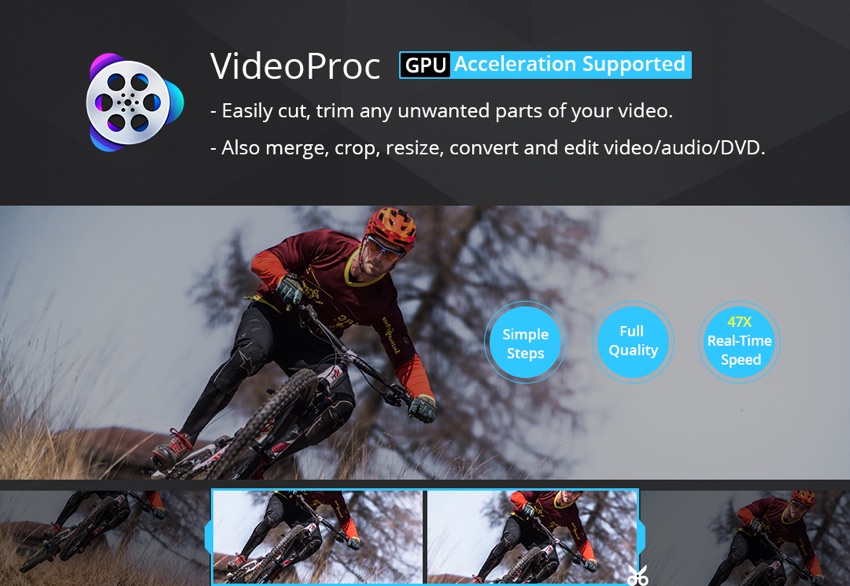 With powerful 4K video recording cameras in everyone's pockets, people are making more videos today than they ever did in the past. No matter if you are into recording videos for your YouTube channel or simply like to make home videos of your kids, having a capable video editing tool installed on your Mac is a must. There are many tools that make it possible for editing videos on the Mac however very few offer a seamless experience complete with all the features that the user might need.
One tool that seems to be perfect for users who don't like to deal with complex user-interface and options is VideoProc. This powerful video editing tool for Mac offers a lot of useful video editing features, making it the only tool that you will need on your computer.
With VideoProc you can can perform a wide range of tasks, some of which are detailed below.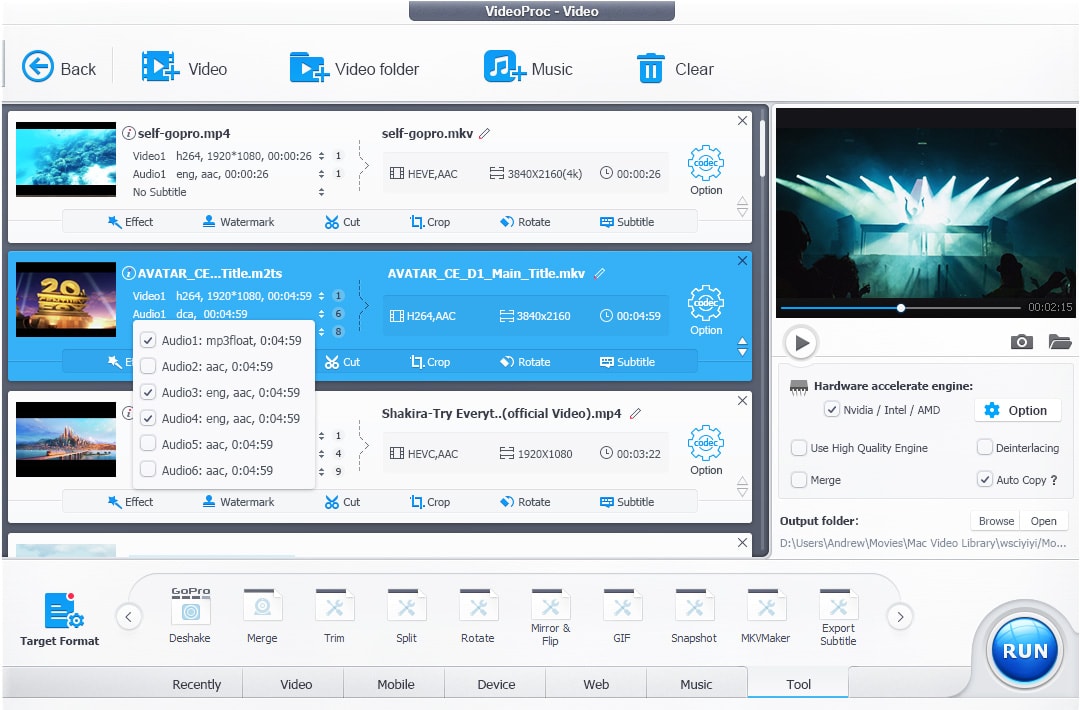 Download: VideoProc's usefulness is not limited to editing only as it also makes it possible for users to download videos, music, playlists and channels from a wide range of online sources. The websites you can download videos from include YouTube, Facebook, DailyMotion, Twitch, SoundCloud and more. The best thing about using VideoProc as your downloader is that you can then use the same tool to edit and convert these files. In addition to offering downloading of published videos, the tool also allows users to record live streams.
Convert: VideoProc offers A-to-B conversion, allowing its users to convert both video and audio from one format to another. Having the convert feature can be very handy if you want to convert a video from one format to a format that is compatible with your iPhone or iPad. You can use this too to for example convert H264 video to H265, MKV to iPhone compatible MP4 and more.
Edit: With VideoProc's built-in video editor you can perform a wide range of edits on your videos and make them more professional looking. With VideoProc you can cut and crop a video, add effects to it, rotate a video, merge multiple clips into one, add subtitles to your videos, stabilize, remove fish eye, add watermark and more.
Screen Recording: VideoProc for Mac offers a super handy recording mode that makes it possible for users to not only record their Mac's screen but also record the screen of their iPhone and iPad. Once the video is recorded users can edit it and add voiceover. VideoProc also offers ability to highlight content, add text, images, arrows and more to screen recordings.
DVD: Have classic DVDs lying around? VideoProc can help you in digitalizing all of your DVDs and convert them to MP4 or any other content. With the DVD conversion feature you can take video content from a DVD and convert it into iPhone compatible format in no time. VideoProc supports both homemade DVDs and copy-protected commercial DVDs.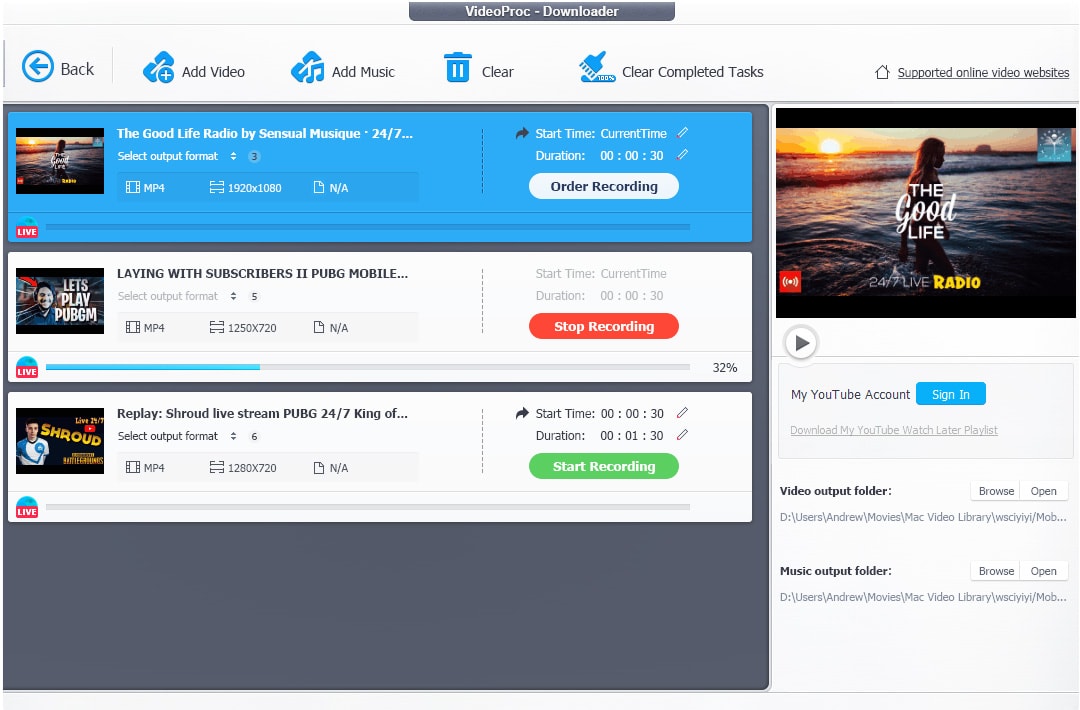 How To Cut Videos With VideoProc
Video cutting/trimming is one of the most common tasks that users perform while video editing, and VideoProc lets them do this with a lot of ease. In the tutorial below you can see how easy it is to edit a video and trim parts of the video with this tool.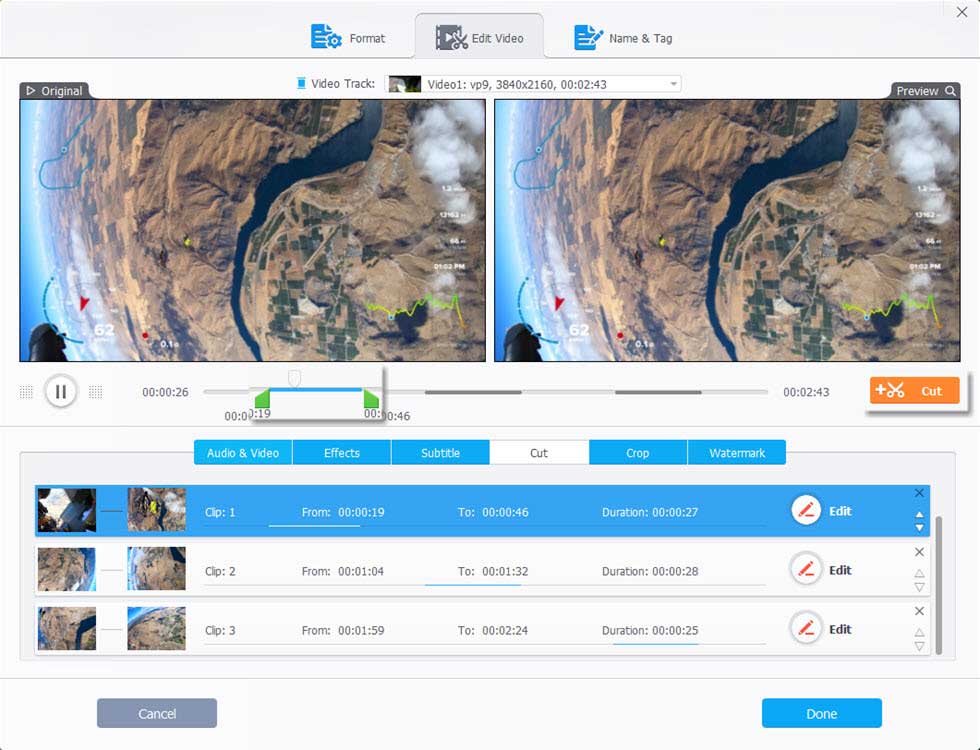 Launch the VideoProc tool and add the video you want to trim to the tool. You can do so by clicking on the Video option and then clicking on the '+Video' button.
Next you should choose the output format for your edit. Choose the suitable format to proceed from the tabs at the bottom.
Now under the pending file look for the 'Cut' option and click on it.
Once the edit screen appears grab the green knobs to positions where you want to start and end the video edit. The part that is between the green knobs will be part of the video. When the video has been trimmed you will see the 'Cut: xxclips' under the pending file.
Finally export the video by going to the Output folder option and clicking on Browse button. Then choose the save path for your edited video.
Similarly you can split videos into multiple parts using VideoProc.
You can get a free license of VideoProc tool for Mac and Windows by going to their homepage. This is a limited time promotion so better hurry up.