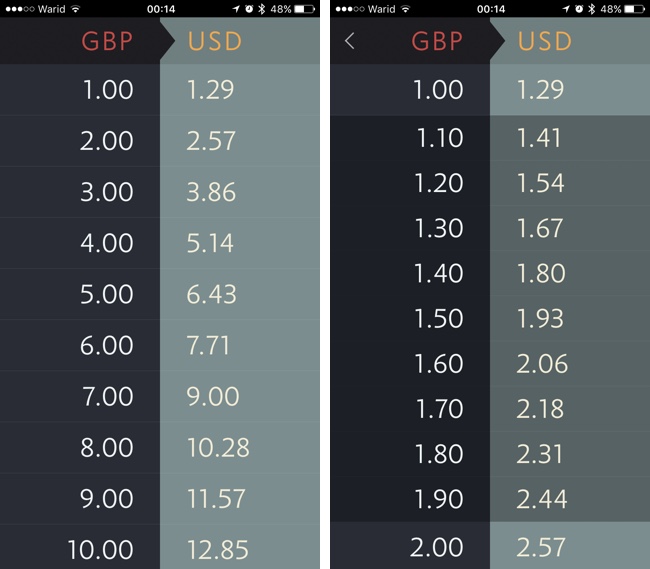 If you are an avid traveller, then chances are you often find yourself converting currencies. When you are on the go in an unfamiliar country, knowing how much you are spending in your own currency is crucial in order to make sure you don't exceed your budget. There is no shortage of currency conversion apps in the App Store, however many of them are a mess requiring you to go through complicated steps for simple conversions. If you are looking for a clutter-free and easy to use currency converter app, then try Elk Travel Currency Converter app.
With this app you can quickly convert one currency into another. Unlike most currency apps out there, Elk has a user-interface that involves a picker and some sliding gestures. The app displays interactive rates table for both currencies. The table consists of numbers with increment of 1, 10, 100, 1000 and so on.
You can increase the increments by swiping left or decrease them with right swipes. You can get more accurate values by tapping on a number. So if you tap on 5.00 (GBP), you will get the conversion values for 5.10, 5.20, 5.30 and so on. This also means you you won't get precise conversion for 5.23 pounds, which is the compromise you have to make for speed.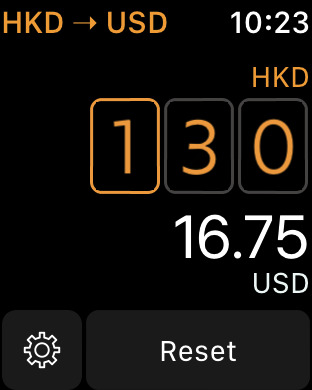 Elk also offers a dedicated watchOS version, which makes it possible for user to convert currencies with the help of the Digital Crown. Simply open the app and use the Digital Crown to enter numbers you want to convert.
You can download the Elk – Travel Currency Converter app for iPhone and Apple Watch for free. To unlock its full features including access to all currencies you will need to buy in-app purchase of $4. You can use the app without it though as your home currency as well as popular ones such as USD, GBP, Euro, Australian Dollar, Japanese Yen and Swiss Franc are already unlocked. You also get a 14-day trial, with all features unlocked during this period.