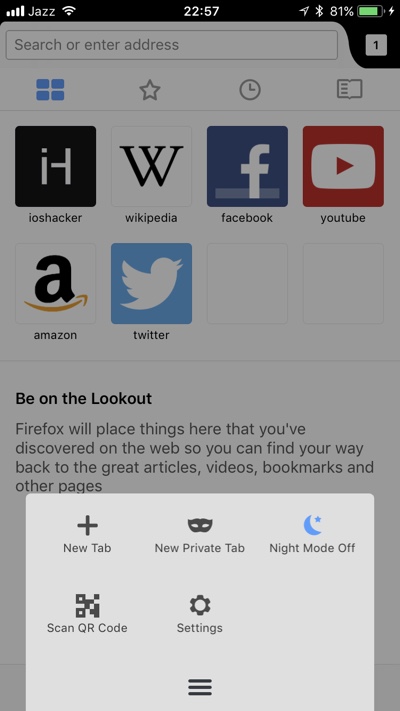 If you are a user of Mozilla Firefox Browser on iOS, then you might want to upgrade to version 8.0 of the application. The latest update, which is now live on the App Store brings a number of improvements and new features to the web browsing app. Perhaps most notable of the new features is a new tab experience, which will now show your recently visited websites and highlights from previous visits.
An updated tab experience isn't the only change introduced in this update as Firefox has also gained a new Night Mode feature. The Night Mode feature will make it easier for users to read articles in darker environments.
If you ever need to scan QR codes, then you should know that the Mozilla Firefox for iOS now has that ability to scan QR codes. To scan a QR code using Firefox simply tap on the hamburger button from the middle of the button bar and choose 'Scan QR code' option from the menu. While Chrome for iOS also offers this functionality, it would be more convenient for users to take advantage of iOS 11's upcoming built-in QR code reading capabilities.
Other features added in this release include the ability for users to automatically send a website or tab to another Firefox synced device. This includes both mobile and desktop devices. Firefox will now show you feature recommendations and hints to use Firefox more effectively.
Download the Firefox web browser on your iPhone, iPad or iPod touch for free.