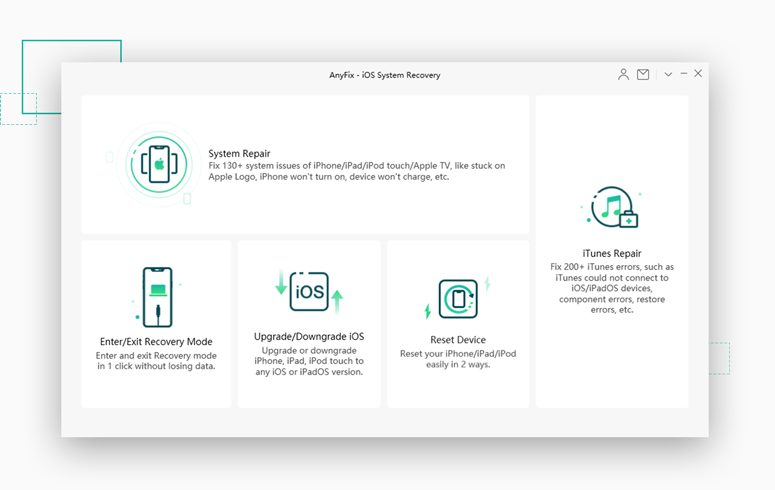 If your iPhone is not under warranty, then even the most common and minor software issues can cost you a lot of money to fix. Apple is notorious when it comes to charging customers to fix out of warranty devices. And while third-party repair services are not as costly they can still take a lot of time to fix an issue. Not to mention the time you end up spending, especially when you are asked to wait for a few days or even weeks before the issue is fixed on your device.
Thankfully iMobie AnyFix software can help you in fixing all of your iPhone problems right at home. AnyFix is a multipurpose iPhone repair tool that lets you fix over 130 system issues on any iOS device and Apple TV. On top of that it is also capable of fixing over 200 iTunes errors that make your life hard.
The best thing about using this tool is that you can not only fix your iPhone or iPad problems at home for a fraction of price that you would normally pay for a repair, but you can do it in a few clicks and without losing any of your valuable data.
AnyFix offers many technologies that are designed to iPhone or iPad's most stubborn problems. This includes features like ForceRepair, SmartScan, iUpdater, RM-Controller and more.
When it comes to solving iPhone issues, AnyFix has a long list of capabilities that are helpful in fixing an iPhone. Some of the system issues that can be fixed through AnyFix including:
Disabled Screen
iPhone won't turn on
Stuck On Apple Logo
iPhone not charging
Touchscreen not functioning
iPhone stuck in bootloop
iPhone stuck on loading screen
Frozen screen
iPhone stuck in Headphone mode
and more…
We are sure while reading the list above you would have encountered one or more issues that you faced with your iPhone in the recent past, and you are not alone. I too had iPhone stuck on Apple logo and bootlooping problem recently and couldn't figure out how to fix it while being away from computer.
AnyFix comes with three modes that includes Standard Repair, Advanced Repair and Ultimate Repair. Here's how these modes differ from each other.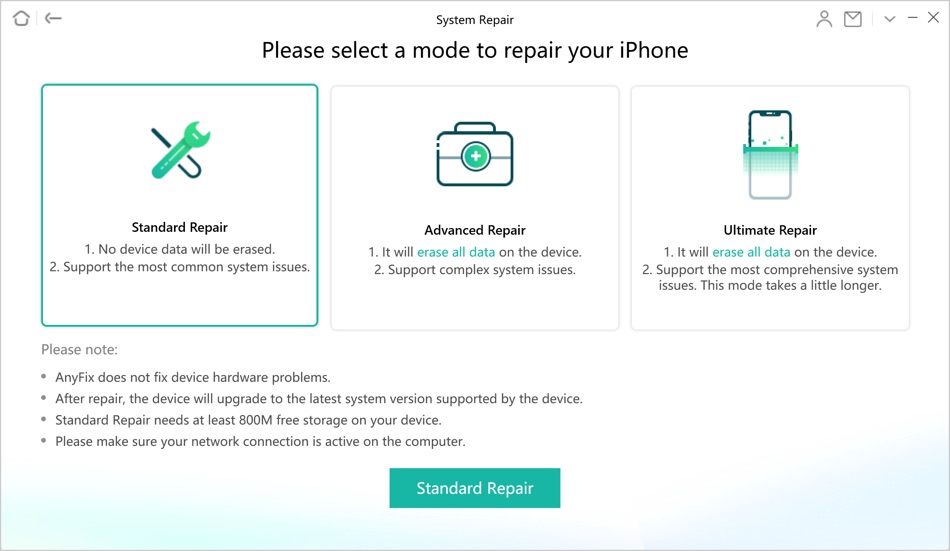 Standard Repair Mode: This mode is for your most common problems. This should be used to fix iPhone without data loss. With Standard Repair mode you can fix common issues with your device including iPhone not charging, battery drain etc. By the end of the Standard Repair mode your iPhone's data will remain intact.
Advanced Repair Mode: In Advanced Repair mode you can solve issues like device stuck on Apple logo, bootloop etc. While you will end up losing data stored on your iOS device you will gain access to your iPhone by the end of this repair process.
Ultimate Repair Mode: In Ultimate Repair mode you can solve the most annoying issues with your iPhone or iPad. This includes iPhone stuck on black screen, being frozen, stuck in DFU mode or when it won't turn on at all. This repair mode will also delete your data but at least it will bring it back from the dead.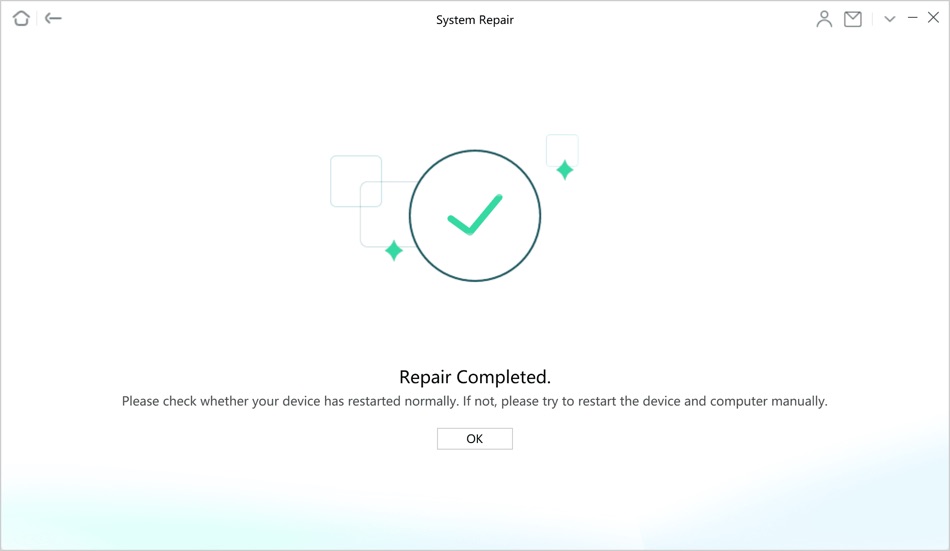 As we have already mentioned with AnyFix tool you can solve complicated iTunes errors with ease. Some of the iPhone errors that you can fix with this tool include iTunes error 9006, iTunes error 4000, iTunes error 3259, iTunes error 3194, iTunes error -50, iTunes error 5105, iTunes error 3150 and more.
You can download the iMobie AnyFix tool on your Mac or Windows computer and use it to fix your iPhone. You can download the AnyFix tool for free. A 1-month license of the tool costs $45.99 while a 1 year plan is available for $49.99.
Disclosure: iOSHacker may receive a commission if you purchase products through our affiliate links. For more visit our privacy policy page.