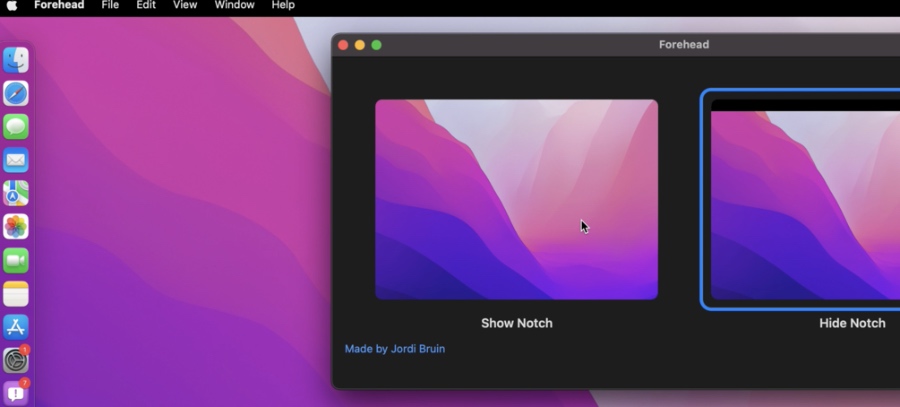 Apple's new MacBook Pros feature an iPhone inspired notch at the top. Of course there are people who do not like this new design decision by Apple. If you're one of those people and are looking to essentially hide the notch, then Forehead – Hide the Notch app is here to help.
This app enables users to hide MacBook Pro's notch with the help of a wallpaper. It does so by adding a black bar at the top of any wallpaper image that you through at it. The black bar it adds to the wallpaper turns Mac's menu bar black, as a result to which the notch fades away in the black background.
This works so well because the Liquid Retina Display XDR in MacBook Pros features a new mini-LED display technology, which is able to display darker blacks when compared with LCD. This helps in making the wallpaper blend well with the notch's black color and creating an illusion of hiding the notch.
While you can use any photo editing app such as Pixelmator to add a black bar to the top, what makes Forehead app useful is how convenient it makes the process. You can simply launch the app, import the wallpaper you want to add black bar to and then apply it to the desktop right from the app.
Forehead – Hide the Notch app is available at the link below. The costs €3 or $3.50 with currency conversion.
Update: You can now download Forehead app for free by typing '0' where it says 'Name a fair price' on the host website. Now it is up to the user to decide if they want the app for free or if they wish to give some appreciation money to the developer.
Also read: Notch Pro App Brings M1 Pro MacBook Pro's Notch To All Macs