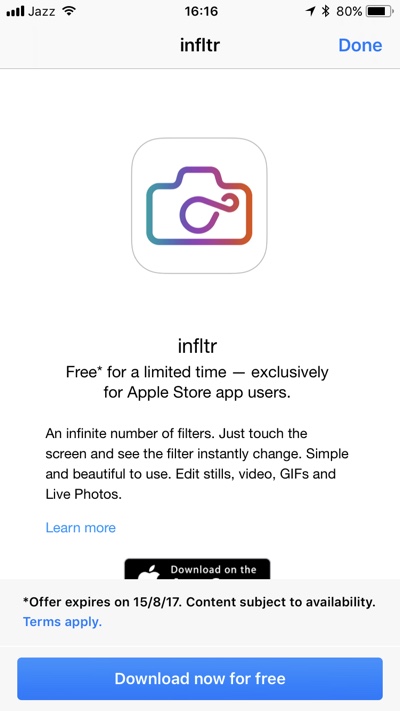 If you have had your eyes set on the infltr – Infinite Filter app for iOS, but didn't get the chance to buy the app, then now is your chance. Apple is giving away promo codes to the popular image editing app that will allow you to download it for absolutely free.
It is a pretty good deal considering you are getting a useful app, that is available for $1.99 in the App Store right now, for absolutely no cost. To get the promo code all you have to do is download the Apple Store app from the App Store on your iPhone, iPad or iPod touch. Once downloaded open the app and scroll down until you see the banner for the infltr promotion.
The infltr app offers 'infinite number of filters' that you can apply to any image by touching the screen. You can keep panning in any direction to apply a new filter and see how it affects the image before choosing a final one to apply permanently. Since the app offers "7 million filters" it gives you the ability to save your favorite filter in the collection so you can use it later.
12 new adjustment tools to enhance your photos, Live Photos, videos & GIFs:
– Saturation, brightness, contrast, tint, temperature & filter intensity.
– Crop: 17 different presets.
– Transform: rotate, straighten, flip horizontally & vertically, perspective horizontally & vertically.
– Undo edits & view the history of your edits.
You can learn more about the infltr app from its iTunes description page here. Get the Apple Store app here to get this $1.99 for free. Offer expires on August 15, 2017.