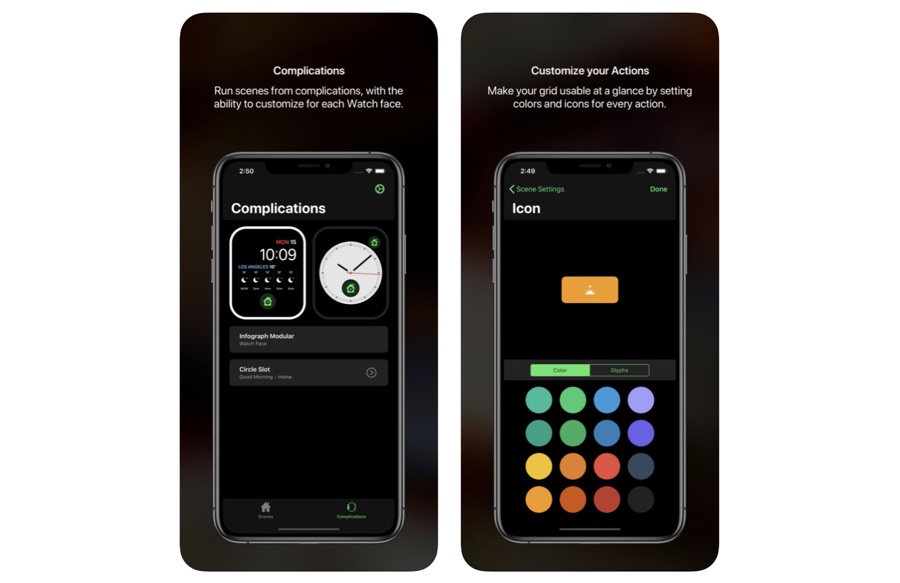 Back in November we wrote about the HomeRun app, that allows users to run HomeKit scenes right from their Apple Watch. The app also makes it possible for users to add their favorite scenes to any watch face that supports complications.
Today the app has received an update that allows users to create custom complications for their Watch. This new feature brings customizability to the complications enabling users to select colors and icons for the scenes that they want to control through the complication. This gives users more control over how the complication looks and gives them the opportunity to add a design that not only looks good according to their personal taste but also serves a purpose. For example, you can use colors and glyphs in a way that it compliments the scene it is attached to.
In addition to adding complication customization the update 1.1 also brings updated translations for German and French, adds sync status on the Settings page of the iPhone app and introduces a bug fix that solves the issue where the watchOS and iOS apps weren't syncing up correctly on first launch.
You can download HomeRun app for $2.99 from the App Store. And of course the update is available for free for those who already own it.