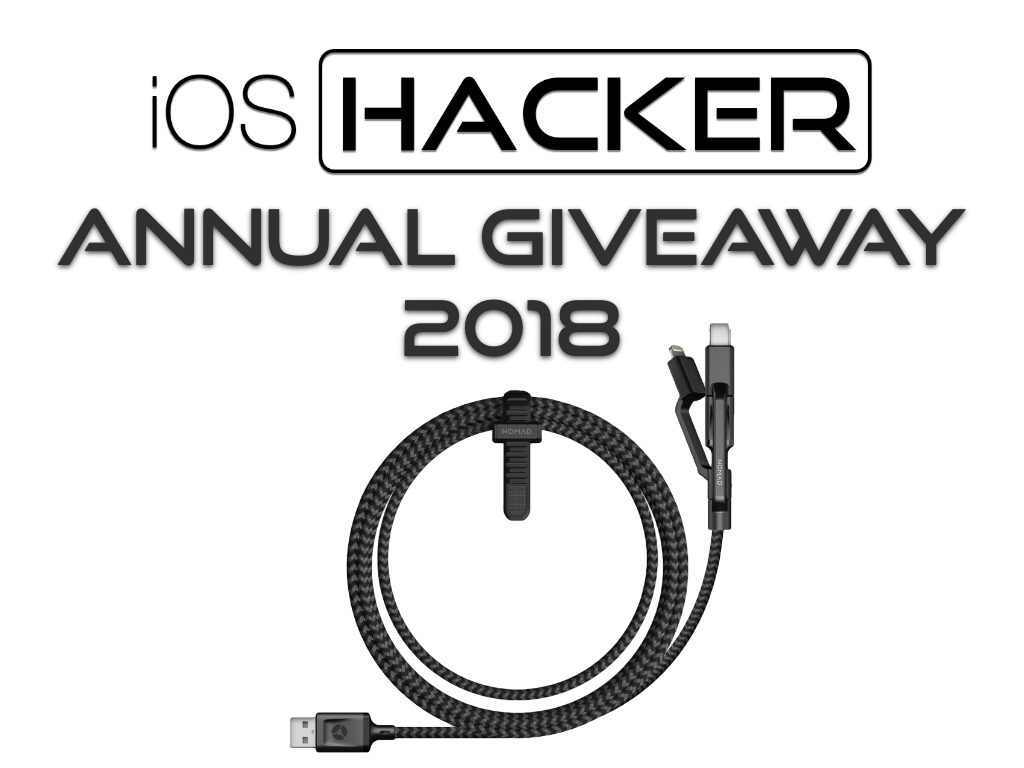 It's hard to believe that a year has already gone by since our last giveaway! This year is special for us at iOSHacker, as it marks our 5th anniversary! So what better way to celebrate than for us to give you the opportunity to win some free stuff? We'll be doing our annual giveaway a bit differently compared to last year. Each product will receive its own giveaway, so you can enter for the products you want. We'll start now, and will be going into the start of the new year.
Update: The giveaway has now ended. Winner will now be contacted and will have 72 hours to respond. In case of no response another winner will be contacted.
The first product for our 2018 annual giveaway is the Nomad Universal Cable. USB-C appears to be the future, with most Android phones, and the latest MacBooks and iPads supporting it. So this is a great accessory for anyone who wants an all-in-one cable that supports all devices.
You can enter the giveaway by signing up to our Weekly Newsletter. The winner will be chosen from our mailing list and emailed one the giveaway is over on December 23, 2018. In order to enter the giveaway simply enter your email address in the form below and hit the subscribe button. Winner will be contacted on this email address.
Sadly, the iPhone is yet to make the switch from Lightning, and many accessories still use micro USB. If you constantly find yourself looking for a certain cord to charge your device, you'll love the Universal Cable by Nomad!

The Universal Cable is a single cord that includes three different tips, including USB-C, a MFi approved Lightning connector, and micro USB. More than that, the cable is wrapped in 500D Nylon, which makes it very endurable and it'll ensure that your cord doesn't become useless after regular use. It also includes silicone ties that allow you to keep the cord tidy. We'll also be giving away the 1.5M long cord, ensuring that your not straining for your phone being tethered to the wall.
So, how do you win this awesome cord! It's simple! All you need to do is subscribe to our weekly newsletter to be entered into the giveaway. You can subscribe by simply entering in your email below. The giveaway will end at 12:01 PM EST on December 23, 2018. The owner will then be contacted, and have 72 hours to respond.
This is only the start folks! Early next year we'll be giving away some more awesome products, so make sure you're subscribed to our newsletter so you don't miss a single one!

Disclosure: iOSHacker may receive a commission if you purchase products through our affiliate links. For more visit our privacy policy page.