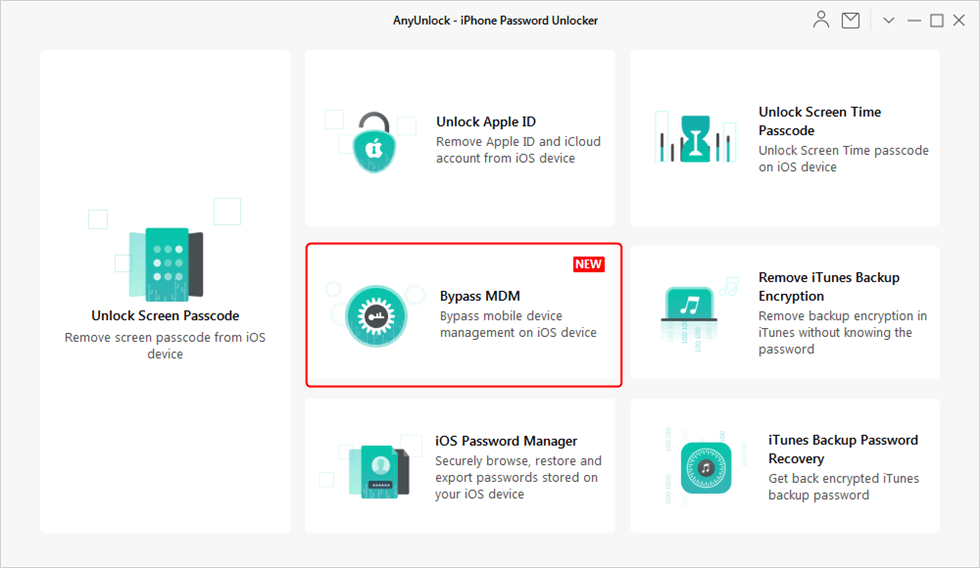 Do you have an iPhone or iPad that has the MDM lock enabled? Are you looking for ways to bypass or remove MDM lock on your iOS device? Then you have come to the right place.
In this guide we will talk about what MDM is and how you can use a third-party tool to bypass MDM on your device.
What is MDM?
MDM or Mobile Device Management is a framework that lets organizations to wirelessly configure devices to send profiles and commands to a device. When MDM is configured on a device an organization can perform a variety of actions on it that includes updating its software, reseting device settings, monitoring compliance, remotely wiping and locking devices among other things.
If you have an iPhone that has MDM enabled, and you want to bypass restrictions that are set on your device, then you can use tools like AnyUnlock to get rid of the MDM restrictions.
Why would you want to remove MDM?
There are a number of reasons why you might want to remove MDM from an iPhone with the help of a third-party tool.
For example, you might have forgotten the username and password that is required to remove MDM lock from an iOS device.
In many cases users end up buying iPhones and iPads online that have MDM lock turned on. In these instances they are unable to reset the devices due to MDM restrictions and are left with a device that does not work for them.
In addition to the scenarios mentioned above we have also seen many users bypassing MDM restrictions without the knowledge of the organiziation that they work for in order to gain more control over their device.
No matter what you specific reason is to bypass MDM on iPhone is, these steps will help you in achieving this task.
Bypassing MDM on iPhone or iPad Using AnyUnlock
One tool that works effectively to bypass MDM on iPhone and iPad is AnyUnlock. With AnyUnlock you can remove MDM restrictions on any model of iPhone or iPad running iOS 7 or above including the latest iOS 15 and iPadOS 15.
Another benefit of this tool that I found to be very helpful is that using AnyUnlock is very simple and does not require any technical know how from the user. It also does not require user to enter username or password for the bypass process. And it works every time without fail.
Many users want to bypass MDM discreetly without letting their employer or organization that added the MDM know about it. AnyUnlock takes care of that as no one including the person who added MDM to your iPhone will know that you have bypassed it. All this can be done without jailbreaking the device.
How to use AnyUnlock to bypass MDM on iPhone or iPad
You can follow the step by step instructions given below to successfully bypass MDM on iPhone or iPad with the help of AnyUnlock tool.
Step 1. Download AnyUnlock on your Mac or PC and run it.
Step 2. Plug your iPhone or iPad to the computer using a USB cable.
Step 3. Click on Bypass MDM option.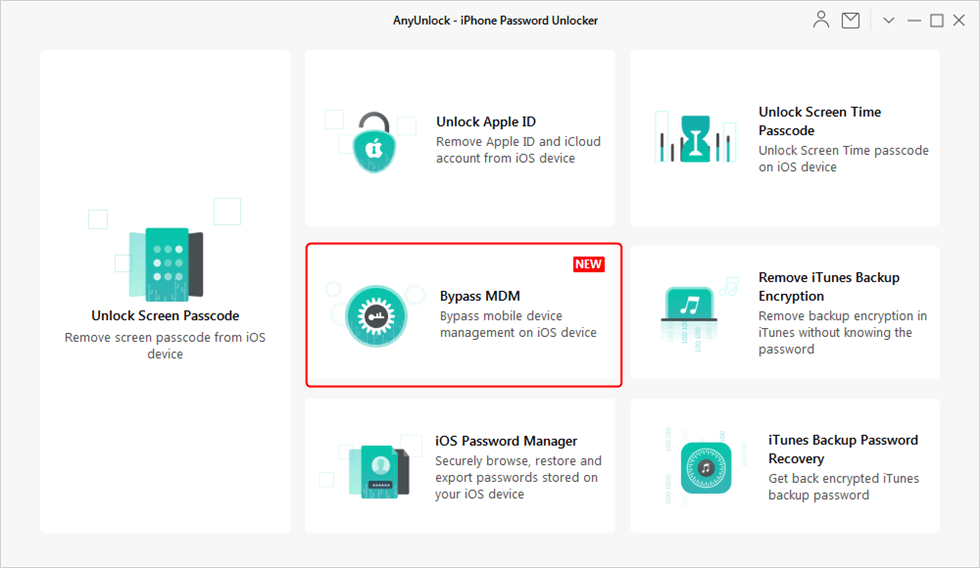 Step 4. On the next screen click Start button located under Bypass MDM.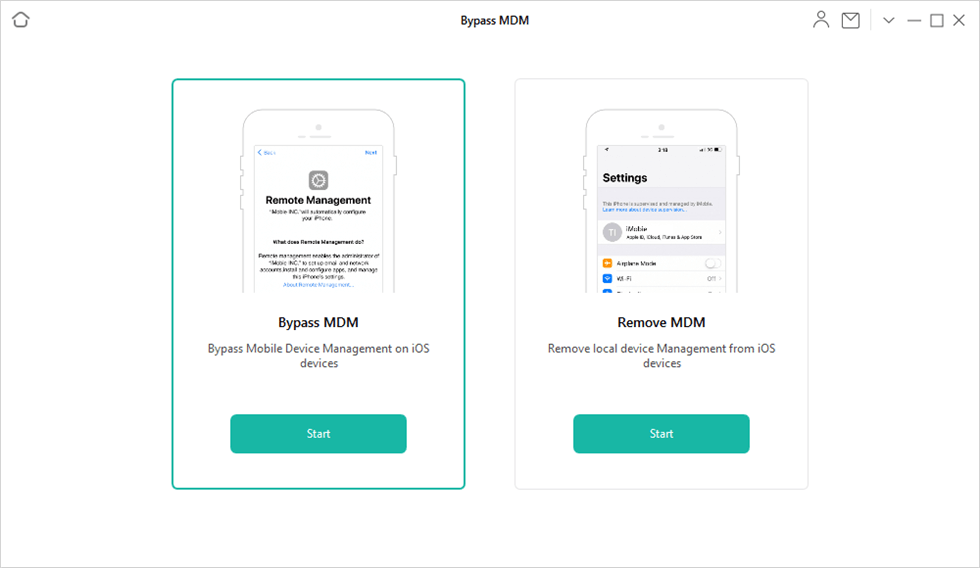 Step 5. Now read the instructions and then click on 'Bypass Now' button to proceed to the next step.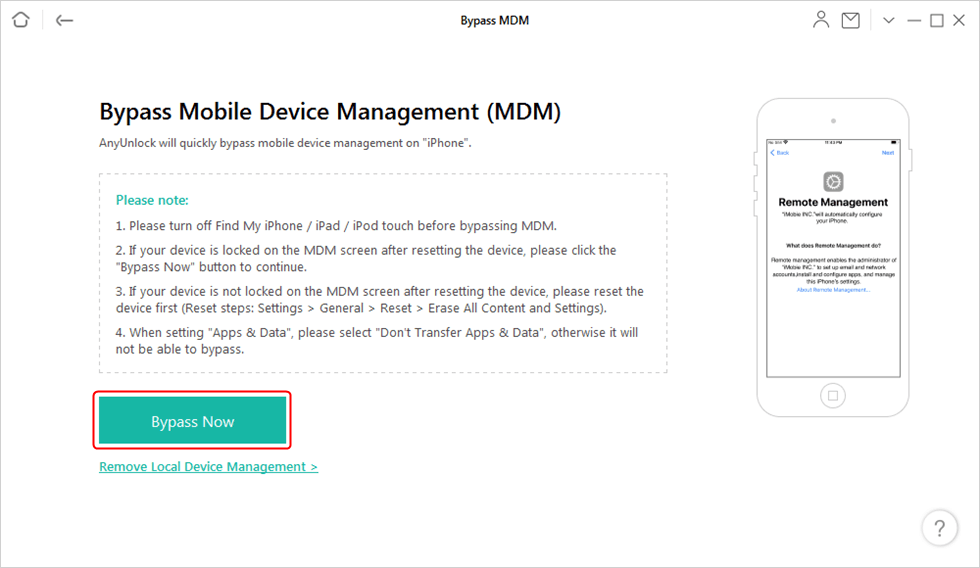 Step 6. Make sure your device is on Remote Management screen and click on 'Already Done' button.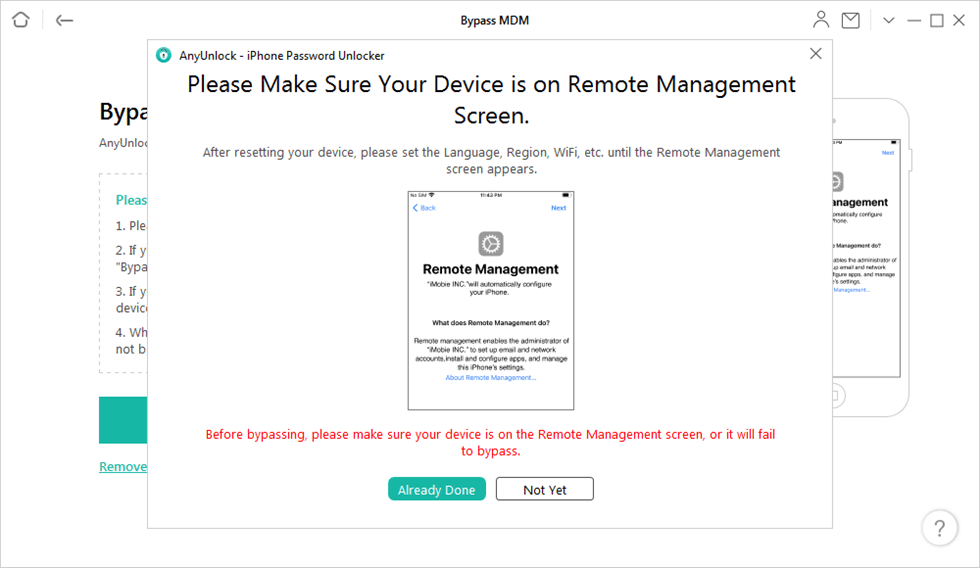 Step 7. Let AnyUnlock bypass MDM, meanwhile make sure you keep the device connected to the computer.
Step 8. Once AnyUnlock has completed the process you will see 'Successfully Bypassed!'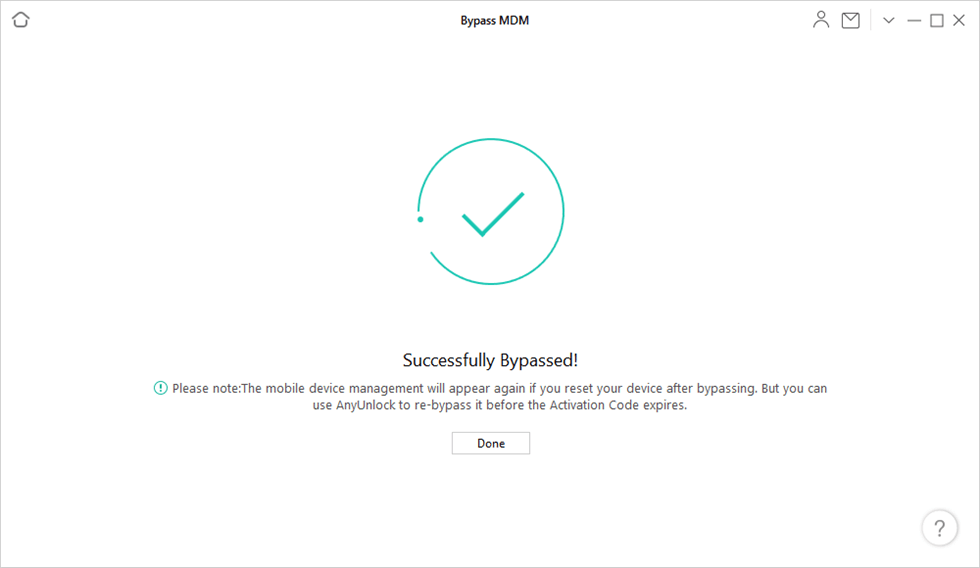 Now complete the setup on your iPhone or iPad and start using your device.
You can download AnyUnlock from the official website of the tool for free. The tool requires a working subscription to bypass MDM lock on a device. Subscriptions cost $39.99 per year while a lifetime license can be bought for $59.99 from the official website.