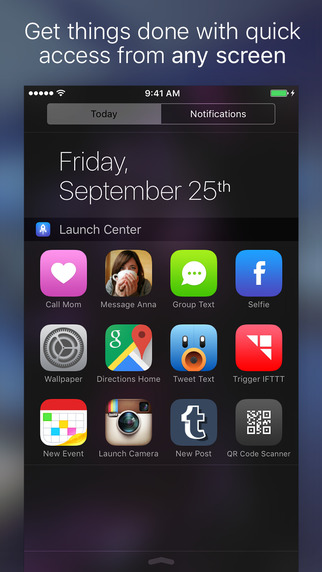 Launch Center Pro app for iOS provides an easy and instant access to different actions and tasks to the users. As the developers of this app put it, "It's like speed dial for everyday tasks". Using Launch Center Pro on your iPhone you can quickly perform tasks like messaging someone, open a specific page in Settings app, perform a certain action in a third-party app, create a calendar event and much more. If you haven't tried this app yet, now is the time to do so as it has gotten a whole lot better.
The latest version of the app brings the Today Widget for Notification Center to it. This means now you will be able to perform all the actions right from the Notification Center of your device, without even launching the Launch Center Pro app. This makes it even more powerful as unlike the app itself, Notification Center can be accessed from any part of iOS. Just like the normal app you can add any action to the NC widget you want.
The update version 2.5 also makes Launch Center Pro app compatible with over 100k apps.
You can download the Launch Center Pro complete with its Today Widget from the App Store at a price of $3.99. The app is currently selling at a discounted price, so hurry up.
Download Launch Center Pro