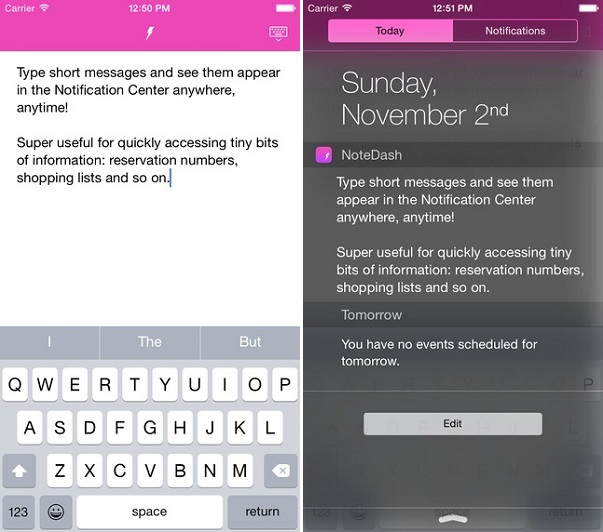 We have always talked about how note-taking is one of the most important and useful features of an iPhone. The whole point of taking and storing a note on a portable device is that it should be accessible whenever you need it, without any hassle. While regular note-taking applications on iOS do the job pretty nicely a new application called NoteDash takes convenience to the next level. This simple app has only one purpose and that is to list one of your most important note at the highly noticeable and easy to access place.
With NoteDash you can only store one note entry at a time and although that sounds a little too simple, that is the whole beauty of this app. When you enter a note in NoteDash, that note also appears on your device's Notification Center. This means you can have access to that particular piece of information no matter which part of iOS you are using. This also means you can access that text even when your device is locked.
While NoteDash is not a replacement for your stock Notes app or third-party note taking apps it is an app that can be useful for super simple tasks such as writing a quick reminder, noting a phone number, parking lot number, reservation numbers and more.
Also read: Top 5 Note-taking apps for iPhone and iPad: Notability, Vesper, iA Writer, Drafts and SimpleNote
After downloading the app you will have to add the NoteDash widget to the Notification Center of your device. To make it visible make sure you drag it up at a reasonable position.
NoteDash app is available in the App Store for free. It requires iOS 8.1 or above to run.