Keeping up with their tradition of publishing awesome tweaks for us to download, the Cydia developers released a bunch of new hacks that let you do alternations to the features and parts of iOS that you want to change. And keeping up with our tradition listing the best newly released tweaks we have created this roundup that features Dim, NoAudioRecorder, Power Informer, WhatsApp Stealth Mode and PreferenceTag8 (iOS 8). Read on to learn what these tweaks do and how you can download them on your devices.
Dim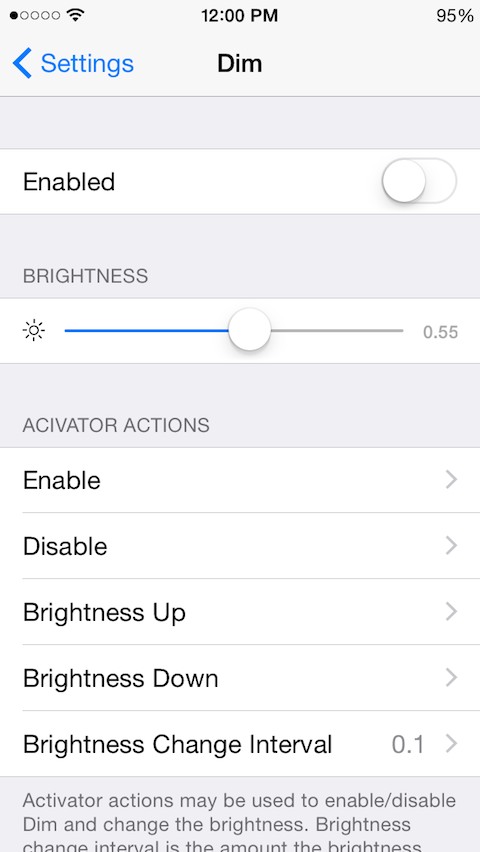 iOS makes it quite easy for you to increase or decrease the brightness of your device. You can do it through the Control Center or Settings app. By default there is a certain low level of brightness that you can set on the device however if you want to go lower than that a new tweak called Dim can help. With Dim you can achieve brightness levels that are below iOS's minimum level. There are a number of options that you can find in the tweak's preference page. Dim is available in Cydia's BigBoss repo for free.
NoAudioRecorder
With iOS 8 Apple made it easier for users to send recorded audio messages to their friends. While it is a fun feature to have, not everyone uses it. If you don't want this feature on your Messages app then install NoAudioRecorder tweak. This hack simply removes the recording button from the conversations page. It can be downloaded from BigBoss repo for free.
Power Informer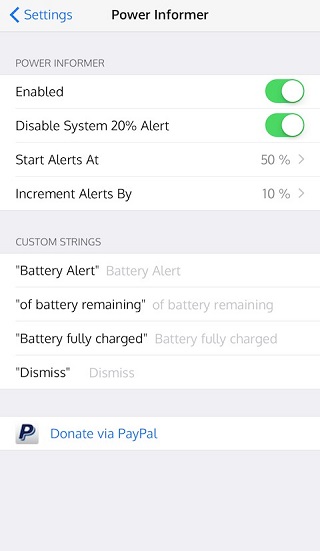 The Power Informer tweak lets you set custom alerts for battery levels. You can specify when the tweak should start sending you alerts about how much your device has charged or how much battery life is remaining. You can also specify the increments when you want the alerts to be displayed. In addition to all that you also get to set custom strings that will be displayed in the alerts. Power Informer tweak is available in Cydia's BigBoss repo for free.
WhatsApp Stealth Mode
There's no shortage of WhatsApp hacks that let you disable last seen and online status. If you have been looking for an alternative then WhatsApp Stealth Mode is here to your rescue. It is available in Cydia for free.
PreferenceTag2 (iOS 8)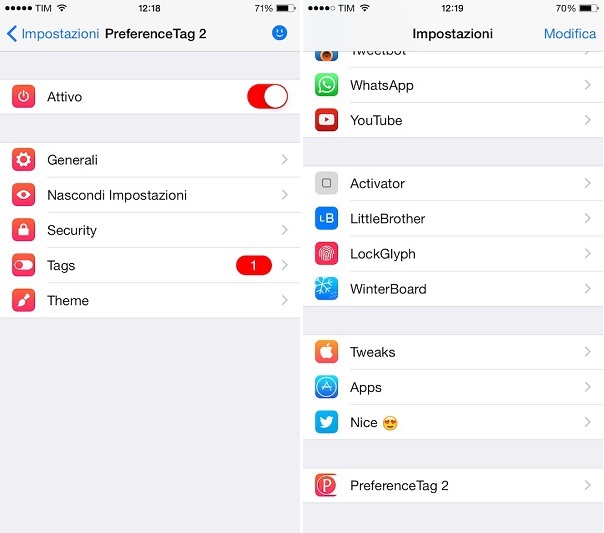 Do you find it hard to locate settings you are looking for in iPhone's Settings app? If yes, then PreferenceTag2 (iOS 8) can help. This tweak allows users to put related settings in tags or folders so it becomes easier for them to find what they want quickly and efficiently. You can move settings up and down, hide the ones you don't need, set up a passcode for Settings and more. PreferenceTag2 (iOS 8) is available in Cydia for $2.