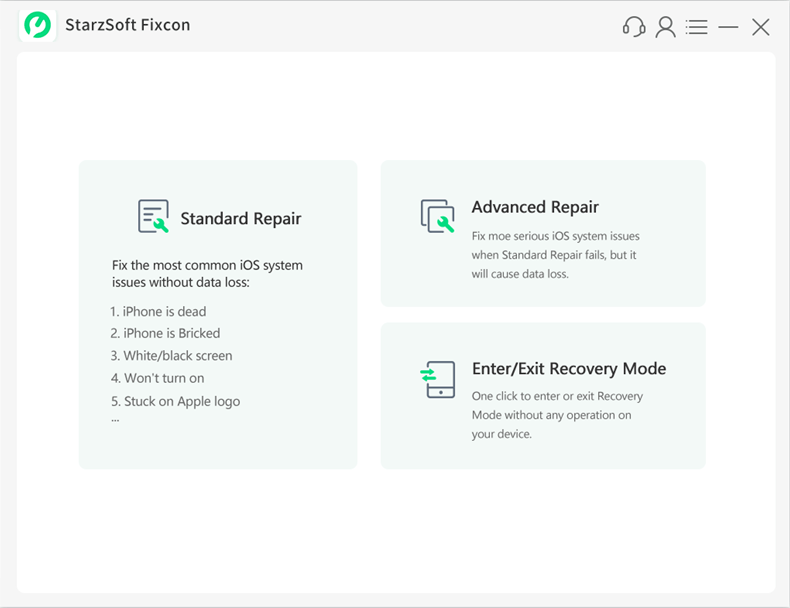 If you have ever ran into software issues with your iPhone or iPad, then you would know how frustrating it can be to deal with them. Fixing iOS and iPadOS issues without loss of data and having to visit an Apple Store becomes can be difficult for both novice and expert users.
There are plenty of apps that claim to help users in fixing issues with iPhones however many of them fall short of their claims and sometimes even end up making matters worse.
Using the StarzSoft Fixcon application you can quickly fix Apple's iOS device problems in just a few minutes. The tool is capable of fixing over 150 system problems with iOS, iPadOS and tvOS without the loss of data. And the best thing is anyone without having technical knowledge can fix iPhone issues, that would normally require you to book an appointment to the Genius Bar.
We tried and tested the StarzSoft Fixcon to fix issues with iPhone 12 and iPad Pro, and I can safely say it works just the way the company claims.
StarzSoft Fixcon tool supports all recent versions of iOS and iPadOS. So not only is iOS 13 and iOS 14 fully supported but the tool is already compatible with the upcoming iOS 15, iPadOS 15 and tvOS 15 updates.
You can also use this tool to enter your iPhone or iPad in Recovery Mode in just a few clicks. This particular feature is available for free to all users regardless if you opt to buy the full license of the tool or not.
Fix 150+ issues with StarzSoft Fixcon

So what iOS issues can you fix with StarzSoft Fixcon? Well the list is pretty extensive.
iPhone stuck on Disabled Screen
iPhone Won't charge
iPhone stuck on Apple logo
iPhone won't turn on
iPhone stuck in a boot loop
iPhone stuck on white or black screen
iPhone stuck on frozen screen
Restore Failure on iPhone
Update Failure on iPhone
Apple TV issues
And more…
Many of the issues mentioned above are resolved without the loss of data on iPhone or iPad. This is very crucial especially for those who do not have an up to date iCloud or iTunes backup of their device.
Having a tool that solves issues without loss of data can be a life saver for users who cannot afford to lose their precious photos, videos, notes, contacts, bookmarks, app data and more.
Two repair modes
StarzSoft Fixcon tool comes with two modes, Standard Repair and Advanced Repair.
Standard Repair: This mode is suitable for fixing common issues with iOS devices and will keep your data intact.
Advance Repair: This is a more serious repair mode that can fix system problems that cannot be fixed in Standard Repair. In this mode you end up losing your data however it is capable of even bringing your iPhone or iPad back from dead.
There are many other useful features of Fixcon that can help you in performing day to day tasks on your device. For example, you can use Fixcon to downgrade your iPhone or iPad to an earlier version of iOS. If you're a jailbreak user, then you can perform the downgrade process without losing your jailbreak and data.
You can also upgrade to a newer version of iOS without troubles and avoid the risk of bricking your device.
Another cool feature of StarzSoft Fixcon makes it possible for users to reset an iOS device without passcode. This is great for instances where you have forgotten your device's passcode and want to regain access to it.
How to use StarzSoft Fixcon to fix iPhone issues (no data loss)
It is very easy to use the StarzSoft Fixcon application to fix iPhone issues. Here we will demonstrate how you can use this tool to easily repair iOS system issues without data loss.
Step 1. Launch StarzSoft Fixcon tool and click on the Standard Repair option.
Step 2. Now connect your iPhone or iPad to the computer using a Lightning USB cable.
Step 3. Once your iPhone has been detected by Fixcon tool select the firmware version that you want to download and click on Download option.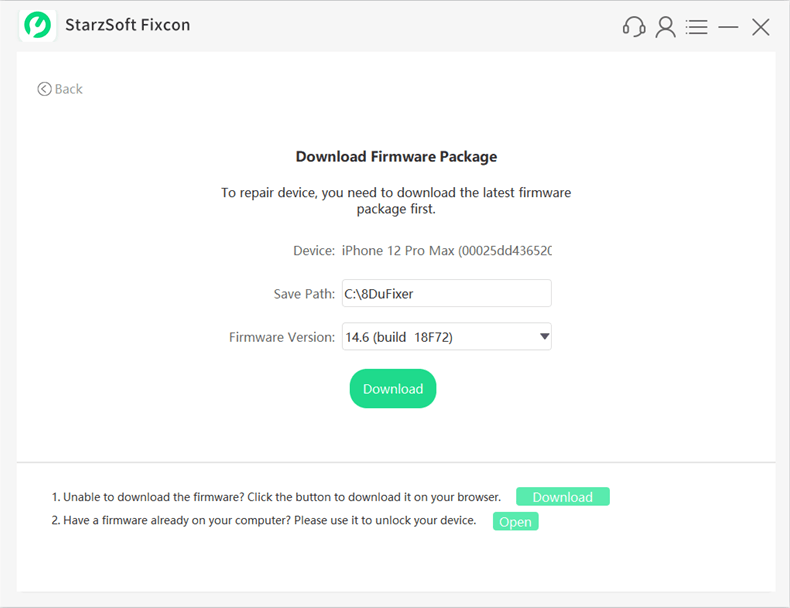 Note: If StarzSoft Fixcon is unable to detect your device, then you can click on the Next button after step 2 and follow on-screen instructions to put the device in DFU/Recovery mode.
Step 4. After the firmware has been downloaded you can click on the Continue button in order to start the repair process. The process will take a few minutes to complete.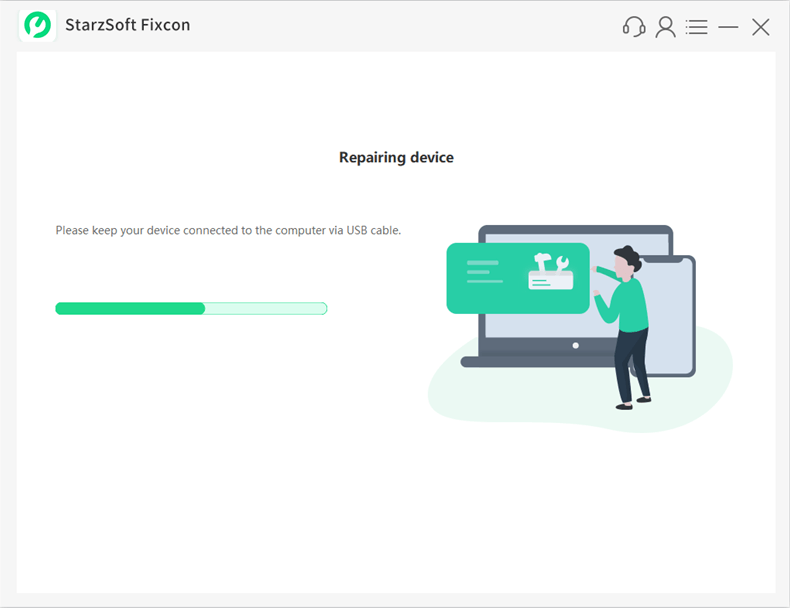 After completion of the repair process your iPhone will restart and the issue you were facing with it should be resolved without any data loss.
Pricing and Availability
You can download the StarzSoft Fixcon tool from the official website where it is available for free. Some features are available on the free version, however to unlock full potential of StarzSoft Fixcon you have to purchase a license.

1-year license is available for $35.95. A 1-month license of the tool costs $25.95 whereas a lifetime license, which provides the best value for longterm users costs $45.95.