Tracking your habits is an important step in building good habits. Good news is there are many habit tracking apps for iPhone that can be helpful in improving your lifestyle.
We all have a long list of new years resolutions that end up in vain. Deciding to build a habit is easy but following up and remaining consistent is hard. That's where some of the most useful habit tracking apps for iPhone come in.
With these iOS apps many of which are also available on the Apple Watch, you can log your daily activity and keep track of multiple habits. They also give a monthly run down of how you performed through out the month, which can be very helpful in boosting your productivity.
So if you are looking to form a habit of reading books, exercising regularly (and not fake exercise to close Activity rings), drinking more water or something as important as learning a new skill these apps can make a significant different.
Read on to learn about the best apps in our roundup of top 10 habit tracking apps you should download in 2020 and beyond.
Here are some of the best habit tracking apps for iPhone users:
Productive Habits & Daily Goals Tracker
Streaks
Momentum Habit Tracker
Way of Life
Balance
Strides
Habitify
Daily Habits
Habit Streaks
Today – Habit Tracker for goals and routines
Read on to learn more about these amazing habit tracking apps for iPhone and where to download them.
1. Productive habits & daily goals tracker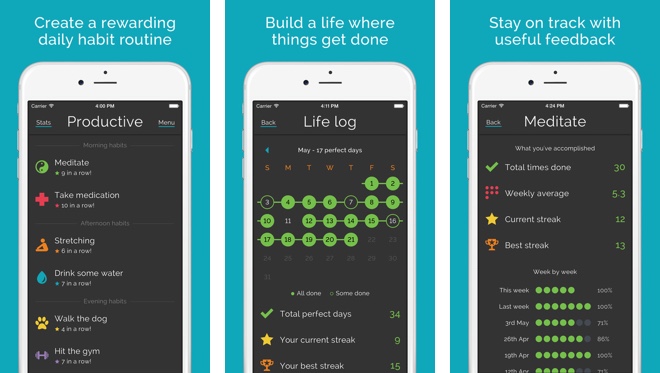 The Productive habits & daily goals tracker, or simply Productive is the one I personally use. It makes it super simple to schedule habits based on different times of the day. You can also schedule certain habits for more than one time in a day or select certain days of the week for the habit.
It offers streaks feature, which lets you create chains of done habits and perfect days that can be achieved when you perform all due tasks in a day. Other features include reminders, passcode lock, dark and light themes and more. At the end of the week or month you can see an overview of how you performed through out.
Productive habits & daily goals tracker app is available in the App Store for free. You can unlock full features for $3.99 in-app purchase.
2. Streaks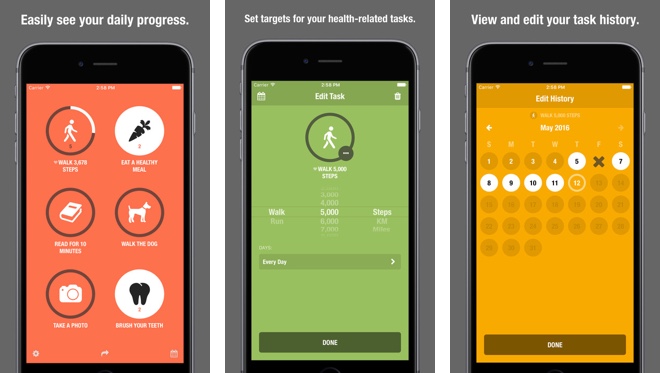 Streaks is the best habit app for fitness. It lets you focus on six tasks so you can stay focused and get them done. The main purpose of this app is to make you follow a habit and build a streak by doing them on consecutive days.
If your goals are related to fitness such as running or exercising daily, then the app is also capable of syncing your data to the Health app. It is not limited to fitness though as it can track a wide range of habits and hobbies.
Streaks offers a dedicated Watch app that does more than showing you the notifications. You can log your activity and keep in touch with the upcoming tasks with the help of watchOS Complications. You can customize Streaks with the color of you choice, view completion statistics and more. Streaks is available in the App Store for $3.99.
3. Momentum Habit Tracker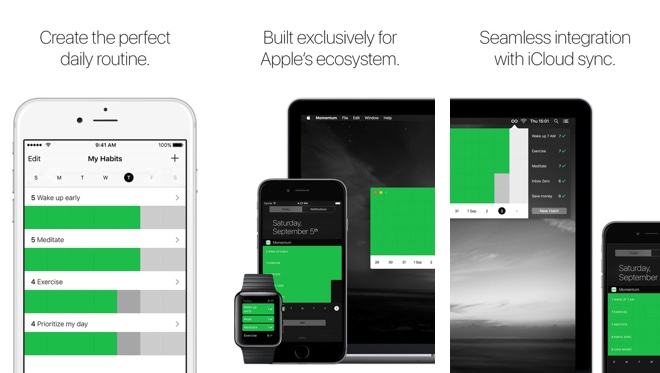 Momentum Habit Tracker app is designed for the whole Apple device ecosystem, so you can keep ahead of all your habits on iOS, macOS and watchOS devices. The simple to use app offers reminders, scheduling for weekly targets or certain days of the week, app badge for pending tasks, iCloud sync support and more.
The free version lets you track up to 3 habits whereas you can upgrade to unlimited by paying $1.99 a month. You can download the Momentum Habit Tracker app for free.
4. Way of Life
Next on our list of top habit tracking apps is Way of Life, which is all about improving the quality of life by building and sustaining new habits. This app lets you build up data about your existing and new habits and then analyze your behavior over weeks, months or even years. You can also add 'bad habits' to the app and track how often you perform them, which can help in controlling them.
It has all the usual features you would expect from a good habit building app including reminders for specific days, custom message and the ability to make the app sound an alarm when something it due. It also features pie charts, note-taking, tags for better organization, streaks, passcode lock, ability to export data in excel or CSV files and more. The free version offers 3 free habits so if you want to track more you will need to upgrade to premium that costs $4.99.
5. Balanced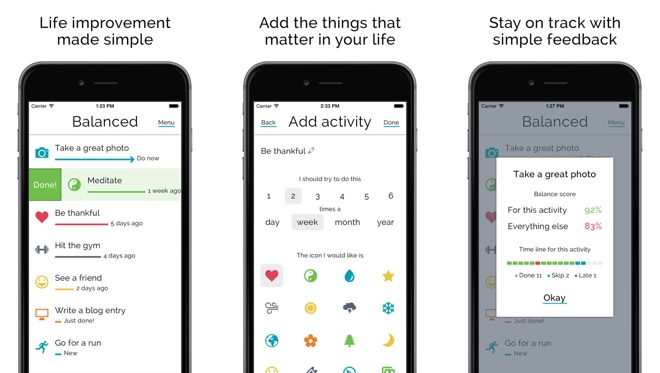 Balanced Habits tracker and life goals motivation app focuses on improving your lifestyle by letting you create simple tasks or habits that you need to perform as often as you choose. You can create the habit, set how often you want to perform it and when you do it simply swipe to mark it done. The app prioritizes the habits that are due next so you know what's coming.
With the 50 suggested activities that are included in the app you can even pick up good habits and follow them to lead a better lifestyle. Balanced app helps you keep track of all the activities that you have performed by showing you percentage score and how many times you did or missed it. You can download Balanced app for free, however the premium version that offers all the features costs $3.99 through in-app purchase.
6. Strides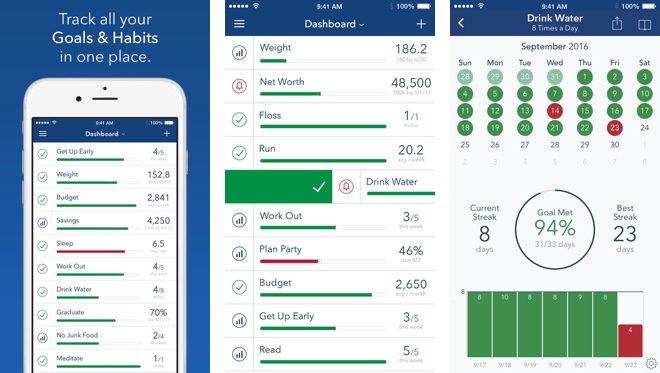 Next on our list of top 10 habit tracking apps is Strides. Strides is a smart habit and goal tracker that keeps you on track with the help of reminders and data. The app has four types of trackers that includes target, habit, average and milestones.
With goal you can set what you want to achieve and when. Habit lets you build a habit or even break a bad one. Average lets you track your average value per log, so you can find out how much time you are spending on a certain activity.
You can replace time with any other value such as money. Milestones lets you achieve your goals in multiple steps, so you can make large projects manageable. Just like other habit tracking apps mentioned in this post Strides also gives user access to useful data that can be used to analyze performance over time. You can download Strides for free while the premium version is available for $4.99 a month.
7. Habitify
Habitify is also a simple to-do list style app that lets you built good habits with the help of schedules, reminders and helpful statistics and graphs that let you know how you are performing. The app also offers the streaks feature that give you incentives to complete tasks and build up a chain.
The app syncs your health data to Apple's Health app, so you can track health related habits in a better and more efficient way. You can download Habitify from the App Store for free. The premium version is available for $3.99.
8. Daily Habits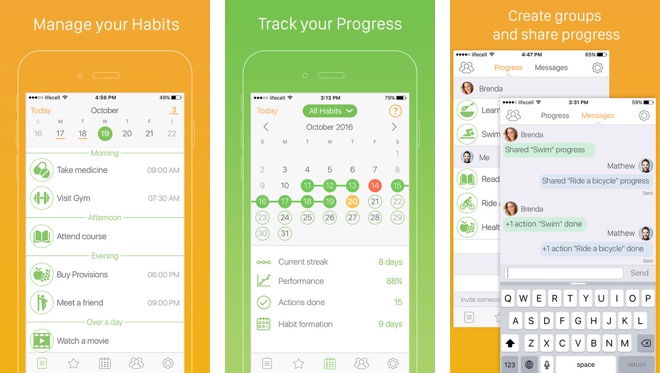 If you are looking for an app that can help you build good habits and drive out bad ones, then Daily Habits is the best habit tracking app for you. With this habit tracking app for iPhone you can track different habits, get reminders, see performance data, form streaks and more.
Unlike most habit and goal tracking apps mentioned in this post Daily Habits has a social element that lets you create groups and share your progress with friends.
Other features include today widget, Apple Watch app, special features for breaking bad habits, archive option for completed habits and more. You can download the Daily Habits app from the App Store for free. The Pro version is available for $2.99. Pro feature adds passcode lock, calendar sync for upcoming tasks, more stats and iCloud sync.
9. Habit Streaks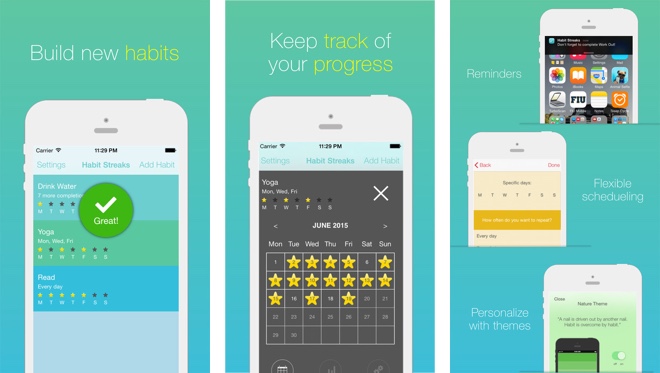 Habit Streaks is a habits and daily goals app that is created with the goal of aiding user in building good habits while breaking bad ones. The app makes it super simple to add habits and mark them as complete. The app has all the essential features including Reminders, scheduling, themes for personalization and more.
You can download it for free and upgrade to pro for $3.99 through in-app purchase.
10. Today – Habit tracker for goals & routines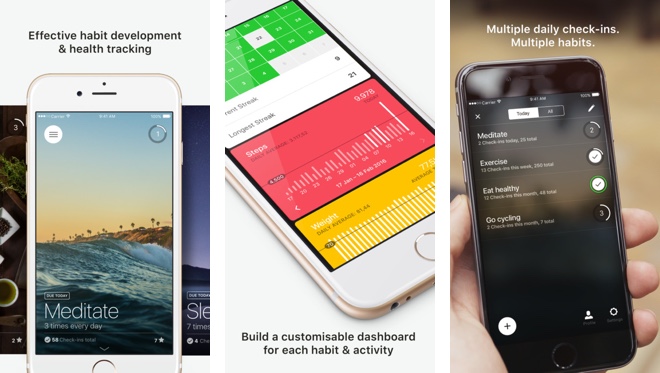 Last but certainly not the least on our list of top 10 Habit Tracking Apps and daily goals apps is Today – Habit tracker for goals & routine, which is beautifully designed application that lets you populate the dashboard with the habit cards you want to track with this app.
Today too focuses on creating streaks and not breaking up the chain. The app features support for Health app, passcode lock support for premium users, spotlight access, smart reminders, badges, journalling and more. You can download Today – Habit tracker for free, whereas the premium version is available for free.
So there you go folks, these are the best Habit tracking apps for iPhone. These are the daily goals iOS apps that you should download right now in 2020. If you have any other suggestions or have experience using any of these apps, then do let us know in the comments section below.