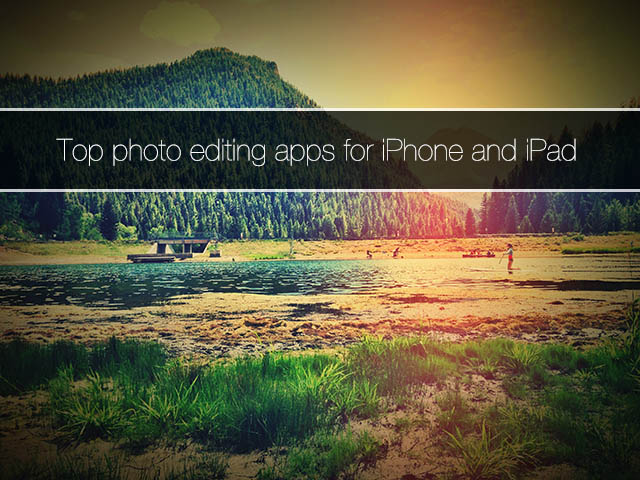 For iOS device owners their devices serve multiple purposes, which also includes using them as their cameras. The camera found on the latest version of iPhone provides a sharp image result that is totally comparable to a decent digital camera available in the market. However unlike any digital cameras iPhone and even iPad's photography features go way beyond as these devices allow users to edit their photos, refine them using different tools and then store or send them to anyone. The availability of top photo editing apps on the iOS platform has made iPhone as well as iPad the top choice of non-professional photographers.
So to help you in finding the best app out of the hundreds photography apps available in the App Store we have created this list. In it we have featured some of the most popular and feature-filled apps that provide a perfect photo editing experience to the users. This round up includes Litely, VSCO Cam, Afterlight, Moldiv, Snapseed, Facetune, Tangent and Stock photos app.
Litely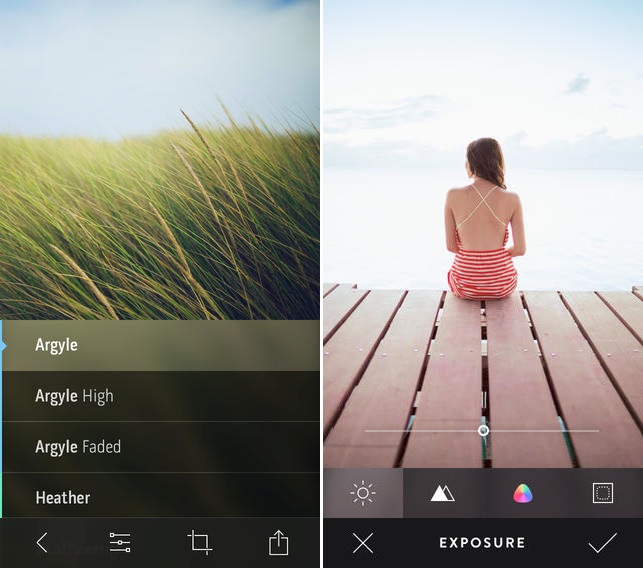 First on our list of top photo editing apps is Litely. The first thing you will notice when you launch the Litely app for the first time is its design, which clearly sets it apart from its competitors. This app is complete with a range of editing features that include ability for users to adjust sharpness, exposure, vibrance and vignette to their images in addition to strong cropping capabilities. It consists of 9 free pre-sets with 36 more available as in-app purchase. The app focuses on quicker edits and aims to reduce number of taps required from the users for any task. It also has the smart adjustments feature that adds the perfect composition and exposure to the images. When you are editing any image using Litely your original photo is persevered so you can go back to the original at any time if you are not satisfied with the result. You can download Litely app for iPhone, iPad or iPod touch from the App Store for free.
VSCO Cam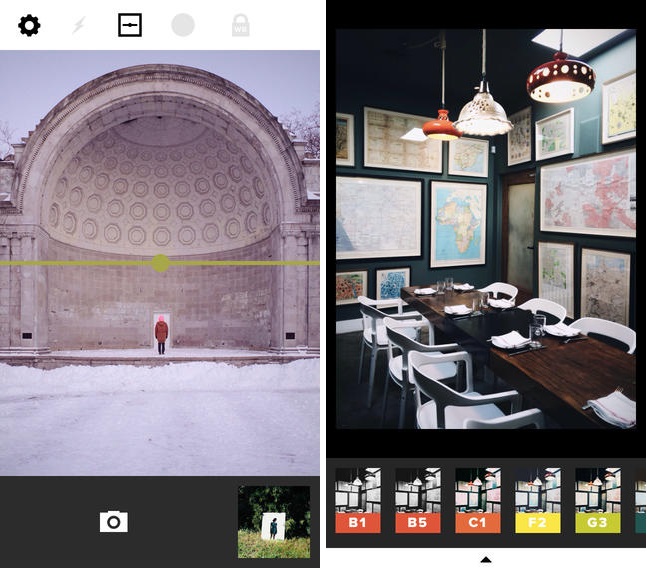 If you are looking for a perfect app that can allow you to shoot, edit and share your iOS photos then try the VSCO Cam app. It is packed with tons of great features and a user-interface that makes using it a pleasant experience. With this app you get features like VSCO Grid, presets, increased control over your photos, before and after shots that tell help you in determining if you want to keep the changes or not, ability to adjust the strength of effects and much more. You can get VSCO Cam for free from the App Store.
Afterlight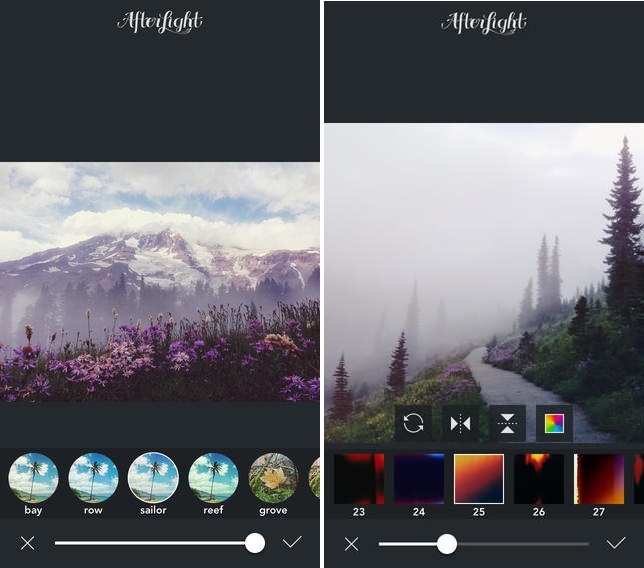 Afterlight is a gorgeously designed photo editing apps with features that make it a must have. With its simple and clutter free design you can focus on making your photos better. Afterlight has 59 filters, 15 adjustment tools, 66 textures, frames as well as cropping and transforming tools which is pretty much all you would need to add perfection to your photos. Afterlight is a paid app and is available for $0.99 in the App Store.
Moldiv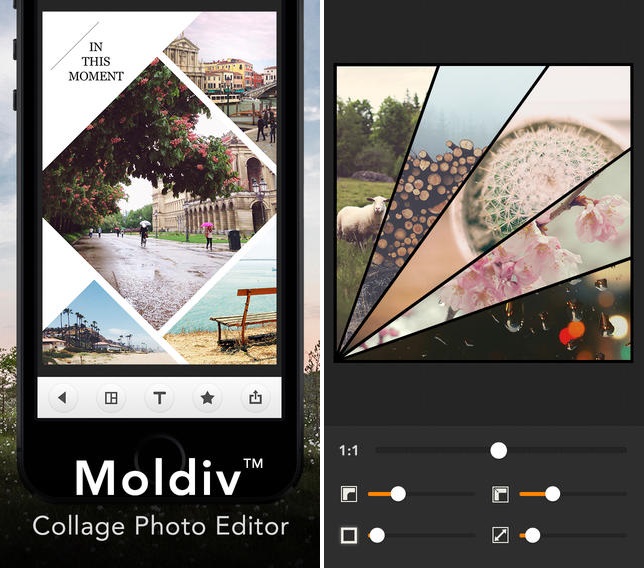 Want to create a quick collage of some of the best photos and share it on your wall? Then try the Moldiv app. Moldiv is not your usual collage app that will simply combine your photos as it comes with some great features that enable users to add effects and decorate collages with text and stamps. With this app you can apply up to 45 effects to your photos, control the opacity of effects, zoom or rotate images, straighten them for perfect look and of course choose from a collage layout options. Moldiv app is available in the App Store for free.
Snapseed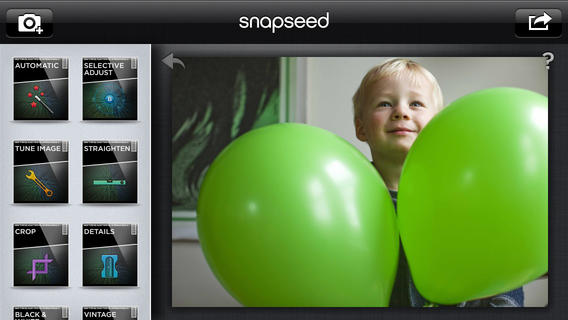 Snapseed is one of the most popular photo editing apps for iOS and has been around for several years. It has some really nice features inlcude the auto correct feature, which automatically adjusts photos, ability to tune images, selective adjust feature, innovative filter and more. You can get it from App Store for free.
Facetune

Sometimes to make a photo perfect all you need is a simple change. The Facetune app does exactly that by allowing you to perform small but noticeable changes to your photos in a few taps. With this app you can make someone's skin perfect by removing any pimples or blemishes, whiten someone's teeth, change eye color, remove stray hairs, remove red or white eye effects, color over grey hair, fill bald patches, refine jaw lines and much more. It is the perfect app to create flawless photos. You can download this app for $2.99 from the App Store.
Tangent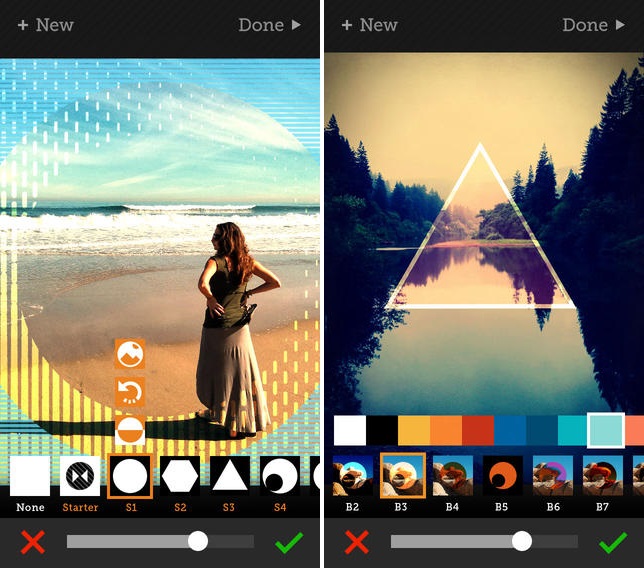 The Tangent app lets users turn their photos into work of art by applying different shapes and styles to them. It offers 35 styles consisting of shapes, patterns and blends that you can use on your images. It also features 26 shapes, which can be extended to 70 through in-app purchase. These shapes provide a different look to your images and give them a unique touch. Other features include 22 background patterns with total of 68 available after in-app purchase, 350 combinations of colors and blends and more. You can also zoom, rotate and resize images using this app. Tangent is availabel in the App Store for $1.99.
Photos app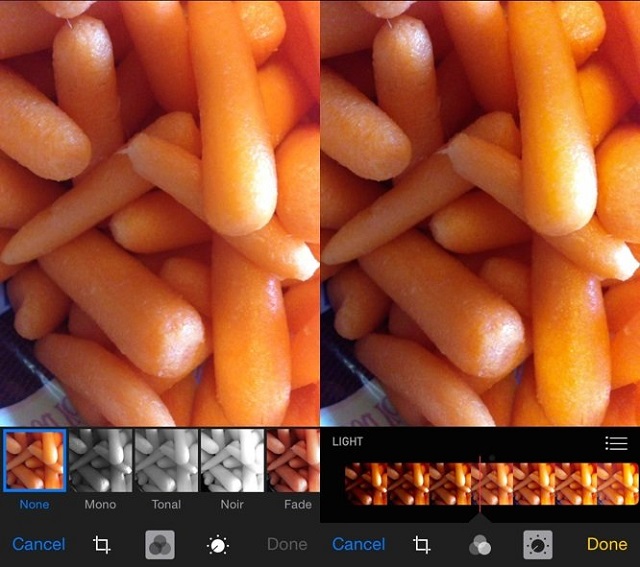 If you don't want to download a separate app then you can simply rely on the stock Photos application of iOS. The iOS 7 Photos app offers a variety of photo editing features including filters, scalability options such as crop, rotate, auto-enhance, red-eye removal and filters that are pretty useful. In iOS 8 these features have bee improved and now third party developers can also add their own filters to the stock photos app. To edit a photo all you have to do is open the image and tap on the 'Edit' button located on top right side of the screen.
So there you go folks, these our the best photo editing apps for iPhone available in the App Store. If you have any suggestion or want to share your experience with any of these apps then let us know in the comments below.
[Image credit:
AjCheekMusic
]
Disclosure: iOSHacker may receive a commission if you purchase products through our affiliate links. For more visit our privacy policy page.